Industry Overview
The Global Blockchain Government Market is projected to reach USD 6,410.0 billion by 2030, registering a CAGR of 86.0% during the forecast period. Increasing adoption of blockchain from the government sector, and growing cases of fraudulent activities in the public sector, propelling the growth of the market.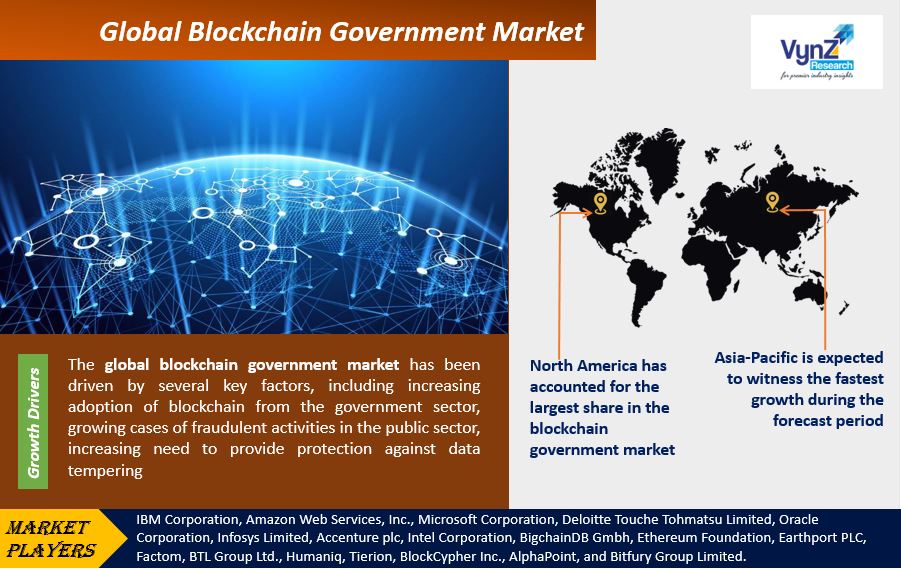 Market Segmentation
Insight by Provider
On the basis of provider, the global blockchain government market is categorized into middleware provider, application provider, and infrastructure provider, wherein the application provider category is expected to witness the fastest growth during the forecast period. The growth of this segment is attributed to the increasing adoption of technologically advanced blockchain solutions in government agencies.
Insight by Application
Based on application, the blockchain government market is segmented into asset registry (land/real estate registry), identity management, payments, smart contracts, elections/voting, and others (healthcare, public transport, and supply chain & logistics). Among all these segments, the smart contracts category contributes the largest revenue globally, owing to the increase in the deployment of blockchain-based smart contracts to reduce costs of verification, execution, arbitration, and fraud prevention by government agencies.
Blockchain Government Market Report Coverage
| | |
| --- | --- |
| Report Metric | Details |
| Historical Period | 2018–2022 |
| Base Year Considered | 2022 |
| Forecast Period | By 2030 |
| Market Size in 2022 | $X.XX Billion |
| Revenue Forecast in 2030 | $6,410.0 Billion |
| Growth Rate | CAGR 86.0% |
| Segments Covered in the Report | By Provider, By Application |
| Report Scope | Market Trends, Drivers, and Restraints; Revenue Estimation and Forecast; Segmentation Analysis; Impact of COVID-19; Companies' Strategic Developments; Market Share Analysis of Key Players; Company Profiling |
| Regions Covered in the Report | North America, Europe, Asia-Pacific, Middle East, and Rest of the World |
Industry Dynamics
Trends
The increasing utilization of the technology amongst several government organizations across the globe is the key trend observed in the blockchain government market, globally.
Blockchain supports the implementation of smart contracts, which are self-executing contracts with predefined rules. Smart contracts can automate and enforce agreements, reducing the need for intermediaries and enhancing the efficiency of government contracts and procurement processes.
Growth Drivers
The global blockchain government market has been driven by several key factors, including increasing adoption of blockchain from the government sector, growing cases of fraudulent activities in the public sector, increasing need to provide protection against data tempering, rise in the usage of blockchain technology to create a transparent and decentralized government, and increasing demand for high efficiency and high speed in government sector.
Transparency and Accountability: Blockchain provides a transparent and immutable record of transactions, which can help prevent fraud, corruption, and manipulation. Citizens can have greater trust in government processes when they can verify the authenticity and integrity of public records.
Security: Blockchain employs cryptographic techniques to secure data and transactions. It offers a high level of resilience against hacking and unauthorized access. By decentralizing data storage and using consensus mechanisms, blockchain reduces the vulnerability of government systems to cyber attacks.
Efficiency and Cost Savings: Blockchain streamlines government processes by removing intermediaries and automating workflows. It eliminates the need for manual paperwork and reduces administrative burdens, resulting in cost savings and improved efficiency.
Citizen Services: Blockchain can enhance citizen services by providing secure and convenient access to government records and services. For example, citizens can have control over their personal data and selectively share it with government agencies for streamlined service delivery.
Restraints
Lack of awareness regarding the blockchain technique is hindering the growth of the blockchain government market, globally.
Geography Insight
Geographically, North America has accounted for the largest share in the blockchain government market, globally and is predicted to grow significantly during the forecast period. The growth of this market is attributed to the existence of a large number of players of blockchain technology in the region and also it is considered the most advanced region in terms of advanced technology adoption. Moreover, Asia-Pacific is expected to witness the fastest growth during the forecast period due to the huge investment undertaken by the government towards the development of blockchain technology to change the business processes in the government sector.
Competitive Insight
Some of the key players operating in the global blockchain government market are IBM Corporation, Amazon Web Services, Inc., Microsoft Corporation, Deloitte Touche Tohmatsu Limited, Oracle Corporation, Infosys Limited, Accenture plc, Intel Corporation, BigchainDB Gmbh, Ethereum Foundation, Earthport PLC, Factom, BTL Group Ltd., Humaniq, Tierion, BlockCypher Inc., AlphaPoint, and Bitfury Group Limited.
Forecast Parameters
- Identifying variables and establishing market impact.
- Establishing market trends regionally.
- Analyzing opportunities and market penetration rates by understanding product commercialization, and regional expansion.
- Analyzing demand and supply trends and changes in industry dynamics to establish future growth.
- Analyzing sustainability strategies adhered to by market participants in an attempt to determine the future course of the market.
- Analyzing historical market trends and super-imposing them on the current and future variables to determine the year-on-year trend.
- Understanding adoption, production, export, import, and regulatory framework.
Data Validation
- Estimated and forecasted data was validated through industry experts.
- Apart from industry experts, data triangulation methods were used for validation.
- Bottom-up and top-down approach has been used for the estimation and forecast of market data, whereas the top-down approach was used for validation.
- Demand, as well as supply-side surveys, were conducted in order to understand the industry dynamics and data validation.
Primary Research
VynZ Research conducts extensive primary research to understand the market dynamics, validate market data and have key opinions from industry experts. The key profiles approached within the industry include CEO, CFO, CTO, President, Vice President, Product Managers, Regional Heads, and Others. Also, end-user surveys comprising consumers are also conducted to understand consumer behavior.
The Blockchain Government Market report offers a comprehensive market segmentation analysis along with an estimation for the forecast period 2023–2030.
Segments Covered in the Report
By Provider

Middleware Provider
Application Provider
Infrastructure Provider

By Application

Asset Registry
Identity Management
Payments
Smart Contracts
Voting
Others
Region Covered in the Report
North America
Europe

Germany
U.K.
France
Italy
Spain
Russia
Rest of Europe

Asia-Pacific (APAC)

China
Japan
India
South Korea
Rest of Asia-Pacific

Rest of the World (RoW)

Brazil
Saudi Arabia
South Africa
U.A.E.
Other Countries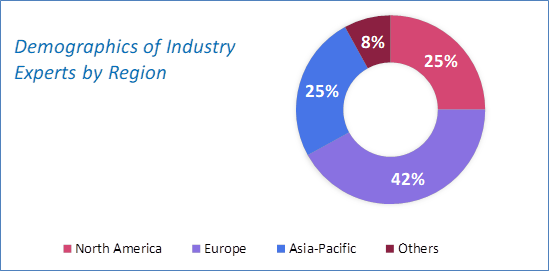 Source: VynZ Research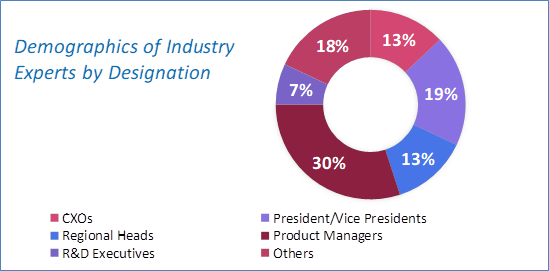 Source: VynZ Research