Industry Overview
A system of distributed servers that deliver content such as web pages to the users to their location is called a content delivery network. The main objective of this system is to deliver service spatially relative to end-users to provide high availability and high performance to the user while viewing content online. Moreover, content delivery network delivers content from the proxy servers to the users and also increases the speed of delivery by reducing loading time.
The increasing demand for broadband speed globally, increasing availability of downloadable content, necessity of hard disk space and necessity of providing online content are rapidly increasing the demand for cloud content delivery market. Furthermore, this hosting of content delivery service along with cloud is known as cloud content delivery network.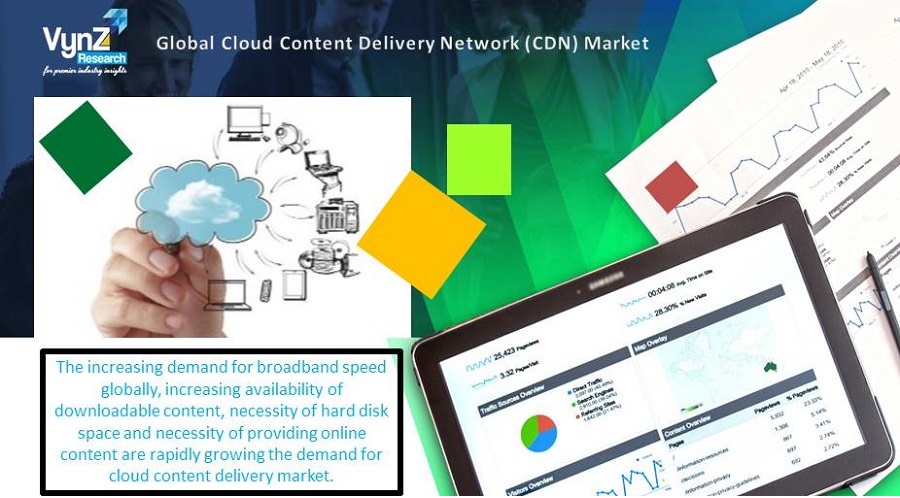 Market Segmentation
Insight by Type
There are two segments based on type in the cloud content delivery network market such as video CDN and non-video CDN. Among these segments, video CDN is anticipated to witness faster growth during the forecast period. Video CDN network delivers high-quality, live and on-demand videos to web-connected devices. It enables the user to high visibility video and high performance with the help of media streaming software from any location.
It has been observed that when users view content with the help of a CDN it provides them faster streaming, services that offer enhanced value such as optimization and mobile device detection along with enhanced reliability. Video CDN segment is thereby strengthening the growth of the cloud content delivery network market across the globe.
Insight by Component
On the basis of component cloud content delivery network market is segmented into web performance optimization, adjacent service, media delivery, application programming interface, support and maintenance, cloud storage, analytics and monitoring, core solutions, CDN design, cloud security, and others. Among all these segments, media delivery segment holds the largest in the market since with the help of this segment consumers can witness impeccable broadcasting experience and prompt access to high visibility video content on any display screen.
Media delivery system helps in engaging audiences across the globe by distributing high-quality content at any location without the requirement of establishing expensive infrastructure in order to provide scalability to various connected devices. These factors are thereby bolstering the growth of the global content delivery network market.
Insight by Organization Size
Based upon organization size, the cloud content delivery network market is segmented into large-scale organizations and small and medium organizations. Among these two segments, small and medium organizations are anticipated to witness faster growth during the forecast period since it extensively help the organizations to retail more customers and makes their product offerings more accessible and available to the consumers. This network system is also enabling enterprises to target mobile customers efficiently and delivering data with ease and secure channels to the customers.
Furthermore, this system provides increasing scalability to the small and medium enterprises and helps them to expand their market base and revenue. Increasing demand for these systems from small and medium organizations is thereby enhancing cloud content delivery network market across the globe. 
Insight by Industry
Based on industry, the cloud content delivery network market is also segmented into online gaming, government, advertising, education, media & entertainment, healthcare, e-commerce and others. Among these industries, media & entertainment is anticipated to witness the fastest growth in demand for content delivery solutions during the forecast period since CDN system helps in enhancing the performance of streaming content to a greater extent and thus enhance the user's experience. According to a recent study, it has been observed that there is an increasing adoption for real-time audio/video, online video and other streaming applications.
Moreover, the demand for high-quality content from the users that are delivered by media & entertainment domain with the help of CDN thus ensures and provides efficient quality content to the viewers. Furthermore, CDN helps in enhancing streaming content efficiently such as movies, music, multimedia games, breaking news and online games thereby providing effective display of content to the mobile users as well. Additionally, increasing utilization of these network system in media and entertainment industry is further bolstering the growth of cloud content delivery network worldwide.
Industry Dynamics
Industry Trends
The exponential growth of streaming video traffic is the key trend observed in the growth of cloud content delivery network market. Video traffic has strengthened large value of capital expenditure by the broadband providers to retain the subscribers by providing sufficiently good quality of experience. Furthermore, in order to combat this situation the telecommunication service providers (TSPs) have begun to launch their own content delivery networks as a means to lessen the demands on the network backbone and to reduce investments towards infrastructure.
Additionally, telecommunication CDNs get an advantage over the traditional CDNs as they have the ability to get much closer to the end user through their already built networking infrastructure.
Growth Drivers
The increasing utilization of internet services and increase in the speed of surfing videos globally are the major factors pertaining towards the growth of cloud content delivery network market. Furthermore, extensive utilization of mobile technology, introduction of smart mobiles, smart TVs and development of interests in the web provided content enables flourishing growth of cloud content delivery network market.
In the present scenario, smartphones act as a device that provides everything anywhere to consumers. This allows them to carry their smartphones everywhere and increases its usability. Furthermore, this content delivery network is a necessity for such smartphones to provide efficient content. Moreover, the high-speed internet allows the end consumer to use the content provided on-air anywhere instantaneously with further provides the consumer with great experience and motivates them to use more such content.
Challenges 
The first and foremost challenge for the cloud content delivery network market is the high cost pertaining to development of network infrastructure for delivery of streamed content to the end users. Since the end-users are attracted towards the content which is available online, thereby increasing its demand exponentially. This is leading to much larger traffic on the servers that ultimately reduce the speed of delivery of the content. Furthermore, to maintain the faster speed, the cloud content network providers need to build more infrastructures or delegate some part of the services to the third party.
Industry Ecosystem
Globally industry players are leveraging market growth through the development of innovative solutions in cloud content network market. The vendors of cloud content network market are providing various solutions to the users such as saving data storage on devices and instantaneous provision of the content anywhere any time.
Geographic Overview
Geographically, North America is the largest cloud content delivery network market globally with the U.S contributing the largest in aspect of revenues. The North American market is primarily growing due to the advantage of the favourable regulatory environment and the government that encourages the research and developments in this market.
Moreover, Asia-Pacific is expected to witness the fastest growth in the cloud content delivery network market. This growth is attributed towards increasing demand for this system from countries such as China, India, Japan, and South Korea, and increasing smartphone adoption. 
Competitive Insight
Key players in cloud content delivery network industry are investing in improving the quality of delivery network and developing the latest technologies that are strengthening their position in the market. However, it has been observed that local players are depending upon new technology to develop cost efficiencies, thus increasing the rivalry in the market to a certain extent.
Akamai Technologies, Google LLC, NTT Communications Corporation, CDNetworks Co., Ltd., Amazon Web Services, Inc., Oracle Corporation, Cloudflare, Inc., Limelight Networks, Inc., Alibaba Cloud, and CenturyLink, Inc. are the key players operating in cloud content delivery network market across the globe.