Industry Overview
From USD 12.3 billion in 2020, the global flexible display market is anticipated to grow to USD 56.2 billion by 2027, witnessing a CAGR of 35.1% during the forecast period 2021-2027.  Flexible displays are rollable and flexible in nature and are built on a flexible substrate that can be either plastic, metal, or flexible glass. The increasing adoption of consumer electronics devices, rising demand for smart wearable devices, used in advertising campaigns and promotional activities by using in LED video walls and digital signages, mounting demand for OLED-based devices, surge in demand for connected and automated vehicles that require a display for documentary and navigation services, and rise in smart cities will accelerate the growth of the global flexible display market.  The rising adoption of OLED is witnessing tremendous growth in high-definition content and high-performance applications, thus propelling the growth of the flexible display market.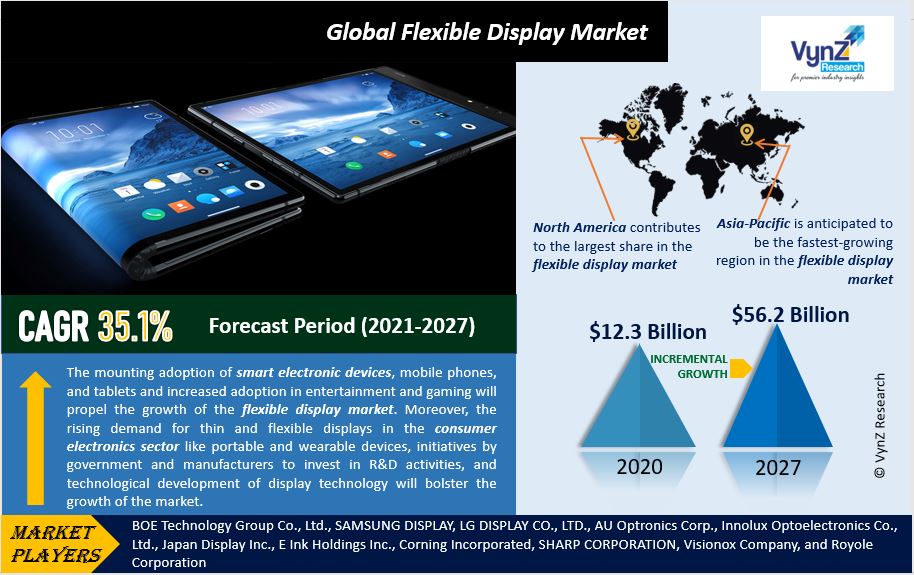 The COVID-19 outbreak has had an adverse impact on the flexible display market as many companies had to suspend their operations, production of electronics parts was stopped, and lack of skilled labor force. However, there was increasing in online education and remote working access that has led to a surge in the demand for display devices.
Market Segmentation
Insight by Material
On the basis of material, the global flexible display market is divided into plastic, glass, and others. Plastic contributes to the largest share in the flexible display market owing to the shifting trend from glass substrate to a plastic substrate. Moreover, plastic substrate offers benefits including light in weight, robustness, and flexibility in terms of design and size.
Insight by Technology
Based on technology, the global flexible display market is divided into liquid crystal display (LCD), organic light-emitting diode (OLED), EPD, E-Paper, and Quantum Dots. OLED segment dominates the market. OLED -based displays are widely adopted in smartphones owing to their flexibility, better image quality, simple design, and are energy-efficient.
Insight by Application
Based on application, the global flexible display market is divided into smartphones & tablets, smartcards, e-reader, electronic shelf labels (ESLS), smartwatches & wearables, TV & digital signage systems, vehicles & public transport, laptops & PC monitor, smart home appliances, and others. The smartphone segment is anticipated to have a high CAGR during the forecast period owing to the initiatives by the government to set up smart cities, introduction of digital signage with flexible displays will led to wide acceptance for map displays and advertising. Moreover, wearables are growing at a robust pace owing to changing lifestyles and technological development. Wearable devices are using small display panels and have many new applications like AR and VR.
Insight by End-User
The global flexible display market is divided into automotive, aerospace, consumer electronics, transportation, government, utilities, and others, based on end-user. The consumer electronics segment accounted for the largest revenue share in the global market in 2020 owing to the wide acceptance of consumer electronics and rising demand for smart wearables. The device manufacturers are implementing these displays and lighting panels so as to provide flexibility, lightweight, durable, and bendability in the devices.
Industry Dynamics
Industry Trends
The emerging application in military equipment and digital signage are the trends that might led to the growth of the flexible display market.   
Growth Drivers
The mounting adoption of smart electronic devices, mobile phones, and tablets and increased adoption in entertainment and gaming will propel the growth of the flexible display market. Moreover, the rising demand for thin and flexible displays in the consumer electronics sector like portable and wearable devices, initiatives by government and manufacturers to invest in R&D activities, and technological development of display technology will bolster the growth of the market. In addition, the rising prominence of OLED-based devices like VR headsets, digital cameras, etc. will fuel the growth of the market. Thus, the flexible display offers various benefits like bendability, being lighter in weight, shatter-proof, unbreakable, portable, ultra-thin, and consuming minimal energy.
Challenges
Factors that are hampering the growth of the flexible display market include complex manufacturing processes, huge capital investment, and displays consisting of plastic that have limited color palettes as compared to glass. Also, OLED flexible displays are sensitive to air and moisture owing to their material are one of the challenges faced by the flexible display market.
Opportunities
The increasing demand for flexible displays in healthcare and automotive and product innovation to make eco-friendly and light devices will create opportunities for industry players to operate in the market. Furthermore, technological development has led to the introduction of state-of-art flexible displays and created opportunities for growth.
Geographic Overview
North America contributes to the largest share in the flexible display market owing to its well-established economy and has a large consumer electronics market. The robust adoption of the latest display technologies and their applications will further fuel the growth in the region.
Asia-Pacific is anticipated to be the fastest-growing region in the flexible display market owing to the rising demand for compact and lightweight electronic devices.  Moreover, the increased penetration of smartphones and surge in implementation of developed technologies will accelerate the growth of the flexible display market in the region.
Competitive Insight
Large-scale display panel makers like Innolux Corp. and AU Optronics Corp. perceive the expanding market for smart wearables as an opportunity to increase revenue and are investing accordingly. The industry players are shifting towards curved display technology and some companies are launching electronic products with flexible displays. The major industry players like LG and SAMSUNG are evolving flexible OLED display panels in huge numbers to have a strong edge in the market. There is intense competition that has led to product development with appealing aesthetics and high-end consumers. The manufacturers are planning to expand their business by adopting strategies like new product development, partnerships, M&A.
LG is one of the leading suppliers and manufacturers of thin-film transistor liquid crystal displays (TFT LCDs), OLEDs, and flexible displays. LG Display is focusing on expanding its product line by offering novel products, especially flexible displays with huge screen sizes. Also, the company has introduced two new product concepts to the world – "Virtual Ride" and "Media Chair." The company hopes to emphasize the strong potential and wide versatility of OLED to establish new markets by launching these two revolutionary devices with flexible OLED screens.
Samsung Display Co., Ltd., is one of the market leaders in the flexible display market. To achieve growth in the flexible display industry, Samsung Display places a great emphasis on product innovation and technological advancements. Samsung's flexible OLED has ushered in a new era of full-screen displays with slimmer smartphone bezels, as well as a 'edge display' that bends on both sides.
Sharp Imaging and Information Company of America (SIICA) has introduced a 4K Ultra-HD Sharp 4T-B80CT1U AQUOS BOARD® interactive display in November 2021, allowing for more collaborative and engaging classrooms and meeting rooms.
At Airshow China in September 2021, Royole and Airbus unveiled the first three-cabin flexible display prototypes, building on their relationship that began in 2018. A fully flexible display is cutting-edge technology that effortlessly adapts to any interior surface. It is the human-machine interface of the future in aviation, working as a 'sticker.'
Some of the key players operating in the flexible display market: BOE Technology Group Co., Ltd., SAMSUNG DISPLAY, LG DISPLAY CO., LTD., AU Optronics Corp., Innolux Optoelectronics Co., Ltd., Japan Display Inc., E Ink Holdings Inc., Corning Incorporated, SHARP CORPORATION, Visionox Company, and Royole Corporation

Source: VynZ Research