Industry Overview
The Global Cloud Supply Chain Management (SCM) market is expected to grow at 21.0% CAGR during the forecast period with the market size reaching USD 17.3 billion by 2030. Different solutions including product life-cycle management, demand planning & forecasting, logistics management, and inventory & warehouse management together hold the majority of the cloud SCM market size. The market has witnessed significant growth over the last few years due to the reduction in cost incurred by enterprises with the usage of these SCM solutions and reduction in chances of potential failures.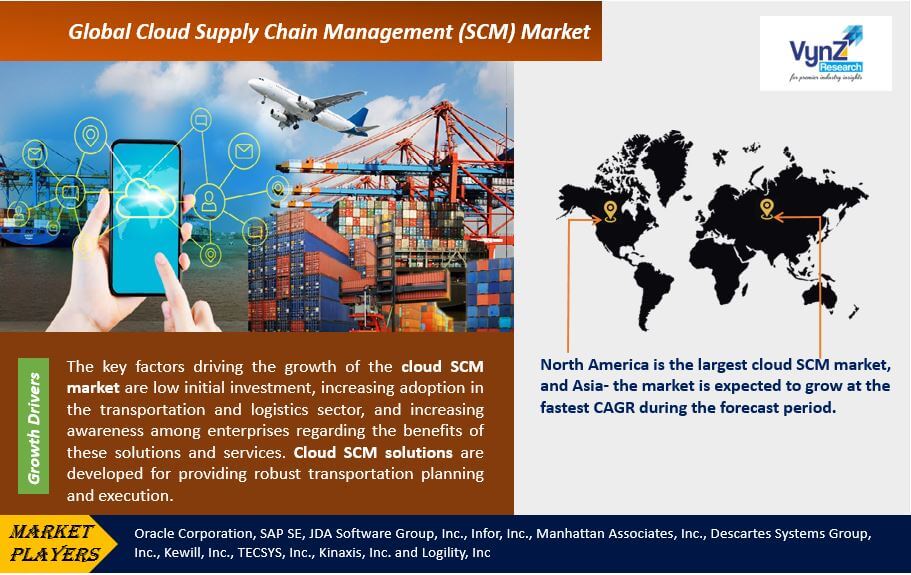 Market Segmentation
Insight by Solution
Based on solution, the cloud SCM market is categorized into inventory & warehouse management, transportation management, demand planning & forecasting, logistics management, product life-cycle management, sales & operations planning, product master data management, order management and procurement & sourcing. Of all these, demand planning & forecasting solutions account for the largest share in the market, globally. It will also witness the highest growth during the forecast period. Demand planning and forecasting help enterprises to accurately predict the revenue forecast and manage optimum inventory levels, thereby witnessing the significant growth over the years.
Insight by Service
The key services offered in the cloud SCM market include support & maintenance, training & consulting and managed services. Of all, support and maintenance services are anticipated to witness the fastest growth in demand at a CAGR of 24.0% during the forecast period. Enterprises require support and maintenance services to ensure efficient cloud supply chain management.
Insight by Deployment Type
On the basis of deployment type, the market is segmented into public cloud, hybrid cloud, and private cloud. Hybrid cloud accounts for the largest share in the global market, however, the fastest growth of the market size is expected for the private cloud SCM market during the forecast period. Several benefits of the private cloud such as instant provisioning, scalability, quick expansion of server base and virtualized resources lead to increased adoption of the platform by several enterprises.
Insight by User Type
Based on user type, the market is segmented into small and medium enterprises and large enterprises. Large enterprises are the major stakeholder in the cloud SCM market as the supply chain remains complex in these enterprises, thus requiring cloud SCM solutions for efficient management of its supply chain.
Insight by Industry
Among different industries including retail & wholesale, energy & power, transportation & logistics, food & beverage, manufacturing, hospitality, government, and healthcare & lifesciences, the Cloud SCM market size is the largest for the energy & power industry and it is expected to grow at the fastest CAGR during the forecast period. The supply chain for the energy and power sector is complex. Cloud SCM solutions help it to make it resilient and efficient, thus leading to its adoption by this sector.
Cloud Supply Chain Management (SCM) Market Report Coverage
| | |
| --- | --- |
| Report Metric | Details |
| Historical Period | 2018–2022 |
| Base Year Considered | 2022 |
| Forecast Period | By 2030 |
| Market Size in 2022 | $X.XX Billion |
| Revenue Forecast in 2030 | $17.3 Billion |
| Growth Rate | CAGR 21.0% |
| Segments Covered in the Report | By Service, By Deployment Type, By User Type, and By Industry |
| Report Scope | Market Trends, Drivers, and Restraints; Revenue Estimation and Forecast; Segmentation Analysis; Impact of COVID-19; Companies' Strategic Developments; Market Share Analysis of Key Players; Company Profiling |
| Regions Covered in the Report | North America, Europe, Asia-Pacific, Middle East, and Rest of the World |
Industry Dynamics
Growth Drivers
The key factors driving the growth of the cloud SCM market are low initial investment, increasing adoption in the transportation and logistics sector, and increasing awareness among enterprises regarding the benefits of these solutions and services. Cloud SCM solutions are developed for providing robust transportation planning and execution. It helps to track and manage transportation activities across the dynamic transportation supply chain. It also helps to reduce freight costs, automate business activities and optimize service levels. The platform provides collaboration between multiple parties or enterprises involved in order to run business activities and logistics operations with enhanced efficiency.
Cost Reduction: Cloud SCM solutions offer cost-effective alternatives to traditional on-premises systems. Organizations can avoid upfront infrastructure investments, maintenance costs, and software licensing fees. Cloud-based solutions provide scalability, allowing businesses to pay for the resources they actually use, leading to significant cost savings.
Flexibility and Scalability: Cloud SCM solutions provide the flexibility to scale operations up or down based on business needs. Companies can quickly adapt to changing market conditions, demand fluctuations, or business expansions without the limitations of traditional systems. Cloud platforms offer elasticity, enabling organizations to dynamically allocate resources and adjust capacity as required.
Improved Collaboration and Visibility: Cloud SCM solutions facilitate real-time collaboration and information sharing across various stakeholders in the supply chain. It enables better visibility into inventory levels, order statuses, and shipment tracking, allowing companies to make informed decisions. Enhanced collaboration and visibility reduce delays, errors, and inefficiencies, leading to improved overall supply chain performance.
Advanced Analytics and Insights: Cloud SCM platforms leverage advanced analytics and machine learning capabilities to analyze large volumes of supply chain data. These insights help organizations identify trends, predict demand, optimize inventory levels, and enhance overall operational efficiency. By leveraging data-driven decision-making, companies can make better strategic choices and improve customer satisfaction.
Rapid Deployment and Upgrades: Cloud SCM solutions can be quickly deployed, enabling faster time to value compared to traditional systems. Upgrades and enhancements are managed by the cloud service provider, ensuring that organizations have access to the latest features and functionality without significant downtime or disruption. This agility allows businesses to stay competitive in a rapidly evolving market.
Challenges
The key challenges faced by the industry players in the cloud SCM market include complexities of implementation for the supply chain of large enterprises, increasing concerns for security and privacy among enterprises and underdeveloped IT infrastructure in the developing nations. Also, issues related to data segregation and management and the dearth of technical experts hinder the growth of the market.
Geographic Overview
Geographically, North America is the largest cloud SCM market, and Asia- the market is expected to grow at the fastest CAGR during the forecast period. North America has been at the forefront of adopting and investing in the latest information and communication technologies. This leads to the huge demand for cloud SCM solutions and services across the industry verticals. U.S. remains the larger market in North America and also predicted to grow at the faster CAGR during the forecast period.
Global Cloud Supply Chain Management (SCM) Market, By Region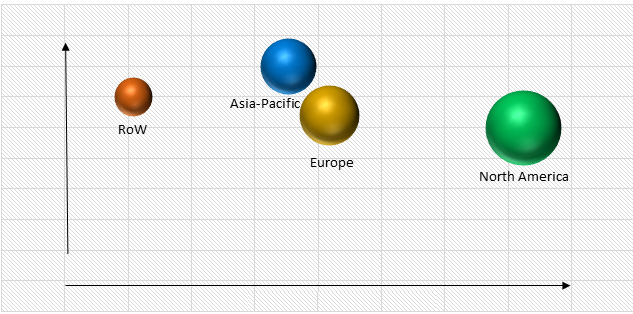 Countries in Asia-Pacific are promoting innovation for digital technology. It involves investing in Internet-based economy including digital transformation and cloud-based technologies. Different industry verticals in the region are adopting smart manufacturing practices which involve smart procurement, which drives the Asia-Pacific cloud SCM market.
Competitive Insight
Market players in the Cloud SCM industry are expanding their product portfolio with a focus on easing the complexities of the supply chain. Oracle Corporation, SAP SE, JDA Software Group, Inc., Infor, Inc., Manhattan Associates, Inc., Descartes Systems Group, Inc., Kewill, Inc., TECSYS, Inc., Kinaxis, Inc. and Logility, Inc., are some of the key players offering solutions and services for Cloud SCM.
The Cloud Supply Chain Management (SCM) Market report offers a comprehensive market segmentation analysis along with an estimation for the forecast period 2023–2030.
Segments Covered in the Report
By Solution

Inventory & Warehouse Management
Transportation Management
Demand Planning & Forecasting
Logistics Management
Product Life-Cycle Management
Sales & Operations Planning
Product Master Data Management
Order Management
Procurement & Sourcing

By Service Type

Support & Maintenance
Training & Consulting
Managed Services

By Deployment Type

Public Cloud
Hybrid Cloud
Private Cloud

By User-Type

Small and Medium Enterprises
Large Enterprises

By Industry

Retail & Wholesale
Energy & Power
Transportation & Logistics
Food & Beverage
Manufacturing
Hospitality
Government
Healthcare & Lifesciences
Region Covered in the Report
North America
Europe

Germany
U.K.
France
Italy
Spain
Russia
Rest of Europe

Asia-Pacific (APAC)

China
Japan
India
South Korea
Rest of Asia-Pacific

Rest of the World (RoW)

Brazil
Saudi Arabia
South Africa
U.A.E.
Other Countries
PRIMARY RESEARCH INTERVIEWS - BREAKDOWN