Industry Overview
The protection of online data store against theft, deletion, and leakage is called cloud security. Methods of providing cloud security include penetration testing, obfuscation, tokenization, firewalls, avoiding public internet connections and virtual private networks (VPN). Major threats to cloud security include data loss, account hijacking, data breaches, service traffic hijacking, poor choice of cloud storage providers, insecure application program interfaces (APIs) and shared technology that can compromise cloud security.
Increasing instances of online data theft, copy and manipulation has made the use of cloud security a must. All the big organizations, which store a large amount of data, upload it on their cloud to save storage space and for instant access. This makes it important to keep the data safe from such unscrupulous activities.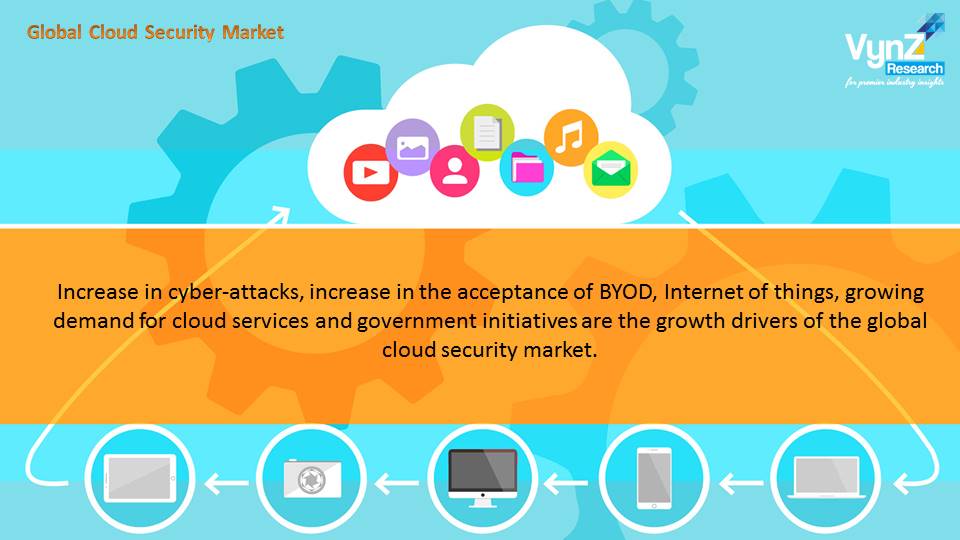 Market Segmentation
Insight by Deployment Type
There are three types of deployment in cloud security market such as private, public and hybrid. Among all these categories, public segment account for the largest share in the market and hybrid cloud is anticipated to witness fastest growth during the forecast period. Public cloud is observing rampant demand from small and medium enterprises due to its lower costs. Furthermore, it helps in providing reliability and scalability as it avails on-demand requirement of resources in order to meet the evolving needs of business enterprises.
Moreover, hybrid cloud provides agility to the users and helps the enterprises to make their organizations compatible and suitable to do business on a digital platform. Thus, it helps the organization in gaining a competitive edge over its rival, thereby enhancing the growth of the cloud security market across the globe.
Insight by Organization Size      
On the basis of organization size, the cloud security market is segmented into large and small and medium enterprises. Of all, cloud security system market is witnessing extensive demand from small and medium enterprises. Since, this system provides cost efficiencies to enterprise, increasing scalability and helps the users in securely and easily accessing data.
Insight by Solution
Based on solution the cloud security market is categorized into cloud e-mail security, cloud IAM, cloud DLP and cloud IDS/IPS. Among all these segments, cloud IAM is anticipated to witness the fastest growth during the forecast period since it provides secure access of data to business enterprises since organizations proceed their services and share data through public cloud.
Insight by Application
The cloud security market has also been segmented by application into education, financial services, healthcare, IT & telecom, media & entertainment, government and others. Among all these segments, financial services are expected to witness the fastest growth during the forecast period since cloud security helps the enterprises in enhancing and improving the experience of users. Furthermore, it helps the financial companies in centralizing access control, reduces costs and helps business organizations to meet evolving regulatory requirements.
Industry Dynamics
Industry Trends
Increasing trend of VPN technology, cloud computing and increasing number of cases of cyber threats, increasing acceptance of BYOD devices and increasing utilization of blockchain by various business organizations across the globe are the key trends observed in the cloud security market. BYOD stands for bring your own devices which is a policy used by many corporations. This allows the employees to bring their own device and use it to access the classified data of the organization. This policy can be used to manipulate, leak and delete the data. Moreover, cloud security is used for the corporate employees for remote access of data securely.
Growth Drivers
Increase in cyber-attacks, increase in the acceptance of BYOD, Internet of things, increasing demand for cloud services and government initiatives are the growth drivers of the global cloud security market. Internet of things is the connectivity of physical devices like vehicles, home appliances, smartphones and tablets with each other through a network to exchange data within them. Furthermore, this can contain personal information, so with more and more adoption of IoT, the acceptance of cloud security system is increasing.
Furthermore, increasing government initiatives state the increase in the utilization of cloud-based technology. There have been several smart city projects implemented which require cloud-based technology to keep all the data stored on the cloud networks secured. These factors are thereby pertaining towards the growth of the cloud security market across the globe. 
Challenges
DDoS attacks, data breaches, insecure access point, notifications and alert are some of the challenges that the global cloud security market faces. DDoS is distributed denial of service; it is an attack that stops the servers to respond to the legitimate users command. The servers stop responding and ultimately the website or the data on the cloud are inaccessible.
Industry Ecosystem
Globally industry players are leveraging market growth through the development of innovative solutions in global market for cloud security. The vendors for cloud security are providing various solutions to the users such as advanced security features, easy to operate and provision of troubleshoot diagnosis system that provides instant service in case of any technical issue.
Geographic Overview
Geographically, North America is the largest cloud security market, globally due to the development of various smart city projects in the region and increasing utilization of hybrid cloud that helps in enhancing scalability for business enterprises.
Moreover, Asia-Pacific is anticipated to witness the fastest growth during the forecast period for cloud security market since the region offers potential growth to the IT sector in this region. There are also several initiatives undertaken by the government for the use of cloud technology and development of smart city projects in this region.
Competitive Insight
Key players in the cloud security industry are investing towards improving the quality of access control and developing the latest technologies that are furthermore strengthening their position in the market. However, it has been observed that local players are depending upon new technology to develop cost efficiencies, thus increasing the rivalry in the market to some extent. The prominent players in the global cloud security market include Cisco Systems, CA Technologies, Inc., CSC, Trend Micro, Inc., Intel Security, Symantec Corporation, IBM Corporation and Fortinet, Inc.