Industry Overview
The Global Digital Check Scanning Solution Market was estimated at USD $ 0.95 billion in 2022 and is expected to rise to USD $2.90 billion by 2030, with a compound annual growth rate of 9.8 percent. The global digital check scanning solution market is expected to grow and will be a face changer for the technology industry during the forecast period. The major reason behind the growth is to cut down the frauds as digital check scanners authenticate and verify each check process.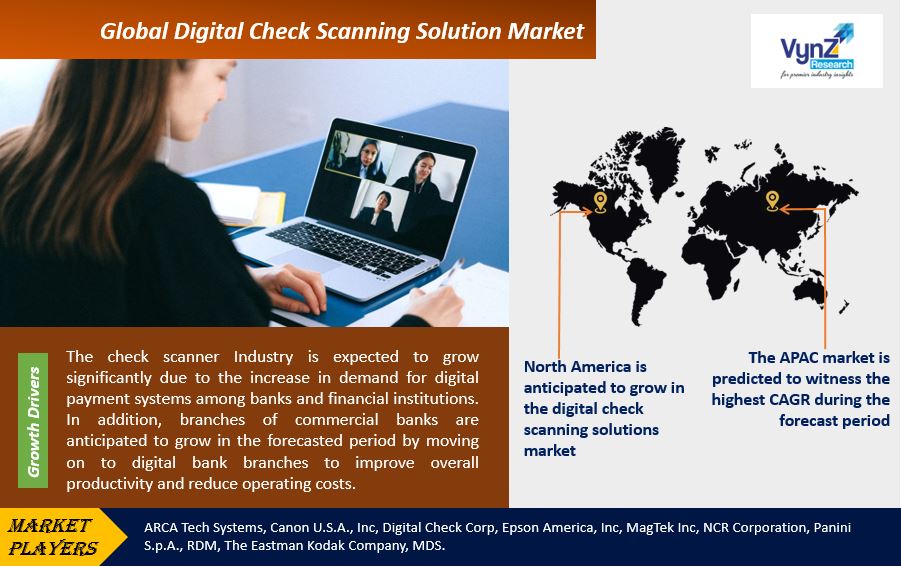 Amidst the COVID-19 pandemic, banks and customers are using digital check scanning solutions to cash the digital checks into their accounts. As a result, customers are not going to banks. Moreover, the digital check scanners are safe in terms of security. Customers are choosing digital transactions over traditional ways. This factor is driving the growth of the digital check scanning solution market.
 There is a gradual increase in demand all over the world for digital check scanning due to the COVID-19 crisis. The users are increasing day by day, increasing the sales, revenue, import, and exports.
Market Segmentation
Insight by Type
On the basis of type, the market is bifurcated into single-feed check scanning systems and multi-feed check scanning systems. Among these types, the multi-feed check scanner segment is expected to lead the global check scanner market during the forecast period. A pile of cheques is put into a multi-feed scanner through the input area, and the scanner does its processing accurately. This scanning solution is useful for businesses that have a constant flow of check processing. Small enterprises use single-feed check scanning solutions to process their check payments on a digital platform.
Insight by End-User
On the basis of end-user, the market is segmented into financial institutions, enterprises, and others. The adoption of advanced technologies in financial institutions and enterprises is the driving factor for the growth of the digital check scanning process. Solution providers have easy to install digital scanners which upgrade the work performance of a system, enhance security, and increase productivity. Digital check scanners reduce fraud by authenticating and validating each check process. With the rise in awareness of digital platforms for check scanning, cash flows have increased and branch visits of customers have reduced.
Banks are installing advanced ATMs with an in-built digital check scanning, which will help users to scan the check digitally, and without any delay, their transaction will be processed. Government organizations are using digital platforms to keep records of their financial documents. Nowadays, financial institutions are doing their check payments and deposits electronically. The use of digital check scanning solutions in financial institutions and government sectors will also increase during the forecasted period.
Digital Check Scanning Solution Market Report Coverage
| | |
| --- | --- |
| Report Metric | Details |
| Historical Period | 2018–2022 |
| Base Year Considered | 2022 |
| Forecast Period | By 2030 |
| Market Size in 2022 | $0.95 Billion |
| Revenue Forecast in 2030 | $2.90 Billion |
| Growth Rate | CAGR 9.8% |
| Segments Covered in the Report | By Type, By End-User |
| Report Scope | Market Trends, Drivers, and Restraints; Revenue Estimation and Forecast; Segmentation Analysis; Impact of COVID-19; Companies' Strategic Developments; Market Share Analysis of Key Players; Company Profiling |
| Regions Covered in the Report | North America, Europe, Asia-Pacific, Middle East, and Rest of the World |
Industry Dynamics
Industry Trends
An increase in digitalization, cost reduction, and increasing awareness about the optimum utilization of assets are providing growth opportunities in the digital check scanning solutions market. Check scanner manufacturers and supporting payment device manufacturers are offering technological advancement, equipment upgrades, and process improvements in digital check scanners. Therefore, an increase in the applications of digital check scanning solutions in different sectors is driving the global markets. Due to the Covid-19 outbreak, there is a risk in public places including banks, as a result, the customer is preferring ATMs and other check scanning places which will drive the digital check scanning solutions market.
As the digital check scanning solution market continues to evolve, there are several trends that are shaping its growth. These include the integration of artificial intelligence (AI) and machine learning (ML) algorithms to improve check recognition accuracy, the development of mobile check deposit solutions to facilitate remote check scanning, and the increasing emphasis on security measures to protect sensitive customer data during check processing.
Growth Drivers
The check scanner Industry is expected to grow significantly due to the increase in demand for digital payment systems among banks and financial institutions. In addition, branches of commercial banks are anticipated to grow in the forecasted period by moving on to digital bank branches to improve overall productivity and reduce operating costs. There is a need to achieve efficiency in digital scanners and regulatory authorities are pushing banks and financial institutions to use check scanners.
The market for digital check scanning solutions has been growing in recent years, driven by several factors. Firstly, the shift towards digitization and automation in financial services has led to increased demand for efficient and secure check processing solutions. Digital check scanning solutions offer faster processing times, reduced manual errors, and improved operational efficiency compared to traditional paper-based check processing.
Challenges
The high initial cost may obstruct the growth of the digital check scanning solutions market. Users adopt various other digital software platforms instead of check scanners to maintain the cash flow and therefore, restrict the digital check scanning solutions market growth.
Opportunities
Vendors operating in the market need to continuously adapt advanced technologies for new product innovation and bring a comprehensive solution. As a result, there is a need to invest in research and development (R&D) and mergers and acquisitions (M&A). With M&A, vendors can extend their offerings across the supply chain and improve their technological capabilities. Digital Check Corporation acquired Benchmark Technology Group Inc. in February 2021 to improve its payment processing technology and expand its product portfolio. All these developments in the field of check scanning solution industry will bring numerous new opportunities for solution providers.
Geographic Overview
Geographically, North America is anticipated to grow in the digital check scanning solutions market during the forecasted period because of technological development and the existence of market players in the region. In North America, solution providers are focusing on providing advanced hardware solutions and devices such as ATMs with an in-built digital scanner to maintain records of financial documents.
The market in the Asia Pacific is projected to expand during the forecast period due to the emergence of digital technologies in digital check scanning solutions among banks and credit unions. 
Competitive Insight
Key players in the digital check scanning solutions market focus on technological development and cost-effective solutions to attract customers and enterprises. For instance, in 2019, Panini S.p.A. had a technological partnership with Alogent Corp. for developing all-in-one check capture solutions for financial institutions and commercial sectors.
Some of the key players operating in the digital check scanning solutions market are ARCA Tech Systems, Canon U.S.A., Inc, Digital Check Corp, Epson America, Inc, MagTek Inc, NCR Corporation, Panini S.p.A., RDM, The Eastman Kodak Company, MDS.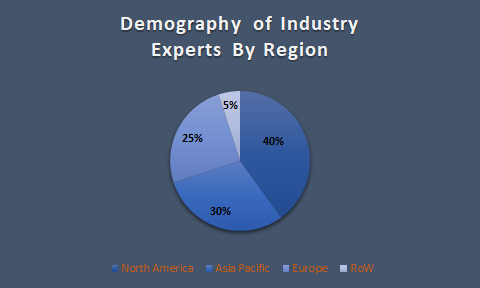 Source Vynz Research
Solution VynZ Research