Industry Overview
The global edge data center market is anticipated to grow from USD 7.15 billion in 2021 and is expected to reach USD 21.78 billion by 2030, witnessing a CAGR of 22.2% during the forecast period 2022-2030. Edge data centers are defined as data storage and access systems that are situated close to the end-user to improve the efficiency of their data delivery infrastructure. It could be a single or two racks, or a small computer unit close to a 5G antenna – but it could also be a room with 100 to 200 KW of power and greater IT power. Instead of keeping data processing control in a centralized warehouse or the cloud, edge data centers carry it to the network's edge. These edge data centers have fire protection, cooling systems, and excellent security systems, as well as amazing features like uninterruptible power supplies, board cooling, and storage systems, all of which contribute to the growth of the edge data center market. As a result of the development of the IT and telecommunications, healthcare, energy, and banking industries, the edge data center market has aided enterprises in reaching small cities and places, accelerating the edge data center market.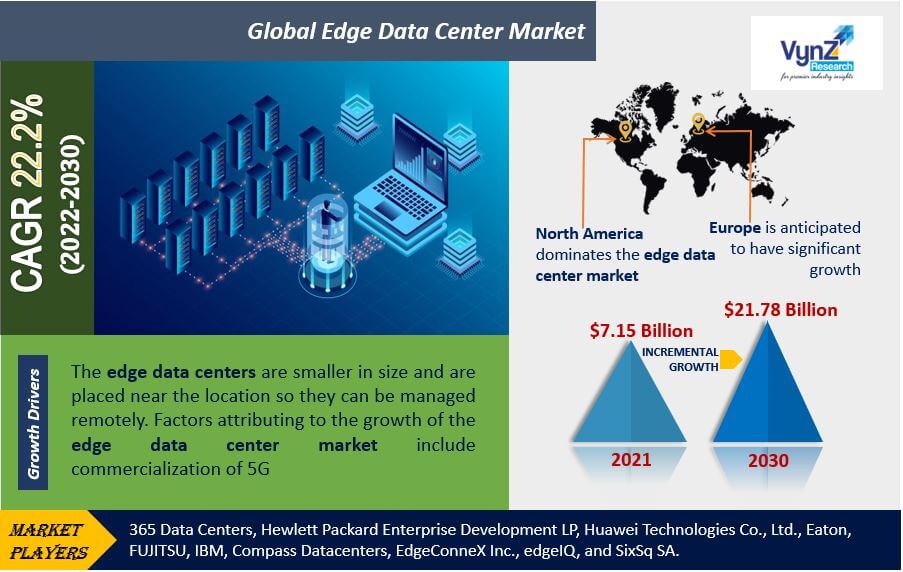 The COVID-19 pandemic has a positive impact on the edge data center market owing to strict containment measures and health safety compliances that have enforced remote operations in several industrial verticals like manufacturing, energy and utilities, and transportation and logistics so as to enhance performance and reduce latency issues. IoT and 5G technologies, as well as edge computing, enable the company to address COVID-19-related risks and customer expectations. Medical professionals can reach their patients swiftly and efficiently using software apps, telemedicine services, and diagnostic gadgets that use patient data. Streaming services can leverage edge computing to improve their network performance for end-users.
Market Segmentation
Insight by Component Type
Based on component type, the global edge data center market is segmented into solutions and services. The solution category is sub-divided into cooling, power (UPS), IT racks and enclosures, networking equipment, and DCIM. The services category is sub-divided into integration & implementation, managed, and consulting. 
The solution segment contributes to the largest share in the edge data center market. An edge data center works as a caching and data-aggregation point between users and larger data centers to alleviate the excessive IT burden in today's IT-intensive environment with massive data traffic.
In the forecasted year, in the solution category, the networking equipment solution is expected to generate significant revenue. Networking solutions assist organizations in improving data centers by allowing them to choose from a variety of innovative, industry-standard network applications, operating systems, and hardware. Users can select, deploy, and connect to various virtual network services using networking equipment that runs on a modular infrastructure platform that is geared for quick deployment and connectivity of network services. It's used to deploy network services close to cloud providers and end-users, as well as to unlock new use cases that traditional IT deployment models can't manage, such as IoT, machine learning, and AI.
The integration and implementation in the service category will dominate the edge data center market as integration service providers aims at deploying continuous integration of the platform with other tools like CRM, analytics tools, AI-powered matchmaking assistance to improve engagement, and networking opportunities of like-minded individuals
Insight by Facility Size
Based on facility size, the global edge data center market is segmented into small and medium facilities and large facilities. The large facility dominates the market as they easily support and extend the data center capabilities of organizations. They are also suitable for minimizing space, requiring minimal time for deployment, and reducing costs.
Insight by Industry Vertical
Based on industry vertical, the global edge data center market is classified into IT & telecommunication, BFSI, colocation, energy & power, government, industrial, automotive, retail & e-commerce, gaming and entertainment, healthcare, and others. The BFSI sector dominates the market owing to increased emphasis to provide rapid IT infrastructure and an increased need to store and process consumer data securely.
Edge Data Center Market Report Coverage
| | |
| --- | --- |
| Report Metric | Details |
| Historical Period | 2018–2021 |
| Base Year Considered | 2021 |
| Forecast Period | 2022-2030 |
| Market Size in 2021 | $7.15 Billion |
| Revenue Forecast in 2030 | $21.78 Billion |
| Growth Rate | 22.2% |
| Segments Covered in the Report | By Component Type, By Facility Size, and By Industry Vertical |
| Report Scope | Market Trends, Drivers, and Restraints; Revenue Estimation and Forecast; Segmentation Analysis; Impact of COVID-19; Companies' Strategic Developments; Market Share Analysis of Key Players; Company Profiling |
| Regions Covered in the Report | North America, Europe, Asia-Pacific, Middle East, and Rest of the World |
Industry Dynamics
Industry Trends
The increased adoption of internet services along with a surge in the number of connected devices will shift the trend towards bandwidth-intensive applications. Also, the surge in adoption of developed technology like big data, IoT, 5G deployment, cloud, and streaming devices will show a significant trend in the edge data center market.
Growth Drivers
The edge data centers are smaller in size and are placed near the location so they can be managed remotely. Factors attributing to the growth of the edge data center market include commercialization of 5G, growing demand for live streaming videos, rising demand for effective content delivery among users, and mounting mobile data traffic and over-the-top (OTT) traffic globally. Furthermore, the rising adoption of smartphones and IoT devices will lead to an increase in mobile data traffic, resulting in managing the increased amount of data by edge data centers will propel its growth. Also, the increased espousal of IoT devices like sensors, actuators, self-driven cars, robots in-home or industrial settings will enable service providers to manage large amounts of data, thereby propelling the growth in the market. During the forecast period, the rising need for increased channel capacity, quality, and compatibility is expected to push the global edge data center market.
Challenges
The rising need for massive capital investment, increased infrastructure cost, high maintenance cost, high-speed network connection in remote areas, and security concerns in green storage technologies will restrain the growth of the edge data center market globally, though, with development and ongoing investment in R&D activities, the edge technology cost might reduce soon.
Opportunities
The growing demand for high computational power is prompting service providers to host data centers at edge locations for low-latency connectivity, which is further driving lucrative opportunities in the edge data center market. Furthermore, the commercialization of 5G technology and advancement in AR so as to develop new edge facilities will further accelerate the growth opportunities in the market.
Geographic Overview
North America dominates the edge data center market owing to the increasing deployment, commercialization of 5G networks, increased penetration of mobile services, and mounting demand for IT infrastructure will propel the growth in the region.
Europe is anticipated to have significant growth as it has a strong manufacturing sector that adopts developed technology like 5G, robotics, and IoT devices. Europe has a large automotive industry that provides developed vehicles that require fast processing of a large amount of data in real-time, thereby driving growth in the European region.
Competitive Insight
The edge data center industry is highly consolidated, and manufacturers are pursuing growth tactics such as purchasing smaller vendors to diversify their product offerings and compete. Because there are so many industry competitors, such as Microsoft Corporation, IBM Corporation, 365 Operating LLC, and EdgeConnecX Inc., the edge data center market is very competitive. Several edge data center vendors have introduced new products in recent years in order to supply consumers with technologically superior solutions. Furthermore, the companies are entering into partnerships, collaborations, mergers & acquisitions, and joint ventures to support their foothold in the global edge data center market.
The HPE Edge Center is a fully self-contained, single-cabinet modular, software-defined data center that allows any IT infrastructure to operate at the edge. It secures computing, network, and storage infrastructure while also enabling edge management automation with an industry-first edge management control system. The HPE Edge Center gives freedom to quickly and efficiently deploy computing where and when consumers need it. Industrial IoT, as well as other enterprise edge or AI applications, will benefit from this solution.
Eaton, a leader in edge computing technology, provides distributed IT edge settings with power management solutions to keep mission-critical apps and devices functioning longer and minimize data loss. Uninterruptible power supplies (UPS), power distribution units (PDU), and intelligent power management with environmental monitoring, sophisticated notifications, remote control, and automatic reactions for smooth shutdown are among these instruments. Eaton is focusing on four primary edge environments for deployments outside of physical data center edge solutions I.e., computer edge, local data center edge, industrial IoT edge, and gateway edge.
In June 2021, Eaton, a global power management firm, recently unveiled the iCube 2.0 and the 9PX lithium-ion UPS, two new additions to its micro data center (MDC) and 9PX uninterruptible power supply (UPS) line. These new regional solutions enable businesses to achieve information and operational technology excellence while positioning their enterprise for success in the ongoing energy transition and are tailored to address the unique needs and pain points of Asian organizations looking to future-proof their data center infrastructure.
In June 2021, HPE announced at HPE Discover that it is extending its hybrid cloud leadership with a comprehensive set of innovations to the HPE GreenLake edge to cloud platform, the industry's most robust and proven platform for cloud services in the data center, colocation center, and at the edge. With automated, cloud-native capabilities that can be performed in just a few clicks and maintained in a unified platform, innovations cover applications, security, silicon, and software.
Some of the industry players in the global edge data center market include 365 Data Centers, Hewlett Packard Enterprise Development LP, Huawei Technologies Co., Ltd., Eaton, FUJITSU, IBM, Compass Datacenters, EdgeConneX Inc., edgeIQ, and SixSq SA.
The Edge Data Center Market research includes a comprehensive market segmentation analysis as well as projections for the analysis period 2022-2030.
Segments Covered in the Report
By Component Type 

Solutions

Cooling
Power (UPS)
IT Racks and Enclosure
Networking Equipment
DCIM

Services

Integration & Implementation
Managed
Consulting

By Facility Size

Small and Medium Facilities
Large Facilities

By Industry Vertical 

IT & Telecommunication
BFSI
Colocation
Energy & Power
Government
Industrial,
Automotive
Retail & E-Commerce
Gaming and Entertainment
Healthcare
Others
Region Covered in the Report
North America
Europe

Germany
U.K.
France
Italy
Spain
Russia
Rest of Europe

Asia-Pacific (APAC)

China
Japan
India
South Korea
Rest of Asia-Pacific

Rest of the World (RoW)

Brazil
Saudi Arabia
South Africa
U.A.E.
Other Countries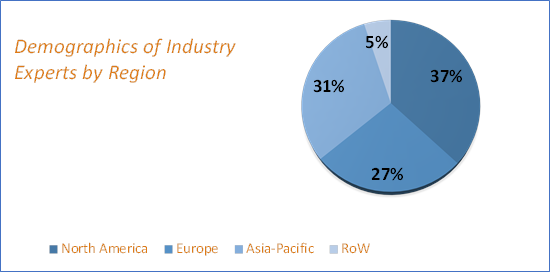 Source: VynZ Research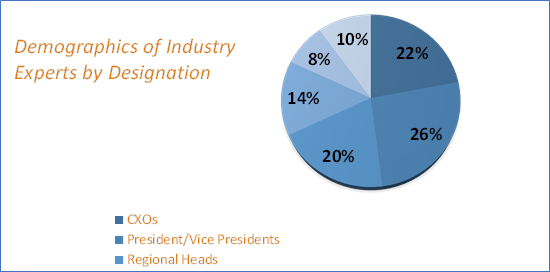 Source: VynZ Research