Industry Overview
The global geographic information system (GIS) market was valued at USD 6.3 billion in 2017 and is further expected to become USD 12.7 billion by 2024. This market is further expected to witness CAGR of 10.7% during the forecast period 2018 – 2024. The increasing popularity of this market is attributed towards extensive utilization of GIS by several business organizations to develop maps that help in efficiently performing analysis, solving complex problems, sharing information and communicating across the globe. This system is further enabling the organization to perform task in an effective manner.
Market Segmentation
Insight by Components
The GIS market on the basis of component is segmented into hardware, software and services. Among all these components, software segment holds the largest share is expected to witness the a CAGR of 9.2% during the forecast period. Software based GIS are extensively being used in spatial data analysis, spatial data processing, spatial database management systems, and digital mapping. Moreover, services segment is expected to observe increasing demand pertaining to excessive utilization for spatial data analytics in several applications such as taxi aggregators, urban planning and food delivery.
Insight by Project Size
On the basis of project size, the GIS market is categorized into small medium and large projects. Among these, medium size projects are the most commonly executed due to the involvement of governments in developing as well as development countries.
GLOBAL GIS MARKET SHARE, BY PRODUCT (2017)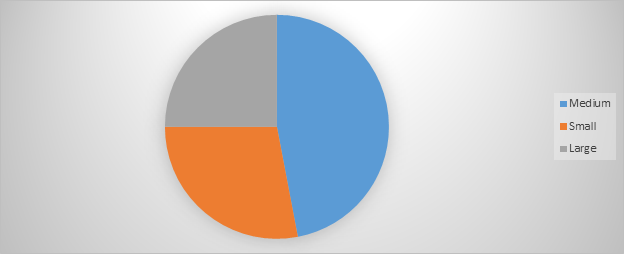 Insight by Application
On the basis of application, the global GIS market is segmented into water & wastewater, government, aerospace & defense, oil & gas exploration, engineering & business services, oil & gas refining, healthcare, transportation & logistics, telecommunications, and others. Engineering and business services segment is expected to witness highest CAGR of 11.9% during the forecast period. Due to rapid growth in urbanization it is expected to further enhance the developmental activities in construction and infrastructure sector. The massive usage of GIS technique in analysis of urban planning such as flatness of the land and usage value of the land is further enhancing the growth of the market.
Moreover, extensive implementation of positioning technique in transport and logistics is expected to further increase the demand for GIS in the global market. Furthermore, in agriculture the technology is adopted in order to ensure and enhance the effectiveness and efficiency of farming methods.
Industry Dynamics
Growth Drivers
The increasing amalgamation of GIS system with traditional technology has upgraded the business intelligence systems of the organization. Furthermore, the combination of IoT devices and GIS system helps the users in accessing accurate data along with using geospatial data analysis. Moreover, the increasing demand for location based services such as control of a valve and real-time status are driving the growth of GIS market across the globe. Additionally, the increasing usage of GIS systems in construction sector is expected to further exaggerate the growth of this market during the forecast period.
Due to exponential increase in geospatial information has further resulted in extensive adoption of these systems in several business organizations across various application areas such as advertisement and marketing division. It has been observed that the GIS application is the major beneficiary of the easily accessible geospatial data. Moreover, expanding number of mobile device users and other technologies and SaaS based cloud-computing are the major factors that are the growth of GIS market across the globe.
Challenges
The initial high set up cost of GIS system and non-existence of authentic spatial data is the major factor hindering the growth of this market across the globe. Moreover, it has been observed that ample amount of capital is required for developing database and managing overall GIS system. As a result small and medium enterprises and government of emerging economies are not implementing GIS technique which is further restraining the growth of the GIS market.
Industry Ecosystem
Globally industry players are leveraging market growth through extensive application of GIS in various fields. Several key industry players are providing state-of-the-art software applications to its users that are further bolstering the growth of the GIS market.
Geographic Overview
Geographically, Asia-Pacific is expected to witness fastest growth of 11.9% during the forecast period. The growth of this market in this region is attributed towards increasing implementation of geospatial system by business organization in several sectors such as agriculture, mining and manufacturing, construction and insurance sectors that are enabling them to undertake informed decisions and identify potential strengths of their organization.
GLOBAL GIS MARKET, BY REGION (2017)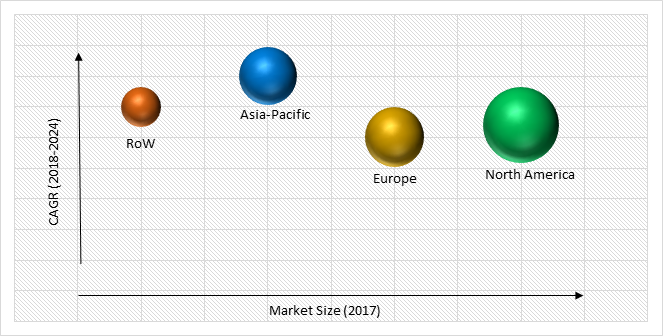 Moreover, it has been observed that geospatial technologies are extensively being used for agricultural and rural development in this region. Furthermore, excessive usage of mapping and surveying technologies are driving the growth of GIS market in this region. Moreover, implementation of GIS system in various countries such as India and China are expected to further drive the growth of this market during the forecast period.
Competitive Insight
Some of the major players operating in the global GIS industry include Environmental Systems Research Institute Inc. (Esri), Macdonald & Company, Pitney Bowes Inc., Dettwiler and Associates Ltd., PASCO CORPORATION, SuperMap Software Co. Ltd., Ubisense Group Plc., Bentley Systems Incorporated, Schneider Electric SE and Autodesk Inc.