Industry Overview
The global Hybrid Devices market size is expected to grow from USD 32.6 billion in 2021 and will reach USD 142 billion by 2030, witnessing a market growth rate (CAGR) of 18% during the forecast period.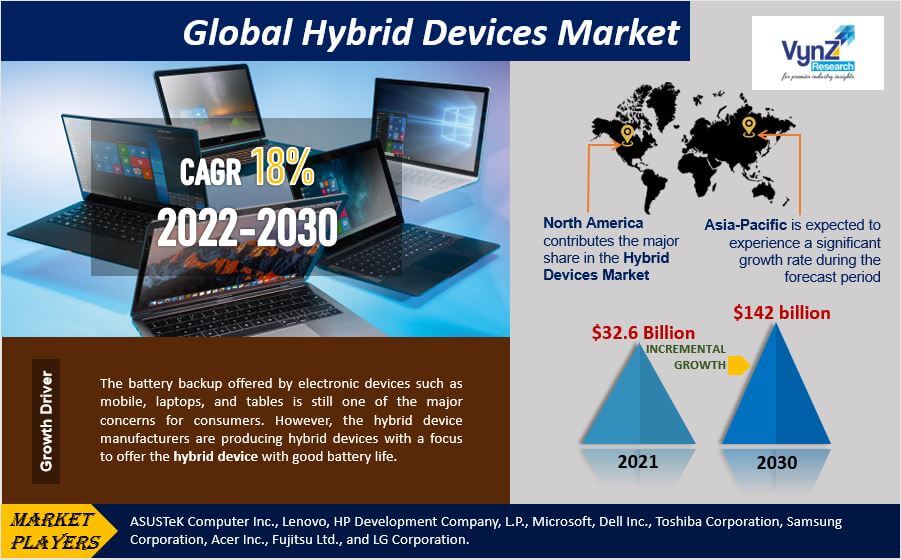 A hybrid device can be defined as a device or a computer that can be used as a standalone tablet or laptop. The changeable and unique design is an offer to provides a tablet-style convenience as well as a PC operating system and features of a laptop with a keyboard. Also, these hybrid devices are called 2-in-1 or convertible laptops as well and are more powerful compared to tables and have more portable functionality than typical laptops. In addition, a traditional operating system and standard laptop level processor make a typical hybrid device better for multitasking than a typical tablet, which in turn makes them ideal for office/home use with additional capabilities to a tablet.
The global Hybrid Devices Market has benefitted from the COVID-19 epidemic and the current estimation for coming years in the forecast period is anticipated to be higher than pre-COVID estimated.
Industry Trends
The adoption of hybrid devices in the IT sector has flourished as companies and individuals are shifting towards digital solutions. In addition, the rising demand for user-friendly, agile, effective, and scalable computing solutions and improving mobility in businesses has created a positive outlook for the global hybrid devices market. Further, the emerging need for computing devices for browsing, presenting files, and others, owing to the adoption of the work from home model is propelling the growth of the market.
The increasing demand for advanced personal computers and laptops in business corporations and educational institutions has resulted in the development of hybrid devices. The built-in features and high functionality components such as front and rear cameras, 4-16 GB RAM, 256 GB to 1 TB data storage, fingerprint, and others are offered by the market players while developing the hybrid devices. Such an offering of advanced features in hybrid devices is propelling the adoption of these machines in various sectors. Thus driving the market growth.
Market Segmentation
Insight by Type
Based on Type, the global Hybrid Devices Market is segmented into Detachable and Convertible. Also, it is analyzed that, the detachable hybrid devices segment dominated the global hybrid devices market and is anticipated to maintain its lead during the forecast period owing to the availability of detachable hybrid devices with adjustable stands, detachable hinges, and innovative designs for higher portability and productivity. In addition, the convertible hybrid segment is anticipated to exhibit a remarkable growth rate during the forecast period.
A detachable hybrid device can be defined as a device which is a fully-featured tablet, which is attached to a docking device to provide the user with a fully functional keyboard. When the keyboard is connected to the tablet, the integrated machine becomes a laptop and provides all the functionalities offered by a traditional laptop. However, convertible laptops are laptops that can rotate their keyboard a full 360 degrees so that they are in the form of a tablet. Also, with the weight and bulk added by the folded keyboard, convertible laptops are not preferred by the consumers.
Insight by Screen Size
Less Than 12 Inches
Between 12-15 Inches
Greater Than 15 Inches
Based on Screen Size, the global Hybrid Devices Market is across less than 12 Inches, Between 12-15 Inches, and greater than 15 Inches. The 12-15 Inches segment dominated the market and is expected to maintain its dominance throughout the forecast period as the market players are focused on the development of the innovative and effective design of 12-15 Inches hybrid devices as it is the largest selling segment in the market. However, less than 12 Inches devices are anticipated to experience a remarkable growth rate owing to increasing demand for small size devices for efficient carrying of these devices.
Insight by End User
IT And Telecom
Personal Use
Educational Institutions
Healthcare
Others
Based on End Users, the global Hybrid Devices Market is divided into IT And Telecom, Personal Use, Educational Institutions, Healthcare, and Others. IT and Telecom is the highest contributor in terms of revenue to the global market and is expected to maintain this over the forecast period owing to the increasing need and adoption of high computing hybrid devices. In addition, organizations in IT & Telecom industry use hybrid devices due to the functionalities such as responsiveness, longer battery life, touchpad, and others However, the personal use segment is anticipated to exhibit a remarkable growth rate during the forecast period, as hybrid devices provide a fully functional, high processing laptop with the ease of tablet for accessing various information.
Global Hybrid Devices Market Report Coverage
| | |
| --- | --- |
| Report Metric | Details |
| Historical Period | 2018–2021 |
| Base Year Considered | 2022 |
| Forecast Period | By 2030 |
| Market Size in 2021 | $32.6 Billion |
| Revenue Forecast in 2030 | $142 Billion |
| Growth Rate | CAGR 18% |
| Segments Covered in the Report | By Type, By Screen Size and By End User |
| Report Scope | Market Trends, Drivers, and Restraints; Revenue Estimation and Forecast; Segmentation Analysis; Impact of COVID-19; Companies' Strategic Developments; Market Share Analysis of Key Players; Company Profiling |
| Regions Covered in the Report | North America, Europe, Asia-Pacific, Middle East, and Rest of the World |
Industry Dynamics
Growth Drivers
Growing demand for devices with longer battery life and high computational battery.
The battery backup offered by electronic devices such as mobile, laptops, and tables is still one of the major concerns for consumers. However, the hybrid device manufacturers are producing hybrid devices with a focus to offer the hybrid device with good battery life. And thus, hybrid device manufacturers fulfil this demand for enhanced battery life, given that the hybrid devices last longer when compared to the operation of traditional laptops. In addition, hybrid devices are installed with two good quality batteries, a primary battery, which is located on the screen, and a secondary battery, which is located on the keyboard. For instance, Toshiba Portege Z20t offers up to 17 hours of battery life with the attached keyboard and around 9 hours of battery life in tablet mode when the keyboard is removed. Thus, such increasing demand and the introduction of hybrid devices with enhanced features and longer battery life are anticipated to propel the growth of the global hybrid devices market.
Furthermore, there is an increase in the market size of hybrid devices owing to increase acceptance of enterprise mobility, increased adoption of touchscreen technology, and continuous innovation in efficiency, productivity, and accuracy will propel the market demand for hybrid devices. Fast navigation using a stylus or a touchscreen, as well as easy capture and storage of individual data, are some of the main advantages of these devices. The increased awareness of these benefits has expanded their use in business-related tasks, resulting in a rapid increase in market demand for hybrid devices. Nevertheless, high adoption of hybrid computers with additional features like simple touch input for surfing, speed, built-in security, faster wake times, and remote access manageability is also projected to boost the market growth.
Challenges
High costs are associated with Hybrid Devices
Hybrid devices offer various advantages over traditional laptops due to its dual functionality. However, the high cost associated with hybrid devices is restraining the growth of the global hybrid devices market. For instance, the hybrid device offered by Microsoft is available in the market at the cost of $ 1,028 for the device with a 64 GB configuration and for $1,128 configuration which is on significantly expensive. Also, Apple Company has introduced the MacBook Air which starts at the price range of $ 999 for a 128 capacity GB variant. Thus, the introduction of hybrid devices with a high price range is anticipated to restrain the growth of the global hybrid devices market.
Moreover, hybrid devices may also hinder its market growth as they are heavier than average tablets, particularly convertible ones.  Also, the need for different networks, hubs, many cables, and expensive circuits may stymie the market expansion of the hybrid device industry.
Opportunities
Adoption of Wireless Display technology in Hybrid Devices
Wireless Display (WiDi) is a technology that allows everything on the laptop display to be viewed simultaneously on the television set and other peripherals without any requirement of wires or cables, which is developed and introduced by Intel. Also, this wireless can be used in hybrid devices which will definitely help in various applications such as business organizations, educational institutions, and others. Thus, numbers of enterprises are also moving towards the adoption of wireless display technology to share the laptop screen with the projector device for presentation. Thus, the adoption of wireless technology in hybrid devices is anticipated to provide a lucrative growth opportunity to the players operating in the global hybrid devices market.
Furthermore, in the global hybrid device market, transitioning from Windows to Android can bring significant economic potential.
Geographic Overview
North America
Europe
Asia Pacific (APAC)
Rest of the World (RoW)
North America contributes the major share in the Hybrid Devices Market owing to the significant adoption rising adoption of hybrid devices for commercial purposes and growing adoption in business organizations in the region. Furthermore, North America has a well-developed infrastructure, and increased purchasing power among people. Also, the premium and ultra-premium range of hybrid devices have tremendous potential in the region.
Moreover, Asia-Pacific is expected to experience a significant growth rate during the forecast period owing to increased deployment of hybrid devices and rising number of internet users. In addition, countries like India, and Japan are anticipated to exhibit a remarkable growth rate, as the adoption of hybrid devices provide an effective and efficient way to explore access information, which in turn can be counted as a great feature for applications in business organizations and educational institutions.
Competitive Insight
The industry players operating in the Global Hybrid Devices Market are majorly focusing on the organic strategies such as product launch, product development, and investment inhigh-speed development of advanced hybrid machines in order to fulfil the increasing demand for high quality and high speed machines.
Leading technology companies are introducing new convertible hybrid devices. For instance, inversions March 2022, Asus launched a new laptop with a convertible feature in India under the Zenbook series. Also, the newly launched laptop is a hybrid device, use can use the device in modes such as tablet, stand, or laptop. In addition, this new machine comes is launched in three version and all of them feature AMD Ryzen 5000 series processor and OLED display. Moreover, as far as the design is concerned, the Zenbook 14 Flip OLED comes with360-degree hinge and is made up of aluminiuma alloy.
In April 2022, Dell, a computer and related products developer the announced the launch of a new range of laptops, namely Precision 7670, Latitude 9330, and Precision 7770, under its Precision and Latitude portfolio to provide users with the growing hybrid-work model. In addition, the new Dell Latitude 9330 has a feature of 2-in-1, which allows users to use it as both a Japan-based laptop and tablet. Also, it comes with a touchpad feature and quick access to video on/off, microphone mute/unmute, and other advanced features. Further, Dell Precision 7770 and Precision 7670 feature 12th generation Intel Core CPU and offer 128 GP DDR5 storage.
Toshiba is a Japana based company involved in contributing to the sustainable future by offering global delivery of services and products in wide range of business domains. Also, the range of Toshiba's business segments includes Energy Systems & Solutions, Building Solutions, Electronics Devices & Storage Solutions, Battery Business, Infrastructure Systems & Solutions, Retail & Printing Solutions, & Digital Solutions. In addition, the portfolio of hybrid devices offered by the company includes such as Portégé X30W-J, Portégé X30L-J, Portégé X40-J, Portégé X30L-G, and others.
Lenovo is one of the global leader and offer product portfolio of monitors, PCs & tablets, accessories, smart home & smart collaboration solutions, commercial Internet of Things (IoT), augmented & virtual reality (AR/VR), and Others. Also, the business segments of the company include intelligent Device Group, Infrastructure Solutions Group, Solutions & Services Group, Lenovo Capital and Incubator Group, Converged Network Group, and Data Intelligence Group. In addition, The hybrid device portfolio of the company includes Yoga 7 Gen 6, Yoga Duet 7i Gen 6, Yoga 9i (14), Yoga 7i, and others.
Recent Development by Key Players
Global technology solution companies are developing and introducing new hybrid devices with advanced feature for efficient and effective operation. For instance, on April 2022, HP launched the latest Chromebook notebook in India, which is powered by tel's Celeron processor. In addition, the company said that the latest device is designed specifically for students that are aged 4 to 15 to help them stay creative and connected regardless of whether they are classroom, home, or any learning environment. Also, the new notebook comes with the of touch screen and users can rotate the screen upto 360 degree to use the device as the tablet.
Multinational technological companies operating in the hybrid devices market are expanding the 2-in-1 laptop segment by introducing new range of devices, which in turn is anticipated to propel the growth of the market. For instance, on July 2021, Lenovo, a multination technology company, has introduced new hybrid devices, Yoga Duet 7i and Lenovo Ideapad Duet 3 in India. This new range of devices offers users a choice to operate as laptops or as tablets traditional by attaching the keyboard. In addition, the battery life of the machine is rated around 10 hours, which is also optimised with the help of artificial intelligence for around 20% extended battery life.
Key Players Covered in the Report
Some of the foremost players in the Hybrid Devices industry area ASUSTeK Computer Inc., Lenovo, HP Development Company, L.P., Microsoft, Dell Inc., Toshiba Corporation, Samsung Corporation, Acer Inc., Fujitsu Ltd., and LG Corporation.
The Hybrid Devices Market research includes a comprehensive market segmentation analysis as well as projections for the analysis period 2022-2030.
Segments Covered in the Report
By Type
By Screen Size

Less Than 12 Inches
12-15 Inches
Greater Than 15 Inches

By End-User

IT And Telecom
Personal Use
Educational Institutions
Healthcare
Others
Region Covered in the Report
North America
Europe

Germany
U.K.
France
Italy
Spain
Russia
Rest of Europe

Asia-Pacific (APAC)

China
Japan
India
South Korea
Rest of Asia-Pacific

Rest of the World (RoW)

Brazil
Saudi Arabia
South Africa
U.A.E.
Other Countries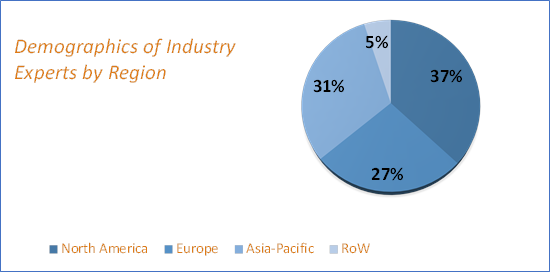 Source: VynZ Research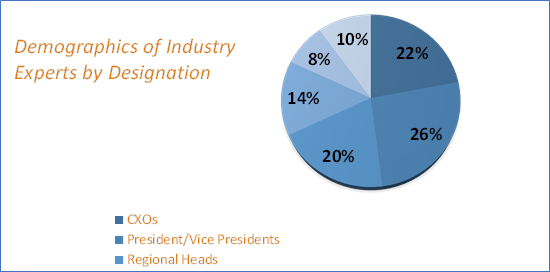 Source: VynZ Research