Industry Overview
The global logistics automation market is expected to grow at a significant rate during the forecast period (2018 – 2024). The adoption of driverless vehicles and drones are performing significant role towards the growth of the global market. Logistics automation is an application of automation software that helps the enterprises in improving effectiveness of logistics procedures.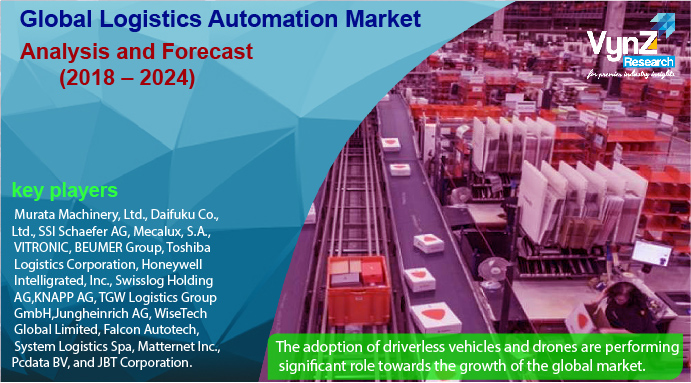 Furthermore, these systems comprise of equipment, software and relevant services. These system helps in proving improved quality products to the customers in order to cater to their ever-changing demand related to cost effectiveness and timely delivery of products. Moreover, emergence of IoT and technological advancements in robotics are other factors that are strengthening the growth of the logistics automation market across the globe.
Market Segmentation
Insight by Component      
On the basis of component, the logistics automation market is segmented into transportation management and warehouse & storage management. The transportation management is further sub segmented into software and services. Furthermore, Warehouse & Storage Management is further sub categorized into hardware, software and services. Among these two broad segments, transportation management segment is expected witness higher CAGR during the forecast period. The growth of this segment is attributed towards increasing requirement for timely delivery of goods and services and reduced cost of transportation among various business enterprises. 
Insight by Organization Size
On the basis of organization size, the logistics automation market is segmented into large enterprises and small and medium enterprises. Among these two segments, small and medium enterprises are expected to witness higher growth during the forecast period due to technological advancements and intensive competition among the key players and reduced cost of automated warehouses. These factors are thereby encouraging small and medium enterprises to adopt these systems which in turn is bolstering the growth of the market across the globe.
Insight by Vertical
On the basis of vertical, the market is segmented into manufacturing, pharmaceuticals & healthcare, retail & e-commerce, aerospace & defense, logistics & transportation, chemicals, food & beverage, oil, gas, & energy, automotive and others. Among all the verticals, automotive segment generates the largest revenue to the logistics automation market due to enhanced competition in this industry it has facilitated and enhanced the demand for flexible logistic systems and automated production solutions in order to upscale supply and manufacturing of vehicles.  
Industry Dynamics
Trends
Increasing acceptance of IoT technology is helping the business enterprises to generate, store, process and share huge amount of data with other connected devices such as radio frequency identification (RFID), sensors and gateway. Moreover, there has been an increased demand pertaining to connected technologies, smart devices and applications. These are the key trends observed in the market, globally. IoT plays a crucial role to augment, automation and connectivity which is enabling the business organizations to develop cost-efficient and productive warehouse facilities. Moreover, increasing demand and advantages of IoT is further strengthening the growth the logistics automation market.
Growth Drivers
The major factors that are driving the growth of the logistics automation market include extensive growth in the e-commerce industry along with advancements in the field of robotics. According to a recent study, it has been observed that the boom in the e-commerce industry has threatened the growth of retail, manufacturing and logistic domain drastically. The shift from traditional brick and mortar stores to online stores is imposing abundance pressure upon the requirement of labor, warehouses, transportation and supply chain process of various business organizations.
These problems are therefore being eradicated by the implementation of logistics automation system in the organization in order to maintain and enhance smooth and effective functioning of business operations.
Challenges
The major factors that are hampering the growth of the logistics automation market includes lack of uniform governance standards and huge capital investment required. Furthermore, lack of required skills for operating automation in logistics along with safety and security issues related to logistics is expected to further hinder the growth the market across the globe.
Industry Ecosystem
Globally, industry players are leveraging market growth through implementation of various strategies such as new product development, partnerships, joint ventures, acquisitions and agreements that is influencing the key players to take decisions in order to sustain for a longer period of time.
Geographic Overview
Geographically, logistics automation market in North America contribute the largest revenue, globally and is further expected to witness high growth during the forecast period. The growth of logistics automation market in this region is due to existence of large enterprises that are persistently utilizing logistics automation solutions for improving supply chain methods which includes transportation, manufacturing and assembling of products.
Moreover, it has been observed that economic growth of the U.S., Canada and Mexico has aggravated investment avenues in the logistics automation market in North America. Furthermore, the Asia-Pacific market is predicted to witness highest CAGR during the forecast period due to increasing demand for automated material hold systems from various warehouses and manufacturing industries. Additionally, enlargement of logistics and transportation segment in Asia Pacific is another factor pertaining towards the growth of logistics automation market in this region.
Competitive Insight
The logistics automation market is fragmented and the key players operating in this market includes Dematic Corporation, Murata Machinery, Ltd., Daifuku Co., Ltd., SSI Schaefer AG, Mecalux, S.A., VITRONIC, BEUMER Group, Toshiba Logistics Corporation, Honeywell Intelligrated, Inc., Swisslog Holding AG,KNAPP AG, TGW Logistics Group GmbH, Jungheinrich AG, WiseTech Global Limited, Falcon Autotech, System Logistics Spa, Matternet Inc., Pcdata BV, and JBT Corporation.