Industry Overview
The global managed detection and response market size is expected to reach USD from USD 2.21 billion in 2021 to USD 17.45 billion by 2030. It is anticipated to grow at a 16.5% CAGR during the projected timeframe. Managed Detection and Response (MDR) is a cybersecurity service that includes advanced threat detection technologies with human expertise to help organizations detect, investigate, and respond to security incidents. It is designed to enhance an organization's security capabilities by providing continuous monitoring, rapid threat detection, and effective incident response. Moreover, it provides security services which include cloud, network, and endpoint security. MDR systems also function as forensic and analytical tools for investigating potential risks and monitoring suspicious activity. Furthermore, MDR solutions can automate specific parts of investigative processes using artificial intelligence and machine learning, thus providing superior investigative capabilities.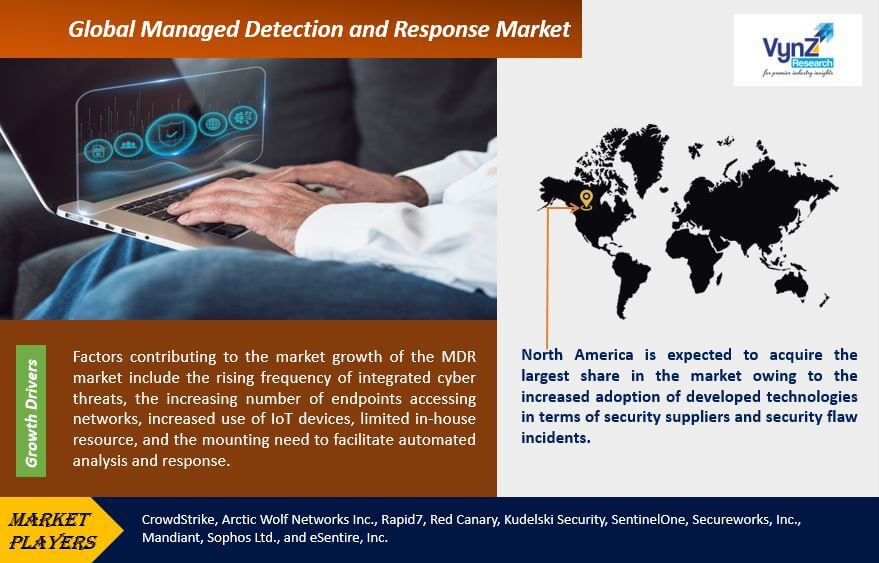 Market Segmentation
Insight by Security Type
The Global MDR Market is divided into Network Security, Endpoint Security, Cloud Security, Application Security, and Others based on security type. Endpoint security is expected to grow significantly during the forecast period as these technologies offer ongoing real-time threat monitoring, prevention, and response to network devices (endpoints). Moreover, robust growth in mobile devices may suspect more cyberattacks, thereby driving market share. Antivirus, antispyware/malware, encryption personal firewall, IDS/IPS, patch and configuration management, behavioral blocking software, and virtualization security are examples of endpoint security solutions.
Insight by Deployment
Based on Deployment, The Global MDR Market is bifurcated into Cloud and On-Premise. The cloud-based deployment type dominates the market owing to scalability and flexibility features. Decentralized cloud storage enables remote data management, backup, and maintenance thus, reducing costs, ease in availability, and data security. Hence stimulates IT professionals to move their data to the cloud.
Insight by Organisation Size
Based on Organisation Size, the Global MDR Market is categorized into SMEs and Large Enterprises. The SMEs are expected to grow at a faster pace during the forecast period. SMEs are vulnerable to these cyberattacks because they cannot afford to adopt sophisticated and all-encompassing security solutions. Hence, they outsource MDR solutions, leading to market growth in Global MDR Industry.
Insight on Service
Based on Service, The Global MDR Market is divided into Threat detection, Threat Monitoring, and Incident Response/ Termination. Security Monitoring and Incident Response services are significant in detecting and responding to security incidents, such as unauthorized access attempts, malware infections, data breaches, and other cybersecurity threats. These services include ongoing network and system log monitoring, real-time threat identification, incident investigation, and response coordination. Organizations are increasingly understanding the necessity of proactive monitoring and incident response capabilities as cyber threats evolve and become more sophisticated. As a result, demand for Security Monitoring and Incident Response services has been constantly increasing, making it a significant area of the MDR market. 
Insight by Application          
Based on Application, The Global MDR Market is segregated into Banking, Financial Service and Insurance (BFSI), Education and Training, Aerospace and Defense, Automotive, Manufacturing, Healthcare, Government, Retail, IT & ITes, and Others. The BFSI category is expected to contribute the largest share owing to the massive consumer base that uses services like mobile payments, internet banking, and online banking that require MDR solutions to combat cyber threats. The MDR services protect employees, assets, clients, locations, subsidiaries, and operations in the BFSI industry.
Global MDR Market Report Coverage
| | |
| --- | --- |
| Report Metric | Details |
| Historical Period | 2018–2022 |
| Base Year Considered | 2023 |
| Forecast Period | 2023 - 2030 |
| Market Size in 2022 | $2.21 Billion |
| Revenue Forecast in 2030 | $17.45 Billion |
| Growth Rate | CAGR 16.50% |
| Segments Covered in the Report | By Security Type, By Deployment, By Organisation Size, By Service, and By Application |
| Report Scope | Market Trends, Drivers, and Restraints; Revenue Estimation and Forecast; Segmentation Analysis; Impact of COVID-19; Companies' Strategic Developments; Market Share Analysis of Key Players; Company Profiling |
| Regions Covered in the Report | North America, Europe, Asia-Pacific, Middle East, and Rest of the World |
Industry Dynamics
Growth Drivers
Factors contributing to the market growth of the MDR market include the rising frequency of integrated cyber threats, the increasing number of endpoints accessing networks, increased use of IoT devices, limited in-house resource, and the mounting need to facilitate automated analysis and response. Vendors of MDR systems have utilized XDR to offer better visibility and integration as the development trajectories for both solutions continue to converge. MDR providers are predicted to implement artificial intelligence (AI) and machine learning (ML) more frequently to increase the accuracy and speed of threat identification and response. These technologies can assist MDR providers in real-time data analysis and can increase the efficiency and effectiveness of MDR services. As a result, MDR providers that invest in these technologies will almost certainly see an increase in income.
Also, the global MDR Market are adopting solutions to meet the rising needs of businesses owing to digital transformation and implementation of a work-from-home environment due to the COVID-19 pandemic which has led to an increase in cyberattack vulnerabilities, thereby mounting the market share for the global MDR Industry.
Challenges
The end-users are choosing less expensive substitutes which is detrimental to the managed detection and response (MDR) market's expansion. The data security risk associated with outsourcing to MDR service provider may pose threat to the market growth for MDR industry as MDR provider have access to private information within and outside a network so as to identify cyberattacks. This could be a problem for publicly traded companies since a leak of secret corporate information could affect stock prices. Furthermore, outsourcing cyber security might expose an organization's weaknesses and crucial consumer data to a third party, raising customer concerns about the company's perceived safety. Thus, enterprises may be cautious to outsource their security operations to MDR suppliers owing to data security and privacy.
Opportunities
Organizations are increasingly adopting endpoint detection and response (EDR) solutions to combat cyber threats and smoothly operate business operations. Moreover, businesses are anticipated to emphasize improving data management, analysis, and efficacy of business processes, thereby increasing market demand for EDR during the forecast period. Also, the COVID-19 pandemic has favorably impacted AI-Integrated MDR solutions, thereby providing lucrative market opportunities for the MDR industry.
Geographic Overview
North America
Europe
Asia Pacific (APAC)
Rest of the World (RoW)
North America is expected to acquire the largest share in the market owing to the increased adoption of developed technologies in terms of security suppliers and security flaw incidents.  One of the key concerns as the world evolves toward interconnectivity and digitalization is the protection of critical company infrastructure and sensitive data. Nevertheless, favorable government policies, increased cyber threats, and developed infrastructure capabilities will have lucrative growth aspects in The MDR industry.
Competitive Insight
There is an increasing entrance of new competitors in the MDR market. Some of these businesses are pure-play cybersecurity firms that originated in the XDR or EDR domain and added a managed component to transform the product into a service. Professional services companies and other security vendors are further embracing the possibility to expand their already sizable portfolios with an MDR solution. MDR presently provides a remedy for the most severe constraints and difficulties in the cybersecurity sector, thereby leading to market expansion of MDR industry.
Secureworks is a worldwide cybersecurity leader that maintains human progress with Secureworks® Taegis™, a cloud-native security analytics platform built on 20+ years of real-world threat intelligence and research. Customers can use this solution to detect sophisticated threats, expedite and coordinate investigations, and automate the appropriate actions.
Mandiant is working to defend modern and new threats. With round-the-clock, lightning-fast detection, human analysis, and professional expertise, their managed detection and response (MDR) service protects the company across endpoint, network, cloud, email, and operational technology. Endpoint, network, and cloud telemetries are just a few of the products and providers that Managed Defense supports.
Recent Development by Key Players
The launch of eSentire AI Investigator in June 2023 has been announced by eSentire, Inc., the authority in managed detection and response (MDR). It will employ generative AI-powered cybersecurity to provide users with the eSentire XDR Platform, thereby building their organization's cyber resilience.
In March 2023, Rapid7, Inc., a company specializing in cloud risk and threat detection, has recently acquired Minerva Labs, Ltd., a top provider of anti-evasion and ransomware prevention technology. As part of their Managed Detection and Response (MDR) services, Rapid7 already offers customers advanced detection and response capabilities across various attack surfaces, including cloud, on-premise, and extended environments. This acquisition will enhance Rapid7's MDR offerings by integrating advanced ransomware prevention capabilities. These additional capabilities will seamlessly extend MDR services across cloud resources, traditional infrastructure, and existing endpoint protection infrastructure, allowing customers to streamline and consolidate their security investments.
Key Players Covered in the Report
Some of the major players operating in the global managed detection and response industry include CrowdStrike, Arctic Wolf Networks Inc., Rapid7, Red Canary, Kudelski Security, SentinelOne, Secureworks, Inc., Mandiant, Sophos Ltd., and eSentire, Inc.
The Managed Detection and Response Market report offers a comprehensive market segmentation analysis along with an estimation for the forecast period 2023–2030.
Segments Covered in the Report
By Security Type

Network Security
Endpoint Security
Cloud Security
Application Security
Others

By Deployment
By Organization Size
By Service

Threat Detection
Threat Monitoring
Incident Response/ Termination

By Application

Banking, Financial Service and Insurance (BFSI)
Education and Training
Aerospace and Defense
Automotive
Manufacturing
Healthcare
Government
Retail
IT & ITes
Others
Region Covered in the Report
North America
Europe

Germany
U.K.
France
Italy
Spain
Russia
Rest of Europe

Asia-Pacific (APAC)

China
Japan
India
South Korea
Rest of Asia-Pacific

Rest of the World (RoW)

Brazil
Saudi Arabia
South Africa
U.A.E.
Other Countries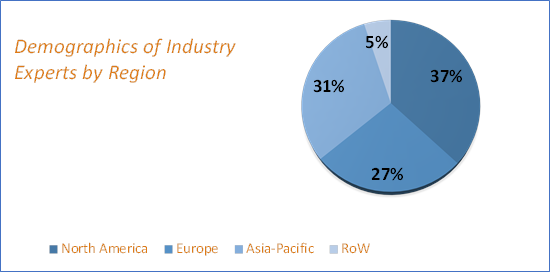 Source: VynZ Research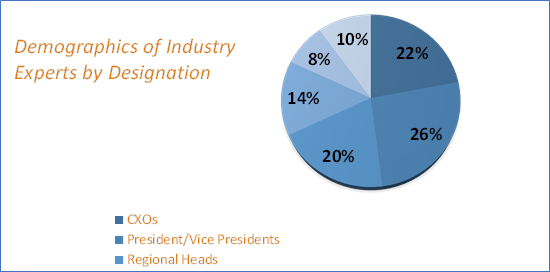 Source: VynZ Research