Industry Overview
The global market size of managed security services is expected to rise from $32.3 billion in 2022 to $55.8 billion by 2030, during the forecast period, at a Compound Annual Growth Rate (CAGR) of 7.8 percent. The main market factors are anticipated to be rising instances of security breaches and an increasing number of attacks that pose a danger to large and small organizational structures. Potential use cases across verticals have been enhanced by the need to take appropriate measures in advance to protect the overall security posture and technical developments in the cloud and IoT.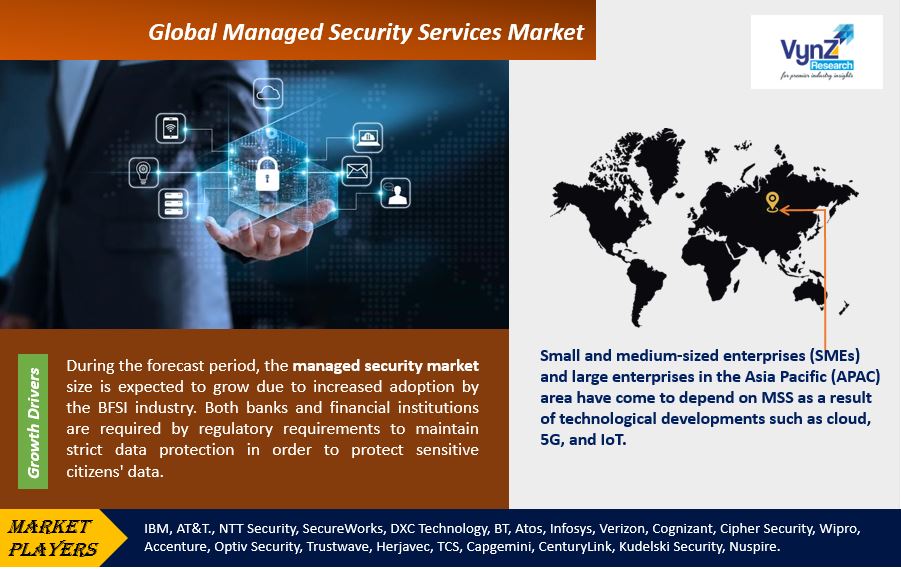 Managed security service providers (MSSPs) conduct services either in-house or remotely, typically via the cloud. MSSPs offer a wide range of security services, from setting up infrastructure to security management or incident response. Some managed security service providers specialize in certain areas while others offer full outsourcing of an enterprise's information security program.
Market Segmentation
Based on Verticals 
•    Banking, Financial Services, and Insurance (BFSI)
•    Government
•    Retail
•    Healthcare
•    IT
•    Telecom
•    Utilities
•    Manufacturing
•    Others (Education, Media and Entertainment, Travel and logistics)
With the largest market size, the Banking, Financial Services, and Insurance (BFSI) vertical is expected to dominate the Managed Security Services Market. MSS is expected to assist the BFSI vertical in protecting the confidentiality of sensitive data, thus assisting in the overall security posture. The most important benefit of using Controlled Security Services in the BFSI vertical is 24-hour, seven-day-a-week monitoring, which allows for rapid incident response and remediation in the event of a security breach. The BFSI industry is very concerned about the protection of its customers' confidential information. As a result, businesses in the BFSI vertical are introducing MSS services in large numbers to improve the security of online services from cyberattacks.
Based on Geographies
•    North America
•    Europe
•    Asia-Pacific (APAC)
•    Africa & Middle East
Small and medium-sized enterprises (SMEs) and large enterprises in the Asia Pacific (APAC) area have come to depend on MSS as a result of technological developments such as cloud, 5G, and IoT. Government regulations, cybersecurity incidents, and the adoption of cloud technologies are also driving MSS adoption in the area.
Based on Organization Size
•    Small and Medium Size Enterprises
•    Large Enterprises 
From 2018 to 2030, small and medium businesses are expected to be the fastest-growing group, with a CAGR of over 17.5 percent. Due to the lack of IT staffing to address complex threats, the market for controlled security services is rising in small and medium businesses. Organizations will now outsource compliance functions to managed security service providers as a result of this.
The adoption of controlled security services is being boosted by increased knowledge of security threats and an increase in security spending among these organizations. Furthermore, service providers are offering competitive pricing models to entice more companies to use their services.
Managed Security Services Market Report Coverage
| | |
| --- | --- |
| Report Metric | Details |
| Historical Period | 2018–2022 |
| Base Year Considered | 2022 |
| Forecast Period | By 2030 |
| Market Size in 2022 | $32.3 Billion |
| Revenue Forecast in 2030 | $55.8 Billion |
| Growth Rate | CAGR 7.8% |
| Segments Covered in the Report | By Verticals, By Geographies, By Organization Size |
| Report Scope | Market Trends, Drivers, and Restraints; Revenue Estimation and Forecast; Segmentation Analysis; Impact of COVID-19; Companies' Strategic Developments; Market Share Analysis of Key Players; Company Profiling |
| Regions Covered in the Report | North America, Europe, Asia-Pacific, Middle East, and Rest of the World |
Trends
The growth of the managed security services industry is expected to be driven by an increase in the number of security breaches and threats that pose a threat to both large and small organizational structures. With the globalization of business in terms of both size and structure, the task of information security is becoming more complex. Organizations are concerned about the increasing number of security threats and malicious activities perpetrated by organized cyber-criminal groups. Furthermore, the increasing complexity of network infrastructure is presenting a major challenge to data protection management.
The managed security services market refers to the industry that provides outsourced cybersecurity services to organizations. It involves the monitoring, management, and response to security threats and incidents on behalf of the clients. Managed security service providers (MSSPs) typically offer a range of services, including threat intelligence, vulnerability management, intrusion detection and prevention, security event monitoring, incident response, and compliance management.
Market Drivers
During the forecast period, the managed security market size is expected to grow due to increased adoption by the BFSI industry. Both banks and financial institutions are required by regulatory requirements to maintain strict data protection in order to protect sensitive citizens' data. Furthermore, these businesses are looking for a reliable data security system to protect their brand image.
Controlled protection services such as Medical Device Penetration Testing, Network Segmentation for Medical Devices, Device Inventory and Risk Analysis, Medical Device Risk Assessments, and ongoing incident response can play an integral role in protecting both patient-related organizations and hospital data in the healthcare vertical.  In addition, Regulated Security Services also allow healthcare providers to comply with the strict compliance of the Health Insurance Portability and Transparency Act (HIPAA) and the Payment Card Industry Data Security Standard (PCI DSS)
Opportunity
Increased cybercrime activity and cost-effectiveness are two factors that are expected to boost the market size for controlled security services. Governments around the world, on the other hand, are developing a slew of new information security legislation that could stifle the demand for controlled security services. In addition, the increasing use of mobile devices in the workplace would generate lucrative opportunities for the industry.
Challenges
With the growth in the number of cybersecurity threats and attacking tools, the requirement for advanced cybersecurity solutions to deal with such attacks is growing exponentially. The traditional cybersecurity solutions are not enough accomplished from securing organizations from advanced threats of cloud, network endpoint security among others. In addition, huge algorithms are required for a cybersecurity solutions provider to develop technically advanced solutions. Further, high cost associated with cybersecurity solutions and services limit the adoption among the small and medium enterprises 
Key Players
•    IBM (U.S.A)
•    AT&T. (U.S.A) 
•    NTT Security (Japan)
•    SecureWorks (U.S.A)
•    DXC Technology (U.S.A)
•    BT (U.K.)
•    Atos (France)
•    Infosys (India)
•    Verizon (U.S.A)
•    Cognizant (U.S.A)
•    Cipher Security (Spain) 
•    Wipro (India)
•    Accenture (American- Irish)
•    Optiv Security (U.S.A)
•    Trustwave (Singapore)
•    Herjavec (Canada)
•    TCS (India)
•    Capgemini (France)
•    CenturyLink (U.S.A)
•     Kudelski Security (Switzerland) 
•     Nuspire (U.S.A)
Recent Developments
•    NTT worked with the U.K. government to create a plan for the 5G network in January 2021.
•    IBM and the Vodafone IDEA business centre unveiled a stable mobile management solution in December 2021.
•    AT&T, Palo Alto Networks, and Broadcom partnered on a Disaggregated Scalable Firewall in March 2021. (DSFW).
The Managed Security Services Market report offers a comprehensive market segmentation analysis along with an estimation for the forecast period 2023–2030.
Segments Covered in the Report
By Verticals

Banking, Financial Services and Insurance (BFSI)
Government
Retail
Healthcare
IT
Telecom
Utilities
Manufacturing
Others (Education, Media and Entertainment, Travel and logistics)

By Organisation Size

Small and Medium Size Enterprises
Large Enterprises 
Region Covered in the Report
North America
Europe

Germany
U.K.
France
Italy
Spain
Russia
Rest of Europe

Asia-Pacific (APAC)

China
Japan
India
South Korea
Rest of Asia-Pacific

Rest of the World (RoW)

Brazil
Saudi Arabia
South Africa
U.A.E.
Other Countries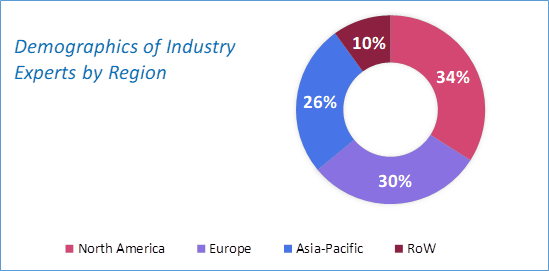 Source: VynZ Research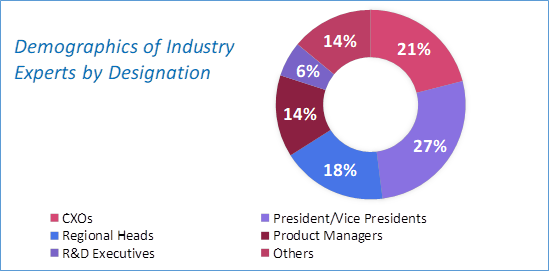 Source: VynZ Research