Industry Overview
The global GDPR service market is predicted to grow significantly the forecast period (2023 – 2030) due to the increasing adoption of GDPR compliances that helps in enhancing security services of the business organizations ensuring encrypted, secure and improved data to its users.The GDPR service market continues to evolve as organizations strive to meet their compliance obligations. It is important for organizations to carefully assess their specific needs and select service providers with expertise and experience in GDPR compliance to ensure effective data protection and privacy management.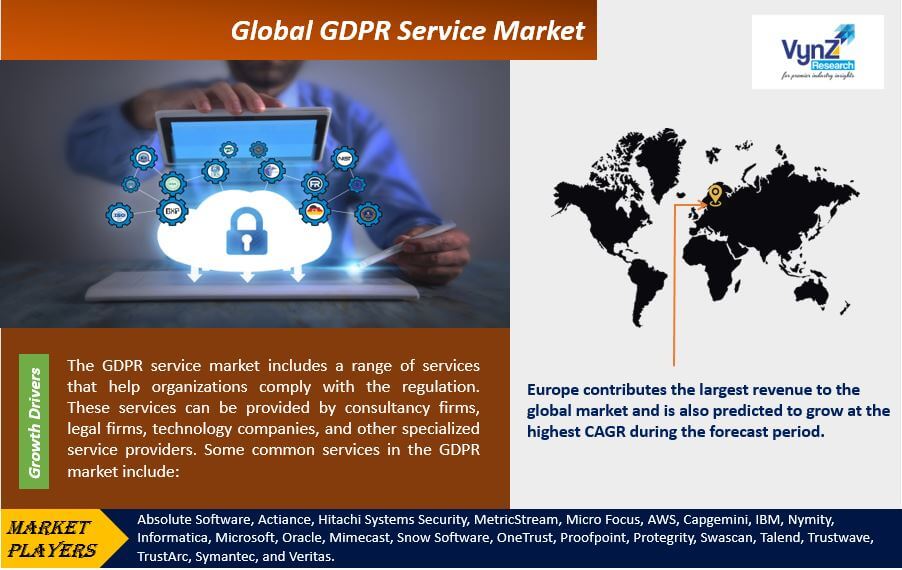 Market Segmentation
Insight by Offering
On the basis of offering, the GDPR service market is segmented into solutions and services. The solutions market is further subcategorized into API management and data management. The data management segment is further subdivided into data governance and data mapping and discovery. The service segmented is further subcategorized into managed services and professional services. The professional services are further sub-segmented into DPO-as-a-Service, GDPR readiness assessment, DPO-as-a-Service and Training, and Certification.
Among all these segments, data management solution generates larger revenue in comparison to that accumulated by API management solution, globally. Data management solutions are extensively crucial for complying with GDPR systems as it enables the user's in storing, deleting, accessing, monitoring and encrypting private data.
Insight by Organization Size
On the basis of organization size, the GDPR service market is segmented into large enterprises and small and medium enterprises. Among these two segments, large enterprises segment is expected to generate larger revenue and is expected to witness considerable growth during the forecast period. The growth of GDPR service in large enterprises is increasing due to assistance provided by this system to its user's such as enhanced innovation, the efficiency with reduced cost and incorporation of a responsive business process.
Industry Dynamics
Increasing adoption of privacy by design, cloud computing, and big data are the key trends pertaining towards the growth of the GDPR service market across the globe. Privacy by design considers privacy concerns of product or system throughout the development of a design procedure. Moreover, adherence to big data and cloud computing requires attention and care of the data obtained by the business organization from an outside source and with whom the data is further shared. These trends are thereby strengthening the growth of the market.
The major factor that is driving the growth of the GDPR service market includes a rapid increase in a large amount of data, increasing need for privacy and data security protection and excessive demand towards data handling and transparency. Moreover, increasing adoption of Privacy by Design (PbD) for enhancement of data safety and privacy among the various business organizations is another factor pertaining towards the growth of the market. PbD is an approach and belief of enabling privacy into various technologies of an enterprise.
This technique has been displaying increasing applicability in business practices, information technology, and physical infrastructure and design. Moreover, benefits of PbD such as increasing integration and acceptance to privacy-enabled technique and enhancing demand for user's privacy is revamping the growth of the GDPR service market.
The major factor that is hampering the growth of the GDPR service market is a shortage of required skilled workforce that can manage the GDPR systems in an effective manner. Additionally, the presence of several legal compliances and norms are furthermore hindering the growth of the GDPR service industry worldwide.
Industry Ecosystem
Globally GDPR service industry players are leveraging market growth through new product development, mergers & acquisitions, partnerships, increased investments and technological upgradation in order to secure information protection and data security among several large-scale business enterprises, which is leading to the increased market share of these companies in the GDPR service market across the globe.The GDPR imposes strict requirements on businesses and organizations that process personal data of individuals in the EU, regardless of where the organization is located. It grants individuals greater control over their personal data and sets guidelines for data protection, security, and privacy practices
Growth Drivers 
The GDPR service market includes a range of services that help organizations comply with the regulation. These services can be provided by consultancy firms, legal firms, technology companies, and other specialized service providers. Some common services in the GDPR market include:
GDPR Compliance Assessment: This involves evaluating an organization's current data protection practices and identifying any gaps or areas of non-compliance with the GDPR. It helps organizations understand their obligations and develop a roadmap for compliance.
Data Protection Officer (DPO) Services: The GDPR mandates that certain organizations appoint a Data Protection Officer to oversee data protection activities. DPO services may include providing outsourced DPOs or supporting internal DPOs with expertise and guidance.
Data Protection Impact Assessment (DPIA): A DPIA is a process to identify and minimize data protection risks associated with a specific project or activity. Service providers can assist organizations in conducting DPIAs and implementing necessary measures.
Data Breach Response and Incident Management: In the event of a data breach, organizations must follow specific procedures outlined by the GDPR. Service providers can offer assistance in responding to and managing data breaches, including notification processes and mitigation strategies.
Privacy Policy and Documentation: The GDPR requires organizations to have clear and transparent privacy policies and documentation. Service providers can help in drafting and reviewing privacy policies, terms of service, and other necessary legal documents.
Employee Training and Awareness: Service providers may offer GDPR training programs to educate employees about their responsibilities, data protection principles, and best practices for handling personal data.
Data Subject Access Requests (DSAR): The GDPR grants individuals the right to access their personal data held by organizations. Service providers can help organizations manage DSARs efficiently, ensuring compliance with response timelines and requirements.
Geographic Overview
Geographically, Europe contributes the largest revenue to the global market and is also predicted to grow at the highest CAGR during the forecast period. The growth of the GDPR service market in this region is attributed towards increasing acceptance of this service among the nations in the European Union. Moreover, it has been observed that GDPR signifies glorifying business prospects for the organizations existing in this region that helps them in gaining competitive advantage.
Global GDPR Service Market, By Region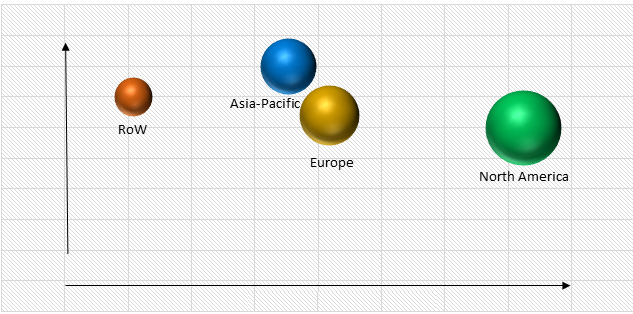 Furthermore, the influence of the European Union in large scale business enterprises is further expected to stimulate rigorous proceedings of data security across the globe. These factors are thereby exaggerating the growth of the market in this region.
Competitive Insight
The key players providing GDPR services are Absolute Software, Actiance, Hitachi Systems Security, MetricStream, Micro Focus, AWS, Capgemini, IBM, Nymity, Informatica, Microsoft, Oracle, Mimecast, Snow Software, OneTrust, Proofpoint, Protegrity, Swascan, Talend, Trustwave, TrustArc, Symantec, and Veritas.