Industry Overview
The global wearable AI devices market is projected to reach USD 52.8 billion by 2027, registering a CAGR of 28.8% during the forecast period. Increasing adoption of AI-enabled wearables for healthcare applications, increasing disposable income, changing lifestyle, and increasing demand for augmented reality/virtual reality (AR/VR) headsets worldwide, propelling the growth of the market.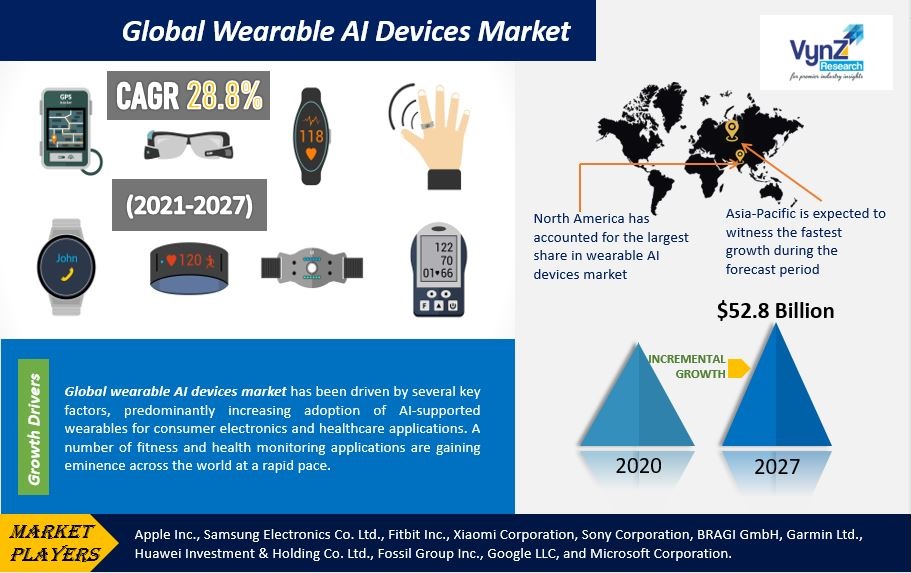 Market Segmentation
Insight by Product
On the basis of product, the global wearable AI devices market is categorized into wristwear, eyewear, earwear, and other bodywear, wherein wristwear category held the largest share in the market in 2020. The growth of this segment is attributed towards rising demand for wristwear with AI functionalities, such as sleep tracking, heart rate monitoring, and personal voice assistance.
Furthermore, wristwear category is sub-segmented into the smartwatch and fitness band.
Insight by Deployment Type
Based on deployment type, the wearable AI devices market is segmented into on-premises, and cloud-based. Among the two segments, cloud-based contributes the larger revenue globally, and also it is expected to witness faster growth during the forecast period. The growth of this segment is attributed towards rising need for storing data generated in real-time and synchronizing data in smart devices.
Industry Dynamics
Trends
Growing demand for VR headsets is the key trends observed in the wearable AI devices market, globally. With growing number of smartphone users worldwide and the rising trend of mobile and cloud gaming, the use of VR headsets among consumers is increasing rapidly. Increasing disposable income of people in the emerging economies and the increasing involvement of young generation in the gaming area. It has been observed that there are several small companies in developing economies that are developing the latest VR devices that help gamers to completely involve and engage themselves in the game. Hence, the wearable AI devices market is anticipated to observe high demand for VR headsets among consumers worldwide.
Growth Drivers
Global wearable AI devices market has been driven by several key factors, predominantly increasing adoption of AI-supported wearables for consumer electronics and healthcare applications. A number of fitness and health monitoring applications are gaining eminence across the world at a rapid pace. There are several manufacturers operating in wearable devices that have assimilated contextual material and data points that help in determining motion-detecting happenings. Furthermore, the results and analysis developed from these devices further help in establishing results used for defining fitness and goals to its users.
Geography Insight
Geographically, North America has accounted for the largest share in wearable AI devices market, globally and is predicted to grow significantly during the forecast period. The growth of this market is attributed towards the existence of a large number of consumer electronics companies, high per capita income of consumers, and increasing investments in technological innovation usage. Moreover, Asia-Pacific is expected to witness the fastest growth during the forecast period due to increasing demand for wearable devices from India and China, and rapid increase in the number of applications for wearable AI devices.
Competitive Insight
Some of the key players operating in the global wearable AI devices market are Apple Inc., Samsung Electronics Co. Ltd., Fitbit Inc., Xiaomi Corporation, Sony Corporation, BRAGI GmbH, Garmin Ltd., Huawei Investment & Holding Co. Ltd., Fossil Group Inc., Google LLC, and Microsoft Corporation.
Forecast Parameters
- Identifying variables and establishing market impact.
- Establishing market trends regionally.
- Analyzing opportunities and market penetration rates by understanding product commercialization, regional expansion.
- Analyzing demand and supply trends and changes in industry dynamics to establish future growth.
- Analyzing sustainability strategies adhered by market participants in an attempt to determine the future course of the market.
- Analyzing historical market trends and super-imposing them on the current and future variables to determine the year-on-year trend.
- Understanding adoption, production, export, import, and regulatory framework.
Data Validation
- Estimated and forecasted data was validated through industry experts.
- Apart from industry experts, data triangulation methods were used for validation.
- Bottom-up and top-down approach has been used for estimation and forecast of market data, whereas top-down approach was used for validation.
- Demand, as well as supply-side surveys, were conducted in order to understand the industry dynamics and data validation.
Primary Research
VynZ Research conducts extensive primary research to understand the market dynamics, validate market data and have key opinions from the industry experts. The key profiles approached within the industry include CEO, CFO, CTO, President, Vice President, Product Managers, Regional Heads, and Others. Also, end-user surveys comprising of consumers are also conducted to understand consumer behaviour.
Source: VynZ Research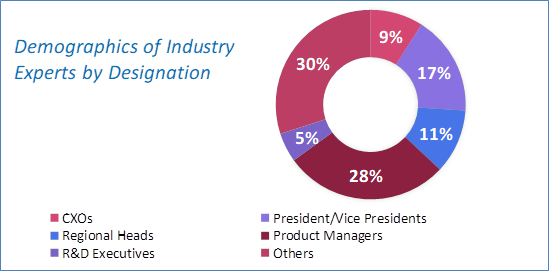 Source: VynZ Research