Industry Overview
The global wireless gigabit (WiGig) market was valued at USD 1,700.5 billion in 2022 and is expected to reach USD 6,236.9 billion by 2030, growing at a CAGR of 18.8% during 2023-2030. The global WiGig market size is anticipated to grow, owing to the rising need for better internet connectivity, coupled with better speed is increasing the demand for WiGig across the globe. Additionally, the rapid smartphone penetration, along with significant growth in the use of many devices will further contribute to the growth of the global WiGig market.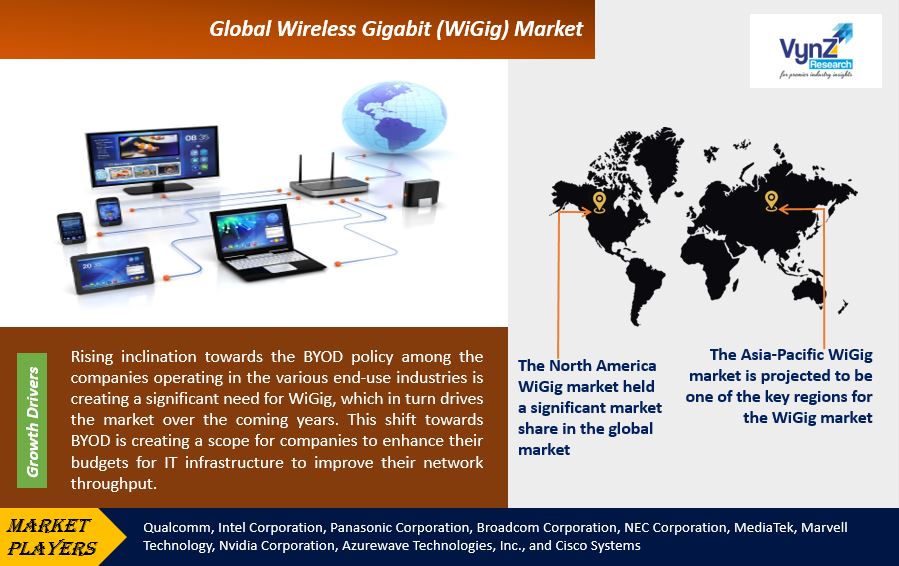 Rising demand from the end customers for high-speed wireless connectivity is creating significant opportunities for the development of new technologies like WiGig. This technology will have its edge over others, due to the capability to provide data transfer in a multi-gigabit manner, which is further improving its use in a wide number of applications right from file backup to video streaming.
Market Segmentation
Insight by Type
Based on type, the global WiGig market has been fragmented into 802.11ac and 802.11ad. The 802.11ac segment had a dominant share in the previous years and is further expected to improve its dominance until the end of the forecast period. This is majorly due to the increased throughput between 2.4 GHz and 5 GHz band frequencies. Nevertheless, with the swiftly developing wireless technology, the IEEE 802.11ad standard segment is projected to increase at a significant CAGR over the coming years. This standard provides features such as higher data throughput, and a lower latency solution which will be operated under a 60GHz millimeter-wave band.
Insight by Product
By product, the global WiGig market has been segmented into consumer electronics and networking devices. The consumer electronics WiGig products segment is anticipated to dominate the global market with a dominant share in the past years, and the same trend is predicted to continue over the coming years, owing to the rising consumer adoption of the 802.11ac access points across the globe. Consumers will get benefitted from the ultra-fast connectivity offered by WiGig, which is required to transfer huge data files between devices such as smartphones, tablets, set-top boxes, and computers. The majority of the IC manufacturers operating in this market are targeting consumers, through their consumer electronic devices, which consist of mobile phones, laptops, monitors, TVs, Wi-Fi access points, and tablets through advanced WiGig ICs.
Insight by End User
The global WiGig market has been segmented by end-user into large enterprises, small & medium businesses (SMB), and residential areas. The WiGig market for large enterprises is predicted to show its dominance throughout the projected period, owing to the increasing use of WiGig in government and commercial sectors. Moreover, these solutions are witnessing adoption in large scale enterprises, owing to the growing demand for bandwidth and high-speed Internet requirements in this sector.
Additionally, the WiGig market for SMB end-user is projected to witness fastest growth, owing to the rise in the adoption of BYOD policy among the SMB companies. Moreover, the rise in the IoT trends will further lead to a rise in demand WiGig. The companies operating in the healthcare, education, and hospitality sectors are having devices that are continuously connected to the internet, and they also require high-speed data connections. To deliver secure and fast Internet connectivity to their customers and employees, these companies are adopting WiGig.
Insight by Application
Based on application, the global WiGig market can be categorized into Docking Stations, HDMI streaming devices, and others. Of all, docking stations held the largest market share in 2019 and are also predicted to register the fastest growth during the forecast period (2023 – 2030). This can be owing to the growing adoption of BYOD devices among enterprises wherein employees can able to connect their personal devices such as laptops to computer peripherals via docking stations.
Wireless Gigabit (WiGig) Market Report Coverage
| | |
| --- | --- |
| Report Metric | Details |
| Historical Period | 2018–2022 |
| Base Year Considered | 2022 |
| Forecast Period | By 2030 |
| Market Size in 2022 | $1,700.5 Billion |
| Revenue Forecast in 2030 | $6,236.9 Billion |
| Growth Rate | CAGR 18.8% |
| Segments Covered in the Report | By Product, By Type,By Application, and By End-User |
| Report Scope | Market Trends, Drivers, and Restraints; Revenue Estimation and Forecast; Segmentation Analysis; Impact of COVID-19; Companies' Strategic Developments; Market Share Analysis of Key Players; Company Profiling |
| Regions Covered in the Report | North America, Europe, Asia-Pacific, Middle East, and Rest of the World |
Industry Dynamics
Industry Trends
The global WiGig market will witness growth, owing to the rising transition activities from enterprise-driven to cloud-based technologies. Moreover, increasing demand for data centers and ethernet switches in cloud computing is further leading to market growth.
Growth Drivers
Rising inclination towards the BYOD policy among the companies operating in the various end-use industries is creating a significant need for WiGig, which in turn drives the market over the coming years. This shift towards BYOD is creating a scope for companies to enhance their budgets for IT infrastructure to improve their network throughput. Significant growth in the increased use of mobile phones, laptops, desktops, and other electronic devices at work is creating a significant dependency on high bandwidth and internet speed for supporting the various applications and services.
Expansion of IoT: The growth of the Internet of Things has led to an increased demand for fast and reliable wireless connectivity. WiGig can provide the required bandwidth for connecting numerous IoT devices simultaneously, enabling efficient data transmission in smart homes, offices, and industrial settings.
High-speed data transfer: WiGig offers extremely fast data transfer rates, which is essential for bandwidth-intensive applications. This makes it attractive for consumers, businesses, and industries that require high-performance wireless connectivity.
Enhanced user experience: With WiGig, users can experience seamless streaming of high-quality video and audio content without interruptions. It enables real-time communication, low-latency gaming, and immersive virtual reality experiences.
Moreover, the increasing need for a high-speed internet connection to speed up applications and work-related activities is giving a further boost to the market growth.
Challenges
Technological restraint is the major problem faced by market players in the global WiGig market. The current technology runs on frequencies over 60Hz; but at present, the frequencies used in the current WiFi products are only between 2.4 GHz and 5 GHz only. Due to this, there is a need for the up-gradation of the current infrastructure, which will be a huge capital investment for the customers.
Geographic Overview
The Asia-Pacific WiGig market is projected to be one of the key regions for the WiGig market and is also predicted to witness the fastest growth during the forecast period. This is owing to the presence of a dominant number of WiGig producers in this region. Moreover, the presence of growing economies, such as China and India in this region is further anticipated to drive the regional market growth in the coming years. Additionally, the growing acceptance of third-party platforms by various types of enterprises, coupled with favorable government initiatives are further projected to drive the Asia-Pacific WiGig Market in the coming years.
The North America WiGig market held a significant market share in the global market in 2022. This can be majorly attributed to the rising adoption of various wireless communication standards, along with an increasing presence of large companies operating in the semiconductor sector in this region.
Competitive Insight
Some of the key WiGig market players include Qualcomm, Intel Corporation, Panasonic Corporation, Broadcom Corporation, NEC Corporation, MediaTek, Marvell Technology, Nvidia Corporation, Azurewave Technologies, Inc., and Cisco Systems and among many others.
Key industry players are majorly enhancing their investments in strategic moves such as partnerships and the development of new products, which will further create new business opportunities for new industry verticals.
Forecast Parameters
- Identifying variables and establishing market impact.
- Establishing market trends regionally.
- Analyzing opportunities and market penetration rates by understanding product commercialization, regional expansion.
- Analyzing demand and supply trends and changes in industry dynamics to establish future growth.
- Analyzing sustainability strategies adhered by market participants in an attempt to determine future course of the market.
- Analyzing historical market trends and super-imposing them on the current and future variables to determine year-on-year trend.
- Understanding adoption, production, export, import and regulatory framework.
Data Validation
- Estimated and forecasted data was validated through industry experts.
- Apart from industry experts, data triangulation methods were used for validation.
- Bottom-up and top-down approach has been used for the estimation and forecast of market data, whereas top-down approach was used for validation.
- Demand, as well as supply side surveys, were conducted in order to understand the industry dynamics and data validation.
Primary Research
VynZ Research conducts extensive primary research to understand the market dynamics, validate market data and have key opinions from industry experts. The key profiles approached within the industry include, CEO, CFO, CTO, President, Vice President, Product Managers, Regional Heads, and Others. Also, end user surveys comprising consumers are also conducted to understand consumer behaviour.
The Wireless Gigabit (WiGig) Market report offers a comprehensive market segmentation analysis along with an estimation for the forecast period 2023–2030.
Segments Covered in the Report
By Type
By Product

Consumer Electronics
Networking Devices

By End User

Large Enterprises
Small & Medium Businesses (SMB)
Residential Areas

By Technology

System on Chips (SoCs)

Smartphone SoCs
Tablet SoCs
Adapter SoCs
Wireless backhaul SoCs

Integrated Circuits (ICs)

Laptop ICs
Television ICs

By Application

Docking Stations
HDMI Streaming Devices
Others

By Industry

Banking, Financial Services, & Insurance (BFSI)
Retail
Government
Healthcare
Information Technology & Telecommunications (IT & Telecom)
Residential
Others
Region Covered in the Report
North America
Europe

Germany
U.K.
France
Italy
Spain
Russia
Rest of Europe

Asia-Pacific (APAC)

China
Japan
India
South Korea
Rest of Asia-Pacific

Rest of the World (RoW)

Brazil
Saudi Arabia
South Africa
U.A.E.
Other Countries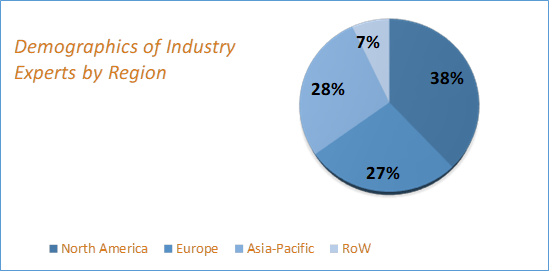 Source: VynZ Research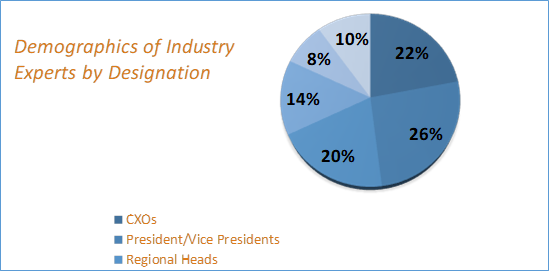 Source: VynZ Research