Industry Overview
During the projected period 2023-2030, the global wireless sensor network market size is expected to increase from USD 85.7 billion in 2022 to USD 108.6 billion by 2030, with a CAGR of 19.5 percent. The wireless sensor network (WSN) is a network of wirelessly connected distributed sensing platforms. WSN is located in remote places and communicates with the control room using wireless technology. The system can also be remotely managed, troubleshoot, and monitored. Furthermore, it is mostly utilized for data processing and process & control monitoring. Also, owing to the increased prominence of a wireless sensor network in several end-use verticals like oil & gas, automotive, healthcare, manufacturing, etc., thereby leading to WSN's market growth. Nevertheless, wireless sensor networks are intended to change the way people communicate in the real world.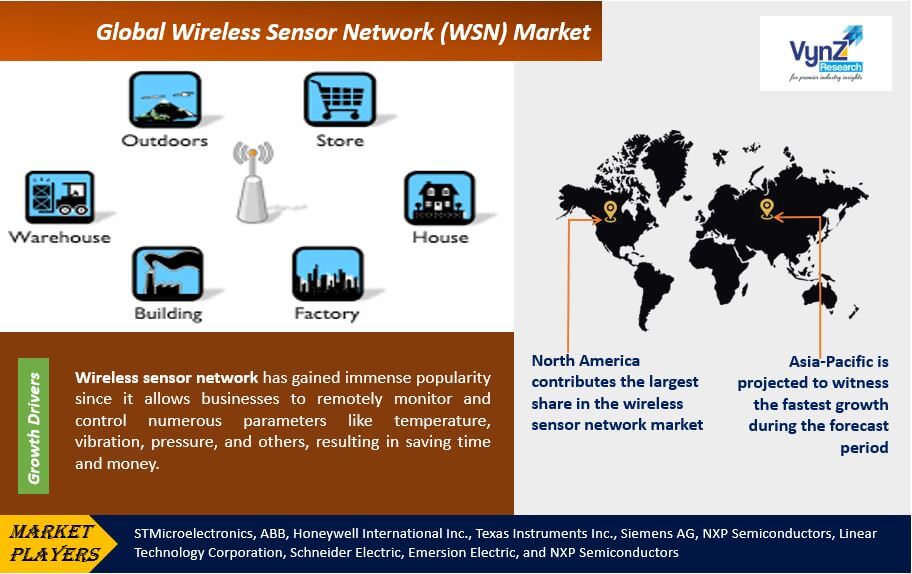 Thus, to achieve this new degree of effectiveness, precision, and cost savings, organizations require real-time visibility and intelligence for their organizational and operational data.
The increased prominence of remote monitoring amidst the COVID-19 crisis and managing several parameters such as vibration, temperature, pressure, etc saves cost and time, thereby propelling the market development of wireless sensor network solutions.
Market Segmentation
Insight by Type
Underwater WSN
Terrestrial WSN
Underground WSN
Others
Because underwater WSN provides a seamless working environment to its users, it is expected to grow at the highest rate among all of these segments during the projection period. The underwater WSN enables users to create effective communication and sensor localization technologies, consequently contributing significantly to the global WSN market's growth.
Insight By Offering
Hardware
Software
Services
Software segment contributes the largest share in the global wireless sensor network market. Software is an essential component of a wireless sensor network system, serving as the decision-making regulatory element. Data transfer, power management, self-configuration, and fault tolerance are just a few of the functions controlled by the software in a wireless sensor device. Furthermore, the software category is expanding considerably as a result of rising developments in software to increase interoperability and safety & security in sensors.
The hardware component accounts for a sizable portion of the WNS market. The rising use of sensor nodes, routers, and gateways to establish network infrastructure can be ascribed to the rise of the hardware segment. The growing usage of IoT and connected devices in industrial applications is likely to boost the hardware segment's growth. Furthermore, the WSN may be quickly implemented in regions that are technically inaccessible, giving them an advantage over their wired counterparts. Additionally, the hardware installation allows for easy data integration, allowing for the centralization of monitoring programs.
Insight by Sensor Type
Ambient Light Sensors
Motion & Position Sensors
Heart Rate Sensors
Temperature Sensors
Pressure Sensors
IMUs (6-Axis, 9-Axis)
Accelerometers (3-Axis)
Blood Glucose Sensors
Image Sensors
Humidity Sensors
Carbon Monoxide Sensors
Blood Oxygen Sensors
Flow Sensors
Level Sensors
Chemical Sensors
Gas Sensors
ECG Sensors
Others
Among them, the motion segment is predicted to earn the most income over the forecasted period. It has been noted that there is a growing interest in developing mobile sensor networks that give smooth motions, and autonomous movements are expected to have a significant impact in this area. The addition of mobility to wireless sensor networks improves the flexibility and capability of WSNs, allowing the vehicle domain to cover multiple dimensions of requirements. Furthermore, the WSN market is expected to increase globally as a result of this.
Image sensor is anticipated to have a high CAGR during the forecast period owing to an upsurge in demand for surveillance and monitoring of industrial activities. Moreover, the increasing security concerns owing to rise in crime rates and growing terrorist activities will increase the adoption of image sensors in the wireless sensor network market.
Insight by Connectivity Type
Wi-Fi
Bluetooth
Bluetooth/WLAN
Cellular Network
GPS/GNSS Module
Bluetooth Smart/BLE
ZigBee
NFC
WHART
ISA100
ANT+
The WHART category contributes the largest share in the wireless sensor network market owing to wide deployment in end-use verticals like oil & gas, utilities, manufacturing etc. due to its user-friendly environment, cost-efficacy, and reduces complexity. The WHART is a widely deployed in open wireless communication protocol that can also be used for process measurement and monitoring.
Insight by Application
Machine Monitoring
Process Monitoring
Asset Tracking
Safety & Surveillance
The process monitoring contributes the largest share in the global wireless sensor network market due to easy maintenance, reduced costs, and elimination of wiring limitations. Furthermore, WSN's ability to activate and operate moving parts and machinery has been a driving force for its adoption.
Due to improved operational efficiency and lower deployment and maintenance costs, asset tracking is predicted to be the fastest-growing segment during the analysis period. Furthermore, the extensive use of asset monitoring systems in the industrial and logistics industries is due to the presence of effective solutions with better battery life and a reasonably long range of wireless connectivity.
Insight by End-User
Automotive & Manufacturing
Transportation
BFSI
Retail
Industrial
Healthcare
Oil & Gas
Energy & Power
Food & Beverages
Agriculture
Aerospace & Defense
Others
Manufacturing dominated the market and is expected to continue to grow at the fastest rate over the forecast period, due to the rising use of sensor networks and the availability of predictive maintenance, quality control, and automated process management solutions, which are expected to drive WSN adoption in the manufacturing industry. Further, the growing demand for energy-efficient and green manufacturing is driving participants in the electronics industry to invest in better plant monitoring and control systems, boosting the WSN market's growth.
WSN is projected to gather momentum in the oil and gas end-use market as well. WSNs are perfect for monitoring various upstream, middle, and downstream operations in the oil and gas industry because they include sensing, processing, and communication capabilities. WSNs aid in increasing production, reducing accidents, and lowering maintenance costs and malfunctions.
Wireless Sensor Network (WSN) Market Report Coverage
| | |
| --- | --- |
| Report Metric | Details |
| Historical Period | 2018–2022 |
| Base Year Considered | 2022 |
| Forecast Period | By 2030 |
| Market Size in 2021 | $85.7 Billion |
| Revenue Forecast in 2028 | $108.6 Billion |
| Growth Rate | CAGR 19.5% |
| Segments Covered in the Report | By Type, By Offering, By Sensor Type, By Connectivity Type, By Application, and By End-User |
| Report Scope | Market Trends, Drivers, and Restraints; Revenue Estimation and Forecast; Segmentation Analysis; Impact of COVID-19; Companies' Strategic Developments; Market Share Analysis of Key Players; Company Profiling |
| Regions Covered in the Report | North America, Europe, Asia-Pacific, Middle East, and Rest of the World |
Industry Dynamics
Industry Trends
The rapid industrialization in emerging economies, increased demand for network infrastructure and development of Artificial Intelligence, Machine Learning, and big data analytics are the trends that are prevalent in the global wireless sensor network market. Furthermore, the launch of 5G will allow for faster communication of sensor-based devices placed at a distance, as well as increased working efficiency, which would enhance the WSN market.
Growth Drivers
Increased Prominence of Wireless Sensor Network
Wireless sensor network has gained immense popularity since it allows businesses to remotely monitor and control numerous parameters like temperature, vibration, pressure, and others, resulting in saving time and money. Furthermore, the market demand for low-cost industrial automation systems like wireless sensor networks is increasing as the desire to improve process efficiency and achieve corporate financial targets intensifies. Additionally, these systems offer a number of advantages over typical wired industrial monitoring and control systems, including rapid development, agility, self-organization, and intelligent processing. Also, WSN's important function to develop a reliable and self-healing system that responds to real-time events with suitable actions is propelling the market forward.
Other factors contributing to the growth of the global wireless sensor network market include rising government initiatives to develop smart cities which include intelligent connected street lights, pollution management, traffic monitoring, and waste tracking.
Environmental monitoring and sustainability: WSNs play a crucial role in environmental monitoring, enabling real-time data collection on air quality, water quality, weather conditions, and energy consumption. With the growing emphasis on sustainability and environmental conservation, the demand for WSNs in this area is increasing.
In robotics, wireless sensor networks can be used for enhanced robotic sensing, multiple robot coordination, robot planning and navigation, and robot localization. The use of a wireless sensor network allows emergency response robots to be aware of conditions like electromagnetic field monitoring, forest fire detection, etc.
Government initiatives and regulations: Governments worldwide are promoting the adoption of WSNs through initiatives and regulations aimed at improving efficiency, safety, and resource management. These initiatives create a favorable market environment and drive the adoption of WSNs in public infrastructure and smart city projects.
Challenges
Data Security and Privacy Concerns may Stymie the Market Expansion of WSN
A wireless sensor network (WSN) is an application-specific technology for monitoring and controlling physical surroundings from remote places with greater accuracy. From sensor nodes to router/gateways, a vast volume of data is distributed via various technologies. These nodes are linked by short-range wireless links, which serve as an infrastructure for transmitting the data collected to the authorised base station. Hackers can get access to these networks and begin monitoring unencrypted traffic as well as sensitive data that could be exploited for other purposes. Thus, the increased data security and privacy concerns related to data access from IoT, Zigbee, Bluetooth networks, etc. may hamper the growth of the global wireless sensor network market.
Moreover, limited bandwidth and battery life may pose a challenge to the market growth of WSNs.
Opportunities
The implementation of wireless sensor networks in energy management solutions will reduce power consumption, improves connectivity, and offer mobility of systems, thus creating promising opportunities for vendors in the global WSN market. Furthermore, the rising adoption of WSN across small and medium-sized businesses and large corporations owing to its benefits like scalability, efficacy, low operating costs, high agility, and enhanced performance, thereby leading the surge in the adoption of WSN in SMBs.
Geographic Overview
North America contributes the largest share in the wireless sensor network market and is anticipated to grow significantly during the forecast period as they are early adopters of innovative technologies with the development of smart cities and increased adoption of building and factory automation will propel the growth in the region. Moreover, advancements in technologically developed healthcare facilities and the increased prominence of wearable devices will push the market growth of the WSN in the region.
Moreover, Asia-Pacific is projected to witness the fastest growth during the forecast period due to the increased implementation of smart manufacturing processes in countries like China, India, Taiwan, etc. and the surge in the development of smart manufacturing in the region.
Competitive Insight
The wireless sensor network industry is very competitive due to a large number of industry players that are emphasizing innovation service provisions and are expanding geographically to sustain themselves in the market.  In addition, market participants are working collaboratively to combine technologies and give better solutions to end consumers. Furthermore, novel product launches, M&A, partnerships, joint ventures, and R&D activities are the key strategies adopted by industry players in the WSN market.
Wireless Connectivity Solutions from STMicroelectronics is a collection of wireless technology devices with different communication ranges, power efficiency, latencies, bandwidths, and networking architecture. There is essentially no electronic system that does not require wireless connectivity, given the growing importance of wireless sensor networks and Internet of Things-related gadgets. Wearable devices, smart buildings, home automation, asset-tracking solutions, and medical equipment are examples of consumer-to-industrial applications. The ST portfolio includes a wide range of RF solutions that cover most of the major protocols and standards, as well as custom radio solutions. This includes ultra-low-power RF transceivers, network processor ICs, and a comprehensive line of Wireless System-on-Chips, which includes pre-certified wireless modules to make technology adoption easier.
To enable smarter, more differentiated applications, NXP Semiconductors is introducing next-generation sensors with a strong balance of intelligent integration, logic, and customizable platform software. Their low-power, cost-effective wireless solutions cover a variety of Internet of Things monitoring and control applications, including consumer, smart energy, industrial, and healthcare.
Along with its renowned edge computing platforms and a dedicated wireless microcontroller, NXP recently expanded its wireless connectivity portfolio to provide customers with a full spectrum of secure ultra-wideband (UWB), Wi-Fi®, and Bluetooth®/ Bluetooth Low Energy (BLE) combo solutions.
Recent Development by Key Players
In February 2022, STMicroelectronics, one of the prominent global semiconductor leaders and a leading maker of micro-electro-mechanical systems (MEMS), announced the release of its third generation of MEMS sensors. For consumer mobiles and smart industries, healthcare, and retail, the new sensors offer the next leap in performance and functionality. MEMS technology lies at the heart of the robust and chip-sized motion and environmental sensors that power today's smartphones and wearables' intuitive context-aware capabilities. The latest generation of ST MEMS sensors pushes the limits in terms of output accuracy and power consumption, breaking through previously unattainable technical barriers. For product features like activity detection, interior navigation, and precise industrial sensing, the new sensors can give the utmost accuracy. They also keep battery demand low, allowing for extended runtimes. ST's machine-learning core (MLC) and electrostatic sensing are optional features that will be included in some models.
In November 2021, NeoCortec, a manufacturer of ultra-low-power bi-directional wireless mesh network modules, partnered with Honeywell Building Technologies, a global leader in fire and life safety, to develop wireless fire detection devices that are more reliable, easier to install, and have a lower total cost of ownership. Honeywell wireless fire detection equipment, such as smoke detectors, modules, and audio-visual devices, will use NeoCortec's NeoMesh technology.
Key Players Covered in the Report
STMicroelectronics, ABB, Honeywell International Inc., Texas Instruments Inc., Siemens AG, NXP Semiconductors, Linear Technology Corporation, Schneider Electric, Emersion Electric, and NXP Semiconductors are some of the major competitors in the WSN industry.
The Wireless Sensor Network research includes a comprehensive market segmentation analysis as well as projections for the analysis period 2023-2030.
Segments Covered in the Report
By Type

Underwater WSN
Terrestrial WSN
Underground WSN
Others

By Offering

Hardware
Software
Services

By Sensor Type

Ambient Light Sensors
Motion & Position Sensors
Heart Rate Sensors
Temperature Sensors
Pressure Sensors
IMUs (6-Axis, 9-Axis)
Accelerometers (3-Axis)
Blood Glucose Sensors
Image Sensors
Humidity Sensors
Carbon Monoxide Sensors
Blood Oxygen Sensors
Flow Sensors
Level Sensors
Chemical Sensors
Gas Sensors
ECG Sensors
Others

By Connectivity Type

Wi-Fi
Bluetooth
Bluetooth/WLAN
Cellular Network
GPS/GNSS Module
Bluetooth Smart/BLE
ZigBee
NFC
WHART
ISA100
ANT+

By Application

Machine Monitoring
Process Monitoring
Asset Tracking
Safety & Surveillance

By End-User

Automotive & Manufacturing
Transportation
BFSI
Retail
Industrial
Healthcare
Oil & Gas
Energy & Power
Food & Beverages
Agriculture
Aerospace & Defense
Others
Region Covered in the Report
North America
Europe

Germany
U.K.
France
Italy
Spain
Russia
Rest of Europe

Asia-Pacific (APAC)

China
Japan
India
South Korea
Rest of Asia-Pacific

Rest of the World (RoW)

Brazil
Saudi Arabia
South Africa
U.A.E.
Other Countries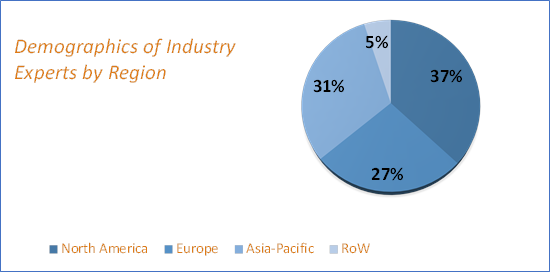 Source: VynZ Research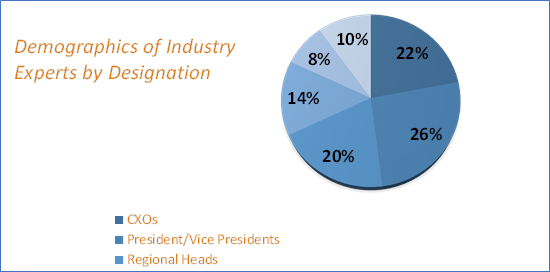 Source: VynZ Research