Industry Overview
The market for 3D and 4D technology, with a valuation of USD 198.0 billion in 2023, is projected to grow to USD 469.0 billion by 2030, registering a compound annual growth rate (CAGR) of 14.0% during the forecast period from 2023 to 2030. This growth can be attributed to the increasing adoption of cutting-edge solutions in existing work settings, which effectively streamline operations and enhance overall business process efficiency.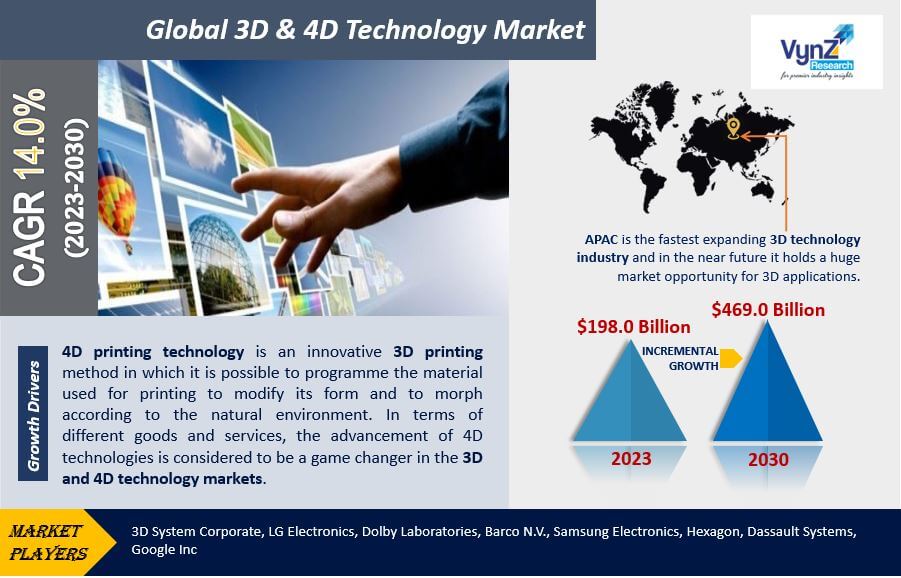 Over the forecast period, the global 3D & 4D technology market is expected to experience substantial growth. With their increased application in the engineering, entertainment and healthcare industries, 3D & 4D technologies are being widely acclaimed. They may be used for applications that are industrial, consumer, governmental or otherwise.
The rising gaming and entertainment industry is one of the factors leading to the development of the 3D & 4D technology market. The production of 3D movies enhances the income of the 3D technology industry.
Segmentation
By Products:
          -3D Sensors
          -3D Integrated Circuit
          -3D Printer
          -3D Transistor
          -3D Gaming and other products
•    The increase in the application of 3D printers is accelerating the rate of growth of the market.
•    The use of 3D printers is spread across various industries. A large share in 3D printer applications is owned by the automotive and aerospace industries.
•    Prototyping in the present scenario is expected to dominate 55 percent of the 3D printing industry. It requires research and gives a simple demonstration of the goods for distribution and cooperation before submitting the final prototypes to manufacturers.
•    A study conducted by Sculpteo showed that in2018, more than 70% of businesses had increased their 3D printing expenditures compared to 49% in2017, and about 93% of businesses were able to achieve a strategic edge such as minimising time-to-market, encouraging shorter production runs.
By End User Industry:
          -Healthcare
          -Entertainment & Media
          -Education
          -Other End-user Industry
•    Healthcare spending is on the rise, with over 80% of it government funded. In health services, in reconstructive medicine, 3D printing is used. The healthcare vertical is expected to expand profitably throughout the projected period as more 3D products are used for simulation and proper diagnosis.
•    Siemens, a German multinational conglomerate, produces products such as Orbic 3D for intraoperative 3D imaging functionality in surgery. In addition to reducing manual operation, Olympus offers a 3D imaging solution for clinical surgery with more light-sensitive images and greater depth of view.
Global 3D & 4D Technology Market Report Coverage
| | |
| --- | --- |
| Report Metric | Details |
| Historical Period | 2018–2022 |
| Base Year Considered | 2022 |
| Forecast Period | By 2030 |
| Market Size in 2022 | $198.0 Billion |
| Revenue Forecast in 2030 | $469.0 Billion |
| Growth Rate | CAGR 14.0% |
| Segments Covered in the Report | By Product and By End User Industry |
| Report Scope | Market Trends, Drivers, and Restraints; Revenue Estimation and Forecast; Segmentation Analysis; Impact of COVID-19; Companies' Strategic Developments; Market Share Analysis of Key Players; Company Profiling |
| Regions Covered in the Report | North America, Europe, Asia-Pacific, Middle East, and Rest of the World |
By Geography:
          -North America (Largest Market)
          -Asia-Pacific (Fastest Growing Market)
          -Europe
          -Rest of the World
"The 3D technology market in Asia-Pacific to grow at fastest rates"
APAC is the fastest expanding 3D technology industry and in the near future it holds a huge market opportunity for 3D applications. Developing economies such as India and China are major countries that have a huge potential for 3D technology applications in the APAC field. In the APAC region, Japan is another big market for 3D technology. Rising sales levels, lifestyle changes, and the need for faster manufacturing technologies are some of the major drivers responsible for spurring demand for APAC 3D technology.
Trends:
•    Many viewers go for movies with 3D motion pictures and interactive effects as a leisure experience nowadays. 3D is the standard technique used for visual effects, with new advances in 3D animation and an upsurge in computer-based graphics. There are many approaches to 3D animation in videos, such as physical effects in movies and hand-drawn animation. It is 3D that is now considered as the future of visual material for broadcasting in all these respects.
•    A research undertaken by 3D Hubs, a manufacturing logistics network, reported in 2018 that 3D printers & apps and 3D printing service providers gained, by segment, more than 50% share of the market for 3D & 4D technology.
•    Once used mainly for entertainment, 3D & 4D processing is now rapidly being used in numerous sectors such as healthcare, education and manufacturing, pushing the industry in turn. In addition, the manufacture or production of individualised parts and components to satisfy the needs of the small-scale industry contributes greatly to the development of the existing demand for 3D&4D manufacturing.
Market Drivers:
4D printing technology is an innovative 3D printing method in which it is possible to programme the material used for printing to modify its form and to morph according to the natural environment. In terms of different goods and services, the advancement of 4D technologies is considered to be a game changer in the 3D and 4D technology markets. In the film industry, one of the key uses of 4D technologies is more precisely, in 4D theatres.
The advancement of technology is a capital-intensive operation, with 4D printing technology receiving investment from different universities due to its possible production benefits. There is increasing awareness of the 'time' factor of 3D printing and universities such as Birmingham, Bristol, Durham, Edinburgh, Napier, Leeds, Warwick, and York are discussing the idea.
3D printing plays an important part in the business growth of different verticals of 3D manufacturing. The driving force for the 3D & 4D technology industry is growing investments in R&D for the production of new systems and increasing applications for 3D printing. However, in recent years the market has been facing a decline. Cost and the affordability of raw material, as well as a lack of 3D content availability, are the limiting factors.
Opportunity: Military and defence sector to create lucrative opportunities
3D cameras, scanners, sensors, printers, and screens are used in the military and security industry for accurate measurement and inspection. 3D scanners are used quicker than conventional measuring techniques to take incredibly accurate measurements of new or old pieces of tanks, aircraft, and helicopters. 3D cameras, sensors, and scanners are often used to identify obstacles, identify and locate foliage-hidden objectives, navigate, plan unmanned ground vehicle (UGV) routes, and chart terrain. Head-mounted displays (HMDs) are used to track opponents' movement to know their precise position and recognise them.
The deployment of 3D sensors in the military and defence industry is expected to grow in the coming years due to their features and advantages. The US government is funding the military and defence sector's use of 3D printing and additive manufacturing. US Marines have been using 3D printing technology to build instant bunkers that are capable of carrying a HIMARS truck-mounted rocket launcher system, according to an article written in The EurAsian Times. The Defence Innovation Unit (DIU) partnered with Icon 3D, a construction firm specialised in 3D printing technology, headquartered in Austin, to do this. In addition, at Camp Pendleton in Southern California, the US Army Engineer Research and Development Center installed a 3D-printed concrete bridge of 32 x 16 feet with eight-foot-tall walls.
Challenges:
Lack of standard 3D file formats
•    In 3D printing, architecture, education, manufacturing, healthcare, film, computer games, and earth science, file formats such as 3DS, DAE, IGS, STL are commonly used.
•    Each sector has its own proprietary 3D file format, optimised with its own tools for 3D modelling. This means that entities using various modelling tools will not access the file. This means the same file will not be used by two users using separate 3D modelling tools.
•    Converting file formats is often not an easy task; it takes time and effort.
•    An intermediate format has been developed, however to solve the interoperability problem by merging two proprietary formats. STL and COLLADA, for example, are commonly used neutral formats for exchanging templates through CAD software.
High maintenance costs and short operational life
•    3D and 4D imaging systems are susceptible to dust, microparticles, impurities, and vibrations, such as 3D and 4D sensors and cameras. The consistency of a picture may be influenced dramatically by a minor disruption. This instruments therefore require careful attention.
•    3D and 4D imaging costs depend on the size and complexity of the scanned 3D or 4D image, as well as the total size and geometry of the purchased machines.
•    High-end 3D and 4D image sensors have a short operating life, such as healthcare imaging sensors. Potential customers may be distracted by the cost of their regular repairs or substitution. Manufacturers are forced to spend on the device's packaging, which increases the net cost.
•    The result of these constraints can lead to a decrease in the adoption of 3D and 4D hardware, along with regular advances and updates.
COVID-19 Impact on the Global 3D and 4D Technology Market
The epidemic and spread ofCOVID-19 greatly affected players working in the value chain of 3D and 4D technologies. One of the main factors driving the growth of the 3D and 4D technology industry is the increased worldwide demand for automobiles. However as vehicle sales have declined dramatically worldwide due to lockdowns imposed by various governments to curb the proliferation of COVID-19, the growth of the demand for 3D and 4D technologies has been affected. In addition, these lockdowns have also affected countries' GDP and individuals' per capita income around the globe. Low disposable income has resulted in a decrease in mass buying power, resulting in a decrease in y-o-y growth for the entire economy.
However, due to stability in the automobile, consumer electronics, and healthcare sectors, the latter half of the year is expected to see a normalization of inventory levels and improved demand for 3D and 4D input and output products. As production plants across the world were briefly shut down to curtail the spread of the virus and demand was also limited, the COVID-19 epidemic impacted the manufacturing of 3D and 4D input and output products.
Key Players:
Some of the key players in 3D/4D technology market are:
          -3D System Corporate
          -LG Electronics
          -Dolby Laboratories
          -Barco N.V.
          -Samsung Electronics
          -Hexagon
          -Dassault Systems
          -Google Inc.
Recent News:
Recent Developments
•    In November 2020, FARO Technologies, Inc. launched WebShare software enterprise, an extension of the FARO Webshare platform.
•    In September 2020, Samsung Electronics Co., Ltd. launched Galaxy Tab S7 and Galaxy Tab S7+ tablets. The tablet has inbuilt Clip Studio Paint EX, a drawing app that can extract lines from 3D data.
•    In February 2020, Hexagon AB signed an agreement to acquire UK-based Romax Technology Limited. The acquisition aims to enable Hexagon AB to meet the growing need for electrification and provide their automotive and aerospace customers with integrated tools to develop the next generation of energy-efficient electric vehicles.
•    In October2019, Dassault Systèmes acquired Medidata Solutions, known for clinical expertise and cloud-based solutions that power smarter development and commercialization of treatments.
•    In November 2018, GE Healthcare partnered with VA Puget Sound Health Care System to accelerate the use of 3D imaging inpatient care
Primary Research
VynZ Research conducts extensive primary research to understand the market dynamics, validate market data and have key opinions from the industry experts. The key profiles approached within the industry includes, CEO, CFO, CTO, President, Vice President, Product Managers, Regional Heads and Others. Also, end user surveys comprising of consumers are also conducted to understand consumer behavior.
The 3D & 4D Technology Market report offers a comprehensive market segmentation analysis along with an estimation for the forecast period 2023–2030.
Segments Covered in the Report
By Product 

3D Sensors
3D Integrated Circuit
3D Printer
3D Transistor
3D Gaming
Other Products

By End User Industry 

Healthcare
Entertainment & Media
Education
Others
Region Covered in the Report
North America
Europe

Germany
U.K.
France
Italy
Spain
Russia
Rest of Europe

Asia-Pacific (APAC)

China
Japan
India
South Korea
Rest of Asia-Pacific

Rest of the World (RoW)

Brazil
Saudi Arabia
South Africa
U.A.E.
Other Countries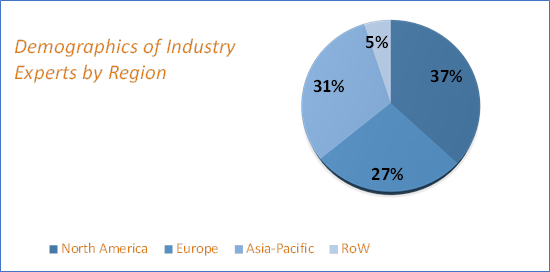 Source: VynZ Research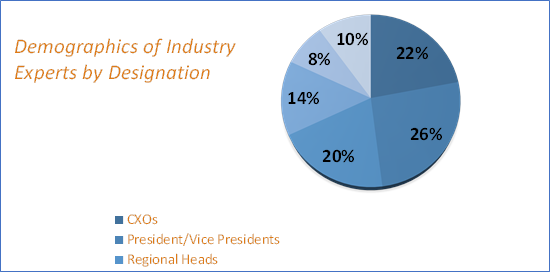 Source: VynZ Research