Industry Overview
The global 3D metrology market is poised for substantial growth, projected to increase from USD 10.4 billion in 2022 to USD 22.8 billion by 2030. This represents a noteworthy compound annual growth rate (CAGR) of 9% during the forecast period spanning from 2023 to 2030. 3D metrology, also known as 3D measurement, is a sophisticated technology renowned for delivering precise and accurate 3D measurement data.
By leveraging 3D metrology technology, various parameters such as distance, point, height, and length of an object can be measured with utmost precision. This technology effectively converts real-world objects into architectural images, utilizing precise measurement data. The availability of such measurement data plays a vital role in resolving manufacturing challenges and enhancing quality control across all stages of production.
Given its ability to capture extensive volumes of 3D data for analysis and modeling, 3D metrology finds application in diverse industries including manufacturing, automotive, energy and power, aerospace and defense, medical, heavy machinery, architecture and construction, as well as electronics. To facilitate these applications, a range of 3D metrology equipment is commonly utilized, such as 3D scanners, CT scanners, portable arms with scanners, structured light scanners, laser trackers, and mid-range terrestrial LiDAR devices.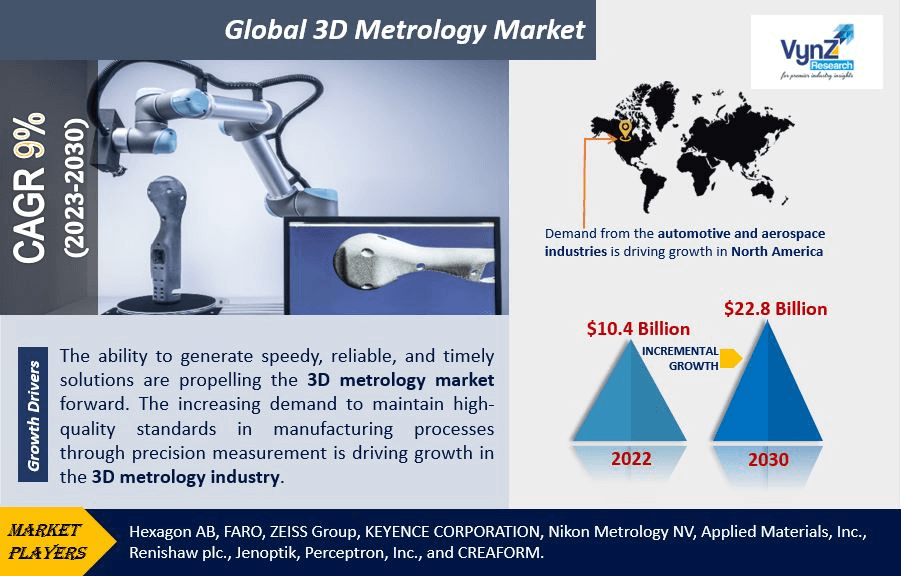 Industry Trends
The development of the services segment in the 3D metrology market is aided by the increased trend to adopt Industry 4.0. The focus of Industry 4.0 is on automating physical assets and integrating them into digital ecosystems with multiple value chain stakeholders. The industry has also grown as a result of significant advancements in software-driven process automation and portable metrology equipment for personalized services. The increased market demand for manufacturers to adopt 3D metrology solutions is predicted to expand as the demand for luxury items and disposable income rises in developing nations, thereby propelling the 3D metrology market forward.
The COVID 19 epidemic had an impact on many industrial activities around the world, including product designers, engineers, and other manufacturing processes. Throughout the pandemic, 3D scanning, along with other measuring and product development technologies, has shown to be incredibly useful in the manufacturing industry. During the pandemic, however, demand for medical equipment grew significantly, thereby positively impacting the overall growth of the 3D metrology market. Face shields, mask filters, and life-saving masks, in particular, were in high demand around the world, which was the key growth-stimulating reason for the 3D metrology sector. The production plants, on the other hand, were completely shut down throughout the pandemic, which had a substantial impact on the market value of 3D metrology.
Market Segmentation
Insight by Offerings
Hardware
Software
Services

After Sales Service
Software-as-a-Service
Storage-as-Service
Measurement Services
The hardware category is anticipated to contribute the largest market share in the 3D metrology market during the forecast period as there is increased demand for 3D metrology equipment in the aerospace & defense, medical, archaeological architecture, and automotive industries to have proper quality control, dimensioning, and inspection applications.
The services segment is anticipated to grow at a high CAGR during the forecast period as manufacturing businesses are outsourcing 3D metrology measurement and inspection work to service providers owing to massive cost in setting up 3D metrology facility and dearth of skilled experts. These service providers can help manufacturing businesses accomplish shorter measurement times, lower measurement uncertainty, and process stability, which is propelling the 3D metrology services market.
Insight by Product Type
Coordinate Measuring Machine (CMM)
Optical Digitizers and Scanners (ODS)
Video Measuring Machine (VMM)
3D Automated Optical Inspection System
Form Measurement
Others
The CMM contributes the largest share in the 3D metrology market and is anticipated to have a significant growth during the forecast period. CMM is extensively adopted for validating geometric dimensioning and tolerancing in the manufacturing, automotive, and aerospace & defense industries. Moreover, the increased adoption for precision measurement and rising demand for non-contact CMM to have quality control and inspection in several industries will further augment the growth of the CMM segment in the 3D metrology market.
Insight by Application
Quality Control & Inspection
Reverse Engineering
Virtual Simulation
Others
The virtual simulation is anticipated to have a fast growth during the forecast period. The application of 3D virtual simulation in several industries, such as smart technology to compute the required sensor placements for all inspection features and CAD surfaces, is driving up demand for virtual simulation.
Quality control and inspection contributes the largest share in the 3D metrology market owing to the increased requirement to provide safety in industrial operations. The purpose of quality control is to ensure that manufactured parts fulfill quality requirements by evaluating their dimensions. During the production process, it is a vital yet challenging responsibility for producers. Quality inspection is critical when it comes to ensuring the quality of precision equipment parts. In the production process, quality control is a crucial stage so as to detect flaws and meet strict standards.
Insight by End Use Vertical
Aerospace & Defense
Automotive
Architecture & Construction
Medical
Semiconductors & Electronics
Energy & Power
Heavy Machinery
Mining
Others
Because of the high demand for precision, the automotive industry is heavily adopting 3D metrology techniques, particularly optical measurement systems, and is replacing traditional gauges, transducers, and other measuring equipment. Furthermore, European countries are introducing 3D metrology into car manufacturing and boosting investment in lightweight automotive components and fuel-efficient vehicles. In addition, the rising demand for electric vehicles and automobiles will further propel in contributing the largest market share in the 3D metrology industry.
Medical equipment, such as prostheses, implants, dental applications, and other assemblies in medical machines, demands a higher level of precision when measuring or inspecting them, thereby accelerating a significant growth in the 3D metrology industry as it plays a crucial role to design and manufacture medical equipment according to specifications. Furthermore, scanning machines, X-Rays, CT scanning machines, and other medical equipment have hard-to-reach spots, thereby necessitating inspection and reverse engineering to optimize the material used in their manufacturing. Such elements are boosting the 3D metrology market's overall growth.
3D Metrology Market Report Coverage
| | |
| --- | --- |
| Report Metric | Details |
| Historical Period | 2018–2022 |
| Base Year Considered | 2022 |
| Forecast Period | By 2030 |
| Market Size in 2022 | $10.4 Billion |
| Revenue Forecast in 2030 | $22.8 Billion |
| Growth Rate | CAGR 9% |
| Segments Covered in the Report | By Offerings, By Product Type, By Application, and By End Use Vertical |
| Report Scope | Market Trends, Drivers, and Restraints; Revenue Estimation and Forecast; Segmentation Analysis; Impact of COVID-19; Companies' Strategic Developments; Market Share Analysis of Key Players; Company Profiling |
| Regions Covered in the Report | North America, Europe, Asia-Pacific, Middle East, and Rest of the World |
Industry Dynamics
Growth Drivers
Surge in Demand to Maintain High-Quality Standards will Drive Growth
The 3D metrology market is experiencing significant growth due to its ability to provide fast, reliable, and timely solutions. The rising demand for maintaining high-quality standards in manufacturing processes, achieved through precise measurement, is a key driver for the industry's expansion. Additionally, the use of 3D metrology systems helps reduce product launch timelines and development costs by utilizing 3D CAD data for digital measurement and inspection. As a result, the market is expected to continue growing as the need for quality inspection rises.
The adoption of 3D metrology is being propelled by the increasing acceptance of automation and the emergence of smart factories. Electronics manufacturing companies, in particular, are driving market growth as they seek to enhance productivity.
With 3D metrology equipment, various crucial industrial activities such as inspection, product design, and reverse engineering can be efficiently performed. The long-term advantages of using 3D metrology equipment and its integration with groundbreaking technologies contribute to the overall growth of the 3D metrology industry.
Challenges
Massive cost associated with Setting up 3D Metrology facility may Stymie the Growth
The total cost of setting up a 3D metrology facility includes the cost of measuring equipment, installation, and maintenance, which is a significant expenditure for small and medium-sized businesses. Setting up a full-fledged 3D metrology department makes it harder for businesses to realise the anticipated return on investment (ROI).
The market expansion is likely to be hampered by lack of simplified software solutions and a shortage of skilled workforce to operate 3D metrology equipment.
Opportunities
Mounting R&D activities in 3D metrology Solution will Proliferate the Market Growth
The research and development are important in propelling promising market opportunities for 3D metrology solutions. The increased inclination towards consumer safety as well as strict government standards, have resulted in major developments in engine technology in recent years. The major players in the 3D metrology market are pursuing enhanced R&D in engine design in order to improve engine performance, combustion efficiency, and reduced emissions.
Furthermore, the increased adoption of cloud computing services and surge in demand from several industry verticals to minimize the inspection delay in the manufacturing process are anticipated to offer market growth opportunities in 3D metrology solutions.
Geographic Overview
North America
Europe
Asia Pacific (APAC)
Rest of the World (RoW)
Demand from the automotive and aerospace industries is driving growth in North America, thereby North America is expected to dominate the 3D metrology market during the projected period. The region is home to a high number of metrology equipment maufacturers and has substantial government assistance.
Competitive Insight
The global market for 3D metrology is moderately fragmented. The packaging industry offers lucrative growth potential, which is expected to attract several new participants to the market. In order to acquire a competitive advantage over competitors, innovation is likely to play a critical role. Companies in the market are also focusing on product launches, expanding their solution offerings and customer base via M&A, collaborations, and partnerships for maintaining a strong market foothold in the 3D metrology industry.
Hexagon Manufacturing Intelligence is one of the largest software developers in the metrology industry, offering a wide range of in-house developed, individually customizable software packages that provide intelligent and effective data acquisition, evaluation, and analysis, along with powerful data management and reporting tools. The Hexagon software includes PC-DMIS, QUNIDOS, I++ Simulator, SpatialAnalyzer, HxGN Metrology Reporting Software for laser scanners, Software for CMMs, etc.
ZEISS is a global technical leader in the domains of optics and optoelectronics. ZEISS Industrial Quality Solutions is a prominent leader in multidimensional metrology technology. ZEISS creates, manufactures, and distributes cutting-edge solutions for industrial metrology and quality assurance, microscopy for life sciences and materials research, and medical technology for ophthalmology and microsurgery diagnostics and treatment.  For the automotive, aerospace, mechanical engineering, plastics, and medical technology industries, they include coordinate measuring devices, optical and multisensor systems, microscope systems for industrial quality assurance, and metrology software. The range is completed with innovative technologies such as 3D X-ray metrology for quality inspection.
Recent Development by Key Players
The first exclusive display of Hexagon's new genre-busting HP-L-10.10 non-contact laser line scanner is shown at the EASTEC 2021 exhibition in October 2021. The HP-L-10.10 is the newest addition to Hexagon's comprehensive line of sensor solutions for coordinate measuring machines (CMMs and giving manufacturers future-proof alternatives for busy shop floors.  The HP-L-10.10 cross-platform technology uses the same ultra-high-speed, high-precision 3D scanning technology found in Hexagon's latest portable Absolute Arm and Absolute Tracker products. The HP-L-10.10 is seven times faster than its predecessor and offers high-precision scanning that is currently unavailable in the CMM market. The scanner's repeatability and performance are equivalent to tactile measurements taken on the same CMM.
In October 2021, Applied Materials, Inc. has recently launched an innovative eBeam metrology system that enables a new patterning control playbook based on massive on-device, across-wafer, and through-layer measurements.
Key Players Covered in the Report
Some of the major players operating in the 3D metrology market include Hexagon AB, FARO, ZEISS Group, KEYENCE CORPORATION, Nikon Metrology NV, Applied Materials, Inc., Renishaw plc., Jenoptik, Perceptron, Inc., and CREAFORM.
The 3D Metrology Market research includes a comprehensive market segmentation analysis as well as projections for the analysis period 2023-2030.
Segments Covered in the Report
By Offerings
Hardware
Software
Services

After Sales Service
Software-as-a-Service
Storage-as-Service
Measurement Services
By Product Type
Coordinate Measuring Machine (CMM)
Optical Digitizers and Scanners (ODS)
Video Measuring Machine (VMM)
3D Automated Optical Inspection System
Form Measurement
Others
By Application
Quality Control & Inspection
Reverse Engineering
Virtual Simulation
Others
By End Use Vertical
Aerospace & Defense
Automotive
Architecture & Construction
Medical
Semiconductors & Electronics
Energy & Power
Heavy Machinery
Mining
Others
Region Covered in the Report
North America
Europe

Germany
U.K.
France
Italy
Spain
Russia
Rest of Europe

Asia-Pacific (APAC)

China
Japan
India
South Korea
Rest of Asia-Pacific

Rest of the World (RoW)

Brazil
Saudi Arabia
South Africa
U.A.E.
Other Countries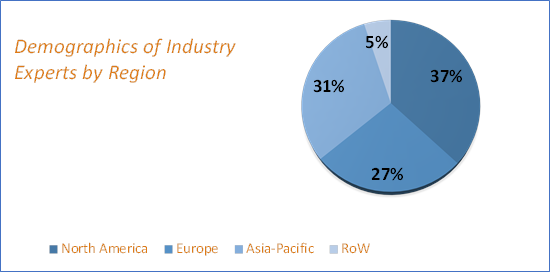 Source: VynZ Research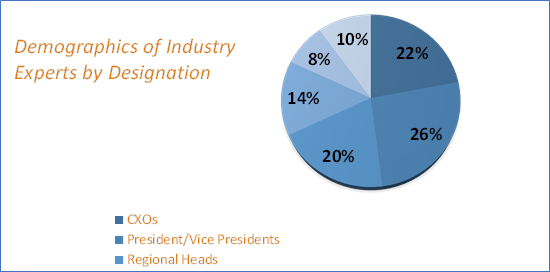 Source: VynZ Research