Industry Overview
The Global 3D Motion Capture System Market is anticipated to grow from USD 151.6 million in 2020 to USD 283.1 million by 2027, growing at a CAGR of 12.4% during the forecast period 2021-2027. The 3D Motion Capture System Market are driven by constant revolution in the market to offer high-quality motion capture, which is precise, portable, and inexpensive. Additionally, the technological advances in computer vision expertise and the growing demand and inclination toward high-quality 3D animations are some factors driving the market.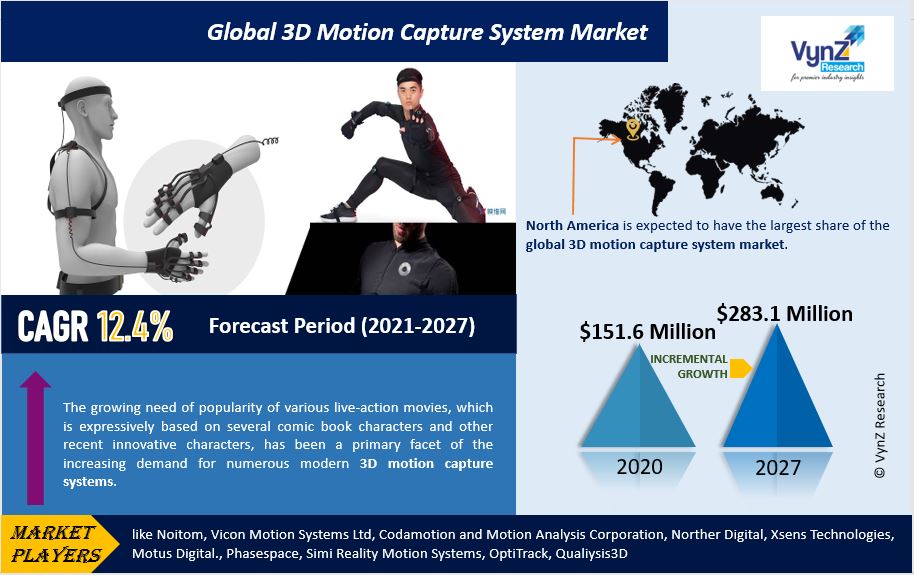 The main reason for using 3D motion capture is to speed up the development cycle for complex 3D CGI characters for film, television, or video games. The market for 3D motion capture systems is booming. These advancements are fueled by the market's ongoing innovation to provide high-quality motion capture that is accurate, portable, and inexpensive. Because of the market's dynamic and developing character, a variety of products have emerged, including marker-less, inertial/non-inertial systems, active/passive systems, and portable/fixed systems. End-users of these systems, on the other hand, choose systems that deliver high-quality and precise data for applications like gaming, films, biomechanical analysis, robotics, education, engineering, and others. And the market has been seen to expand in response to end-user expectations. Furthermore, market expansion is being fueled by technological advancements in computer vision technology, as well as an increase in demand for and preference for high-quality 3D animations.
Amid the COVID-19, due to national lockdown in states across the world, the entertainment production houses are paused. This is impacting the 3D motion capture system business. Nevertheless, this is also causing in falling demand for the solutions. Also, from the software perspective, the frequent renewal of licenses is likely to continue producing income for the dealers in the market.
Market Segmentation
Insight by Type Outlook
Based on the type outlook, the global 3D motion capture system market is spread into optical systems and non-optical systems. In 2020, largest market share was held by non-optical 3D motion segment with significant share in terms of revenue of the total market. Optical and non-optical systems are one of the most dynamic digital and display technology areas, due to the technological developments, wide adoption, and large-scale applications. Optical systems come in a variety of technologies, including active marker, passive marker, markerless, and underwater. Optical systems practice cameras to track motion capture and use deep or pulse LEDs. High-quality cameras, sensors, and accessories are components of optical systems. Non-optical systems enable real-time data output, many performance options, and do not require the usage of markers to operate.
Insight by Component Outlook
Based on the component outlook, the global 3D motion capture system market is spread into hardware, software, and services. In 2020, software dominated the market with considerable share in terms of revenue of the total market. It serves as a basic interface between the many technologies involved in the motion capture process. It is mostly utilized to turn raw footage into an animated version, making it a significant part of the overall process. Major investments are always made in order to improve software solutions, which are predicted to promote the sub segment's rise as the greatest market share.
Insight by Application Outlook
Based on the application outlook, the global 3D motion capture system market is spread into media & entertainment, engineering and industrial applications, education, biomechanical research & medical applications, and others. In 2020, media & entertainment dominated the market with considerable share in terms of revenue of the total market. Video game studios are currently implementing 3D motion capture technology in order to reduce post-production time. With the application of these devices and motion analysis techniques, synchronizing animation became simple. The motion analysis performed by firms today provides unprecedented tracking precision and low latency, and it fits smoothly into many of today's gaming engines. Furthermore, 3D motion capture firms are developing active LED markers to provide reliable tracking for gaming systems, allowing for less weight on the truss and less wires to route, boosting the gaming experience.
Industry Dynamics
Industry Trends
The movie industry is extremely reliant on 3D motion capture technology owing to the trend towards real animation and science-fiction movies. In 2019, Marvel Studio released the costliest movie till date 'Avengers-End Game', with a financial plan of USD 356 million. The growing number of 3D screens across the globe is an apparent fact of this trend. According to the Motion Picture Association of US, the number of 3D films released in the United States and Canada in 2019 was 35.
Growth Drivers
The growing need of popularity of various live-action movies, which is expressively based on several comic book characters and other recent innovative characters, has been a primary facet of the increasing demand for numerous modern 3D motion capture systems. Moreover, media, entertainment sector and the increasing growth of the adventurous and engaging gaming industry has also added fuel to the 3D Motion Capture industries.
Challenges
The need of specified hardware and software programs for data processing and demand for high end processors will hinder the 3D motion capture system market.
Opportunities
The increasing and growing demand for modern sports games are likely to be a primary and major factor to create lucrative opportunity for the whole of the global 3D motion capture system market in the recent years to arise, as the extreme use of modern advanced physics engines and mixed highly sophisticated modern 3D motion capture systems have been principally the key to the several mounting popularity of modern games such as International FIFA, America NHL, Madden NFL, and NBA Basketball Live.
Geographic Overview
North America is expected to have the largest share of the global 3D motion capture system market. In the United States, 3D motion capture is becoming more popular as demand grows in a variety of fields, including entertainment and advertising, as well as health and sports.
Furthermore, the market is being supported by the presence of key 3D motion capture manufactures such as Vicon Motion Systems Inc., PhaseSpace Inc., OptiTrack, and Motion Analysis Corporation. Because of the rising acceptance of modern technology in the entertainment, commercial, and medical industries, Canada is one of the most important markets for 3D motion capture. 71 % of Canadian parents play video games with their children at least once a week, according to UniSoft.
Furthermore, the Canadian government's incentives for the development of international art studios are assisting the industry tremendously. In Vancouver, a studio for visual effects, animation, and gaming has been developed in the previous three years.
Competitive Insight
The global 3D motion capture system market is moderately competitive and involves of some major players. Nonetheless, with technological advancement and quality facility provision, mid-size to smaller firms is increasing their market presence by presenting new services with fewer prices.
Companies, like Noitom, Vicon Motion Systems Ltd, Codamotion and Motion Analysis Corporation, Norther Digital, Xsens Technologies, Motus Digital., Phasespace, Simi Reality Motion Systems, OptiTrack, Qualiysis3D are operated in 3D motion capture system market.
Vicon Motion System launched a motion examination app, Capture.U, which is the first tracking platform to offer a real-time augmented reality (AR) visualization mode, allowing sports scientists & coaches and physiotherapists to appreciate athlete performance in the field better.