Industry Overview
According to recent estimates, the worldwide market for industrial robotics is projected to have a value of approximately USD 46.7 billion in 2022. It is anticipated to experience substantial growth and reach USD 78.2 billion by the year 2030, exhibiting a steady compound annual growth rate (CAGR) of 10.3% during the period from 2022 to 2030. The significant drivers behind this growth in the industrial robotics market include the scarcity of skilled labor and collaborative efforts among public, private, and government entities to address the repercussions of the ongoing global COVID-19 pandemic.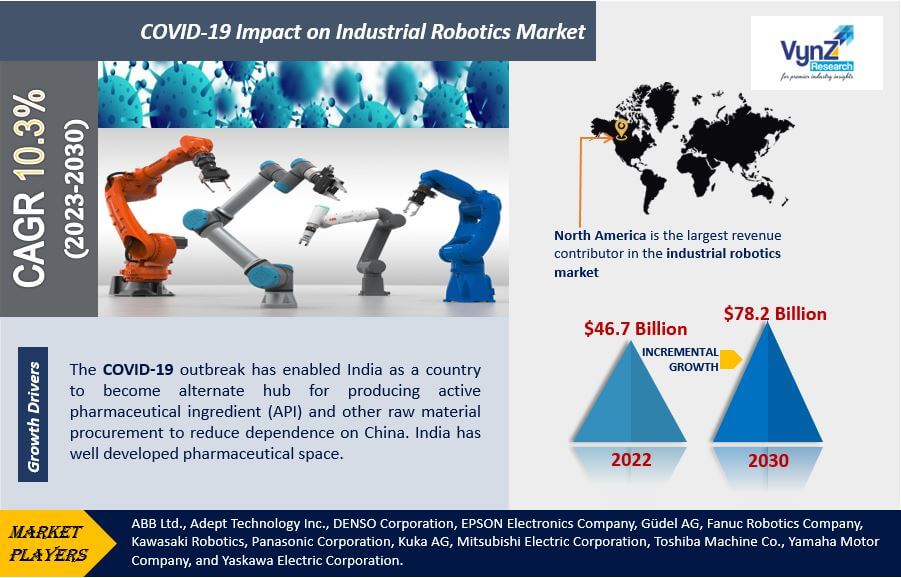 The global pandemic of COVID-19 has sidelined main-stream manual workers, tightening labor industry and increased unemployment rate. In this scenario, automation solutions, including industrial robots, which were unthinkable have blossomed, thanks to the development of open source robotic operating systems, machine learning, sensors, and artificial intelligence.
Market Segmentation
Insight by Type
Based upon type, the industrial robotics market is categorized into articulated robots, SCARA robots, parallel robots, Cartesian robots, and others. In 2020, articulated robots segment is estimated to account for largest share, as they are being used in several industries as compared to other industrial robots. Most of the industries across the world have suffered structural shock in the form of viral outbreak of COVID-19 pandemic. Other robots, such as parallel and SCARA robots are not as versatile in terms of payload and its reach, so articulated robots are preferred in such cases. It is also projected that; articulated robots will maintain its share over the study timeframe.
With the ongoing COVID-19 pandemic, the manufacturing industry is badly hit. The manufacturing slowdown in China has affected the manufacturing business in more than 15 countries, due to country-wide lockdowns, strict international border controls, social distancing measures for workers, and supply chain issues from China. Moreover, according to the ISM global supply chain survey results, more than 75% of the manufacturing firms reported disruptions in the supply chain, owing to transportation restrictions due countrywide lockdowns to avoid the spread of COVID-19 virus.
Global Industrial Robotics Market Report Coverage
| | |
| --- | --- |
| Report Metric | Details |
| Historical Period | 2018–2022 |
| Base Year Considered | 2022 |
| Forecast Period | By 2030 |
| Market Size in 2022 | $46.7 Billion |
| Revenue Forecast in 2030 | $78.2 Billion |
| Growth Rate | CAGR 4.2% |
| Segments Covered in the Report | By Type and By Industry |
| Report Scope | Market Trends, Drivers, and Restraints; Revenue Estimation and Forecast; Segmentation Analysis; Impact of COVID-19; Companies' Strategic Developments; Market Share Analysis of Key Players; Company Profiling |
| Regions Covered in the Report | North America, Europe, Asia-Pacific, Middle East, and Rest of the World |
Industry Dynamics
Growth Drivers
The COVID-19 outbreak has enabled India as a country to become alternate hub for producing active pharmaceutical ingredient (API) and other raw material procurement to reduce dependence on China. India has well developed pharmaceutical space. Indian government has approved few measures to promote manufacturing of APIs within the country. This includes approval of INR 3,000 crores project to set up three bulk drug parks and more than 20% of financial assistance in the coming years tom create in-house capabilities within the country to manufacture 53 critical bulk drugs. This incentive will enable to create positive image of Indian pharmaceutical industry and more importantly, will reduce dependence on single supplier such as China.
The increased adoption of IoT solutions expected to result in efficient data collection and its transmission. Therefore, artificial intelligence, data analysis, and machine learning will play an important decisive role. Data analysis and management is the crucial part of effectively managing network, especially when it is a large deployment. For this reason, companies are able to support its clients with such activities. Making the most of data, and knowing how basic level infrastructure functions, requires computer assistance through artificial intelligence (AI). The major cloud vendors, including Amazon, Microsoft, and Google, are increasingly looking to compete based on their AI capabilities. Various start-ups hope to increase their market share through AI algorithms able to leverage machine learning and deep learning, allowing businesses to extract more value out of their ever-growing volumes of data, which thereby supplementing industrial robots market growth. Moreover, the estimates published by Accenture in collaboration with Frontier Economics forecasted that automation potential will double by 2035, with more than 40% improvement in labor productivity. The uptake of industrial robots would become more affordable for SMEs in coming years.
Challenges
However, the manufacturing process is highly cost-intensive with various complexities. This is a key factor that acts as a hurdle for the growth of the industrial robotics market.
Geographic Overview
Geographically, North America is the largest revenue contributor in the industrial robotics market due to growth of COVID-19 pandemic in the region. The number of COVID-19 cases in North America is also enhancing rapidly with registered cases of almost 5,04,780 and 18,763 deaths as registered in the first week of May. Furthermore, massive explosion of corona virus along with sufficient accessibility to the essential items to healthcare workers is on rise in the region, which is further augmenting industrial robotics market in this region.
As of 5 March 2020, the top ten countries hardest hit by the COVID 19 are the ten largest economies in the world, excluding India and Iran. The U.S., China, France, the U.K, Japan, Germany, and Italy are all in the top ten most affected countries by the pandemic. While China, being the hardest hit, in last few days the outbreak has saw exponential rise in the cases in all G7 economies. Among G7 economies, the U.S., China, Japan, Germany, the UK, France, and Italy accounted for more than 60% of the world's supply and demand (GDP), 65% of the world manufacturing, and 41% of the world's manufacturing exports.
The manufacturing sector is likely to receive severe hit. Direct supply disruptions will hinder production, since the outbreak is more focused on globe's manufacturing heartlands, East Asian countries (China, Japan, and South Korea) and it is spreading exponentially to industrial giants like the U.S., UK, Germany, and France. This supply chain contagion will amplify supply shocks to less affected countries, as the procurement of raw materials in between the nations will become expensive. Moreover, there would also be disruptions in the demand due to recession, purchase and investment delays by consumers and respective firms.
Italy, the main production center of MTA Advanced Automotive Solutions, which produces fuse boxes for the automotive industry, is also closed temporarily. This has made its customers Fiat Chrysler, PSA Group, and Jaguar Land Rover to stop their production.
Moreover, the supply chain contagion has also affected the automobile sector, particularly East Asian nations due to ruptures in the global supply of the automotive components across the borders. Shortage of automotive parts from China has forced Korean carmaker Hyundai to shut-down its factories in South Korea. The Japanese automobile maker, Nissan temporarily closed its factory. Jaguar Land Rover, a UK-based auto company, announced it might to run out of parts. By contrast, in so far as COVID-19 is a demand shock, imports will fall, and they will fall most in the trade partners of the nations that are most severely hit. Given that the hardest-hit nations account for such a large share of world demand, this mechanism of contagion is likely to be important.
Competitive Insight
Key players operating in the industrial robotics market are emphasizing their efforts upon strategic acquisitions in order to strengthen capabilities of research & development that supports them in providing innovative solutions to the users and thus gain competitive advantage.
Some of the major players operating in the global industrial robotics market are ABB Ltd., Adept Technology Inc., DENSO Corporation, EPSON Electronics Company, Güdel AG, Fanuc Robotics Company, Kawasaki Robotics, Panasonic Corporation, Kuka AG, Mitsubishi Electric Corporation, Toshiba Machine Co., Yamaha Motor Company, and Yaskawa Electric Corporation.

Source: VynZ Research