Industry Overview
According to market projections, the machine vision and vision-guided robots industry is poised for substantial growth from 2022 to 2030, with a projected compound annual growth rate (CAGR) of 9.61%. By the year 2030, the market is expected to reach a value of $13.18 billion, compared to its current valuation of $11.8 billion in 2021. This growth can be attributed to several key factors, including the increasing demand for automation and safety measures, the scarcity of skilled workers, the elevated costs of labor, and a notable uptick in research and development (R&D) investments.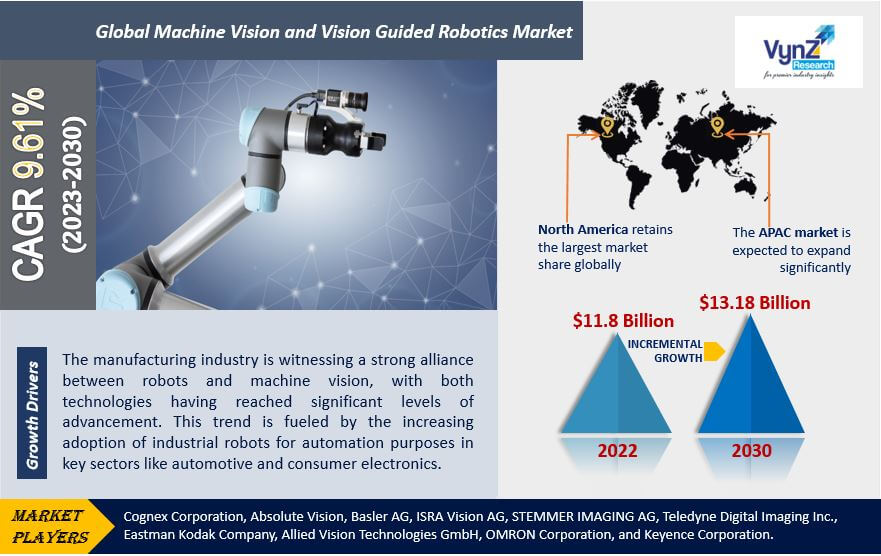 With machine vision, images are captured, sent to a computer, and then handled to inspect and present the findings of the processing. Robotic vision is a technology that gives machines eyesight and uses cameras and image processing to take the place of humans performing manual inspection duties. It enables robots to carry out fundamental duties including presence detection and in-the-moment inspection. Thus, these devices have become powerful and easy to use.  
The market for vision-guided robots is expanding as a result of increased industrialization in both emerging and mature nations. In the manufacture of automobiles, vision-guided robots are utilized to increase productivity and decrease complexity, production costs, and human errors.
Moreover, the global demand for machine vision has increased as a result of recent advancements in the field, including smart cameras, increased system compatibility, and vision-guided robotics. As fewer people interact with end users as a result of the COVID-19 epidemic, the development of vision-guided robots is predicted to accelerate. During the COVID-19 crisis, China is utilizing a number of food delivery, sterilizing, healthcare, and directional guidance robots using machine vision systems.
Market Segmentation
Insight by Product
The market is divided into smart camera-based machine vision systems, PC-based machine vision systems, and vision-guided robotics, on the basis of product. Due to the rising demand for smart cameras that are affordable, compact, and simple to install as well as the expanding use of cameras for 3D imaging, it is projected that smart camera-based machine vision systems would hold the greatest market share throughout the forecast period. The updated laws and government directives make it simpler to implement advancements in IoT and smart camera technology.
Systems for machine vision use a lot of cameras. These cameras are installed above the production lines to inspect the finished goods and record data. So as to reduce errors, intelligent camera-based machine vision systems can scan labels and guide their products automatically without human intervention. The machine vision and vision-guided robotics market is expanding as a result of these factors in industrial sectors.
Insight by Offering
The market is categorized, based on offering, into three categories: services, software, and hardware. Due to the increase in demand for CMOS imaging sensors and cameras, the hardware category dominates the market.
Moreover, due to training and technological learning, the software category is predicted to increase steadily over the projection period. Because machine vision systems based on smart cameras are becoming more and more popular across a variety of business verticals, the demand for deep learning software is projected to expand at a quicker rate throughout the forecast period. Additionally, customers in the services sector use machine vision system integrators for testing, assembly, inspection, and gauging applications to meet their product needs.
Insight by Application
The market is categorized into measurement, positioning & guidance, quality assurance & inspection, and identification, based on application. Throughout the projected period, it is predicted that the quality assurance and inspection category will expand significantly. In the packaging industry, these systems are employed for inspecting and locating labels, barcodes, and texts. By doing this, packaging tasks become more efficient and human error is reduced. Moreover, the market will expand as a result of the adoption of technology in the packaging, pharmaceutical, and consumer products industries for quality assurance and inspection applications.
Insight by End-Use Industry
The market is divided into industrial and non-industrial categories, based on end-use industries. Automobile, electronics, semiconductor, healthcare, food & beverage, packaging, textiles, and other industries are included in the industrial category. Biometrics, banking & postal, security & surveillance, transportation, medical imaging & lab automation, traffic management & road safety, leisure & entertainment, and the environment are all included in the non-industrial area.
In the industrial section, the automobile category dominates the market. Automakers are putting money into vision systems to raise the quality aspect. Automobile manufacturers and component suppliers employ the technology for a variety of tasks, including adhesive dispensing, material handling, error-proofing, surface inspection, robotic guidance, and traceability. Additionally, as ADAS systems become more prevalent in automobiles, other components are needed, including camera-led illumination, Lidar, and V2X, which will be crucial to automation and intelligence.
Whereas, the electronics sector is expected to expand significantly between 2022 and 2030. As the sector uses smart cameras and image processing to do measurements and inspections, machine vision technology is adopted in numerous industrial activities and replaces manual inspection.
Moreover, over the course of the projected period, the food and beverage industry is projected to expand quickly. This is because the packaging and bottling processes in the food and beverage industry make extensive use of machine vision systems. 
Machine Vision and Vision Guided Robotics Market Report Coverage
| | |
| --- | --- |
| Report Metric | Details |
| Historical Period | 2018–2022 |
| Base Year Considered | 2022 |
| Forecast Period | 2022 - 2030 |
| Market Size in 2021 | $11.8 Billion |
| Revenue Forecast in 2030 | $13.18 Billion |
| Growth Rate | CAGR 9.61% |
| Segments Covered in the Report |      By Product, By Offering, By Application, By End-Use Industry. |
| Report Scope | Market Trends, Drivers, and Restraints; Revenue Estimation and Forecast; Segmentation Analysis; Covid-19, Companies' Strategic Developments; Market Share Analysis of Key Players; Company Profiling |
| Regions Covered in the Report | North America, Europe, Asia-Pacific, Middle East, and the Rest of the World |
Industry Dynamics
Industry Trends
The machine vision and vision-guided robotics industry is fragmented, and the number of industrial companies offering cutting-edge technology is continuously rising. Companies are using tactics including competitive pricing, mergers and acquisitions, dwindling camera sensors, and offering aftersales services to stay in business and compete with their rivals. Also, due to the governments of emerging nations permitting foreign direct investments (FDI) in this industry, the market for machine vision and vision-guided robots will grow significantly during the forecast period.
Growth Drivers
The manufacturing industry is witnessing a strong alliance between robots and machine vision, with both technologies having reached significant levels of advancement. This trend is fueled by the increasing adoption of industrial robots for automation purposes in key sectors like automotive and consumer electronics. Consequently, the integration of machine vision systems with vision-guided robot controllers has become imperative. Moreover, the implementation of stringent worker safety regulations has led to the utilization of robots in hazardous workplace environments. The market for machine vision and vision-guided robotics is experiencing remarkable growth due to the emergence of innovative technologies such as smart cameras and enhanced interfaces. These advancements contribute to simplified operations, cost reduction, and overall market expansion.
Geographic Overview
Due to their early adoption of robots across a variety of industries, North America retains the largest market share globally. The federal government has made significant investments to expand the manufacture of machine vision systems, which will fuel the market's expansion throughout the forecast period.
Whereas, during the forecast period of 2022–2030, the APAC market is expected to expand significantly. This can be ascribed to the growing manufacturing sector in emerging countries and the surging implementation of cutting-edge technologies in the region. Furthermore, as a result of price deflation, increasing urbanization, rising disposable income, upgraded workflow infrastructure, and the surging adoption of novel technologies, there is also a growth in consumer electronics demand, which will support the APAC market.
In addition, the market for industrial robotics is expanding as a result of labor scarcity issues brought on by an aging population in nations like Japan. The governments of nations like South Korea, India, Taiwan, and Singapore have made investments, reaped operational benefits, and taken actions that have made it possible for many industry players to set up production facilities in the region.
Competitive Insight
The machine vision market is being improved by investments made by major industry players in R&D and product development. The market for machine vision and vision-guided robotics will expand as a result of numerous strategic activities, including distribution alliances, mergers and acquisitions, partnerships, and joint ventures. For instance, Cognex released the Insight D900 embedded vision system in May 2020. The ground-breaking system houses an in-sight industrial-grade smart camera along with Cognex's ViDi deep learning engine. Complex in-line inspection applications like optical character recognition (OCR), defect identification, and assembly verification have been resolved because of this.
Some of the major competitors in the market for robotic vision and machine vision are Cognex Corporation, Absolute Vision, Basler AG, ISRA Vision AG, STEMMER IMAGING AG, Teledyne Digital Imaging Inc., Eastman Kodak Company, Allied Vision Technologies GmbH, OMRON Corporation, and Keyence Corporation.
The Machine Vision and Vision Guided Robotics Market report offers a comprehensive market segmentation analysis along with an estimation for the forecast period 2023–2030.
Segments Covered in the Report
By Product

    PC-based Machine Vision Systems
    Smart Camera-Based Machine Vision systems
    Vision Guided Robotics

By Offering

Hardware

    Camera
    Frame Grabber
    Optics/Lenses
    LED Lighting
    Processor

Software

    Barcode Reading
    Standard Algorithm
    Deep Learning Software

Services

    Integration
    Solution Management

By Application 

    Quality Assurance & Inspection
    Positioning & Guidance
    Measurement
    Identification

By End-Use Industry

    Industrial
    Non-Industrial
Region Covered in the Report
North America
Europe

Germany
U.K.
France
Italy
Spain
Russia
Rest of Europe

Asia-Pacific (APAC)

China
Japan
India
South Korea
Rest of Asia-Pacific

Rest of the World (RoW)

Brazil
Saudi Arabia
South Africa
U.A.E.
Other Countries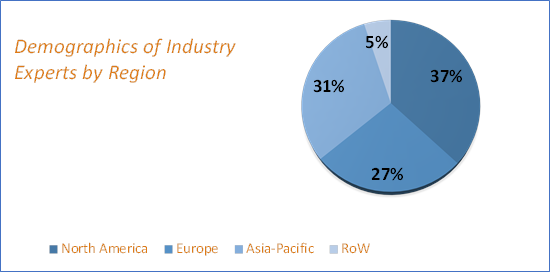 Source: VynZ Research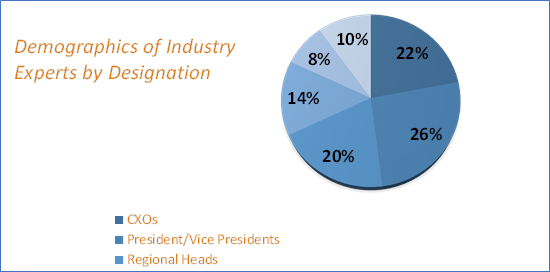 Source: VynZ Research