Industry Overview
The global crystal oscillator market witnessed substantial growth in 2022, reaching a value of USD 3.2 billion. Projections indicate that by 2030, the market will expand to a value of USD 6.6 billion, showcasing a Compound Annual Growth Rate (CAGR) of 3.2 percent during the forecast period of 2023-2030. Crystal oscillators are electronic devices that utilize mechanical vibrations from a piezoelectric crystal resonator to generate precise electric signals with high-frequency accuracy. Buyers favor the use of piezoelectric materials in crystal oscillators due to their ability to convert mechanical vibrations into electric pulses and vice versa, providing numerous advantages. These advantages have resulted in an increased adoption of crystal oscillators across various sectors, including research and measurement, military and aerospace, consumer electronics, and automotive. Crystal oscillators, particularly quartz crystal units, exhibit robust resistance to environmental changes, making them ideal for integration into electrical circuits as frequency-control devices. Consequently, the demand for crystal oscillators in the market has witnessed a notable upsurge.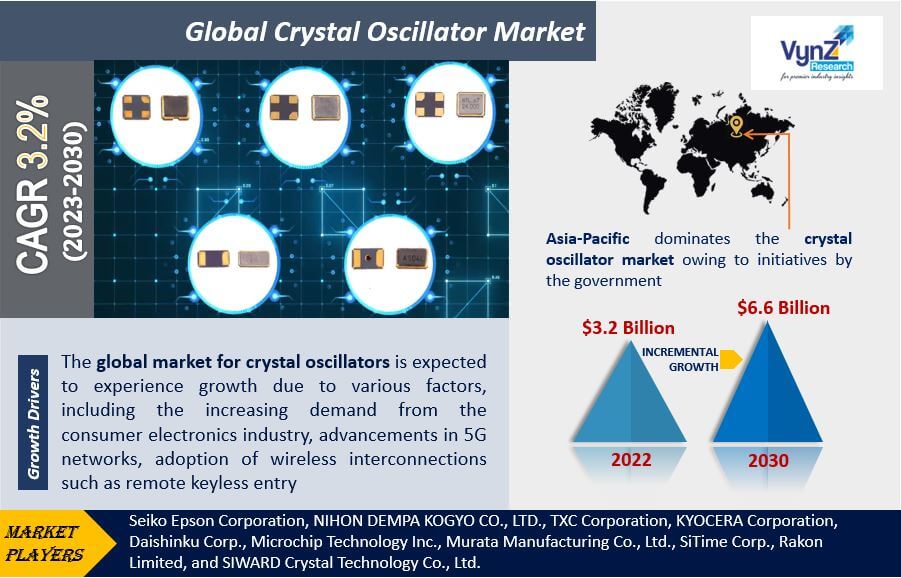 The COVID-19 pandemic has decreased the demand for crystal oscillators owing to lockdowns and delays in shipments. However, the market is anticipated to normalize and growth in demand from consumer electronics, telecom and networking, research and measurement, medical, industrial, and automotive applications will proliferate the growth of the global crystal oscillators market.
Market Segmentation
Insight by Mounting Scheme
Based on the mounting scheme, the global crystal oscillator market is bifurcated into surface mount and through-hole. The surface mount is anticipated to have a high CAGR during the forecast period owing to the component miniaturization, high analog, and mounting digital data transmission speeds, high-frequency effects, and enhanced yield and production efficiency. Moreover, surface-mount crystal oscillators have less material and manufacturing costs, high component density, and a simple manufacturing procedure. As a result, crystal oscillators are becoming more common in consumer electronics and telecom and networking applications.
Insight by Crystal Cut
The global crystal oscillators market is divided into AT cut, BT cut, GT cut, SC cut, and others based on the crystal cut. AT-cut dominates the crystal oscillator market as it involves ease in the manufacturing process and requires less manufacturing cost, thus a preferred choice for general applications.
Insight by General Circuitry
Based on general circuitry, the global crystal oscillators are segregated into Simple Packaged Crystal Oscillator (SPXO), Temperature-Compensated Crystal Oscillator (TCXO), Voltage-Controlled Crystal Oscillator (VCXO), Voltage-Controlled Temperature-Compensated Crystal Oscillator (VCTCXO), Evacuated Miniature Crystal Oscillator (EMXO), Frequency-Controlled Crystal Oscillator (FCXO), Oven-Controlled Crystal Oscillator (OCXO), and others. The VCXO segment is anticipated to have a high CAGR during 2021-2027 owing to the rising demand for VCXOs in the consumer electronics segment like MP3 players, DVD players, digital cameras, mobile phones, and TV sets, radio receivers, video recorders, etc.
Insight by Application
Based on application, the global crystal oscillator market is divided into consumer electronics, military & aerospace, telecom & networking, industrial, research & measurement, automotive, and medical. The consumer electronics segment is anticipated to have the largest market share during the forecast period 2023-2030 owing to the increased demand for crystal oscillators in smartphone and tablet applications as the manufacturers use oscillation mediums like TCXOs, VCXOs, SPXOs, and OCXOs on a large scale. Furthermore, crystal oscillators require less power consumption and have rapid start-up features resulting in the growth of the segment.
Crystal Oscillator Market Report Coverage
| | |
| --- | --- |
| Report Metric | Details |
| Historical Period | 2018–2022 |
| Base Year Considered | 2022 |
| Forecast Period | 2023-2030 |
| Market Size in 2022 | $3.2 Billion |
| Revenue Forecast in 2030 | $6.6 Billion |
| Growth Rate | CAGR 3.2% |
| Segments Covered in the Report | By Mounting Scheme, By Crystal Cut, By General Circuitry, and By Application |
| Report Scope | Market Trends, Drivers, and Restraints; Revenue Estimation and Forecast; Segmentation Analysis; Impact of COVID-19; Companies' Strategic Developments; Market Share Analysis of Key Players; Company Profiling |
| Regions Covered in the Report | North America, Europe, Asia-Pacific, Middle East, and Rest of the World |
Industry Dynamics
Industry Trends
The increased adoption of crystal oscillators in the implementation of 5G/LTE telecom networking applications, and increased demand for connected devices are the trends prevalent in the global crystal oscillator market.
Growth Drivers
The global market for crystal oscillators is expected to experience growth due to various factors, including the increasing demand from the consumer electronics industry, advancements in 5G networks, adoption of wireless interconnections such as remote keyless entry, and the mounting use of crystal units and oscillators in automobiles. Other factors contributing to the growth of this market include technological advancements in healthcare equipment, the growing adoption of infotainment systems in the automotive industry, and the persistent demand for compact, cost-efficient, low-power-consumption, and stable frequency oscillators in the telecommunications sector.
Challenges
Factors that might hinder the growth of the crystal oscillator industry include the evolution of Si-MEMES oscillators, stability issues in low-cost oscillators, lack of expertise, and lack of proper standards and protocols, which may stymie the growth of the global crystal oscillator market.
Opportunities
Technological development which includes quartz Microelectromechanical system oscillator (MEMS) technology, untapped potential in emerging markets, the surge in adoption of standards semiconductor processes, and increased volume of plastic packaging will enhance the lead time and increased the availability of oscillator procurement, resulting in creating market growth opportunities in the global crystal oscillator market.
Geographic Overview
Asia-Pacific dominates the crystal oscillator market owing to initiatives by the government, ongoing projects, and increased R&D activities in the region. Furthermore, increased production of electronic devices and rising adoption of VCOs in the production of electronic music devices will proliferate the growth in the region. Also, due to its significant position in consumer electronics, semiconductors, and other telecommunication device and equipment manufacturing, China is one of the most important markets for crystal oscillators in the world.
Competitive Insight
With a number of well-known manufacturers, the global crystal oscillator market is moderately competitive. The market is dominated by a few large players in terms of market share. Many companies, on the other hand, are earning new contracts and entering new markets by using innovative and sustainable packaging to strengthen their market position.
TXC CORPORATION is a leading professional frequency control product manufacturer specialized in the research, design, manufacture, and sale of quartz crystal and oscillator devices in the Dual-Inline-Package (DIP) and Surface Mount Device (SMD) formats. TXC now specializes in the following product categories: Crystals (32.768KHz, Basic MHz, High Accuracy MHz, Automotive Grade), Oscillators  (32.768KHz, CMOS, Silicon MEMS, Differential Output, SAW, Automotive Grade), OCXO (CMOS), VCXO (CMOS, Differential Output), TCXO (Basic, GPS, Precision).
Kyocera is a pioneer in utilizing the full potential of quartz crystals to create cutting-edge crystal goods such as crystal units and crystal oscillators. Kyocera has extensive expertise to supply a wide range of crystal devices around the world, all of which contribute to the IoT era's evolution. Their portfolio includes Crystal Units (ultra-miniature, high accuracy, and wide temperature range operating crystal units), Clock oscillators (SPXO), Voltage Controlled Crystal Oscillators (VCXO),  and Temperature Compensated Crystal Oscillators (TCXO).
In March 2022, the RVX1490U is Rakon's most recent ultra-low phase noise VCXO. This oscillator has a superior phase noise floor of -173 dBc/Hz, allowing for significant phase noise performance improvements, and is available in frequencies ranging from 76.8 to 153.6 MHz. The VCXO is intended for use in 5G RRUs and small cells, as well as GNSS ground stations for satellite communications, high-speed ADC/DAC/SERDES clocks, instrumentation, and optical transport equipment.
The SiT3901 Power digitally controlled MEMS oscillator (DCXO) was introduced by SiTime® Corporation, an industry leader in MEMS timing, for power-sensitive and space-constrained mobile and IoT applications in September 2021. The SiT3901 accelerates wireless charging by up to 25% while lowering the overall timing solution area by up to 90%. The MEMS oscillator is perfect for smartwatches, activity trackers, hearing aids, and wearables that require wireless charging.
Some of the major industry players in the global crystal oscillator industry include Seiko Epson Corporation, NIHON DEMPA KOGYO CO., LTD., TXC Corporation, KYOCERA Corporation, Daishinku Corp., Microchip Technology Inc., Murata Manufacturing Co., Ltd., SiTime Corp., Rakon Limited, and SIWARD Crystal Technology Co., Ltd.
The Crystal Oscillator Market research includes a comprehensive market segmentation analysis as well as projections for the analysis period 2023-2030.
Segments Covered in the Report
By Mounting Scheme

Surface Mount
Through-Hole

By Crystal Cut 

AT Cut
BT cut
GT cut
SC cut
Others

By General Circuitry

Simple Packaged Crystal Oscillator (SPXO)
Temperature-Compensated Crystal Oscillator (TCXO)
Voltage-Controlled Crystal Oscillator (VCXO)
Voltage-Controlled Temperature-Compensated Crystal Oscillator (VCTCXO)
Evacuated Miniature Crystal Oscillator (EMXO)
Frequency-Controlled Crystal Oscillator (FCXO)
Oven-Controlled Crystal Oscillator (OCXO)
Others

By Application

Consumer Electronics
Military & Aerospace
Telecom & Networking
Industrial
Research & Measurement
Automotive
Medical
Region Covered in the Report
North America
Europe

Germany
U.K.
France
Italy
Spain
Russia
Rest of Europe

Asia-Pacific (APAC)

China
Japan
India
South Korea
Rest of Asia-Pacific

Rest of the World (RoW)

Brazil
Saudi Arabia
South Africa
U.A.E.
Other Countries