Industry Overview
The testing, inspection, and certification market in the IT & telecom industry was USD 3.05 billion in 2020, registering a CAGR of 3.6% during the forecast period 2021-2027. Testing in TIC is done on the manufactured products, individual components, and multi-component systems that suit the requirement specified. Operational parts of quality control include inspection and testing that will help in optimizing the cost, productivity, on-time delivery, and market share, thus the crucial factor for the existence of any manufacturing company.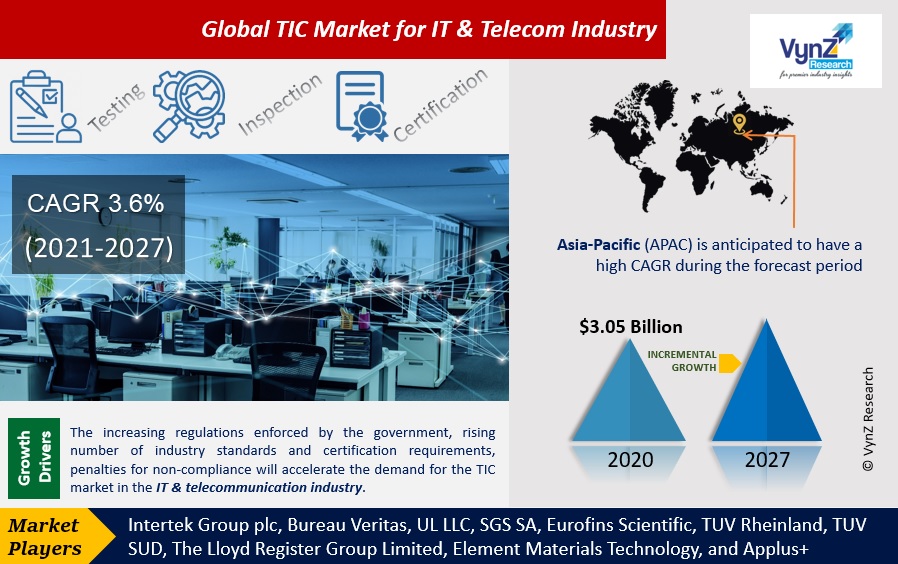 The telecommunication industry is a wide field that provides transmission of information through radio, telephone, video, or other technical communication systems. It is a rapid-changing industry owing to scientific advancements, introducing new development in technology, resulting in the growth of TIC services in the IT & telecom industry.  Globalization will focus on the standardization of products and has provided advanced technologies among various verticals such as IT & telecommunication, electronics, and automotive industries, etc., which will expand the TIC market over the projected period 2021-2027.  Furthermore, there is a growth in the middle-class populace, fast urbanization, strict safety regulations, rise in illicit trading of pirated and duplicate products, advancement in networking and communication technology, rising demand of outsourcing testing, inspection, and certification services has driven the demand of the TIC market in the IT & telecommunication industry
The COVID-19 pandemic has reduced the demand and revenue during the initial stages of the COVID-19 period. However, the organizations in the TIC market for IT & telecom industry are focusing on IT infrastructures, innovating technologies to sustain business continuity plans, conduct audits, damage assessments, and certification procedures.
Market Segmentation
Insight by Sourcing Type
Based on sourcing type, the TIC market for the IT & telecommunication industry is segregated into in-house and outsourced. In-house holds the largest share in 2020 as in-house testing, inspection, and certification will provide organizations with control over their processes in technology, laboratories, skilled personnel, and testing and measurement equipment.
Insight by Service Type
Based on service type, the TIC market for the IT & telecommunication industry is segmented into testing, inspection, and certification. Testing has its prominence in the TIC market for the IT & telecom industry in 2020 owing to the diverse product standards, regulatory advisory, and testing services according to various directives such as Radio Equipment Directive (RED) 2014/53/EU, GCF, and PTCRB certification for telecommunication equipment. Moreover, the certification market is anticipated to have a high CAGR during the forecast period as there is a need for TL9000 for Telecom Quality Management System, ISO/IEC 27001 for Information Security Management System, ISO50001 for Energy Management System, ISO/IEC 20000-1:2018 for Service Management System, ISO 31000 for Risk Management.
Insight by Industry Vertical
Based on industry vertical, the TIC market for IT & telecommunication industry is divided into Radio Equipment Directive, FCC Testing, IMDA Equipment registration Network, Data Centre, Radio & Wireless Testing, Digital Payments, Radio Frequency Equipment, Specific Absorption Rate (SAR) Testing, Electromagnetic Compatibility (EMC) Testing, Environmental Testing, and others. Radio & wireless testing is anticipated to grow at a significant pace and has to comply with regulatory standards such as IEC 55022 for IT equipment radio distribution characteristics, limits & methods of measurement, IE 003 for IT equipment, etc.
 Industry Dynamics
Industry Trends
The TIC market for the IT & telecom industry is focused on investment in VR and AR, growing use of connected devices and cloud-based technology, rising mergers and acquisitions by the key market players.
Growth Drivers
The increasing regulations enforced by the government, rising number of industry standards and certification requirements, penalties for non-compliance will accelerate the demand for the TIC market in the IT & telecommunication industry. Thus, the rise in the attention of manufacturers to provide quality products will enable customer retention, mounting demand for interoperability testing for connected devices and IoT, globalization, growth of high-speed networks along with the adoption of mobile technology and connected devices, cybersecurity, and rise of global trade, and emerging digital platforms and technologies will boost the growth of the TIC market in IT & telecommunication industry.
Challenges
The testing, inspection, and certification market faces obstacles like trade wars, growth fluctuations, need for industrial safety systems, huge cost of TIC owing to varied global standards and regulations. Also, there is a lack of testing laboratories and expert personnel may hamper the growth of the TIC market.
Opportunities
TIC is a growing market that is providing opportunities in AI, robotics, drones, big data analytics, next-generation automation, and cloud and cybersecurity.  Moreover, the need to provide an effective and extensive inspection system will offer opportunities for the growth of the TIC market in the IT & telecommunications industry.
Geographic Overview
Geographically, Asia Pacific is anticipated to have a high CAGR in the TIC market for IT and telecommunication industry during the forecast period because of increase in investment in research, rapid urbanization & industrialization, high manufacturing capabilities and exports, increasing per capita income among the middle-class populace, growing lifestyles, and rise in consumer awareness about the importance of quality certification, testing, and inspection. Moreover, the developed countries have their manufacturing factories, units, and testing labs in the region, mainly in China and India and they produce product according to internationally accepted standards.
Competitive Insight
The market players are using their techniques to make improvements in technologies that will enhance their product category and will be a profitable investment. Moreover, it will reduce operational cost, enhance digitalization, and improve their efficiency in offering services. Moreover, the market players in the TIC market are using organic and inorganic strategies such as M&A, product innovation, and geographical expansion to remain competitive in the TIC market for IT & telecom industry.
TÜV Rheinland has signed a contract for cooperation with Ericsson, the leading provider of mobile communications infrastructure to service providers i.e., Ericsson Device Hub (EDH) ecosystem. Ericsson and TÜV Rheinland will offer manufacturers of radio and telecommunications products all services related to global market launch and can reduce the previous complexity of product launch and marketing on the part of product providers.
Some of the key players operating in the TIC market in the IT & Telecommunication industry: Intertek Group plc, Bureau Veritas, UL LLC, SGS SA, Eurofins Scientific, TUV Rheinland, TUV SUD, The Lloyd Register Group Limited, Element Materials Technology, and Applus+.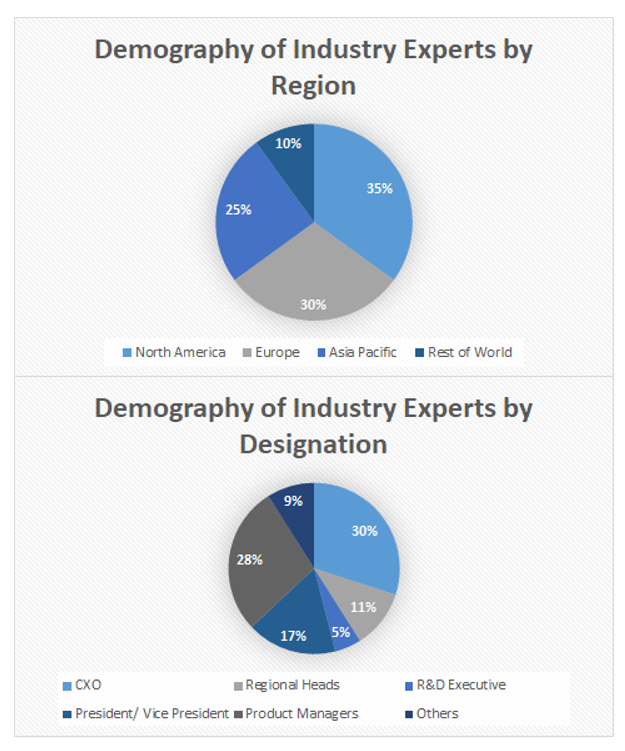 Source: VynZ Research