Industry Overview
The global digital signage market was valued at USD 20.95 billion in 2020 and is anticipated to reach USD 33.12 billion by 2027, growing at a CAGR of 7.6% during the forecast period 2021-2027.  Digital signage refers to electronic digital displays which include technologies such as LCD, OLED, and LED, that display information, advertisements, and other related content via digital signs and symbols.  The digitalization of the market, surging demand for 4K and 8K resolution displays, advancement of government bodies, fast-growing educational sector, and growing demand for bright and power-efficient display panels will aid the market growth of digital signage.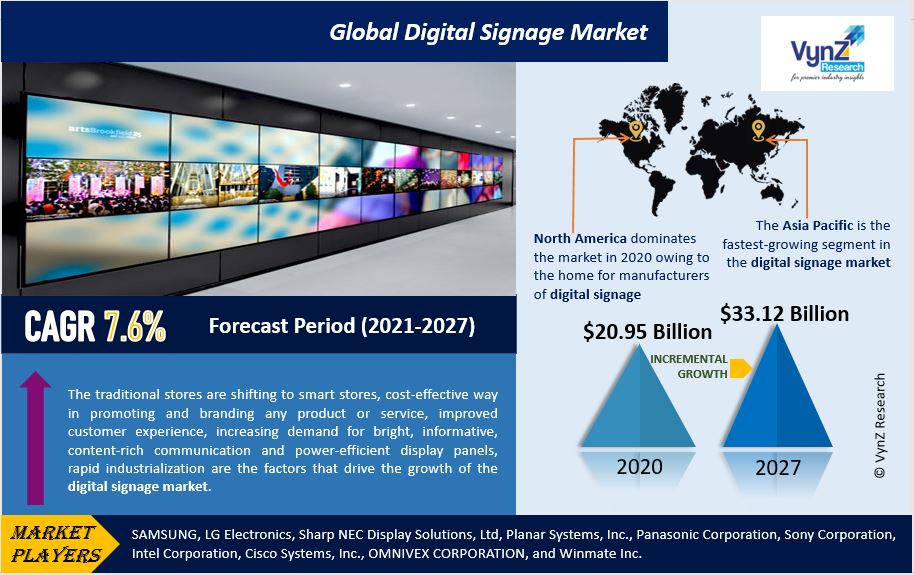 They are mainly found in public places such as retail outlets, restaurants, hospitals, corporate environments, etc. for providing important information, seeking attention, and for advertisement purposes. Digital signage is mainly dependent on hardware components to provide high-quality content so as to attract the customers with maximum effectiveness from the marketing message.
The COVID-19 pandemic has led to the shutdown of manufacturing facilities, social distancing, and lockdowns in various countries. This has hampered the operations of digital signage and its manufacturing facilities. There is a disruption in supply chain and logistics because of limited air and road movement. There is a delay in the launch and development of digital signage products. Nevertheless, the increasing demand for digital signage in the healthcare sector will have a positive effect on the digital signage market. Companies also choose temperature-sensitive digital signage kiosks, which not only have large screens that display dynamic digital information (such as rules, waiting times, instructions, and other related information), but also optional non-contact dispensers, temperature monitors, etc.
Market Segmentation
Insight by Component
Based on component, the global digital signage market is segmented into hardware, software, and services. Hardware is further segmented into the display (LCD display, LED display, and OLED display), projectors, and media players.  Services are further segmented into installation services and maintenance & support services. The hardware component is expected to have the largest share in the global digital signage market during the forecast period owing to the rising adoption of digital signage in commercial verticals, growing retail space, technological innovations like 1080p, 4K, and 8K display, and infrastructural development in developing economies. The software segment is the fastest-growing segment during the forecast period owing to rising demand for better data analysis and content management.
Insight by Product
Based on the product, the digital signage market is bifurcated into a standalone display and video walls. The standalone display is further bifurcated into kiosks, menu boards, and billboards. Among these products, the standalone display segment dominates the market in 2020 owing to the rising transport networks, public infrastructure, developing commercial buildings in emerging economies, assimilation of interactive displays like touch screens, movement detection, and active image capture devices.
Insight by Display Size
Based on display size, the global digital signage market is divided into below 32 inches, 32 to 52 inches, and above 52 inches. The above 52 inches segment is anticipated to register high CAGR during the forecast period owing to the advancement in video wall, OLED technology, and technological development in businesses preferring large-size displays in indoor and outdoor applications.
Insight by Installation Location
Based on installation location, the digital signage market is bifurcated into indoor and outdoor. Among these segments, the outdoor digital signage segment is anticipated to register high CAGR during the forecast period owing to technological advancement where businesses have to opt for high brightness, attractive displays in various sizes, brightness configurations of more than 2000 nits which makes them suitable for outdoor locations.
Insight by Content
Based on content, the digital signage market is divided into broadcast and non-broadcast. The broadcast is further subdivided into news, weather, sports, and others. Among these contents, the broadcast segment is anticipated to be the fastest-growing segment during the forecast period owing to the rising adoption for displaying sports-related content across the stadium and sports grounds during tournaments, rising demand for communication purposes, weather forecast in external premises, driving the growth of the segment.
Insight by Application
Based on application, the global digital signage market is categorized into commercial, institutional, infrastructure, and industrial. The infrastructure segment is anticipated to witness high CAGR during the forecast period due to the rising need for providing travelers with real-time information in relation to travel. Roadways, railways, and airways use digital signage at various places like coaches, cruising, subways, waiting and resting places, boarding areas, and airports to inform and entertain passengers, reduce perceived transportation time, and improves travel experience.
Industry Dynamics
Industry Trends
Owing to the rising demand and change in the shopping behavior of the consumers because of the internet, retailers are displaying real-time data-driven insights to enhance business efficiency, resulting in the growth of digital signage.  
Growth Drivers
The traditional stores are shifting to smart stores, cost-effective way in promoting and branding any product or service, improved customer experience, increasing demand for bright, informative, content-rich communication and power-efficient display panels, rapid industrialization are the factors that drive the growth of the digital signage market. Moreover, reduction in demand for traditional billboards, rising demand for 4K and Ultra-HD devices, rising usage in commercial places such as retail stores, hospitality centers, and other public places will propel the growth of the market.
Challenges
The deployment of wide screen alternatives like projectors and screenless displays, lack of standard policy, power problems, maintaining digital boards is a tough task for manufacturers due to adverse climatic conditions, and lack of scalability are the challenges that may hamper the digital signage market.
Opportunities
The emergence of display technology such as micro-LED, quantum dots, rising preference of electronic giants for large-screen displays provides promising opportunities for the growth of the digital signage market. Technological advancement in field communication, innovation in touch screen technology are creating new avenues in the market.
Geographic Overview
North America dominates the market in 2020 owing to the home for manufacturers of digital signage, rising demand in the retail industry, rising R&D investment, growing government initiatives to install digital signage in offices to have continuous information flow.
The Asia Pacific is the fastest-growing segment in the digital signage market as it is adopted in countries such as India and China where there is a growing scope of applications in retail outlets, corporate offices, hospitals, and hotels. The rising disposable income, low labor cost in installing digital signage, rising penetration of digital technologies, and advanced audio-visual solutions integrated with next-generation technologies, including AI and AR.
Competitive Insight
Key players are adopting strategies such as product launch, expansion, and partnership to have a competitive edge in the market. The companies are adopting innovation and investing in R&D activities to provide premium-quality and high-value products at optimum cost.
Samsung announced the launch of the new QLED 8 K SMART signage, the world's first 8 K display capable of 24/7 operation. The newly launched signage offers exceptional picture quality and is designed to be wall-mounted. The QLED 8 K signage is available in various sizes for different business needs and is equipped with the AI quantum processor 8 K.
Key players operating in the global digital signage market are SAMSUNG, LG Electronics, Sharp NEC Display Solutions, Ltd, Planar Systems, Inc., Panasonic Corporation, Sony Corporation, Intel Corporation, Cisco Systems, Inc., OMNIVEX CORPORATION, and Winmate Inc.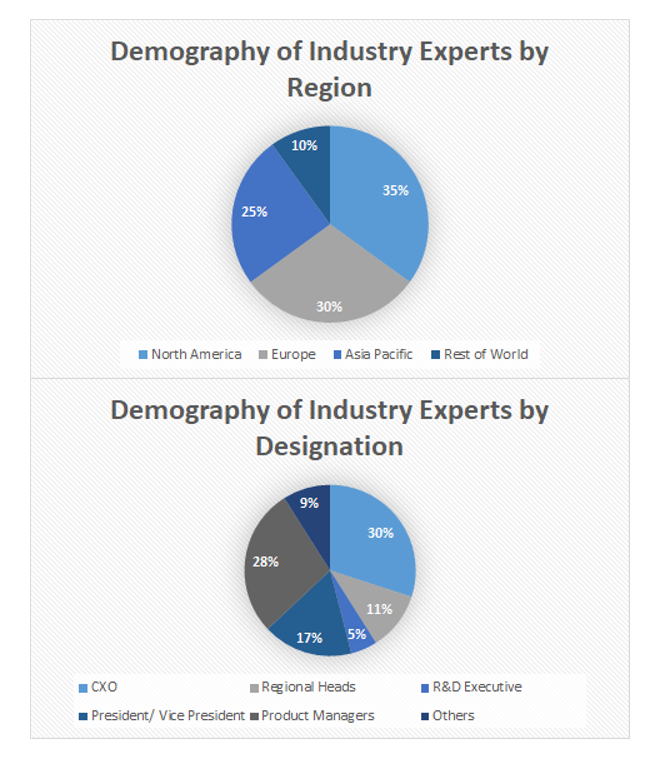 Source: Vynz Research