Industry Overview
The Global Distributed antenna system Market is anticipated to grow from USD 8.5 billion in 2020 to USD 11.7 billion by 2027, growing at a CAGR of 6.5% during the forecast period 2021-2027. The market for distributed antenna systems has been propelled by advancements in communication technology, which have resulted in the creation of high-speed connectivity, decreased network device power consumption, and increased connectivity coverage.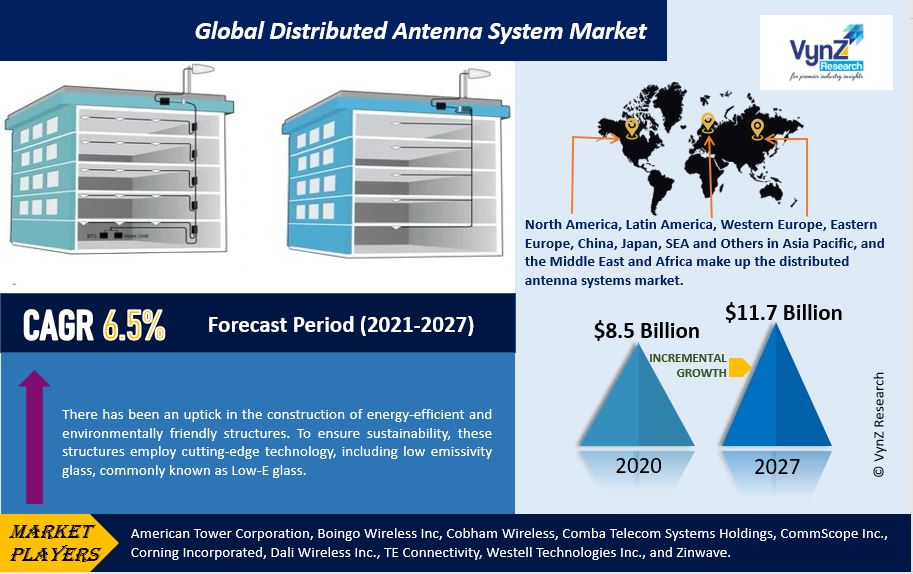 The distributed antenna system has helped industries overcome various problems when it comes to internet access and increased bandwidth. This is one of the reasons why it is gaining traction in a variety of other businesses and countries. One of the key elements driving the use of distributed antenna systems is the growing desire for high-speed connectivity everywhere.
This antenna system has even been proactively adopted by governments around the world as it is cost-effective. Some of the benefits that drive demand for distributed antenna systems are better-defined coverage, fewer coverage gaps, similar coverage with lower total power, and for similar coverage.
The impact of COVID-19 on the broader DAS market has been mixed. Commercial verticals such as public venues, airports & transportation hubs, and hospitality centers have been negatively impacted, whereas healthcare organizations and public safety agencies have been relatively unaffected, owing to the fact that these verticals form the backbone of mission-critical operations and emergency services.
Market Segmentation
Insight by Offering Outlook
Based on the Offering outlook, the global distributed antenna system market is spread into Components, Services. In 2020, largest market share was held by a Services segment with significant share in terms of revenue of the total market.
Installation services play a vital role in the DAS market's overall growth. Installation services are provided by both DAS OEMs and DAS integrators. Equipment ordering, cable installation, equipment pre-staging and configuration, head-end and remote equipment installation, and coordination with wireless service providers for design approval, rebroadcast agreements, and commissioning are all major installation services.
Insight by Coverage Outlook
Based on the Coverage outlook, the global distributed antenna system market is spread into Indoor, outdoor. In 2020, outdoor dominated the market with considerable share in terms of revenue of the total market.
The DAS market for outdoor coverage is predicted to develop at the fastest rate. The need for DAS is growing in tandem with the rise in automation and adoption of wireless communication technologies in the automotive, transportation, and industrial plant sectors. Outdoor systems are used not only to increase network capacity, but also to provide coverage in regions where base station towers are difficult to reach, such as tunnels, bridges, and hilly terrains. DAS can be used to improve cellular coverage without the need for costlier base stations. Because of the ease and relative low cost of DAS installation compared to base stations, it is becoming increasingly popular.
Insight by Ownership Model Outlook
Based on the Ownership Model offering outlook, the global distributed antenna system market is spread into Carrier Ownership, Neutral-host Ownership, and Enterprise Ownership. In 2020, Carrier ownership dominated the market with considerable share in terms of revenue of the total market.
The facility owner is not required to invest, carrier companies have entire control for DAS installation and ownership. Cellular carriers are completely responsible for deciding what technology should be installed at sites, as well as for maintaining and retaining their client base. Cellular traffic generated in venues such as airports, sports stadiums, and entertainment facilities generates a significant source of revenue for cellular carriers, justifying the investment in carrier ownership models. The carrier ownership models for indoor DAS provide a significant return on investment. This form of ownership arrangement is now used by the majority of in-building industrial operations.
Insight by Vertical Outlook
Based on the Vertical outlook, the global distributed antenna system market is spread into Commercial, Public Safety. In 2020, Commercial dominated the market with considerable share in terms of revenue of the total market. Due to the rising mobile data traffic, several places such as public venues, healthcare organizations, businesses, and educational institutions are experiencing a significant need for DAS.
Industry Dynamics
Industry Trends
The emerging trends, these systems deliver wireless coverage to buildings via an antenna system, ensuring that emergency responders can maintain wireless communications within a building structure and on-the-job in emergency circumstances. When it comes to public safety, emergency communication is critical for the men and women who are often the first on the scene.
Growth Drivers
There has been an uptick in the construction of energy-efficient and environmentally friendly structures. To ensure sustainability, these structures employ cutting-edge technology, including low emissivity glass, commonly known as Low-E glass. These glasses are regarded as one of the foundations of modern structure. Increasing global temperatures force modern structures to use Low-E glass, which may reject 30–45% of solar heat depending on the level of Low-E glazing.
Challenges
The installation of iDAS or oDAS is a time-consuming task. Many regulatory restrictions, as well as infrastructure concerns such as the size and location of the facilities, must be taken into account before DAS may be installed. A typical DAS contract comprising simply hardware (hubs, remote radio heads, nodes, and antennas, among other things) costs around USD 5–10 million right now. The cost of active and passive DAS installation is decided by factors like the worth of the systems to be installed, the world of the power where the system is to be installed, the kind of cable (coaxial or fiber optic) used, and the system's power demand.
Opportunities
Public safety networks can be found in high-rise buildings, tunnels, retail malls, parking garages, and airports, among other places. Legislative regulations and new public safety building norms enacted by the International Code Council (ICC) and the National Fire Protection Association (NFPA) are driving demand for in-building wireless solutions for public safety, including repeaters, bidirectional amplifiers, and active DAS (NFPA).
Geographic Overview
North America, Latin America, Western Europe, Eastern Europe, China, Japan, SEA and Others in Asia Pacific, and the Middle East and Africa make up the distributed antenna systems market.
Since the high penetration of advanced technologies such as IoT, connected devices, and high infrastructural development for the implementation of indoor distributed antenna systems in the region, North America is expected to dominate the global distributed antenna systems market during the forecast period. Distributed antenna systems market, Asia Pacific (including Japan and China) and Europe are likely to trail North America.
China, on the other hand, is expected to grow at the fastest rate in the global indoor distributed antenna systems market over the forecast period, owing to rising smartphone and tablet adoption, rising demand for uninterrupted connectivity, rising demand for smart city adoption, and rising establishment of enterprises requiring a continuous connected environment.
Competitive Insight
The global Distributed antenna system market is moderately competitive and few players holds the largest market share. Owing to technological development and quality facility provision, many mid-size and smaller firms are entering the market by providing new services at less prices. Companies, like American Tower Corporation, Boingo Wireless Inc, Cobham Wireless hold the substantial market share in the Distributed antenna system market.
SOLiD will release edgeROU, a fiber-to-the-edge remote unit for the ALLIANCE DAS product family.edgeROU was created by SOLiD primarily to address the issues faced by mobile users within a building. EdgeROU, based on proven ALLIANCE technology, delivers seamless, always-on-everywhere service that customers expect while building owners try to improve user experience and maximize revenue.
Some of the players in Distributed antenna system market are: American Tower Corporation, Boingo Wireless Inc, Cobham Wireless, Comba Telecom Systems Holdings, CommScope Inc., Corning Incorporated, Dali Wireless Inc., TE Connectivity, Westell Technologies Inc., and Zinwave.