Industry Overview
The Europe TIC Market is anticipated to grow from USD 52.3 billion in 2021 to USD 73.5 billion in 2030, registering a CAGR of 4.8% during the forecast period.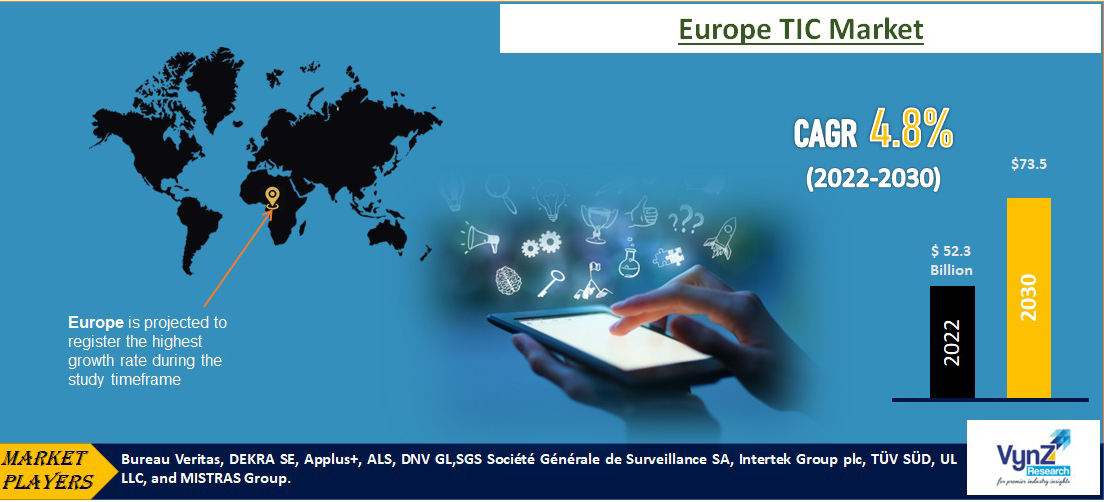 The purpose of TIC services is to ensure that the products, services, processes, and facilities are according to the client's requirements along with compliance with international standards like ISO, IEC, etc., and regulations. Most of the TIC activities are obligatory and these TIC activities are conducted by nationally recognized bodies. Testing determines features of the product that should comply with specified procedures or standards. The testing is primarily conducted in laboratories during the production and transportation stage so as to enhance marketability and reduce costs. The inspection involves a personal-based visual examination of a product design, production process, installation, and volume of traded goods from the manufacturer to the end consumer. This is to ensure that the product complies with buyers' specifications. Certification includes validating the product, systems, and processes according to international or government standards. Conformity assessment bodies provide services ranging from auditing and inspection to testing, verification, quality assurance, and certification in the testing, inspection, and certification industry.
The growing need among businesses and corporations to engage in safe and efficient testing, inspection, and certification practices drives the market growth of the testing, inspection, and certification (TIC) industry in the Europe region.  Nevertheless, the demand for TIC services has increased in Europe as a result of factors like the rise in the illicit trade of pirated and counterfeit products, the propensity to outsource TIC services, and the high demand for testing services to guarantee effective interoperability of connected devices and networks.
Market Segmentation
Insight by Sourcing Type
Based on Sourcing Type, the Europe TIC industry is bifurcated into In-House and Outsourced. The outsourced TIC market is anticipated to have a high CAGR during the forecast period owing to increased demand for third-party testing and inspection. Large corporate houses and government authorities in Europe are appointing third party companies to ensure quality standards and reducing operational costs. The demand for outsourcing among manufacturers and, in some cases, the privatization of state-owned laboratories will continue to be major factors in the expansion of the Europe TIC market for outsourced services. Thus, the increased global trade along with strict European Commission regulations about quality assurance will propel the market demand for TIC services in the region.
Insight by Service Type
Based on Service Type, the Europe TIC industry is segmented into Testing, Inspection, and Certification. Testing services dominate the Europe TIC market as it ensures effective interoperability of connected devices along with networks, leading to increase demand for TIC services. The increased adoption of automation among several industry verticals has led to a surge in demand for test automation services, thereby accelerating the market growth for the Europe TIC industry. The testing market is characterized by short-term contracts and therefore witnesses continuous demand while the inspection and certification services is characterized by long-term contracts.
While the inspection and certification services are characterized by long-term contracts, the testing market is characterized by short-term contracts, which results in constant demand. Also, rising product diversity and the development of novel products and technologies have increased the volume of testing and certification services in the European market. Furthermore, strict regulation enacted by the European commission that conducts market surveillance and on-spot product inspections will further proliferate the market development of testing and inspection services during the forecast period.
Insight by Industry Vertical
Based on Industry Vertical, the Europe TIC industry is categorized into Agriculture & Food, Construction, Life Science, Consumer Goods & Retail, Automotive, Manufacturing and Industrial Goods, Energy & Utilities, Transportation, Oil, Gas & Chemical, Marine & Mining, Environmental, and Others. Consumer goods & retail is anticipated to contribute the largest share in the Europe TIC market owing to the implementation of stringent regulations by the EC that lead to a high product recall. The Rapid Alert System implemented by EC will aim in raising the standards for safe food and non-food products. The increasing quality demand among consumers along with quality assurance and compliance solutions has led to the growth of the Europe TIC market. The complexity in the global supply chain has increased the risk and hindered environmental safety, thereby bolstering the market demand for inspection and certification services.
Europe TIC Market Report Coverage
| | |
| --- | --- |
| Report Metric | Details |
| Historical Period | 2018–2021 |
| Base Year Considered | 2022 |
| Forecast Period | 2022 - 2030 |
| Market Size in 2021 | $52.3 Billion |
| Revenue Forecast in 2027 | $73.5 Billion |
| Growth Rate | CAGR 4.8% |
| Segments Covered in the Report | By Sourcing Type, By Service Type, and By Industry Vertical |
| Report Scope | Market Trends, Drivers, and Restraints; Revenue Estimation and Forecast; Segmentation Analysis; Impact of COVID-19; Companies' Strategic Developments; Market Share Analysis of Key Players; Company Profiling |
| Regions Covered in the Report | Germany, U.K., France, Italy, Spain, Russia, Poland, and Rest of Europe |
Industry Dynamics
Growth Drivers
The stringent regulatory environment like REACH, CLS/GHS, EU Toy Safety Act, EU Energy Using Products, and CE and RE Marking, thereby ensuring safety and quality standards will accelerate the market expansion of TIC services in the European region. The increased demand for sophisticated products, rising non-conformity costs, increased need to protect consumers and improving trade barriers within the EU market will stimulate the uptake of TIC services in the European region. The rising focus on product diversity and complexity along with reducing product lifecycle or technology lifecycle will lead to increase volume and innovation of new products and technologies, thereby resulting in increased demand for testing and inspection services. E.g.: - nanotechnology in food and pharmaceutical packaging, and fuel-efficient EVs in the automobile sector. Moreover, the increased demand for TIC services in APAC regions like China, India, etc. will significantly impact the European TIC market.
The increased cost associated with non-conformity and product recall will force companies to follow quality standards and safety regulations, thereby propelling the market growth for TIC services in the European region. Furthermore, end-use industry verticals are predicted to use TIC services for complex activities like supply chain monitoring, prototype testing, etc.
Challenges
The increasing cross-border trade, stringent regulations technological evolution, increased product customization, shorter product life cycles, and market impact of various technologies such as smart sensors, blockchain, big data and analytics, and connected devices will stimulate the market growth for the Europe TIC industry.
The increase of lead times for assessment programs as a result of increasing supply chain complexity and Post-Brexit certification issue may stymie market expansion. Further, it is anticipated that a lack of skilled labor, inconsistent quality and testing procedures, and a lack of universal certification requirements will impede market expansion.
Opportunities
In the upcoming years, burgeoning TIC service applications in the industrial, construction, and infrastructure sectors are anticipated to create new market expansion prospects. The adoption of digital technologies and virtual inspection will create tremendous market opportunities for the industry players in the region.
Geographic Overview
Germany is anticipated to contribute the largest share in the Europe TIC market owing to stringent environmental standards and increased health safety initiatives. These play an important role in ensuring that facilities, utilities, and products meet the necessary standards and regulations. TUV SUD Group and DEKRA Certification have a strong presence in Germany, contributing to positive market growth.
In Germany, the testing, inspection, and certification market is moderately fragmented, with a few significant players. In terms of market share, the country's major players, such as TÜV SÜD Limited, dominate.
Competitive Insight
The European market for testing, inspection, and certification is intensely competitive, with several players. Market concentration appears to be moderate. The key players in the TIC market are acquiring small and midsized companies to diversify their consumer base and service portfolio, thereby increasing their geographical reach.
However, start-ups and incumbent TIC companies with a digital focus are challenging traditional TIC companies. Given the anticipated market growth and increasing globalisation, existing TIC companies are expected to continue making M&A activities a part of their core strategy over the forecast period.
Bureau Veritas is the prominent provider of testing, inspection, and certification services (TIC). At Offshore Europe, one of the world's largest technical conferences and exhibitions for the offshore E&P industry, Bureau Veritas will demonstrate its market-leading range of testing, inspection, and certification services.  Bureau Veritas is the only Independent Verification Body accredited to UKAS 17020 for the provision of verification services, and experts will be available to discuss how the organisation works as an independent partner with thousands of companies around the world to provide TIC services. The markets & services offered by Bureau Veritas include agri-food, automotive & transport, building & infrastructure, consumer products & retail, cybersecurity, commodities, cross-market services, marine & offshore, oil & gas, power & utilities.
An EU Notified Body, TÜV SÜD is qualified to assess a product's compliance with the majority of EU Directives and Regulations. Their testing services cover the entire spectrum of criteria necessary for a product to be accepted in the EU in comparison to the fundamental requirements of the Directives. In order to provide a one-stop service for CCC and ECE certification, TÜV SÜD cooperates with CATARC EUROPE in June 2022.
Recent Development by Key Players
In July 2022, Bureau Veritas acquired AMSFashion who has an experience in quality, conformity, and sustainability services for the fashion business and also includes organic/vegan content verification and durability testing. Bureau Veritas says the acquisition of AMSfashion will strengthen its presence in Iberia, a key hub for expanding its Consumer Products Services business, while also supporting the company's continued growth in nearshoring from South Europe and Africa. This also enables Bureau Veritas to assist European retailers and brands looking to improve the reliability and resilience of their supply chains.
In January 2022, SGS is pleased to announce a partnership with Microsoft. The collaboration will combine Microsoft's cross-industry expertise, advanced data solutions, and productivity platforms, as well as their global network and leading industry expertise, to create innovative solutions for customers in the TIC business.
AMSfashion provides analytical solutions for the textile and footwear industries, as well as experience in cosmetics analysis. It assists brands and suppliers of all sizes in verifying the quality and conformity of their products and materials to customer and regulatory requirements.
Key Players Covered in the Report
Some of the major players operating in the Europe TIC industry include Bureau Veritas, DEKRA SE, Applus+, ALS, DNV GL,SGS Société Générale de Surveillance SA, Intertek Group plc, TÜV SÜD, UL LLC, and MISTRAS Group.
The Europe TIC Market report offers a comprehensive market segmentation analysis along with an estimation for the forecast period 2022–2030.
Segments Covered in the Report
By Sourcing Type
By Service Type

Testing
Inspection
Certification

By Industry Vertical

Agriculture & Food
Construction
Life Science
Consumer Goods & Retail
Transportation
Energy
Oil
Gas & Chemical
Mining
Environmental
Others
Region Covered in the Report
Europe

Germany
U.K.
France
Italy
Spain
Russia
Poland
PRIMARY RESEARCH INTERVIEWS – BREAKDOWN