Industry Overview
By 2030, the market for blockchain technology is expected to reach $70.1 billion, and in 2021 $ 7.3 billion,  growing at a CAGR of 80.6% during the prediction period. The market is expanding as a result of a rise in the use of cryptocurrencies by various retailers and commercial organizations operating in the BFSI sector.
Moreover, the surging investment in blockchain technology and venture capital funding, widespread acceptance of blockchain payment systems, and intensifying government initiatives are some of the main factors contributing to the blockchain market's rapid development rate.
COVID-19 Impact
The majority of market sectors around the world have been impacted by the COVID-19 outbreak. As a result, every industry is battling financial and health issues in addition to being forced to decline. This is why the millions of dollars in worldwide economic loss and the quick recovery have become a big cause for worry.
The dependence on internet enterprises has greatly expanded as a result of the COVID-19 outbreak. In order to provide services to customers, industries like BFSI, healthcare & life sciences, logistics, retail, transport, and manufacturing, are now reliant on the internet. The demand for blockchain products has increased for suppliers globally. Several regulatory organizations and governments have required private and businesses to adopt the new practices of teleworking and preserve social distance in the midst of the COVID-19 epidemic issue.
Since then, some firms have adopted the usage of emails with home servers and digital methods of conducting business as their new business continuity plans (BCPs). People are more likely to utilize blockchain due to the widespread use of mobile devices and the internet worldwide. The need for blockchain solutions has been fueled by the fact that these evolving trends and distributed IT infrastructures have exposed organizations to privacy risks.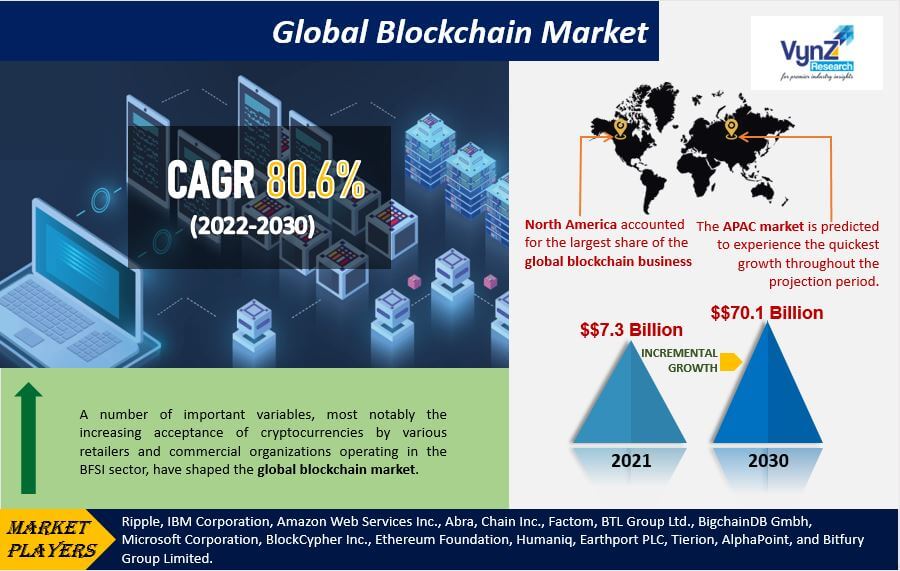 Market Segmentation
Insight by Component
The blockchain platforms category had the most lucrative market share in 2021, due to several blockchain systems, including Ripple, R3 Corda, Ethereum, Quorum, and Hyperledger. These platforms are renowned for providing a number of characteristics that foster the industry's expansion.
Insight by Type
The market is separated into three types: public, private, and consortium. Businesses can modify legislation and reverse transactions more affordably with the use of private solutions and services. When many organizations operate in the same sector and influence a common platform to efficiently streamline operations, the consortium (federated digital ledger), is useful.
The public category is predicted to expand at the highest CAGR throughout the projection period. This kind of development will also add to the increasing emphasis placed by various governments and institutions on developing resourceful and transparent transactions.
Insight by Provider
The worldwide blockchain market is divided into three major provider categories: middleware, infrastructure & protocols, and application & solution. Despite the fact that the infrastructure & protocols category is predicted to develop at the highest rate in the coming years. It is important to realize that the development of this category is a result of the rising demand for blockchain protocols such as BigChainDB, Ethereum, Openchain, and Hyperledger.
Furthermore, there is a rising need for blockchain protocol to create specific games like Spells of Genesis, CryptoKitties, and EtherWarfare. Also, during the forecast period, this demand is expected to support the market growth in this category.
Insight by Application
The blockchain market is further categorized based on application into documentation, digital identity, exchanges, smart contracts, payments, risk, supply chain management, governance, and compliance management. Among these, the payments category dominates the market. This is due to the high adoption of cloud services in payment and transaction processes. The operational efficiency, transparency, and cost-effectiveness of the payment system are all improved by this kind of technology.
However, the digital identity category is predicted to witness the fastest growth during the forecast period. This can be because it helps reduce the demand for facilitators or central administrators, and it is widely used by various important companies operating in the blockchain market for financial transactions.
Blockchain Market Report Coverage
| | |
| --- | --- |
| Report Metric | Details |
| Historical Period | 2018–2021 |
| Base Year Considered | 2021 |
| Forecast Period | 2022 - 2030 |
| Market Size in 2021 | $7.3 Billion |
| Revenue Forecast in 2030 | $70.1 Billion |
| Growth Rate | CAGR 80.6% |
| Segments Covered in the Report |      By Component, By Type, By Provider, By     Application. |
| Report Scope | Market Trends, Drivers, and Restraints; Revenue Estimation and Forecast; Segmentation Analysis; Covid-19, Companies' Strategic Developments; Market Share Analysis of Key Players; Company Profiling |
| Regions Covered in the Report | North America, Europe, Asia-Pacific, Middle East, and the Rest of the World |
Industry Dynamics
Trends
Some of the fundamental trends observed in the blockchain market include the increasing use of the technology by multiple government institutions throughout the globe and the surging significance of various business organizations integrating this technology with mobile devices.
Growth Drivers
A number of important variables, most notably the increasing acceptance of cryptocurrencies by various retailers and commercial organizations operating in the BFSI sector, have shaped the global blockchain market. Additionally, the benefits offered by cryptocurrencies to users, such as rapid clearance and perfect settlement selections in various financial operations, contribute to their expanding demand. As a result, these factors are accelerating the global development of the blockchain market.
Restraints
The global expansion of the blockchain market is being slowed down by a lack of awareness about blockchain technology. Additionally, the high initial setup costs for adopting a full or partial blockchain system for small and medium-sized businesses in emerging economies may impede the growth of the blockchain market globally.
Opportunity
It is critical to understand that blockchain technology offers incredible potential in a variety of application domains, including IoT, banking, and cybersecurity. In various application areas, such as car connection, smart transportation, smart grids, smart city initiatives, and autonomous vehicles, IoT devices are widely used. IoT that has been injected with blockchain offers a high level of security to prevent data breaches, making it both safer and smarter.
Geography Insight
According to reports, North America accounted for the largest share of the global blockchain business, and the regional market is expected to expand rapidly over the coming years. The existence of several businesses with sizable operational bases, the wide adoption of documentation and payment technologies across various industries, and the widespread usage of smart contracts are all factors contributing to the growth of the market in the region.
On the other hand, due to significant investments made in the development of the blockchain industry, which helps to reduce excessive labor expenses, the APAC market is predicted to experience the quickest growth throughout the projection period.
Competitive Insight
Some of the major players in the global blockchain include Ripple, IBM Corporation, Amazon Web Services Inc., Abra, Chain Inc., Factom, BTL Group Ltd., BigchainDB Gmbh, Microsoft Corporation, BlockCypher Inc., Ethereum Foundation, Humaniq, Earthport PLC, Tierion, AlphaPoint, and Bitfury Group Limited.
Recent Development by Key Players
The general release of Ethereum, a well-known decentralized blockchain technology that created a peer-to-peer network enabling members to transact without a reliable central authority on Amazon Managed Blockchain, was announced by Amazon Web Services (AWS) in March 2021. Decentralized finance (Defi), a network of financial apps based on blockchain networks, is one of the more well-known use cases that it enables.
The Intel Neuromorphic Research Community welcomed Neuromorphic.io in September 2020. (INRC). Neuromorphic.io was the first blockchain firm to be approved by Intel's renowned research group to conduct cutting-edge research towards the creation of blockchain-based neuromorphic computing chips.
Huawei's blockchain-based cloud service, Blockchain Service 2.0, was updated in September 2020. (BCS 2.0). The new and improved platform can handle 50,000 transactions per second (TPS), which is far more than Bitcoin and Ethereum can. Additionally, BCS 2.0 extended capability will support more than 1,000 nodes, fulfilling the needs of large-scale and commercial blockchain networks.
The Hyperledger Fabric 2.5-powered IBM Blockchain Platform 2.5 will enable developers to switch to cutting-edge multi-party systems in May 2020. These multi-party solutions allowed for multi-cloud offerings, IoT connectivity, real-time analytics and reporting, logistics, and supply chain management.
The world's first fully integrated procure-to-pay blockchain solution was created in October 2020 by Accenture and Digital Ventures, a fintech division of Siam Commercial Bank, to simplify payments, financing acquisition, and procurement for Thai companies.
The Global Blockchain Market report offers a comprehensive market segmentation analysis along with an estimation for the forecast period 2022–2030.
Segments Covered in the Report
By Component
Quorum

Ethereum

R3 Corda

Ripple

Hyperledger
By Type
By Provider
Middleware Provider

Application & Solution Provider

Infrastructure & Protocols Provider
By Application
Smart Contracts

Payments

Documentation

Supply Chain Management

Exchanges

Governance

Risk

Compliance Management

Digital Identity

Others
Region covered in the Report
North America
Europe
Germany

U.K.

France

Italy

Spain

Rest of Europe
Asia-Pacific (APAC)
China

Japan

India

South Korea

Australia

Rest of Asia-Pacific
Rest of the World (RoW)
Brazil

Saudi Arabia

South Africa

Other Countries