Industry Overview
The global market for fingerprint sensors is expected to experience significant growth over the forecast period 2023-2030, with a projected increase from USD 4.01 billion in 2022 to USD 12.8 billion by 2030. This growth represents a compound annual growth rate (CAGR) of 15.2%. Fingerprint sensors are electronic security systems that utilize biometric authentication through fingerprints to provide user access to devices, information, or facilitate transactions. The fingerprint sensors market has witnessed rapid expansion in recent years and is poised for further growth in the coming years. Factors such as the widespread adoption of smartphones, increasing security applications, and government initiatives promoting biometrics contribute to the growing demand for fingerprint sensors on a global scale.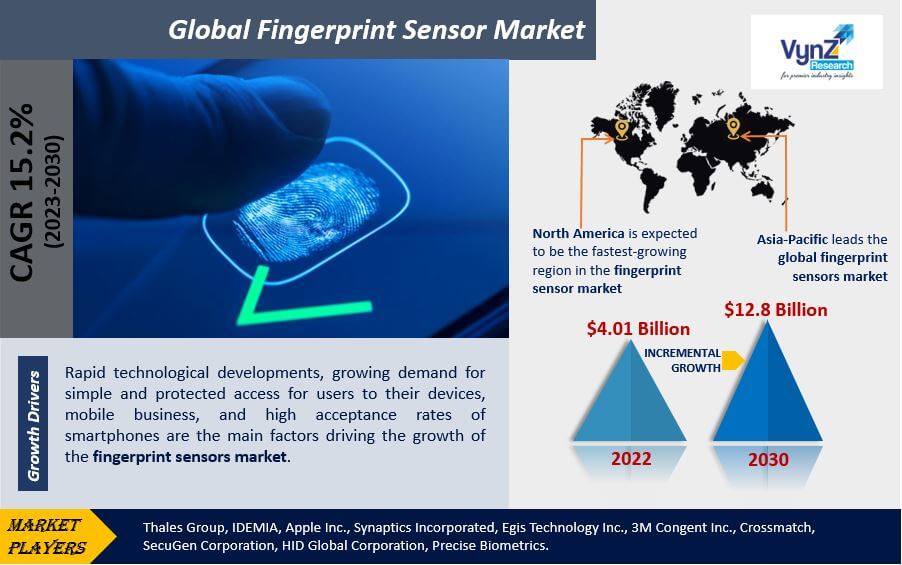 The COVID-19 pandemic is impacting the civilization and overall economy across the globe. The impact of this outbreak is increasing day by day as well as disturbing the supply chain. It is creating uncertainty in the stock market, falling business confidence, massive slowing of the supply chain, and increasing panic among customers. European countries under lockdowns have suffered a major loss of business and revenue due to the closure of manufacturing units in the region. Actions of production and manufacturing businesses have been severely impacted by the outbreak of the COVID-19 disease, which has led to a slowdown in the growth of the fingerprint sensor market in 2020.
According to fingerprint sensor market trends, the COVID-19 has harshly obstructed the global manufacturing and industrial sector as manufacturing services have been delayed, which in turn, have led down the substantial demand in productions.
Market Segmentation
Insight by Technology Outlook
Based on the technology outlook, the global fingerprint sensors market is divided into optical, capacitive, thermal, ultrasonic. In-display fingerprint sensors are in demand by several smartphone brands, which is likely to provide opportunities for the optical fingerprint sensor market growth. An optical in-display fingerprint sensor uses an optical fingerprint sensor to capture the fingerprint information and is rooted under the phone's screen. Goodix, Fingerprints, and Q Technology are among the companies that offer optical fingerprint sensors.
Insight by Type Outlook
Based on the type outlook, the global fingerprint sensors market is divided into area & touch sensor and swipe sensor. Touch sensors are delicate than a button or other physical control. These sensors are used mostly in consumer devices such as smartphones and tablets. They are becoming increasingly smaller, more cost-effective, and appropriate for use. This contributes to a higher market share of area & touch sensors in the fingerprint sensor market.
Insight by Application Outlook
Based on the application outlook, the global fingerprint sensors market is divided into smartphones/tablets, laptops, smartcards, IoT, and other applications. Applications in smartphones are expected to hold a maximum share. Smartphone manufacturers such as Samsung, Sony, LG started integrating fingerprint sensors for typical smartphones after which fingerprint sensors became a crucial part of every smartphone.
Insight by End-Use Industry
Based on the end-use industry, the global fingerprint sensors market is categorized into consumer electronics, travel & immigration, government & law enforcement, banking & finance, commercial, smart homes, healthcare, military, defense, & aerospace. The government and law enforcement segment accounted for almost one-third of the global fingerprint sensor market revenue in 2019 and is likely to dominate by 2027, due to a rise in safety concerns in government offices. Simultaneously, the healthcare segment is one of the fastest-growing segments in the forecast period. Hospitals are in the development of transforming themselves by digitizing patient records to deliver quick, safe, improved, and cost-effective care. Healthcare management applications are moving to biometric iris gratitude technology to create precise patient identification and identify proper cover status to avoid fraud and identical medical records.
Global Fingerprint Sensor Market Coverage
| | |
| --- | --- |
| Report Metric | Details |
| Historical Period | 2018–2022 |
| Base Year Considered | 2022 |
| Forecast Period | By 2030 |
| Market Size in 2022 | $4.01 Billion |
| Revenue Forecast in 2030 | $12.8 Billion |
| Growth Rate | CAGR 15.2% |
| Segments Covered in the Report |       By Technology Outlook, By Type Outlook, By           Application Outlook, and By End-Use Industry. |
| Report Scope | Market Trends, Drivers, and Restraints; Revenue Estimation and Forecast; Segmentation Analysis; Impact of COVID-19; Companies' Strategic Developments; Market Share Analysis of Key Players; Company Profiling |
| Regions Covered in the Report | North America, Europe, Asia-Pacific, Middle East, and Rest of the World |
Industry Dynamics
Industry Trends
There are some significant trends that have been driving the technological innovations in the industry since its early days, and which, directly or incidentally, are driving the fingerprint sensors market, presently. The major trend that is driving the market is the size lessening of the fingerprint sensors, which allows their incorporation into mobile phone devices without surrendering other functionalities.
Growth Drivers
The growth of the fingerprint sensors market is primarily fueled by rapid technological advancements, increasing demand for convenient and secure user access to devices, the rise of mobile business, and widespread smartphone adoption. For example, India witnessed a remarkable increase in smartphone penetration, reaching 54% in 2020 and projected to reach 96% by 2040. This significant growth is more than double the figures recorded in the fiscal year 2016, where only 22% of mobile subscribers owned smartphones.
Furthermore, growing R&D investment and technological research in the field of fingerprint sensors will further drive the demand for these sensors in the approaching years.
Challenges
Governments across various major economies have compulsory lockdowns to battle the COVID-19 pandemic. With the lockdown in place, the manufacturing activities have been affected significantly. The global manufacturing PMI dropped from 47.3 in March 2020 to 39.7 in April 2020. Governments all over the world have come up with diverse regulations during the lockdown. For instance, the Indian government had closed down all non-essential manufacturing plants from the end of March 2020 to early May 2020. This included the closure of plants of various smartphone players, such as Xiaomi, Samsung, Oppo, and Vivo. Thus, government limitations during COVID-19 lockdowns are likely to be the major challenge for the manufacturing segment. Furthermore, safety concerns related to personal data leaks and safety concerns over biometrics are stimulating the market's growth.
Opportunities
The emerging trends toward IoT-based biometric technology and the increase in the adoption of display fingerprint sensors in smartphones are expected to offer beneficial opportunities globally. With the growing trend of reducing the bezel sizes of smartphone and the rising adoption of OLED panels, numerous companies saw this as an opportunity to develop an advanced fingerprint sensor.
Geographic Overview
The Asia-Pacific leads the global fingerprint sensors market in 2020 and is expected to uphold its dominance during the forecast period. Asia-Pacific provides huge opportunities for the fingerprint sensor device market due to the rising demand for these devices in abundant verticals, including consumer electronics, automotive, and commercial sectors in Asian countries such as China, Korea, Taiwan, the Philippines, and India. The increasing distribution of fingerprint sensors in consumer electronics, particularly in smartphones, has driven the growth of the fingerprint sensor market in the Asia-Pacific region. China is playing a substantial role in the growth of the fingerprint sensor market in APAC as a rare of the key smartphone manufacturers, including Xiaomi, Oppo, and Vivo, are headquartered in China.
North America is expected to be the fastest-growing region in the fingerprint sensor market during the forecast period. North America is an established region and hence, revolutions and new technologies are likely to be trends observed in the region over the next few years. North America holds a noteworthy share of the global fingerprint sensors market in 2019. For the same purpose, North America is expected to witness maximum opportunity addition in the fingerprint sensors market.
Competitive Insight
The fingerprint sensor market is moderately fragmented with separate international companies such as Qualcomm, Fingerprint Card AB, and Synaptics inhabit a significant market share by organizing their solutions in various smartphones. Fingerprint sensor companies are revealing new markets beyond smartphones and discovering even the field of IoT and integration of fingerprint sensors into smart cards and are continuously incorporating different technologies to improve the end-user experiences. The approaches adopted by the industry players include product launches and developments, partnerships, collaboration, mergers & acquisitions, contracts, and agreements in order to enlarge their market share in the global fingerprint sensors market.
Qualcomm has launched a second-generation variety of its ultrasonic in-display fingerprint sensor, the 3D Sonic Max, that to fix the problems with the original 3D Sonic Sensor by proposing a sensor that's 17 times bigger than the one that was launched formerly.
Samsung has launched its finest Galaxy Chromebook at CES. It structures Fingerprints Card AB's FPC1145 sensor for a suitable extra layer of corporate and end-user security. For this model, the company carried out its unique software with features like FPC OneTouch, FPC 360Touch, and EvoTouch.
Some of the key players operating in the global fingerprint sensors market: Thales Group, IDEMIA, Apple Inc., Synaptics Incorporated, Egis Technology Inc., 3M Congent Inc., Crossmatch, SecuGen Corporation, HID Global Corporation, Precise Biometrics.
The Fingerprint Sensor Market report offers a comprehensive market segmentation analysis along with an estimation for the forecast period 2023–2030.
Segments Covered in the Report
By Type

Area & Touch Sensor
Swipe Sensor

By Technology

Optical
Capacitive
Thermal
Ultrasonic

By Application

Smartphones/Tablets
Laptops
Smartcards
IoT 
Other Applications
By End-Use Industry
Consumer Electronics
Travel & Immigration
Government & Law Enforcement
Banking & Finance
Commercial
Smart homes
Healthcare
Military, Defence, & Aerospace
Region Covered in the Report
North America
Europe

Germany
U.K.
France
Italy
Spain
Russia
Rest of Europe

Asia-Pacific (APAC)

China
Japan
India
South Korea
Rest of Asia-Pacific

Rest of the World (RoW)

Brazil
Saudi Arabia
South Africa
U.A.E.
Other Countries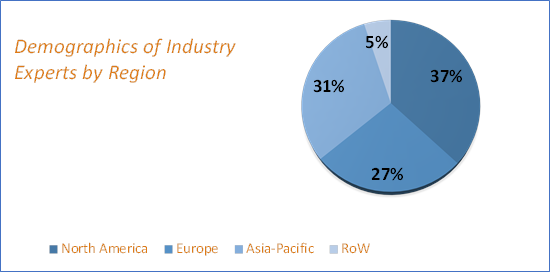 Source: VynZ Research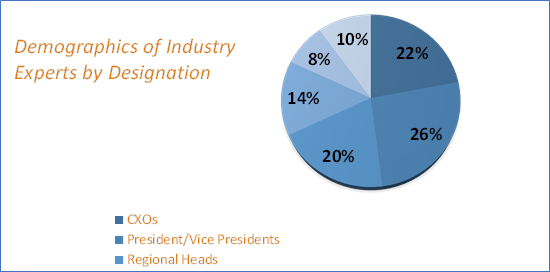 Source: VynZ Research