Industry Overview
The global security policy management market is expected to reach USD 2.7 billion by 2025, growing at a CAGR of 11.0% during the forecast period. The global security policy management market is growing at a remarkable rate. The factors driving the market penetration of the security policy management market since last few years are frequent application update or change, which is required to not affect the data flows between the numerous firewalls and servers the application trusts on, and then modify connectivity guidelines and security policies to safeguard and allow only legitimate traffic, without creating security breaches or compliance desecrations. This brings into picture security policy management implementation in organizations.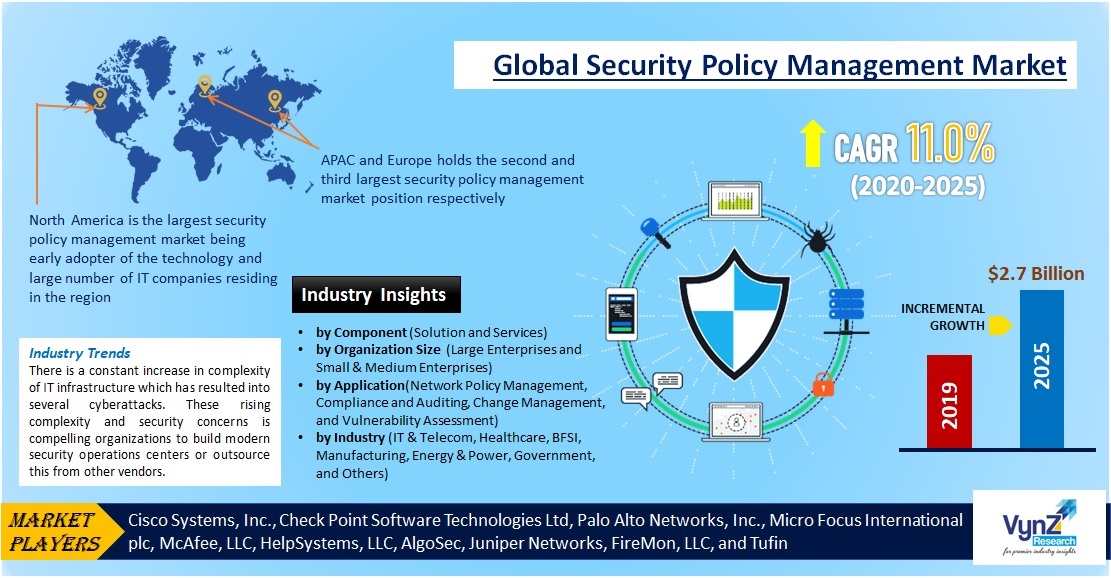 Security policy management software offers a set of tools helping system to maintain compliance and impose policies related to network security and firewall management. These tools provide functionality to help create and document operational workflows for network security management and orchestration. NSPM software also provides tools for auditing networks, documenting policy changes, and automating security operations. Companies use NSPM software to ensure their network policies remain compliant while endpoints, data, and networks remain secure. These tools help identify and remove unnecessary or obsolete security policies and simplify security operations.
Market Segmentation
Insight by Component
On the basis of component, the market is bifurcated into solution and service. Among these components, solution segment captures higher market share in 2019 and is expected to grow at fastest rate. Further, the service sector is sub-segmented as managed and professional service type.
Insight by Organization Size
On the basis of organization size, the market is subdivided into Large Enterprises and Small & Medium Enterprises (SMEs). Among these, large enterprises accounted for the foremost share in the security policy management market in 2019, being more concerned about the data security and high spending on security and compliance implementation. However, SMEs sector is rapidly growing and is expected to capture decent share of the security policy management market in years to come.
Insight by Application
On the basis of application, the market is subdivided into network policy management, compliance and auditing, change management, and vulnerability assessment. Of all these product type, the network policy management segment accounted for a foremost share in the security policy management market in 2019, owing to rising complexities in network infrastructure within organizations.
Industry Dynamics
Industry Trends
There is a constant increase in complexity of IT infrastructure which has resulted into several cyberattacks. These rising complexity and security concerns is compelling organizations to build modern security operations centers or outsource this from other vendors.
Growth Drivers
Organizations across the globe these days are increasingly dependent on corporate governance and compliance needs. In case any of the organization is not strictly ensuing to comply with certain government standards, it has now become mandatory to conduct systematic firewall audits. All these factors will impact the security policy management progression in the market in near future.
Challenges
There are constant updates in the security policies by different associations and government which makes it difficult for the vendors as well as user to stick to a common and consistent policy.
Geographic Overview
Geographically, North America is the largest security policy management market being early adopter of the technology and large number of IT companies residing in the region. Besides, the region is very much inclined towards implementation of required security regulations and compliance. As a result, North America security policy management market will keep on growing in the years to come.
Further, APAC and Europe hold the second and third largest security policy management market position respectively, due to the adoption of firewall and other advanced security features to detect and prevent threats at the initial phase only. In addition, APAC and Europe is rapidly moving towards digitalization, this as result is also creating a positive impact on the security policy management market growth globally.
Competitive Insight
Key players in the security policy management market are focusing on developing new products and solutions to maintain pace with evolving technologies. Further, merger & acquisition are other key strategies adopted by the solution providers in the market. Also, the market is highly fragmented with a large number of global and regional solution providers.
Some of the key players operating in the security policy management market are Cisco Systems, Inc., Check Point Software Technologies Ltd, Palo Alto Networks, Inc., Micro Focus International plc, McAfee, LLC, HelpSystems, LLC, AlgoSec, Juniper Networks, FireMon, LLC, and Tufin.
Primary Research
VynZ Research conducts extensive primary research to understand the market dynamics, validate market data and have key opinions from the industry experts. The key profiles approached within the industry includes, CEO, CFO, CTO, President, Vice President, Product Managers, Regional Heads and Others. Also, end user surveys comprising of consumers are also conducted to understand consumer behaviour.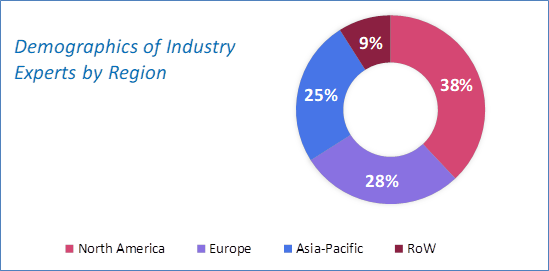 Source: VynZ Research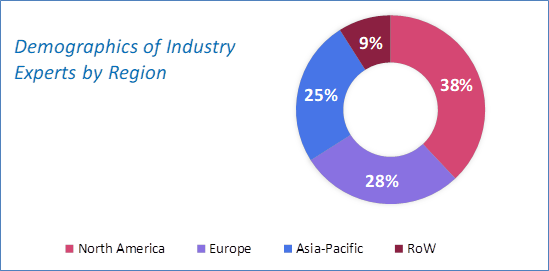 Source: VynZ Research