Industry Overview
The global gallium nitride market size is anticipated to grow at USD 220 million in 2027 and is expected to expand at a compound annual growth rate (CAGR) of 9.6% from 2021 to 2027. Gallium Nitride (GaN) is a material that is used for semiconductor power devices, RF components and, light-emitting diodes (LEDs). They are likely to have massive demand due to their usage in a variety of semiconductor devices.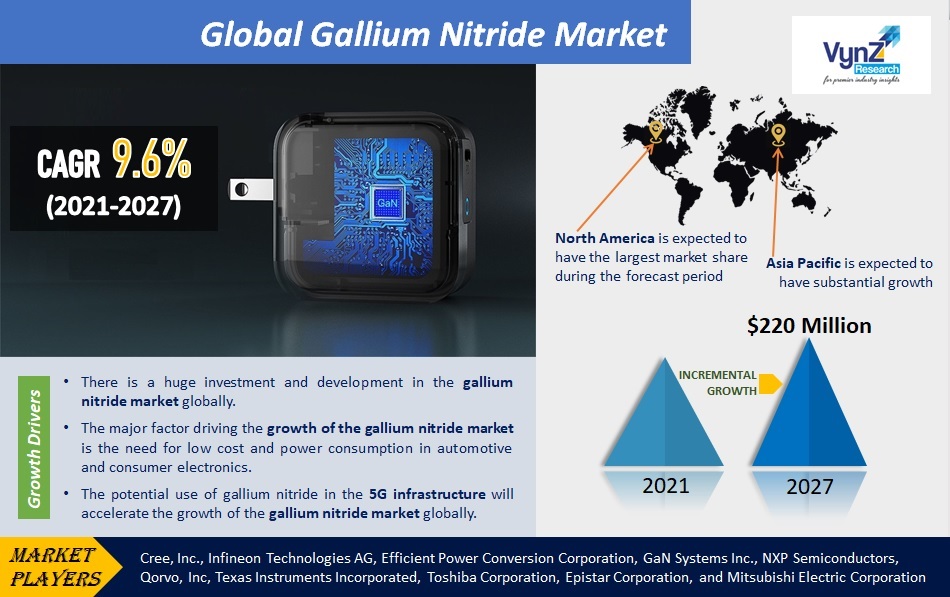 Gallium Nitride is a substitute for sapphire, silicon carbide, and silicon because of its high output power, low power consumption, lower resistance, high efficiency at ultra-high, and microwave radio frequencies. Also, there is a need to save energy because of the depletion of oil sources and limited sources of energy as a result power devices are being used which propels the growth of the gallium nitride market. Gallium nitride semiconductor devices possess high breakdown voltage and low conduction resistance which helps in reducing conduction loss and switching loss in power devices. Thus, driving the demand for the gallium nitride market globally. There is a rising demand for hybrid electric vehicles and electric vehicles that have led to the growth of gallium nitride semiconductor devices because it requires highly efficient power supplies. The rising use of GaN in the 5G framework is an important aspect of the rise in the gallium nitride market's revenue.
The COVID-19 pandemic has affected the growth of the GaN market because of the shutdown of the manufacturing units but the market is slowly picking its pace and there is an increase in demand for electronics products and services. During the lockdown, many multinational companies have to abide by government rules & regulations and have initiated work from home culture, resulting in massive demand for electronics products such as mobiles, chargers, laptops, and IoT-based services. This will directly increase the sale of gallium nitride semiconductors.
Market Segmentation
Insight by Wafer Size
Based on Wafer Size, the market is segmented into the 2-inch wafer, 4-inch wafer, and 6-inch and above the wafer. The 4-inch wafer segment dominates and holds the largest share in the market. They are moderate in size and assist in the large-scale production of semiconductor devices. There is a growth in 4-inch GaN wafers because of the usage of optoelectronics devices, high-power amplifiers, high-frequency power devices, high-temperature devices, and telecom frontends. The usage of a 4-inch wafer segment for space communication applications will accelerate its growth.
The 6-inch and above wafer segment is expected to have a high CAGR during the forecast period because of its usage in defense equipment and consumer electronics. This 6-inch wafer has high breakdown voltage and low current leakage. They are also used in commercial applications such as wireless cellular base stations and automotive collision-avoidance systems which will accelerate the growth of the gallium nitride market globally.
Insight by Device 
Based on the device, the market is subdivided into an Opto-semiconductor device, power semiconductor device, and RF semiconductor device. The Opto-semiconductor segment holds a dominant share in the gallium nitride market. This segment is predicted to have high growth over the forecast period. This growth is attributed due to the rising demand for Opto-semiconductors in devices such as photodiodes, optoelectronics, LEDs, lasers, and solar cells. The Opto-semiconductors are mainly used in the consumer electronics sector, industrial, and automotive industries. Light-emitting diodes (LEDs) are used in televisions displays, mobile displays, laptop and notebook displays, projectors, and large video displays. LEDs are used in the automotive industry for lighting purposes. The Opto-semiconductor devices are used in aerospace applications like pulsed laser and Light Detection and Ranging (LiDAR).
The power semiconductor will grow significantly over the forecast period and is used in smart grid power systems, wind turbines, wind power systems, solar power systems, satellites, space shuttles, aircraft, and electric and hybrid electric vehicles as minimizes power loss and achieve high-speed switching.
The RF semiconductor is expected to have a higher CAGR in the forecast period and is used in defense, consumer electronics. High-frequency RFs are used in vehicular communication systems and vehicle-to-grid communication systems of electric vehicles.  Thus, GaN radio frequency will propel the growth of the gallium nitride market.
Insight by Component
Based on components, the market is divided into the transistor, diode, rectifier, power IC, and others. The transistor segment will dominate the market over the forecast period owing to the adoption of 4G technology-enabled devices. GaN-based transistors are effective, can work at high power density and switch frequency. Moreover, the increased use of GaN transistors in the form of insulating gate bipolar transistors and field-effect transistors for electric and hybrid vehicles will bolster the growth of the market.
The power IC segment is expected to have a high CAGR during the forthcoming years owing to its use in wireless air-base stations to avoid a collision, have efficient navigation, and controls real-time air traffic. Diodes are used for checking electrical valves and allow electricity to flow from positive to negative in one direction only. Some of the features of diodes are rectification, light emission, and load dissipation. Rectifiers are power converters to convert AC into DC and vice versa. They are used as power supplies in televisions, radios, and computers.
Insight by Application
Base on application, the market is sub-segmented into light detection and ranging, wireless and EV charging, radar and satellite radio frequency, and others. The light detection and ranging segment will hold the largest market share owing to its use in combat aircraft to calculate distances. The wireless and EV charging segment is expected to witness a high CAGR because of the growing demand for electric vehicles globally. Moreover, they are used in battlefield operations as wireless and EV charging eliminates the load of carrying batteries. The radar segment is used to protect aircraft and naval vessels from rockets, artillery, cruise missiles, UAVs, mortars, and other low observable targets. Satellite radio frequency is used for satellite communication, satellite TV networks, and satellite feeds.
Insight by End User
Based on the end-user segment, the market is divided into information and communication technology, automotive, renewables, consumer electronics, military & defense, aerospace, medical, and others. The information and communication technology segment is anticipated to have a dominant share because of the adoption of Internet-of-Things (IoT) technology for commercial applications. These GaN semiconductors are used in artificial intelligence (AI) and connectivity with the advent of 5G, thus shifting from local devices to cloud platforms. In the automotive industry, GaN LEDs are used in headlamps, electric motor vehicle devices, welding systems, and braking systems. The growing use of gallium nitride devices in the defense segment for military radar, electronic warfare, military jammers, terrestrial radios, and 3G/4G base stations.
In the aerospace segment, gallium nitride devices are used in distributed antenna systems (DAS), small cell, and remote radio head network densification. They are widely used in data centers, servers, base stations, transmission lines, and satellite communication. There is a significant demand for gallium nitride technology in the medical sector. Delicate surgeries are done by robots having gallium nitride components in hospitals. MRIs, radiography, ultrasound, miniaturized x-ray machines, and magnetic resonance imaging in the medical sector will project the growth of the market. 
Industry Dynamics
Industry Trends
The concept of gallium nitride is gaining popularity and is an important part of product development. Government agencies, investors, partners, and trade experts are the major stakeholders in the gallium nitride market. The gallium nitride market offers a low cost of production because of the availability of raw materials and highly efficient GaN semiconductors. These benefits along with booming industries such as consumer electronics, automotive, computers, and information and communication technology will expand the gallium nitride market globally. There is a need for continuous innovation to sustain itself in the industry.
Growth Drivers
There is a huge investment and development in the gallium nitride market globally. The major factor driving the growth of the gallium nitride market is the need for low cost and power consumption in automotive and consumer electronics. The rising demand for energy-efficient GaN devices and power semiconductors in wired communications will propel the growth of the market as many internet service providers focus on high capacity, ubiquitous connectivity, and lower latency with optic cable wires They are used as an innovative application in defense, military, and aerospace segment such as gallium nitride RF semiconductor device. The potential use of gallium nitride in the 5G infrastructure will accelerate the growth of the gallium nitride market globally.
Challenges
The availability of alternate raw materials such as silicon carbide semiconductor devices is the best alternative for high voltage range applications which will be a challenge for the growth of the gallium nitride market globally. The major challenge for GaN designers is to achieve efficiency with low cost and structure less complicated.  Moreover, due to the ongoing COVID-19 pandemic, countries are reducing their defense budget and investing in COVID-19 recovery. This in turn will result in lesser demand for military radars, tactical radios, and software-defined radios. The development cost and maintenance cost is high for gallium nitride components which will further hamper the growth of the market.
Opportunities
The increase in demand for electric vehicles, hybrid vehicles, and implementation of 5G infrastructure will provide opportunities for the growth of the gallium nitride market globally. The mobile chargers have a fast-charging capacity when integrated with gallium nitride technology. Gallium nitride devices will manage ultra-high-power frequency solutions that will revolutionize the power supply field.
Geographic Overview
North America is expected to have the largest market share during the forecast period due to developed IT infrastructure, internet penetration, increasing adoption of electric vehicles, and an increase in the number of connected modern devices. Because of the rapid industrialization, Europe is a lucrative gallium nitride market during the forecast period because of the demand for wireless devices and use in the automotive industry. 
The Asia Pacific is expected to have substantial growth because of its use in various end-use industries such as consumer electronics, automotive, and industrial. China will hold a significant share in the gallium nitride market globally because of huge investment in R&D and innovation in new technologies. In developing economies such as China and India, the use of GaN devices in the defense sector will accelerate the growth of the market. 
Competitive Insight
The market for gallium nitride is highly fragmented because of many reputed manufacturers. The main focus is on achieving new contracts with governments and private agencies to deliver in-house products. Key players are focusing on strategic partnerships, collaborations, and mergers and acquisitions to acquire the necessary capabilities for manufacturing GaN-based semiconductors and achieving a high market share. There is a huge investment in R&D activities by the companies to make technological advancements in GaN technology. Thus, companies are sustaining their position in a competitive market and are providing a competitive edge. 
For instance, in March 2019, Cree, Inc. completed the acquisition of Advanced Technology Materials Corp., a manufacturer of GaN semiconductor devices. With the acquisition, the company extended its geographic presence in China.
Some of the key players operating in the gallium nitride market: Cree, Inc., Infineon Technologies AG, Efficient Power Conversion Corporation, GaN Systems Inc., NXP Semiconductors, Qorvo, Inc, Texas Instruments Incorporated, Toshiba Corporation, Epistar Corporation, and Mitsubishi Electric Corporation.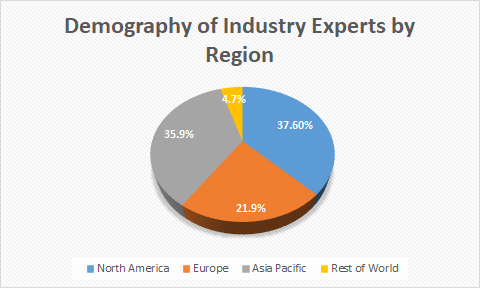 Source VynnZ Research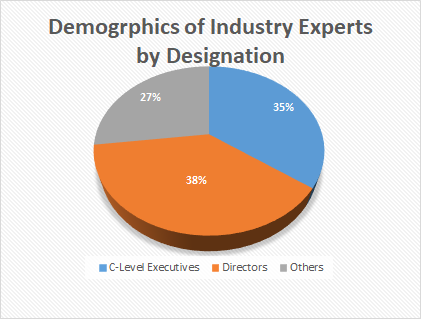 Source VynZ Research