Industry Overview
In 2023, the projected value of the Global hardware encryption market is estimated to be USD 0.26 billion, with a projected growth rate of 3.9% leading to a valuation of USD 0.44 billion by 2030. Hardware encryption is a cutting-edge technology designed to safeguard your data, effectively protecting it from unauthorized access and bolstering security measures against potential hackers and online threats.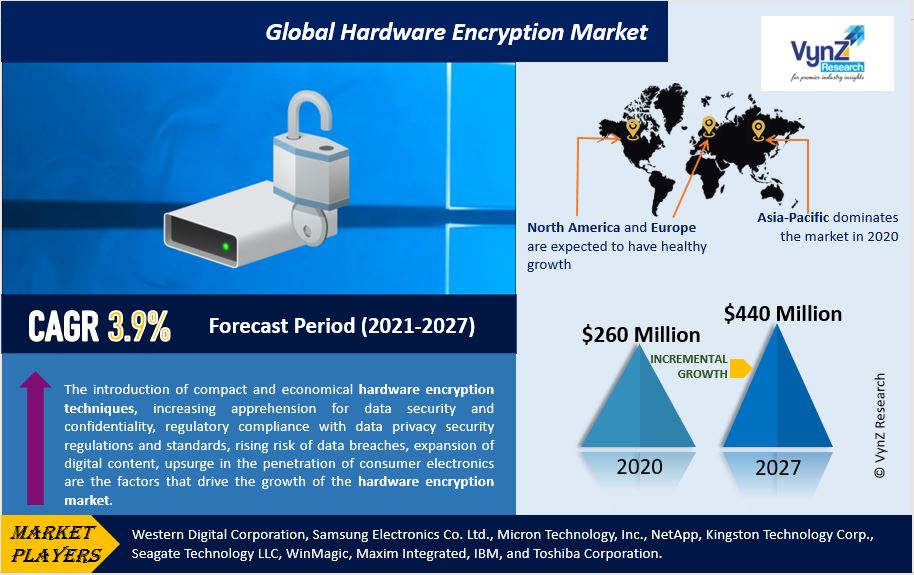 Increasing demand for smartphones, online and digital content, widespread adoption of cloud computing, and use of IoT in various sectors are the factors attracting the market for global hardware encryption products and solutions. The advent of portable devices to transfer files from computers, back up important information, the ubiquity of these devices increases security concerns about the confidential data, technological proliferation, and surging demand for consumer electronics such as smartphones, tablets, etc are anticipated to favorably impact the hardware encryption market globally. These devices cannot be altered or removed by any malware or virus or be uninstalled by the user, owing to which the hardware encryption market is likely to witness high growth over the coming few years.
The COVID-19 pandemic has a moderate impact on the global hardware encryption market as encryption has become an important tool in navigating global health crises. The organization and individuals are focused on data protection, recovery, and storage during this COVID-19 outburst. Moreover, hardware encryption has helped governments in various countries to respond to this deadly virus in a secured manner, thus driving the growth of the global hardware encryption market.
Market Segmentation
Insight by Architecture Type
Based on architecture type, the global hardware encryption market is segmented into application-specific integrated circuits (ASIC), and field-programmable gate arrays (FPGA). The growth of ASIC design is high due to the massive demand for processors in the manufacturing of hardware-encrypted hard disk drives and USB drives, owing to their high speed and small form factor.
Insight by Product Type
Based on product type, the global hardware encryption market is divided into external hard disk drives, internal hard disk drives, inline network encryptors, solid-state drives, USB flash drives. The external hard disk drive will dominate the market during the forecast period because it has the features of an internal disk drive along with additional features such as portable, reliable, and easy to install. Moreover, the rising demand for portable self-encrypting drives (SED), will drive the external hard disk drive segment. The solid-state drive (SSD) segment is anticipated to have a high CAGR during the forecast period, owing to a rapid rise in cases of data breaches, continuous expansion of digital content, usability, and reliability of the product have attracted consumers of different industries to use SSDs.
Insight by Algorithm & Standard
Based on algorithm & standard, the global hardware encryption market is categorized into Rivest – Shamir –Adleman (RSA) algorithm, advanced encryption standard (AES), secure hash algorithm, digital signature algorithm, data encryption standard, and elliptic curve cryptography. Among these categories, the advanced encryption standards (AES) will have the fastest growth due to its wider acceptance, highly secure, and fast algorithm of encryption.
Insight by Application
Based on application, the global hardware encryption market is segmented into automotive & transportation, BFSI, consumer electronics, healthcare, IT & telecom, aerospace and defense, and others. Among these segments, consumer electronics have the largest market share in 2020, owing to the emergence of bring-your-own-devices (BYOD)in various organizations, thus generating the need for hardware encryption security.
Insight by End-User
Based on end-user, the global hardware encryption market is divided into commercial, industrial, residential, and government. Among these categories, the government segment is expected to have a high CAGR, owing to a rise in digitalization and an increase in the need for data security. Furthermore, the commercial segment holds the largest share in 2020 and contributes to more than one-third of the hardware encryption market due to the increase in the use of mobile devices by various government agencies and the storage of confidential as well as healthcare data.
Global Hardware Encryption Market Report Coverage
| | |
| --- | --- |
| Report Metric | Details |
| Historical Period | 2018–2022 |
| Base Year Considered | 2022 |
| Forecast Period | By 2030 |
| Market Size in 2021 | $260 million |
| Revenue Forecast in 2030 | $440 million |
| Growth Rate | CAGR 3.9% |
| Segments Covered in the Report | By Architecture Type, By Product Type, By Algorithm & Standard, By Application and By End-User |
| Report Scope | Market Trends, Drivers, and Restraints; Revenue Estimation and Forecast; Segmentation Analysis; Impact of COVID-19; Companies' Strategic Developments; Market Share Analysis of Key Players; Company Profiling |
| Regions Covered in the Report | North America, Europe, Asia-Pacific, Middle East, and Rest of the World |
Industry Dynamics
Industry Trends
The hardware encryption providers are aiming to provide efficient hardware encryption solutions to attract more customers and maximize revenues. The data is protected against threats such as cold boot, malicious code, and brute force attacks, so it is widely used in various industry verticals such as banking, corporate, IT & Telecom, healthcare, etc.
Growth Drivers
The growth of the hardware encryption market is driven by several factors, including the emergence of compact and cost-effective hardware encryption techniques, growing concerns for data security and confidentiality, compliance with data privacy regulations and standards, increasing risks of data breaches, the expansion of digital content, and the widespread adoption of consumer electronics. Hardware encryption solutions offer advantages over software-based encryption by addressing issues like performance degradation, further fueling their growth.
Challenges
High capital investment, limited use of encryption devices in some countries, deficiency in buyer responsiveness, and awareness about hardware encryption technology are the challenges that may hamper the growth of the hardware encryption market globally.
Opportunities
The extensive acceptance of cloud services, substantial growth of IoT technology in various industries, and technological development in encryption chips will offer promising growth opportunities for market expansion of the global hardware encryption market during the forecast period.
Geographic Overview
Asia-Pacific dominates the market in 2020 and is anticipated to remain dominant during the forecast period, owing to the high-density population, rise in household income, and rapid growth in the middle-class population in this region. There are many electronic and semiconductor manufacturing companies in this region which creates the demand for these products for internal applications and will install hardware encryption in their product.
North America and Europe are expected to have healthy growth, owing to the advent of cloud-based services, growth in IoT technology, and is home to many established hardware encryptions manufacturing companies, thus driving the growth in this region.
Competitive Insight
The industry players are focusing on providing new products to consumers so as to expand their market penetration and holds a dominant position in the hardware encryption market. There is a constant increase in market competition due to technological innovation and M&A in the hardware encryption industry. Thus, companies are sustaining their position in a competitive market and are providing a competitive edge.
Samsung introduced a Common Criteria Evaluation Assurance Level (CC EAL) 5+ certified Secure Element (SE) turnkey solution for mobile devices. The new solution offers a strong security solution, consisting of a security chip (S3K250AF) and optimized software that fully guards private data on an isolated data storage device.
Some of the prominent players operating in the hardware encryption market across the globe are Western Digital Corporation, Samsung Electronics Co. Ltd., Micron Technology, Inc., NetApp, Kingston Technology Corp., Seagate Technology LLC, WinMagic, Maxim Integrated, IBM, and Toshiba Corporation.
The Hardware Encryption Market report offers a comprehensive market segmentation analysis along with an estimation for the forecast period 2023–2030.
Segments Covered in the Report
By Architecture Type

Application-Specific Integrated Circuits (ASIC)
Field-Programmable Gate Arrays (FPGA)

By Product Type

External Hard Disk Drives
Internal Hard Disk Drives
Inline Network Encryptors
Solid-State Drives
USB Flash Drives

By Algorithm & Standard

Rivest-Shamir-Adleman (RSA) Algorithm
Advanced Encryption Standard (AES)
Secure Hash Algorithm
Data Encryption Standard
Elliptic Curve Cryptography

By Application

Automotive & Transportation
BFSI
Consumer Electronics
Healthcare
IT & Telecom
Aerospace and Defense
Others

By End-User

Commercial
Industrial
Residential
Government
Region Covered in the Report
North America
Europe

Germany
U.K.
France
Italy
Spain
Russia
Rest of Europe

Asia-Pacific (APAC)

China
Japan
India
South Korea
Rest of Asia-Pacific

Rest of the World (RoW)

Brazil
Saudi Arabia
South Africa
U.A.E.
Other Countries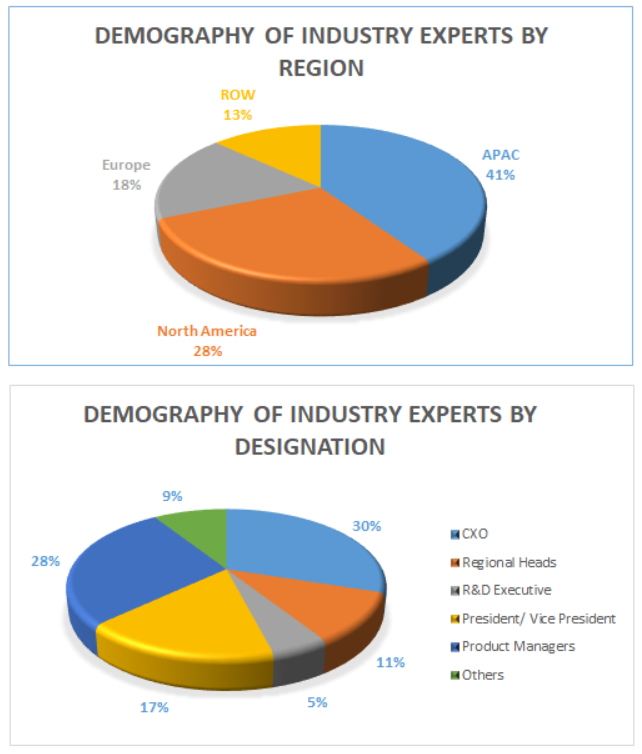 Source-VynZ Research