Industry Overview
The global intelligent transportation systems (ITS) market is poised to reach USD 70.2 billion by 2030, experiencing a robust CAGR of 10.3% from 2023 to 2030. ITS refers to the application of advanced sensing, analysis, control, and communications technology in the field of transportation, aiming to enhance safety, mobility, and efficiency. This technology finds applicability across various transportation modes such as roads, trains, and airplanes. The anticipated growth of the global ITS market is heavily influenced by technological advancements expected during the forecast period. As new innovations continue to optimize and automate connected car infrastructure, pedestrian environments, and other aspects, intelligent transportation systems are anticipated to witness widespread acceptance in the coming years.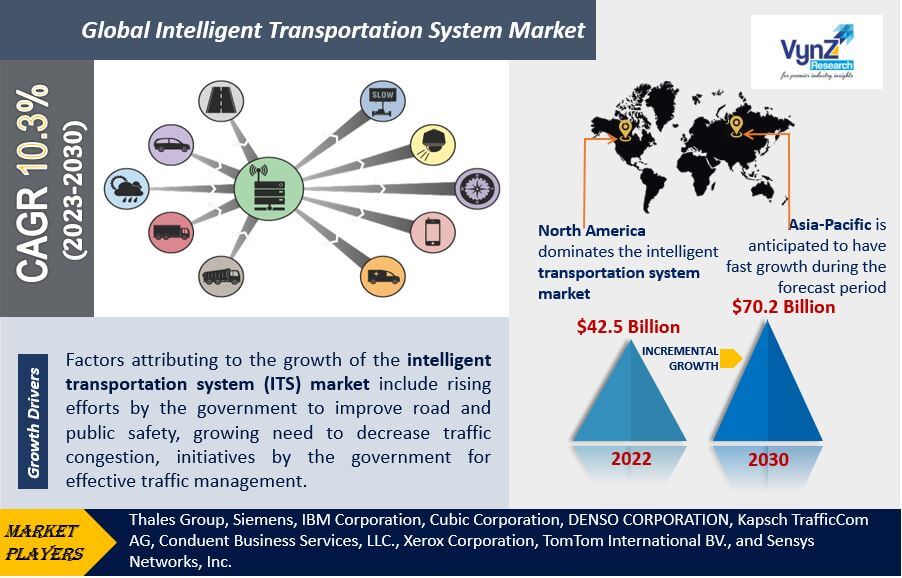 Furthermore, Big Data's advancements have enabled cost-effective and efficient data analysis, storage, and usage, resulting in the entry of flexible and innovative intelligent transportation systems into the worldwide intelligent transportation systems market in the forecasted years. In the future years, the intelligent transportation system market is expected to be driven by the introduction of 4G and 5G connectivity, falling prices of smart devices, and consistent developments in information and communication technology.
The COVID-19 outbreak has put several restrictions on the industry players functioning in the intelligent transportation system (ITS) market. Owing to strict lockdowns, increased emphasis to prevent the transmission of a novel coronavirus and restrictions on cross-border trade are anticipated to interrupt the supply chain of raw materials and various other components that are required to develop ITS. However, local governments in various regions are taking this as an opportunity to test and install different intelligent transportation systems. 
Market Segmentation
Insight by Offerings
The global intelligent transportation system (ITS) market is segmented into hardware, software, and services based on offerings. The hardware category dominates the ITS market due to the rising acceptance of several heterogeneous devices such as cameras, intelligent traffic management systems, sensors, and advanced traffic information systems in the ITS infrastructure worldwide.
Insight by System
Based on system, the global intelligent transportation system (ITS) market is segregated into advanced traveler information system (ATIS), advanced public transportation system (APTS), advanced traffic management system (ATMS), advanced transportation pricing system (ATPS), commercial vehicle operation System (CVO), and ITS-enabled transportation pricing system. The advanced traffic management system contributes to the largest share in the market owing to the mounting traffic congestion on roads globally. Furthermore, due to favorable programs and discounts offered by automobile manufacturers, vehicles are becoming more affordable, resulting in traffic congestion. Advanced traffic management systems will be adopted at a quicker rate around the world to address such challenges. The commercial vehicle operation system (CVS) will grow significantly due to the increased adoption of digital and connected vehicle technologies.
Insight by Application - Roadways
Based on application, the global intelligent transportation systems market by roadways is divided into intelligent traffic control, collision avoidance, parking management, passenger information management, ticketing management, emergency vehicle notification, automotive telematics, and fleet management and asset monitoring. The parking management is anticipated to grow at a faster pace owing to the rising number of vehicle ownership which has led to a scarcity of parking spaces, thus driving the growth of the segment in roadways.
Insight by Application - Railways
The applications that make up the global intelligent transportation systems market for railways include rail-running operation and collision avoidance, smart ticketing, security and surveillance, passenger information management, emergency notification, and others. Passenger information management is anticipated to grow at a faster pace as ITS is required to know the real-time passenger information, nature of the journey, location, upcoming stations, distance traveled, delay time, baggage information, etc.
Insight by Application - Aviation
Based on application, the global intelligent transportation systems market by aviation is divided into security & surveillance, shuttle bus tracking, traveler information management, smart ticketing, aircraft management, emergency notification, and others. The aircraft management holds the maximum revenue in the ITS application by aviation. It provides integrated gate-to-gate solutions to ensure efficient traffic handling operations and makes skies safer, greener, and more efficient.
Insight by Application - Maritime
Based on application, the global intelligent transportation systems market by maritime is divided into freight arrival & transit, real-time weather information tracking, container movement scheduling, emergency notification, and others. Real-time weather information is anticipated to grow at a faster pace during the forecast period and includes satellite weather information and environmental sensor stations (ESS) that use water-level sensors to monitor weather conditions.
Intelligent Transportation System Market Report Coverage
| | |
| --- | --- |
| Report Metric | Details |
| Historical Period | 2018–2022 |
| Base Year Considered | 2022 |
| Forecast Period | 2023-2030 |
| Market Size in 2022 | $42.5 Billion |
| Revenue Forecast in 2027 | $70.2 Billion |
| Growth Rate | CAGR 10.3% |
| Segments Covered in the Report | By Offerings, By System, and By Application (Railways, Aviation, and Maritime) |
| Report Scope | Market Trends, Drivers, and Restraints; Revenue Estimation and Forecast; Segmentation Analysis; Impact of COVID-19; Companies' Strategic Developments; Market Share Analysis of Key Players; Company Profiling |
| Regions Covered in the Report | North America, Europe, Asia-Pacific, Middle East, and Rest of the World |
Industry Dynamics
Industry Trends
The significant number of global events related to intelligent transportation systems made by several industry players has led to increased awareness and its importance to implement ITS is growing further. Also, the increased focus to enhance the quality of transportation in various regions of the world like North America and Europe will propel the demand for the ITS market. The imperative government efforts to develop transport infrastructure will boost the economic development, resulting in the growth of the ITS market. Thailand's government is working hard to reduce logistics costs from 14% of GDP in 2016 to 12% by 2021. To reduce road congestion and fuel consumption while maintaining timely delivery of commodities, the country is implementing a variety of digital systems. These are the trends prevalent in the ITS market.
Growth Drivers
The growth of the intelligent transportation system (ITS) market is driven by various factors that contribute to its success. These include the government's increasing efforts to enhance road and public safety, the growing need to reduce traffic congestion, initiatives taken by the government for efficient traffic management, parking management, and freight management. Additionally, the widespread adoption of environmentally friendly automotive technology and the rapid development of smart cities worldwide play significant roles in driving market growth.
The advancement in analytics, supported by emerging technologies such as artificial intelligence (AI) and machine learning (ML), will be crucial in driving the global ITS market during the projected period. Moreover, the rising demand for smart vehicles integrated with the latest telecommunications technology, as well as the enhanced safety and surveillance provided by modern cameras and License Plate Recognition (LPRs), will contribute to the development of the ITS market.
Furthermore, the increasing number of vehicles on the road, the lack of efficient traffic data management, and the aging infrastructure will further propel the growth of the ITS market. There is a strong momentum in the ITS market to protect the environment and minimize the carbon footprint by adhering to regulatory norms, which will drive market growth even further.
Challenges
The mounting need for interoperability and standardization, lack of infrastructure in emerging economies will pose a challenge in the growth of the intelligent transportation systems market.   The high cost of installation may further restrain the growth of the market.
Opportunities
The rising public-private partnerships, increasing demand for wireless application, development of driverless vehicles, and growth opportunities in developing economies will offer significant opportunities in the intelligent transportation systems (ITS) market. The rising demand for Vehicle to Infrastructure (V2I) and Vehicle to Vehicle (V2V) communication will enhance road safety, thereby creating opportunities in the ITS market.
Geographic Overview
North America dominates the intelligent transportation system market due to the rising investment in ITS solutions by the public and private sectors. Moreover, the presence of well-established players providing ITS solutions, the development and implementation of developed technologies like ML, big data, cloud computing, IoT, and R&D activities will fuel the growth in the region.
 Asia-Pacific is anticipated to have fast growth during the forecast period due to increased investments to develop infrastructure facilities for ITS in the region. Moreover, the increasing concern regarding traffic congestion, continued expansion of transportation networks, rising number of megacities, will propel the growth in the region.
Competitive Insight
The industry players in the intelligent transportation system market are putting emphasis on the quality of transport services and providing clean, smart safe, sustainable, and intelligent transportation systems. The market players are launching differentiated solutions and concentrating on the advent of 5G to provide solutions that provide real-time information instantaneously with zero delays, thus aiming to strengthen their position in the ITS market. Agreements, collaborations, partnerships, and other techniques are being used by industry players to get a competitive advantage in the market.
In March 2021, THALES introduces new digital rail solutions i.e., Smart Mobility Experience to enhance operations efficiency and passenger experience for greener mobility by reducing up to 15% CO2 emissions from metro and stations. Thales' new digital age Metro signaling system SelTrac TM G8 offers seamless upgrade capabilities and is "autonomy ready". Thales is developing eco-responsible Artificial Intelligence (AI) based systems i.e., Distributed Intelligent Video Analytics-DIVA, to help operators monitor social distancing and reduce the density of passengers in stations and on-board trains.
In January 2021, Cubic Corporation announced that Omaha Metro Transit has granted its Cubic Transportation Systems (CTS) business division a multi-year contract to supply its Umo Pass system. Umo Pass will allow riders of Omaha Metro Transit to plan and pay for their trips using a single ticket payment system.
Siemens has the skills and experience to provide entire end-to-end intelligent transportation solutions to the providers. Siemens has created a variety of communication solutions and technologies that are specifically designed to support ITS applications and provide operators with the tools they need to keep their systems operating.
Cubic Transportation Systems has attempted to reinvent and modernize the transportation business. In the transportation market, they are one of the major integrators of payment and information solutions, as well as related services for intelligent travel applications. Cubic provides integrated transportation and traffic management systems that allow transportation authorities and agencies to manage demand across the entire transportation network in real-time while still allowing travelers to choose the most efficient and convenient mode of transportation and payment.
Some of the key players in the intelligent transportation system market include Thales Group, Siemens, IBM Corporation, Cubic Corporation, DENSO CORPORATION, Kapsch TrafficCom AG, Conduent Business Services, LLC., Xerox Corporation, TomTom International BV., and Sensys Networks, Inc.
The Intelligent Transportation System Market report offers a comprehensive market segmentation analysis along with an estimation for the forecast period 2023–2030
Segments Covered in the Report
By Offerings

Hardware
Software
Services

By System 

Advanced Traveler Information System (ATIS)
Advanced Public Transportation System (APTS)
Advanced Traffic Management System (ATMS)
Advanced Transportation Pricing System (ATPS
Commercial Vehicle Operation System (CVO)
ITS-Enabled Transportation Pricing System

By Application - Roadways 

Intelligent Traffic Control
Collision Avoidance
Parking Management
Passenger Information Management
Ticketing Management
Emergency Vehicle Notification
Automotive Telematics
Fleet Management and Asset Monitoring

By Application - Railways 

Rail-Running Operation and Collision Avoidance
Smart Ticketing
Security and Surveillance
Passenger Information Management
Emergency Notification
Others

By Application- Aviation 

Security & Surveillance
Shuttle Bus Tracking
Traveler Information Management
Smart Ticketing
Aircraft Management
Emergency Notification
Others

By Application - Maritime 

Freight Arrival & Transit
Real-time Weather Information Tracking
Container Movement Scheduling
Emergency Notification
Others
Region Covered in the Report
North America
Europe

Germany
U.K.
France
Italy
Spain
Russia
Rest of Europe

Asia-Pacific (APAC)

China
Japan
India
South Korea
Rest of Asia-Pacific

Rest of the World (RoW)

Brazil
Saudi Arabia
South Africa
U.A.E.
Other Countries