Industry Overview
The global machine conditioning monitoring market is anticipated to witness growth from USD 2.4 billion in 2021 to USD 3.9 billion by 2027, registering a CAGR of 7.2% during the forecast period 2021-2027. The technique of evaluating and analyzing a machine's state in order to predict mechanical wear and failure is known as machine condition monitoring. Wireless communication in heating, ventilation, and air conditioning (HVAC) is expected to grow dramatically as the world's population continues to grow. This is predicted to increase the requirement to monitor the health of related equipment in order to ensure the smooth operation of the entire system, boosting the machine condition monitoring market's growth. The business needs to be well-maintained and should have reliable equipment so that they can position themselves for the surge in demand for goods and services. Thus, using predictive maintenance will help them to recover and earn profits. Thus, the mounting digitalization, substantial growth in several industry verticals such as oil and gas, defense, manufacturing, automotive, aerospace, food & beverage, and marine industries will propel the growth of the machine condition monitoring market.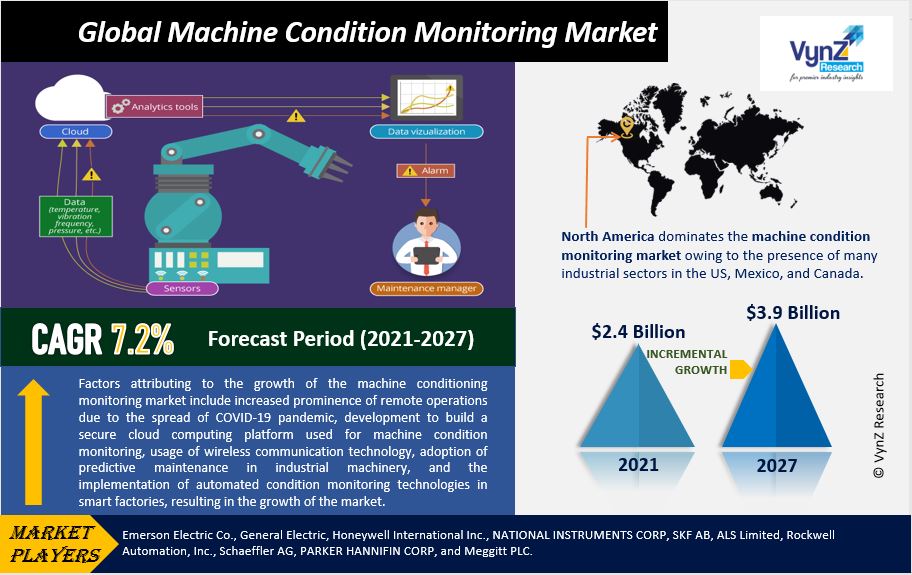 The COVID-19 pandemic has moderately impacted the machine condition monitoring market owing to disruption in the supply chain and restriction on the adoption of hardware components like sensors and detectors in various applications. Not all semiconductor companies, on the other hand, are seeing a slowdown in growth, since remote monitoring of production processes has allowed them to continue working even during lockdowns. The market for condition monitoring systems and solutions is expected to grow in the next years, with the market recovering during that time.
Market Segmentation
Insight by Offering
Based on offering, the global machine condition monitoring market is bifurcated into hardware and software. Hardware is further divided into Vibration Sensors (accelerometers, proximity probes, and tachometers), infrared sensors (thermal infrared sensors and quantum infrared sensors), spectrometers (infrared spectrometers, ultraviolet spectrometers, atomic spectrometers, and mass spectrometers), ultrasound detectors (sound pressure meters, stethoscopes, and ultrasonic leak detectors), spectrum analyzers (swept spectrum analyzers and real-time spectrum analyzers), corrosion probes, and others. software is further divided into data integration, diagnostic reporting, order tracking analysis, and parameter calculation. The hardware segment dominates the market owing to the rising demand for hardware parts like vibration sensors and analyzers, ultrasound detectors, corrosion probes, spectrum analyzers, etc. that play an important role in condition monitoring systems and provide information related to machine conditions in advance. This information can be used to drive maintenance programs for machine and prevents expensive downtime.
Insight by Monitoring Techniques
Based on monitoring techniques, the global machine condition monitoring market is segregated into vibration monitoring, thermography, oil analysis, corrosion monitoring, ultrasound emission, and motor current analysis. Thermography dominates the market as it is extensively deployed in several industry verticals like military, medical, electrical, or mechanical engineering, process monitoring, energy evaluations, etc.
Insight by Deployment Type
Based on deployment type, the global machine condition monitoring market is bifurcated into on-premises and cloud. The cloud-based monitoring segment is anticipated to have substantial growth as it offers 24/7 service, enhances scalability and speed, and improves IT security. Also, the increased adoption of software as a service (SaaS) application by enterprises will propel the growth of the market.
Insight by Monitoring Process
Based on the monitoring process, the global machine condition monitoring market is bifurcated into online condition monitoring and portable condition monitoring. Online condition monitoring contributes the largest share in the market as it provides real-time plant data to operators and works in industries where 24-hour production is needed.
Insight by Industry
Based on industry, the global machine condition monitoring is segmented into oil & gas, power generation, metals & mining, chemicals, automotive, aerospace & defense, food & beverages, marine, and others. Oil & gas is anticipated to hold the largest share in the market owing to the variation in prices, there is a need to minimize operational costs and reduce the possibility of machine downtime in oil & gas plants. There is a need to implement condition monitoring systems and solutions in order to keep critical assets operating efficiently and prevent downtime. Furthermore, the growing need for online condition monitoring solutions is likely to propel the machine condition monitoring market in the oil and gas industry even further.
Machine Condition Monitoring Market Report Coverage
| | |
| --- | --- |
| Report Metric | Details |
| Historical Period | 2015–2020 |
| Base Year Considered | 2021 |
| Forecast Period | 2021-2027 |
| Market Size in 2021 | $2.4 Billion |
| Revenue Forecast in 2027 | $3.9 Billion |
| Growth Rate | CAGR 7.2% |
| Segments Covered in the Report | By Offering, By Monitoring Techniques, By Deployment Type, By Monitoring Process, and By Industry |
| Report Scope | Market Trends, Drivers, and Restraints; Revenue Estimation and Forecast; Segmentation Analysis; Impact of COVID-19; Companies' Strategic Developments; Market Share Analysis of Key Players; Company Profiling |
| Regions Covered in the Report | North America, Europe, Asia-Pacific, Middle East, and Rest of the World |
Industry Dynamics
Industry Trends
Machine condition monitoring market expansion would be fueled by the adoption of machine learning, big data analytics, and a parallel processing framework. Because of its ability to process large amounts of data, big data analytics has boosted the analysis of data supplied by condition monitoring systems. Machine learning enables simple machine performance benchmarking, data transparency, and efficient collaboration among multiple condition monitoring system operations. Companies can minimize their overall cost of ownership of assets and run their businesses more efficiently with big data-enabled condition monitoring. These trends will anticipate propelling the machine condition monitoring market.
Growth Drivers
Factors attributing to the growth of the machine conditioning monitoring market include increased prominence of remote operations due to the spread of COVID-19 pandemic, development to build a secure cloud computing platform used for machine condition monitoring, usage of wireless communication technology, adoption of predictive maintenance in industrial machinery, and the implementation of automated condition monitoring technologies in smart factories, resulting in the growth of the market. The machine condition monitoring market is growing owing to the growth of vibration monitoring systems, which are used to measure oscillations of components such belts, gears, bearings, drive motors, and other elements are growing along with the development of infrastructure. Also, machine condition monitoring provides several advantages which include ensuring safety, reducing maintenance cost, increasing operational efficiency, growing machine reliability and availability, and eliminating the chances of failure, thus increasing the machine's life span.
Challenges
The challenges faced by industry players include increased short-term investment required, lack of skilled resources for data analysis, mounting reliability issues about predicting the capabilities of machine condition monitoring technology, accessibility of automated and clod solutions for machine condition monitoring in remote areas is tough, and equipment required for condition monitoring is expensive. Furthermore, depending on the environment, condition monitoring sensors may not survive, therefore machine maintenance times are uncertain. This factor is posing a threat to the market's expansion.
Opportunities
Within the projected period, technological advancements such as low-cost improved machine condition monitoring systems, process, and rapid processing functionalities are expected to generate new opportunities for market growth.
Geographic Overview
North America dominates the machine condition monitoring market owing to the presence of many industrial sectors in the US, Mexico, and Canada. Furthermore, the US has well-established and emerging machine condition monitoring solution providers, stringent quality control in the chemicals, oil & gas, food & beverage industry will accelerate the growth in the region. However, because monitoring hardware has a longer lifespan, demand for it is confined to new manufacturing operations. This is likely to slow the region's machine condition monitoring market's year-on-year growth.
Competitive Insight
The industry players are entering into organic and inorganic strategies like a product launch, R&D activities, acquisitions to sustain themselves in the machine condition monitoring market.  The manufacturers are increasing their productivity with high efficiency and are emphasizing evaluating the health and operability of each asset.
Emerson's condition monitoring systems are tailored to the application and criticality of machines, provide reliable data for accurate machinery diagnosis. The condition monitoring solution offered includes Route-Based Vibration Analyzers, Wireless IIoT Solutions, Online Condition Monitoring, Integrated Condition Monitoring for Power and Water Applications, Machinery Protection with Embedded Prediction, and Machinery Health for Power Industry.
As part of a digital transformation, Industrial Internet of Things (IoT), or Industry 4.0 program, NI technology for machine health monitoring helps plant engineers connect data from critical equipment to subject matter experts for machine vibration analysis and connects that same data to IT systems. As one rolls out modern predictive maintenance and process optimization initiatives, NI asset condition monitoring systems are open, flexible, and help adapt to plant-specific needs.
In February 2021, SKF has expanded its tachometer line, which can aid industrial organizations in optimizing condition monitoring in their operations.  Three new devices have been added to SKF's basic condition monitoring equipment lineup, including an all-mechanical variant. The handheld gadgets track variables like rotational and linear speed to assist maintenance personnel in detecting mechanical issues in rotating machinery.
In October 2021, Honeywell has announced the availability of two new Bluetooth-connected gas detectors that can provide continuous monitoring for dangerous gases in fog, rain, snow, and other weather conditions, ensuring the safety of workers and industrial sites in the oil and gas, petrochemical, chemical, and other industries. The new Honeywell Searchline ExcelTM Plus and Searchline ExcelTM Edge are the latest generations of open path gas detectors that use sophisticated optics and high-powered infrared technology to stay online in low-visibility weather and at greater distances than before. The new gas detectors also include Bluetooth connectivity, which allows plant employees to perform device maintenance and calibration more quickly and easily.
Some of the major players operating in the machine condition monitoring market include Emerson Electric Co., General Electric, Honeywell International Inc., NATIONAL INSTRUMENTS CORP, SKF AB, ALS Limited, Rockwell Automation, Inc., Schaeffler AG, PARKER HANNIFIN CORP, and Meggitt PLC.

Region Covered in the Report
•    North America
- U.S.
- Canada
- Mexico
•    Europe
- Germany
- U.K.
- France
- Italy
- Spain
- Russia
- Rest of Europe
•    Asia-Pacific (APAC)
- China
- Japan
- India
- South Korea
- Rest of Asia-Pacific
•    Rest of the World (RoW)
- Brazil
- Saudi Arabia
- South Africa
- U.A.E.
- Other Countries