Industry Overview
The global building automation system market size is expected to grow from USD 80.6 billion in 2021 to USD 155.5 billion by 2030, registering a CAGR of 12% during the forecast period 2022-2030. Building automation is a simple technique to control and manage systems that are installed in buildings which include fire and life safety alarms, security and access controls, and facility management systems. It is generally used in large projects with complex mechanical, HVAC, and electrical systems. It provides disaster management tools and services and aids in the prevention of accidents such as fires. Thus, improves comfort level of occupants, manages operations of building efficiently, and decrease energy consumption in buildings. The market is being propelled forward by rising demand for energy-efficient buildings, reducing greenhouse gas emissions and thermal pollution, reduced operating costs, improved indoor air quality, and managed home automation services, as well as developments in communications, sensors, analytics, and touch-screen technology.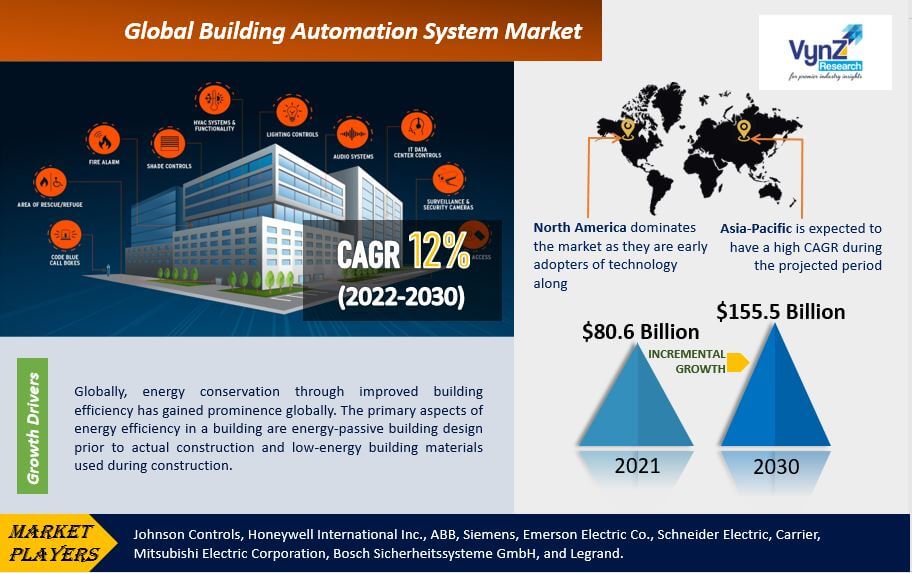 Industry Trends
The integration of IoT and building automation has also enabled the exchange of information between various electronic devices and the cloud, thereby making buildings smart without the need for direct human intervention. The implementation of AI Technology has prompted businesses to use AI to improve their video surveillance systems. Their products may now provide more security and safety. Thus, over the course of the forecast period, this is anticipated to fuel market expansion.
The COVID-19 pandemic has reduced the sales of building automation systems owing to lockdown restrictions. Nevertheless, the industry is anticipated to maintain its pre-pandemic position owing to aggressive vaccination programs around the globe.
Market Segmentation
Insight by Product Type
Hardware
Software
Services
The software segment is anticipated to have a high CAGR during the forecast period. The most crucial component of a building automation system is the software, as the hardware can only work with the assistance of the software that has been installed in it. The building automation system's dependence on software is what is expected to boost the segment market growth throughout the projected time.
Insight by System Type
Security & Surveillance
HVAC
Lighting Solutions
BEMS (Building Energy Management)
Security and surveillance systems are expected to have the largest share in the building automation system market. The importance of sensor-based security alarm systems, which allow users to remotely access, monitor, and manage operations in households and commercial buildings, can be contributed to the segment's growth.  Moreover, with the advent of IoT, activities may be monitored through technologies like tablets, smartphones, and wearables. These systems are not only convenient but also extremely sensitive to foreign activity and quick to inform users and local authorities in cases of theft and fraud.
Insight by Offerings
Facility Management Systems
Security & Access Controls
Fire Protection Systems
BEM Software
BAS Services
Facility Management Systems is anticipated to have a high CAGR during the forecast period. The increased demand for facility management services in construction, hospitality, and tourism owing to government support and need to develop smart cities and smart buildings will drive the segment growth. The rapid urbanization, economic and infrastructural development in metropolitan cities, and development of SEZs and, mega food parks will accelerate the growth of facility management systems, thereby driving the market growth of building automation systems.
Insight by Communication Technology
Wired Technology
Wireless Technology
Wireless technology is anticipated to have faster growth in the global building automation systems during the forecast period as they are easy to install and use. Moreover, it offers more flexibility and control, thereby remotely operating these systems. 
Insight by Application
Commercial
Residential
Industrial
Commercial application dominates the building automation systems market during the forecast period. Commercial buildings include shopping malls, hospitals, warehouses, restaurants, schools, universities, retail stores, warehouses, corporate offices, etc. where energy can be saved by regulating building's heating and cooling, lighting, appliances, etc., thereby maximizing energy efficiency and worker productivity by adopting building automation systems. The increased deployment of building automation systems for security purposes like monitoring and collecting evidence of movement and tracking details will augment the market growth of BAS in the commercial sector.
It is projected that commercial buildings would extensively adopt building automation systems than residential buildings. It is projected that a key driver would be the rising use of smart building technology as a result of the increased need to reduce unnecessary costs in the commercial building sector.
Building Automation System Market Report Coverage
| | |
| --- | --- |
| Report Metric | Details |
| Historical Period | 2018–2021 |
| Base Year Considered | 2021 |
| Forecast Period | 2022-2030 |
| Market Size in 2021 | $80.6 Billion |
| Revenue Forecast in 2030 | $155.5 Billion |
| Growth Rate | CAGR 12% |
| Segments Covered in the Report | By Product Type, By System Type, By Offerings,  By Communication Technology, and By Application |
| Report Scope | Market Trends, Drivers, and Restraints; Revenue Estimation and Forecast; Segmentation Analysis; Impact of COVID-19; Companies' Strategic Developments; Market Share Analysis of Key Players; Company Profiling |
| Regions Covered in the Report | North America, Europe, Asia-Pacific, Middle East, and Rest of the World |
Industry Dynamics
Growth Drivers
Surging Requirement of Energy-Efficient Facilities with Improved Security Systems Will Drive Growth
Globally, energy conservation through improved building efficiency has gained prominence globally. The primary aspects of energy efficiency in a building are energy-passive building design prior to actual construction and low-energy building materials used during construction. The use of efficient equipment with minimal operational energy requirements and the incorporation of renewable energy technology are the two main focuses of green building construction. Energy consumption in buildings and infrastructure has risen significantly, suggesting the need to develop alternatives to save energy and sustainably operate buildings. Thus, energy efficiency can be achieved with insulation, improved building techniques, modified construction methods for buildings, and raising the demand for sustainable automation systems.
Smart buildings are interconnected; therefore, it is possible to combine improved security systems to give their occupants the best level of protection and security. Building managers can integrate theft, intrusion, and fire alarm systems that adhere to local and national safety regulations.
Moreover, with the rising demand for smart buildings in developed and developing economies, continuous monitoring and evaluation of asset lifecycle and repair and replacement of individual components can be achieved by adopting building automation systems.
Furthermore, building automation systems are easier and less costly to implement in existing structures because of improvements in wireless connection technologies.
Challenges
Increased Cost to Implement Building Automation Systems may Stymie Market Growth
The increased installation and maintenance costs along with the software required to operate building automation systems are costly. As a result, SMEs and startups are not able to afford to build automation system software. Thus, the cost factor may restrain the market growth.
Furthermore, technical difficulties in deploying building automation systems and the complexity of software may hamper the market growth of the building automation systems.
There is a significant demand in the market for communication protocol standardization and interoperability across various building installations, such as chillers, ventilation units, and heating systems. It is anticipated that firms that restrict their functions to energy and HVAC management may eventually experience very challenging growth and experience service commoditization.
Opportunities
The increased need for security and access controls along with an upsurge in the significance of predictive analysis to optimize (heating, ventilation, and air conditioning) control systems in buildings is expected to create market opportunities in the global building automation system market.
There are many opportunities for automation in small-to-medium-sized structures and buildings in the world's developing regions, particularly in the APAC region, where the number of homes has increased exponentially over the previous two decades. According to the UN, Asia's urbanization rate will reach 64.1% by 2050, creating more prospects for the building and construction sector.
Geographic Overview
North America
Europe
Asia Pacific (APAC)
Rest of the World (RoW)
North America dominates the market as they are early adopters of technology along with well-established infrastructure that can adopt building automation solutions in the commercial and residential sectors.  Furthermore, rising investment in smart building measures such as LEED program that includes building controls and building systems integration, federal policies about increased energy costs, strict regulations about greenhouse gas emissions, and rising awareness about automation benefits will propel the growth in the region.
Asia-Pacific is expected to have a high CAGR during the projected period owing to the mounting number of commercial applications, increased need for integrated security systems, and increased development of retail estate and smart buildings in developing economies like India
Competitive Insight
There are numerous companies in the extremely fragmented building automation market. By launching new products, technologies, and systems to simplify developed automation metrics along with expanding their business, or engaging in strategic mergers and acquisitions, thus, companies are enhancing their market position..
Building automation systems from Johnson Controls are the cornerstones of modern building energy management efficiency. Commercial HVAC, lighting, security, and protection systems are all linked to intelligent, world-class technology systems. This allows them to communicate on a single platform to deliver the necessary information, allowing them to make smarter, more informed decisions while improving occupant comfort, safety, and productivity. Their product portfolio include Metasys, Facility Explorer, Easy IO, BCPro, Verasys.
ABB's Building Automation System (BAS) includes cutting-edge technology that integrates, disseminates, and visualizes data from the entire building, including heating and cooling systems, ventilation and air conditioning systems, lighting, sun-shading systems, and fire protection and security systems. To increase value for all building stakeholders, parallel building systems for property and asset management are integrated. Their Newron Solution is at the heart of the ABB BAS. Building assets are secured for future longevity and efficiency with Newron. Its openness and flexibility make it ideal as a central and scalable building automation system for all types and sizes of buildings.
Recent Development by Key Players
In June 2022, a new version of Metasys, the company's market-leading Building Automation System (BAS), which serves as the cornerstone for completely optimised building management, has been released by Johnson Controls, the world leader for smart, healthy, and sustainable buildings. For optimal operator efficiency, HVAC and non-HVAC systems are integrated into one platform by Metasys' intuitive design. The Metasys 12.0 release is intended to maintain the most recent networking and IT security requirements, enable quick field troubleshooting, and cut down on installation time and expense. Additionally, it offers older Metasys software users a sizable opportunity to upgrade their systems.
In May 2021, A new Life Sciences version of the i-Vu® building automation system (BAS) has been made available by Carrier. In accordance with the Food and Drug Administration (FDA) regulation 21 CFR Part 11, the environmental control system i-Vu® for Life Sciences gives makers of pharmaceuticals, biotech, and medical devices the tools, reports, and insights to manage their critical environments.
Key Players Covered in the Report
Some of the prominent players in the global building automation systems include Johnson Controls, Honeywell International Inc., ABB, Siemens, Emerson Electric Co., Schneider Electric, Carrier, Mitsubishi Electric Corporation, Bosch Sicherheitssysteme GmbH, and Legrand.
The Building Automation System Market research includes a comprehensive market segmentation analysis as well as projections for the analysis period 2022-2028.
Segments Covered in the Report
By Product Type

Hardware
Software
Services

By System Type

Security & Surveillance
HVAC
Lighting Solutions
BEMS (Building Energy Management)

By Offerings

Facility Management Systems
Security & Access Controls
Fire Protection Systems
BEM Software
BAS Services

By Communication Technology

Wired Technology
Wireless Technology

By Application

Commercial
Residential
Industrial
Region Covered in the Report
North America
Europe

Germany
U.K.
France
Italy
Spain
Russia
Rest of Europe

Asia-Pacific (APAC)

China
Japan
India
South Korea
Rest of Asia-Pacific

Rest of the World (RoW)

Brazil
Saudi Arabia
South Africa
U.A.E.
Other Countries

To explore more about this report - Request a free sample copy