Industry Overview
The global magnetic field sensor market is expected to witness substantial growth over the forecast period 2023-2030, with an estimated increase from USD 5.1 billion in 2022 to USD 8.4 billion by 2030. This represents a notable compound annual growth rate (CAGR) of 7.9%. Magnetic field sensors, which are compact microelectromechanical systems (MEMS) devices, play a crucial role in detecting and measuring the strength, direction, size, and location of external magnetic fields. They find wide-ranging applications in scientific research, navigation systems, and various industries.
The expanding utilization of magnetic field sensors across sectors such as homeland security, consumer electronics, healthcare, military, and defense will be a significant driver for market growth. These sensors offer exceptional sensing performance, low power consumption, high-temperature operation, and durability, contributing to their increasing adoption. Furthermore, advancements in technology and the growing incorporation of magnetic field sensors in electric vehicles are expected to create new opportunities for market expansion throughout the forecast period.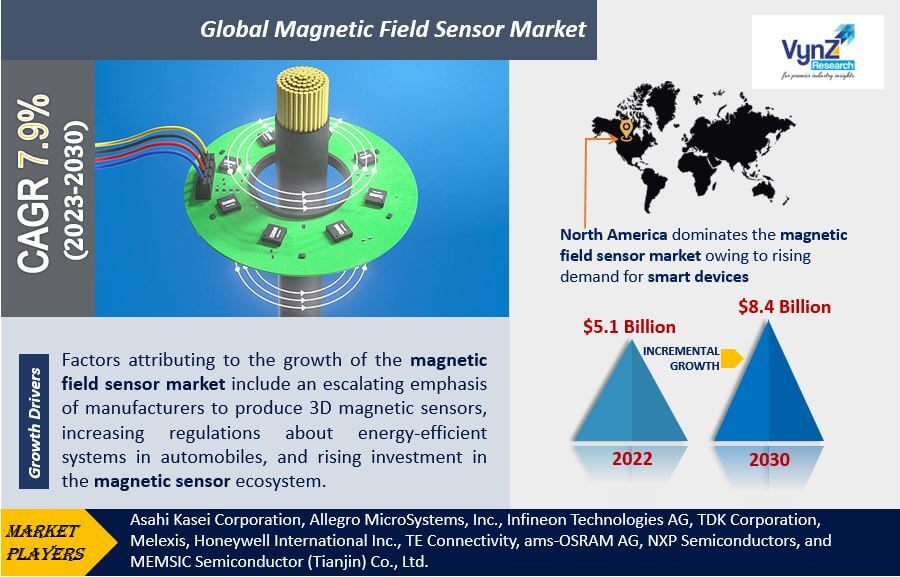 The COVID-19 outbreak has impacted various end-user verticals like automotive, consumer electronics owing to the shutdown of manufacturing facilities during the first quarter of 2020. There was a disruption in the supply chain, lack of raw material, barriers to international trade. However, the mounting trend for remote work culture has led to the adoption of laptops, smartphones, tablets that highly integrates magnetic sensors, creating opportunities for growth in the magnetic field sensor market.
Market Segmentation
Insight by Type
Based on type, the global magnetic field sensor market is divided into hall effect sensors, magnetoresistive sensors, squid sensors, fluxgate sensors, and others. The magnetoresistive sensors are further divided into anisotropic magnetoresistive (AMR) sensors, giant magnetoresistive (GMR) sensors, and tunnel magnetoresistive (TMR) sensors. The squid sensors are further divided into high-temperature squid and low-temperature squid. The hall effect sensors contribute to the largest share in the magnetic field sensor market owing to the increased adoption of hall effect sensors in the automotive and consumer electronics industries. In the automotive industry, they are adopted in ADAS and hybrid and electric vehicles for position and speed measurement. The magnetoresistive sensor is anticipated to have a high CAGR during the forecast period as the cost is reduced gradually will propel the growth of these sensors in several applications. When compared to Hall effect sensors, magnetoresistive sensors have a wider operating range and provide characteristics and functions such as inherently low hysteresis, low power consumption, and excellent linearity for enhanced measurement accuracy.
Insight by Application
Based on application, the global magnetic field sensor market is segmented into speed sensing, proximity detection/non-destructive testing (NDT), position sensing, navigation and electronic compass, flow rate sensing, and others. The speed sensing segment is anticipated to have a high CAGR during the forecast period 2023-2030 owing to the increased demand for precise, compact size, simple design, reliable, and pocket-friendly magnetic speed sensors in the automotive industry. Over the forecast period, the detection/ NDT category is expected to expand at the fastest rate. NDT is mostly deployed in manufacturing buildings and industrial machinery to check defects and structural integrity. Government restrictions, industrial automation, and robotics are just a few of the important reasons propelling the NDT market forward.
Insight by Range
Based on range, the global magnetic field sensors are segregated into less than 1 Microgauss (low-field sensors),1 Microgauss–10 Gauss (earth field sensors), and more than 10 Gauss (bias magnetic sensors). The more than 10 Gauss segment is anticipated to have a high CAGR during the forecast period owing to the rising demand in the automotive industry for driverless cars and green vehicles. Packaging equipment, automation equipment, conveyors, and other applications including motor latches also use bias magnetic sensors in the infrastructural and industrial segments.
Insight by End-User
Based on end-user, the global magnetic field sensor market is categorized into automotive, aerospace & defense, industrial, consumer electronics, healthcare, and banking, financial services, and insurance (BFSI). The automotive segment is anticipated to be the largest segment during the forecast period owing to the rising need to integrate safety functions in vehicles and the need to improve communication. Magnetic field sensors are widely utilized in a wide range of safety systems, including Electronic Stability Control (ESC) and Anti-Lock Braking Systems (ABS), as well as force and torque detection and steering angle sensing. Electronic compasses, also known as E-compasses, are becoming more popular as a result of their capacity to improve user navigation, which is likely to drive market expansion. Also, magnetic sensors are in high demand due to increased demand for electric and hybrid vehicles, as well as the use of more advanced and accurate navigation systems. The increased demand for consumer electronics due to smartphone proliferation will exhibit the fastest growth in the magnetic field sensor market.
Magnetic Field Sensor Market Report Coverage
| | |
| --- | --- |
| Report Metric | Details |
| Historical Period | 2018–2022 |
| Base Year Considered | 2022 |
| Forecast Period | 2023-2030 |
| Market Size in 2022 | $5.1 Billion |
| Revenue Forecast in 2030 | $8.4 Billion |
| Growth Rate | CAGR 7.9% |
| Segments Covered in the Report | By Type, By Application, By Range, and By End-User |
| Report Scope | Market Trends, Drivers, and Restraints; Revenue Estimation and Forecast; Segmentation Analysis; Impact of COVID-19; Companies' Strategic Developments; Market Share Analysis of Key Players; Company Profiling |
| Regions Covered in the Report | North America, Europe, Asia-Pacific, Middle East, and Rest of the World |
Industry Dynamics
Industry Trends
The rising demand for IIoT, production of consumer electronics, electric and hybrid vehicles, high-quality sensing devices, and increased adoption of robotics for factory automation due to Industry 4.0 are the key trends in the magnetic field sensor market. Industrial robots, collaborative robots, conveyor systems, and automated assemblies are all used in several industries like oil & gas, food & beverage manufacturing sectors, and they all require a magnetic sensor for the position, speed, and magnetic field sensing applications. The use of a magnetic sensor in conjunction with automated equipment improves object detection and position sensing, enhancing productivity and safety in a variety of industrial operations such as packing, material handling, and pick-and-place applications.
Growth Drivers
Several factors contribute to the growth of the magnetic field sensor market, including the increasing focus of manufacturers on producing 3D magnetic sensors, stricter regulations regarding energy-efficient systems in automobiles, and significant investments in the magnetic sensor ecosystem. The market is also driven by the development of wearable technologies due to a growing number of smartphone users and a rising demand for health-monitoring devices. Additionally, the extensive application of magnetic influx sensors, the penetration of MEMS technology, the adoption of magnetic field sensors in environmental monitoring systems and smart buildings, as well as emerging applications in consumer electronics and data centers, are major drivers of the global magnetic field sensor market.
Magnetic field sensors provide reliable and accurate information about the structural integrity of tunnels, bridges, and dams. They also offer valuable monitoring options by detecting and identifying structural problems before they become significant issues. Moreover, the increasing adoption of TMR magnetic sensor technology, its implementation in tracking and navigation systems used by transportation and delivery services, and the development of magnetic sensors for space applications will further propel the growth of the global magnetic field sensor market.
Challenges
The rising demand for low-cost magnetic field sensors, the impact of COVID-19 on the electronics industry, fall in the average selling price of semiconductors and sensors may challenge the growth of the market.
Opportunities
The mounting adoption of magnetic field sensors in medical applications, development of autonomous vehicles, increased manufacturing of electric and hybrid vehicles, and its increased potential in developing economies will create opportunities for growth in the magnetic field sensor market.
Geographic Overview
North America dominates the magnetic field sensor market owing to rising demand for smart devices, the increased demand to detect and provide the remedy of leaks of natural gas, and mounting emphasis to manufacture hybrid vehicles that have magnetic sensors so as to improve performance and offer vehicle and driver safety.
Competitive Insight
The industry players are focusing on continuous R&D activities, novel product launches to have a competitive edge in the magnetic field sensors market. Sensor fabricators and other industry participants should expect significant growth potential as a result of enhanced manufacturing practices and the implementation of TMR technology. The market has been described as being heavily reliant on technology.
Infineon XENSIV™ sensors are exceptionally precise and offer an innovative magnetic sensor portfolio for various customer applications in automotive, industrial, and consumer markets. They offer all magnetic sensor technologies with in-house production and customers can choose between Hall sensors, AMR (Anisotropic Magneto Resistive), GMR (Giant Magneto Resistive), or TMR (Tunnel Magneto Resistive) sensors so as to have the best solution for their application.
Temperature sensors, pressure sensors, angle sensors, and current sensors are all available from TDK under the trademarks TDK, EPCOS, InvenSense, Micronas, and Tronics. For intelligent power in electric vehicles and smart grids, precise current sensors are required. Many consumer electronic gadgets, including mobile, wearable, Smart Home, automotive, and industrial equipment, use motion-based devices to detect and track an object's motion in three-dimensional space. MEMS components, such as accelerometers and gyroscopes utilized in navigation, motion tracking, and motion control, as well as optical stabilization, are available from TDK for high-performance motion-sensing requirements.
TDK Corporation will add the Hall-sensors HAR 3900 and HAR 3930* to its Micronas 3D HAL sensor range in September 2021. The products provide stray-field adjusted position detection in automotive and industrial applications and also meet the requirements of ISO 26262.
Allegro MicroSystems, Inc., one of the pioneers in motion control and energy-efficient systems, announced the availability of the A31315 sensor, the newest member of the 3DMAG family of rotary and linear magnetic position sensor ICs for automotive and industrial applications, in May 2021. 3DMAG sensors combine Allegro's acclaimed planar and vertical Hall-effect technologies to monitor magnetic field components along three axes (X, Y, Z), allowing for full 3D sensing with a wide magnetic dynamic range without saturation.
Some of the industry players in the global magnetic field sensor market include Asahi Kasei Corporation, Allegro MicroSystems, Inc., Infineon Technologies AG, TDK Corporation, Melexis, Honeywell International Inc., TE Connectivity, ams-OSRAM AG, NXP Semiconductors, and MEMSIC Semiconductor (Tianjin) Co., Ltd.
The Magnetic Field Sensor Market report offers a comprehensive market segmentation analysis along with an estimation for the forecast period 2023–2030.
Segments Covered in the Report
By Type 

Hall Effect Sensors
Magnetoresistive Sensors

Anisotropic Magnetoresistive (AMR) Sensors
Giant Magnetoresistive (GMR) Sensors
Tunnel Magnetoresistive (TMR) Sensors

Squid Sensors

High-Temperature Squid
Low-Temperature Squid

 Fluxgate Sensors
Others

By Application 

Speed Sensing
Proximity Detection/Non-Destructive Testing (NDT)
Position Sensing
Navigation and Electronic Compass
Flow Rate Sensing
Others

By Range 

Low-Field Sensors
Earth Field Sensors
Bias Magnetic Sensors

By End-User 

Automotive
Aerospace & Defense
Industrial
Consumer Electronics
Healthcare
Banking, Financial Services, and Insurance (BFSI)
Region Covered in the Report
North America
Europe

Germany
U.K.
France
Italy
Spain
Russia
Rest of Europe

Asia-Pacific (APAC)

China
Japan
India
South Korea
Rest of Asia-Pacific

Rest of the World (RoW)

Brazil
Saudi Arabia
South Africa
U.A.E.
Other Countries