Industry Overview
The global servo and drives market is anticipated to grow from USD 13.5 billion in 2020 to USD 20.12 billion by 2027, and the market's growth momentum will accelerate at a CAGR of 6.1%. Servo motors and drives are the machinery for automated linear or rotary actuators that are used for precise position control in industrial machines such as conveyor belts, packaging machines, food processing units, semiconductors, and robots.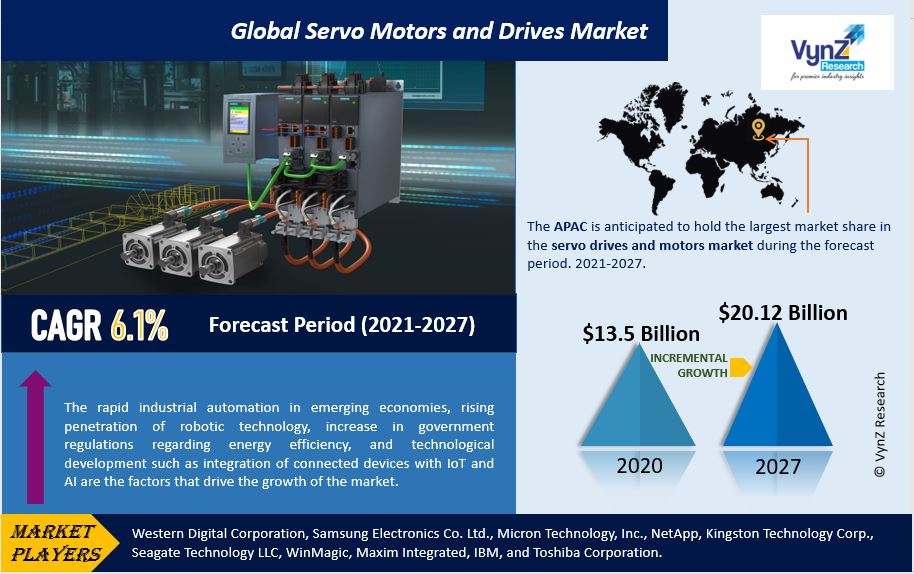 The factors driving the growth of the servo motors and drives market are the rapid industrial automation across various industries, increase in adoption of international standards for motor efficiency, advancement of user-friendly control libraries and packages for motors and drives, and increase in production of vehicles. Currently, many industries are shifting their focus on maintaining a high level of precision, reducing labor cost and production waste, and increase the production output, thus propelling the growth for servo motors and drives the market.
The COVID-19 outburst has disrupted the global supply chain and business operations. Due to complete lockdown, there were factory closures and factories have to operate with the minimum labor force.
Market Segmentation
Insight by Offering
Based on offering, the servo motors and drives market is segmented into hardware, software, and services. Among these segments, the hardware segment had the largest share in 2019 due to the widespread use of servo motor and drive components. The software and services segment is anticipated to have a high CAGR owing to servo software used for installation setup, networking, motion controlling, and other configuration requirements.
Insight by Product Type
Based on product type, the servo motors and drives market is categorized into servo motors and servo drives. Servo motors are sub-categorized into AC servo motor, DC brushless motor, brushed DC servo motor, and linear servo motor. Servo drives are further categorized into AC servo drive, DC servo drive, adjustable servo drives, and others. The servo motor holds the largest share in the market and will grow further during the forecast period, owing to its benefits of high torque per weight, efficiency, low-frequency noise, accuracy, speed, and are used in various applications across diverse end-use industries.
Insight by System
Based on the system, the servo motors and drives market is bifurcated into the linear system and rotary system. The rotary system dominates the market as it offers benefits such as high-resolution precision feedback, low energy consumption, high response, and high torque density, thus useful for applications in food processing, packaging, healthcare, and transportation industries.
Insight by Voltage
Based on voltage, the servo motors and drives market is divided into low voltage, medium voltage, and high voltage. The low voltage segment has witnessed the largest share due to its compatibility in mobile applications that requires high acceleration and braking processes, low noise, and high efficiency.
Insight by Brake Technology
Based on brake technology, the servo motors and drives market is categorized into spring, permanent magnet, and others. The permanent magnet is anticipated to have a high CAGR as they are small and have lightweight, resulting in low torque per size density. Thus, there is increased use of permanent magnet brakes in industries such as automotive & transportation, pharmaceuticals & healthcare, textile, and packaging has propelled their market growth. 
Insight by Communication Protocol
Based on communication protocol, the servo motors and drives market is segmented into Fieldbus, industrial ethernet, and wireless. The Fieldbus segment accounts for the largest share as it communicates through a single cable, thus providing high network speed such as INTERBUS, FOUNDATION Fieldbus, PROFIBUS, MODBUS, CC-Link, DeviceNet, and CANopen.
Insight by Material Construction
Based on the material construction, the servo motors and drives market is divided into stainless steel and non-stainless steel. Non-stainless steel such as carbon steel and aluminum dominate the market as they can withstand dust, high-pressure washdown water jets, and corrosion prevention.
Insight by End-User Industry
Based on the end-user industry, the servo motors and drives market is segmented into automotive and transportation, semiconductor and electronics, food processing, textiles, pharmaceuticals & healthcare, packaging, printing & paper, oil & gas, and chemicals & petrochemicals, and others. Among these segments, the automotive segment will witness the largest market share as servo motors and drives are used in various applications in the field of fuel injection systems, ABS, cruise control systems, and pedal systems to control vehicle speed.
Industry Dynamics
Industry Trends
The growing trend of industry 4.0 has led market players to replace conventional motors with servo motors and drives in order to streamline their operations and improve production. The automation industry is growing by leaps and bounds, thus there is extensive use of applications for advanced instruments and machines.
Growth Drivers
The rapid industrial automation in emerging economies, rising penetration of robotic technology, increase in government regulations regarding energy efficiency, and technological development such as integration of connected devices with IoT and AI are the factors that drive the growth of the market. Manufacturers are taking servo motors as integrated part as it offers low maintenance and durability, thus propelling the growth of the servo motors and drives market.
Challenges
The lack of a skilled workforce, high cost involved in the part of servo motors and drives, presence of substitute products, and initial investment in the use of servo technology are the challenges faced by the servo motors and drives market.
Opportunities
The entry of collaborative robots in the automotive assembly line for various applications is set to create lucrative opportunities for the servo motor and drives the market.  Features such as higher torque, lightweight, increased speed, and reduced size is unfolding new market opportunities for the servo motors and drive the market globally.
Geographic Overview
Geographically, due to rapid industrialization and globalization, The APAC is anticipated to hold the largest market share in the servo drives and motors market during the forecast period. 2021-2027. Furthermore, due to the high population, there is an increase in demand for automotive vehicles, appliances, consumer electronics, including smartphones, home appliances, smart home devices, and wearable devices, resulting in further driving the demand for servo motors and drives in the region.
Competitive Insight
The market for servo motors and drives is anticipated to be highly competitive and the players are focus on new product development, partnerships, and mergers and acquisitions in order to expand their consumer base. The industry players are collaborating with end-use industries to secure the sales of servo motors. Thud, their focus is to attain a competitive edge and have the liberty to customize products as per their client's demand.
Rockwell Automation released fanless Kinetix VPC servo motors. The new servo motors offer better performance and higher energy efficiencies than the older version of the VPC continuous duty servo motor and achieve IE5 energy-efficiency ratings. The new products reduce torque ripple and find use in high-quality printing, tensioning, and other application-specific tasks.
Some of the key players operating in the Servo motors and drives market: YASKAWA ELECTRIC CORPORATION, Siemens AG, Mitsubishi Electric Corporation, Schneider Electric, Rockwell Automation, Inc., ABB, NIDEC CORPORATION, Delta Electronics, Inc., FANUC CORPORATION, and Bosch Rexroth AG.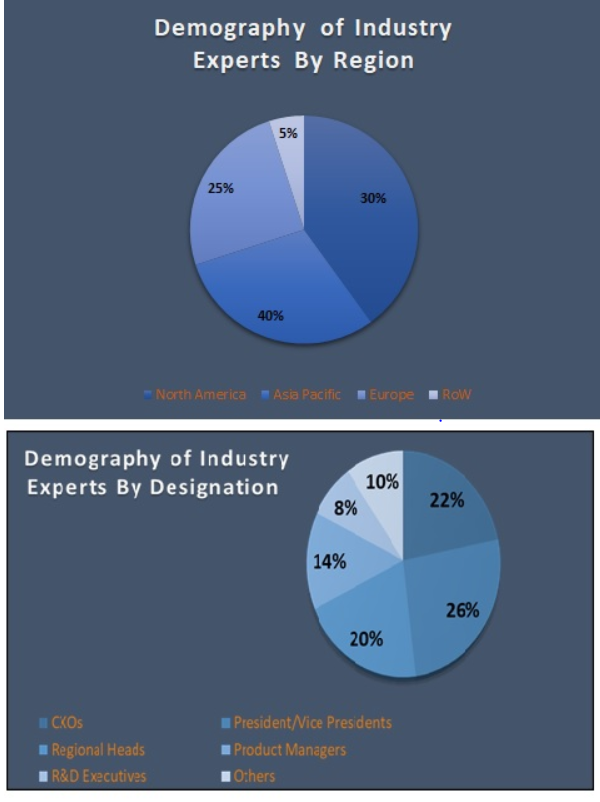 Source-Vynz Research