Industry Overview
The microgrid market is expected to experience substantial growth over the forecast period of 2023-2030, with a projected CAGR of 11.6%. Starting at USD 24.2 billion in 2022, the market is anticipated to reach USD 46.2 billion by 2030. Microgrids are smaller versions of power grids that transport electricity from source to consumers. They help to lower overall costs and provide grid backup in the event of an outage. Microgrids are more efficient than traditional electrical grids and can be integrated with a variety of renewable energy sources such as solar, wind, small hydro, geothermal, waste-to-energy, and combined heat and power (CHP) systems. Batteries, distributed generators, and solar panels can also be used to power them. Microgrids are also a reliable source of electricity because they operate continuously during power outages. Thus, the rising demand for reliable and secured power supply in industrial and commercial sectors globally along with initiatives by government to reduce carbon footprint will propel the growth of the global microgrid market.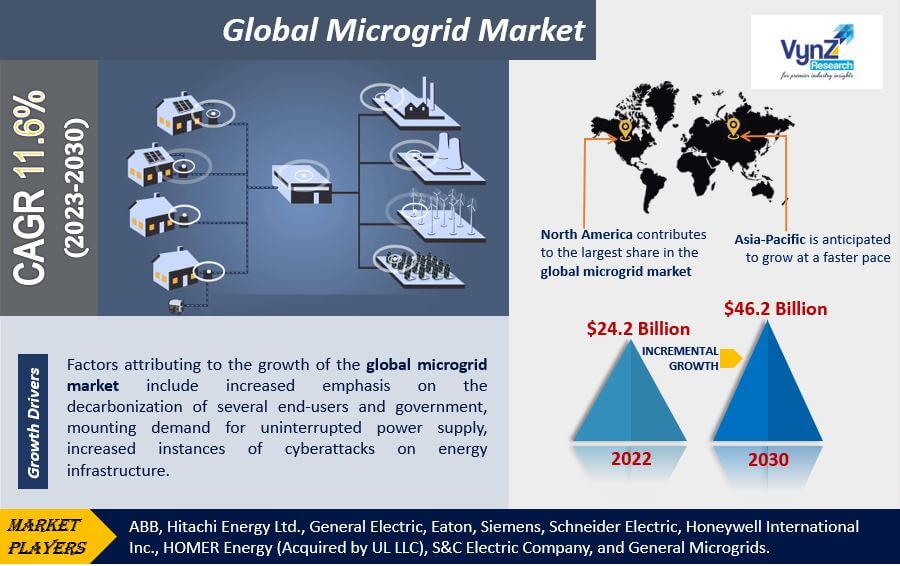 The COVID-19 outbreak has impacted the businesses of several microgrid hardware manufacturing companies, distributors, and suppliers owing to delay in shipments, and delay in projects and installation of microgrids, reduced domestic demand, thereby impacting the growth of the global microgrid market.
Market Segmentation
Insight by Offering
Based on offering, the global microgrid market is segmented into hardware, software, and services. The hardware segment contributes to the largest share in the market owing to the rising number of microgrid projects globally, reduced cost of energy storage and renewable sources of energy along with initiatives by government to use clean energy and reduce greenhouse gas emissions.
Insight by Type
Based on type, the global microgrid market is classified into AC microgrids, DC microgrids, and hybrid. The AC microgrid is anticipated to have a high CAGR during 2023-2030 as it offer less transmission loss, reduced heat generation, and efficient high-end voltage levels across network. Furthermore, the increasing deployment of high-voltage AC power networks, as well as large solar and wind farms connected to AC transmission lines, will impact the business environment.
Insight by Connectivity
Based on connectivity, the global microgrid market is bifurcated into grid connected and off-grid connected. The grid connected witness the largest share in the market owing to the increased adoption of utility-base grid networks worldwide along with large-scale harnessing of renewable sources of energy which includes offshore winds. The advantages offered by grid connected include grid resiliency, enhanced power quality, and less impact on environment.
Insight by Storage Device
Based on storage devices, the global microgrid market is segregated into Lithium-Ion, lead acid, flow batteries, and flywheels. Lithium-ion is anticipated to have a high CAGR during 2023-2030 owing to large-scale sustainable technology deployment, extensive R&D activities, technological development and manufacturer inclination to develop towards battery-powered systems will fuel the market growth.
Insight by Power
Based on power, the global microgrid market is segmented into combined heat & power (CHP), solar photovoltaic, natural gas, fuel cell, and diesel. The CHP dominate the market owing to increased adoption of sustainable source of power generation like hydro, solar and wind energy. The advantages offered by CHP include decreased emission levels, generate efficient and clean energy, and less cost.  Fuel cell is anticipated to grow at a faster pace owing to improved energy storage capabilities, zero-emission properties, and its ability to operate at high temperature will fuel the growth of the segment.
Insight by End Use
Based on end use, the global microgrid market is classified into utilities, commercial & industrial, institutes & campuses, military, remote, government, and healthcare. The commercial & industrial segment is anticipated to have a high CAGR during 2023-2030. The constant need for uninterrupted electrical supply to carry out seamless industrial operations to reduce downtime, boost worker productivity, and prevent equipment damages is responsible for the segment's growth. Increased government attempts to promote the use of renewable energy and reduce greenhouse gas (GHG) emissions are also propelling the commercial and industrial microgrid market forward.
Microgrid Market Report Coverage
| | |
| --- | --- |
| Report Metric | Details |
| Historical Period | 2018–2022 |
| Base Year Considered | 2022 |
| Forecast Period | 2023-2030 |
| Market Size in 2022 | $24.2 Billion |
| Revenue Forecast in 2030 | $46.2 Billion |
| Growth Rate | 11.6% |
| Segments Covered in the Report | By Offering, By Type, By Connectivity, By Storage Device, By Power, and By End Use |
| Report Scope | Market Trends, Drivers, and Restraints; Revenue Estimation and Forecast; Segmentation Analysis; Impact of COVID-19; Companies' Strategic Developments; Market Share Analysis of Key Players; Company Profiling |
| Regions Covered in the Report | North America, Europe, Asia-Pacific, Middle East, and Rest of the World |
Industry Dynamics
Industry Trends
The increased investment in solar energy projects increased adoption of Industry 4.0, and increased investment in equipment and machinery of the AEC (Architecture, Engineering, and Construction) are the trends prevalent in the global microgrid market.
Growth Drivers
The global microgrid market is experiencing significant growth due to several key factors that are driving its expansion. These factors include an increased focus on decarbonization by both end-users and governments, a growing demand for uninterrupted power supply, a rise in cyberattacks on energy infrastructure, government initiatives to promote microgrid development, and an increasing adoption of microgrids for rural electrification.
According to the US Energy Information Administration (EIA), global energy consumption is projected to increase by approximately 56% by 2040. This surge is primarily driven by industrialization and urbanization, leading to a rapid growth in energy consumption that cannot be fully met by traditional power grids. These gaps in energy supply present lucrative business opportunities for microgrid companies seeking to expand their power supply services. Microgrids offer the advantage of generating power locally, reducing reliance on long-distance transmission lines, and consequently minimizing transmission losses.
Furthermore, the advancement of smart cities, growing demand for the Internet of Things (IoT), grid modernization efforts, integration of distributed energy generation sources (including renewables), and the incorporation of various smart grid technologies are additional factors that will foster the growth of the global microgrid market.
Challenges
The massive capital cost and technical design issues may hamper the growth of the market because developers must maintain a symbiotic relationship between the main grid and the microgrid if the microgrid is connected to the grid. Microgrids are prone to instabilities in both oversupply and undersupply of electricity. An oversupply of electricity might cause a generator to trip, resulting in a microgrid losing power. Undersupply of electricity, on the other side, might cause equipment to malfunction. Also, the lack of a well-defined regulatory policy framework will retrain the growth of the market.
Opportunities
The opportunities offered to the players in the microgrid market include developing microgrid controllers, renewable energy storage systems, and smart microgrids for several end-use, and providing innovative microgrid hardware devices and software solutions along with giving emphasis on the integration of technology and data management. Furthermore, the microgrid market's main possibilities are innovation-oriented endeavors and funding feasibility studies in worldwide markets. Also, the increased demand for hard and reliable electrical equipment for military and aerospace industries will create promising opportunities for the growth of the global microgrid market.
Geographic Overview
North America contributes to the largest share in the global microgrid market owing to the rise in spending on R&D activities and early adopters of microgrid solutions in the region.
Asia-Pacific is anticipated to grow at a faster pace owing to the increased rate of electrification, particularly in rural or semi-urban areas, increased favorable norms and incentives offered by the government to enhance renewable energy blend, rising adoption of the stand-alone sources of energy, and ample availability of raw material.
Competitive Insight
The market for microgrids is moderated consolidated. The increased strategic partnerships, contractual agreements, and inorganic ventures will allow the industry players to have a competitive edge in the market.
ABB is a trusted partner in the evolving global energy ecosystem as and acts as a pioneer in energy management and optimization. ABB has become a pioneer in Microgrid technology by successfully powering research stations from Antarctica, Alaska, and Flores Island to distant mines and villages in Australia's deserts utilizing integrated energy sources. ABB's Microgrid Solutions group specialises in providing modular and scalable technology packages that provide power, improve power quality, and integrate renewable energy into fossil-fuel Microgrids. The PowerStore grid-stabilizing generator and the MGC600TM controller platform are the cornerstones of the Microgrid PlusTM System. Microgrid solutions from ABB are best suited for systems with peak demand between 300 kW and 50 MW.
Microgrid Energy Systems from Eaton assist businesses in achieving electrical energy savings, resiliency, and independence from a utility. Users obtain a dependable, scalable, and efficient solution to unexpected power outages while also improving cybersecurity by combining generation sources on a common grid structure. Eaton collaborates with customers to provide turnkey services for the full system's concept, design, pricing, implementation, and maintenance. System optimization software, automation, and product services, LV load control, smart inverter suite, supporting electrics, smart MV grid-tie connection, and utility automation products are all part of Eaton's Microgrid Energy System concept.
In October 2021, Eaton, a power management company, and Enel X, the Enel Group's advanced energy services business line, announced that they will collaborate on a second microgrid project in Puerto Rico. The projects will lower demand for regional energy infrastructure, allow Eaton to use more renewable energy in production, and improve Eaton's energy resilience.
Impact Solar, a Thai energy provider, has partnered with Hitachi ABB Power Grids to deliver an energy storage system for the country's largest private-owned microgrid, which will be operational in May 2021. The battery energy storage and control system from Hitachi ABB Power Grids will be used at the Saha Industrial Park microgrid in Sriracha, which is now under construction. The 214MW microgrid's power generation resources will include gas turbines, rooftop solar, and floating solar systems, as well as a battery storage system to fulfill demand when generation is low.
Some of the major players in the global microgrids market include ABB, Hitachi Energy Ltd., General Electric, Eaton, Siemens, Schneider Electric, Honeywell International Inc., HOMER Energy (Acquired by UL LLC), S&C Electric Company, and General Microgrids.
The Microgrid Market report offers a comprehensive market segmentation analysis along with an estimation for the forecast period 2023–2030.
Segments Covered in the Report
By Offering 

Hardware
Software
Services

By Type 

AC Microgrids
DC Microgrids
Hybrid

By Connectivity 

Grid Connected
Off-Grid Connected

By Storage Device 

Lithium-Ion
Lead Acid
Flow Batteries
Flywheel

By Power 

Combined Heat & Power (CHP)
Solar Photovoltaic
Natural Gas
Fuel Cell
Diesel

By End Use 

Utilities
Commercial & Industrial
Institutes & Campuses
Military
Remote
Government
Healthcare
Region Covered in the Report
North America
Europe

Germany
U.K.
France
Italy
Spain
Russia
Rest of Europe

Asia-Pacific (APAC)

China
Japan
India
South Korea
Rest of Asia-Pacific

Rest of the World (RoW)

Brazil
Saudi Arabia
South Africa
U.A.E.
Other Countries

Source: VynZ Reserach