Industry Overview
The global packaging automation market is estimated to grow from USD 46.0 billion in 2021 to USD 98.0 billion in 2030. Further a CAGR of 7.8% is predicted for the market to grow during the forecasted period of 2022-2030.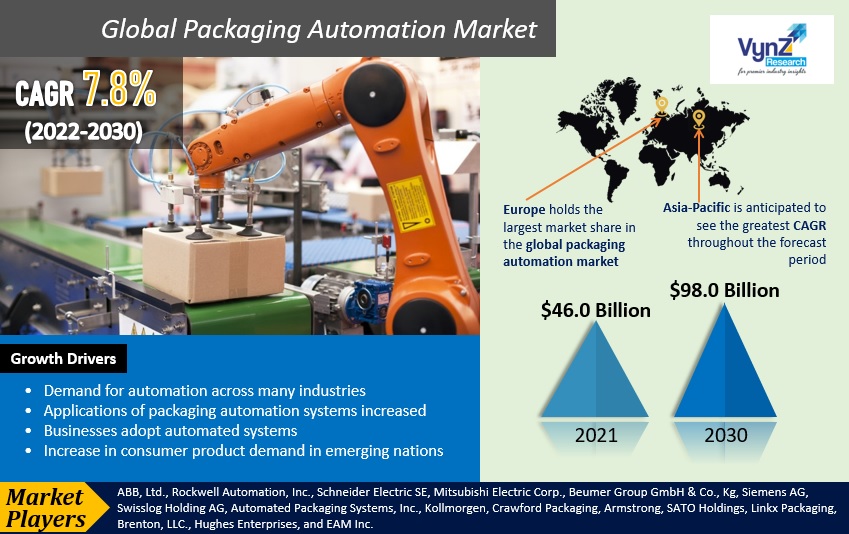 The rise in demand for improving productivity, industrialization, and manufacturing processes as well as the expanding adoption of automation in industries including food and beverage, pharmaceuticals, and cosmetics, are the growth drivers for the package automation market to grow. On the other hand the forecasted market growth is also estimated to be hampered by the high initial costs associated with establishing automated systems. Additionally, the increased demands for customized packaging and government measures to assist digital transformation in Asia Pacific are also attribute to open up significant potential prospects for the market's competitors. Meanwhile the biggest obstacle for the market to grow is a lack of trained personnel to operate automation equipment.
Due to growing significance of shelf service marketing, advanced packaging automated solutions have become a crucial factor, enabling manufacturers to complete packaging procedures quickly and efficiently with a minimum amount of manual interaction. The sorting, processing, storing, and shipping of products are only a few of the numerous packaging activities where these technologies find substantial use. So, throughout the forecast period, it is anticipated that the packaging automation market will expand significantly. This is a result of a rise in the demand from package producers to accelerate the packaging process to satisfy the expanding consumer demands.
Covid-19 Impact
Due to detrimental impact of COVID-19 on global economy, several businesses all across the world experienced straight down fall in the revenue. Due to supply chain disruptions and worker restrictions brought on by the widespread lockdowns, several businesses suffered. Factory closures and trade restrictions significantly impacted a number of different industries in addition to the already existing difficulties. Production was impacted by the closure of manufacturing facilities, which created a huge gap between supply and demand. There were severe labor shortages, project suspensions and cancellations, and supply and logistics disruptions in the global infrastructure and construction industries. But technology advancement and rapid innovation by key market players reformed the market trend post pandemic and is estimated to continue that growth drive during the forecasted period as well.
Market Segment
Insight by Product Type
On the basis of product type packaging automation market is bifurcated into following sub-markets:
Filling
Labeling
Case Packaging
Bagging
Palletizing
Crapping
Wrapping 
Others
Labeling plays a vital role in packaging system. It makes the packaged item more relevant and useful for sender and its receivers. The packaging automation sub-market of labeling used bar-code, QR-code and other labeling methods to make packaged more secured and standardized. Since, labeling is one of the unavoidable part of packaging hence it dominates the packaging automation market and is attributed to retain that position during the forecast period as well.
Insight by Industry
On the basis of industry type following business verticals provide market scope to the packaging automation system:
Food & Beverages
Pharmaceuticals
E-commerce & Logistics
Personal cares & toiletries
Retail & Manufacturing
Others
The global market of packaging automation system is dominated by the retail-manufacturing and pharmaceuticals sectors. But the rapid increasing trend of online shopping is driving opportunity for packaging automation market to grow as wrapping and labeling is become essential in online shopping. Hence it is estimated that during the progression period of 2022-30 this sector will dominate the market and drive opportunity for market participants to improve the quality of their packaging material. 
Insight by Offerings
On the basis of offerings the market is divided into
The solution segment is anticipated to hold the greatest market share for packaging automation during 2022-30. The need for this segment of the packaging automation market is being driven by the need to decrease unplanned downtime through optimized maintenance scheduling and failure prevention, maximize throughput by identifying performance bottlenecks, reduce production and manufacturing defects, and improve the overall product quality.
Insight by Automation Type
The market based on automation type is divided into three categories:
Robotic pick-and-place Automation
Secondary Packaging Automation
Palletizing Automation
The market of packaging automation is anticipated to be dominated by the robotic pick & place automation segment. This market's expansion is attributable to elements like better product handling, variety, and adaptability as compared to traditional automation. It also minimizes the need for manual product loading into a packaging machine. This lowers labor expenses and boosts an industry's production, which justifies the accompanying expense.
Packaging Automation Market Report Coverage
| | |
| --- | --- |
| Report Metric | Details |
| Historical Period | 2018–2021 |
| Base Year Considered | 2022 |
| Forecast Period | 2022 - 2030 |
| Market Size in 2021 | $46.0 Billion |
| Revenue Forecast in 2030 | $98.0 Billion |
| Growth Rate | CAGR 7.8% |
| Segments Covered in the Report | By Product Type, By Industry, By Offerings, and By Automation Type |
| Report Scope | Market Trends, Drivers, and Restraints; Revenue Estimation and Forecast; Segmentation Analysis; Impact of COVID-19; Companies' Strategic Developments; Market Share Analysis of Key Players; Company Profiling |
| Regions Covered in the Report | North America, Europe, Asia-Pacific, Middle East, and Rest of the World |
Industry Dynamics
Growth Drivers
Due to the growing demand for automation across many industries, the applications of packaging automation systems have been increased exponentially. Many businesses adopt automated systems to improve their packaging processes, deliver high-quality products, expand their manufacturing capabilities, enhance customer service, and effectively manage their packaging processes. The recent increase in consumer product demand in emerging nations will lead to a strong need for automated packaging solutions across a range of packaging-related applications. These factors driving growth to the packaging automation market and in result of that market is estimated to expand the business during the forecasted period as well.
Challenges
The installation cost of automated packaging solutions, including packaging machines, imposes significant expenses on the producers, hence limiting the market growth. Furthermore, the market growth is anticipated to be hindered by strict government restrictions relating to the injuries brought on by the usage of automated machinery in the food and beverage industry.
Market Trend
Businesses that serve the CPG sector are becoming more dependent on cutting-edge technology like artificial intelligence, machine learning, the internet of things, and cloud computing to sustain the sector's fast-paced nature. AI/ML enables businesses to sell and manage their products more efficiently, preventing wastage and excess manufacturing. This helps companies create effective marketing plans and boost overall product sales.
Opportunities
The increased technology advancement and the need for every business sector adopt packaging automation solutions are driving opportunity for market participants to invent advanced AI-ML based solution that could eliminate the issues of conventional packaging at reduced cost.
Geographical Overview
The packaging automation market is widespread into North America, Europe, Asia-Pacific, Latin America, and the Middle East & Africa. Europe holds the largest market share and the reason behind this dominance is the adoption of high-tech packaging by various businesses across the region. Additionally, Asia-Pacific is anticipated to see the greatest CAGR throughout the forecast period due to the region's growing usage of solutions and services in the manufacturing, e-commerce, and healthcare sectors. Corrugated packaging is also more necessary due to the rising demand for packaged foods & drinks in the nation, which is anticipated to be one of the driving forces behind the adoption of packaging automation in the Asia-Pacific market.
Recent Development made by key market players
ULMA Packaging said that TSA 400, a freshly created, compact tray sealer, would be on show at IFFA 2022. The TSA 400 is a highly adaptable machine, according to the manufacturer, that can work in SKIN, MAP, LEAFSKINTM, and LEAFMAPTM applications. It has a small footprint and a high-speed output of just 2.3 meters, making it ideal for constrained layouts.
A universal flow packing system called the W 500 will be introduced to the market by MULTIVAC in 2022. The product provides a high degree of packing flexibility for a variety of food goods. This product can be utilized both independently and in conjunction with an automated production line. The company is concentrating on extending its equipment line to a new field of application with the addition of the new W 500 horizontal flow packer.
Competitive insight
The top-notch players in this market are ABB, Ltd. (Switzerland), Rockwell Automation, Inc. (U.S.), Schneider Electric SE (France), Mitsubishi Electric Corp. (Japan), Beumer Group GmbH & Co., Kg (Germany), Siemens AG (Germany), Swisslog Holding AG (Switzerland), Automated Packaging Systems, Inc. (U.S.), Kollmorgen (U.S.), Crawford Packaging (Canada), Armstrong (U.S.), SATO Holdings (Japan), Linkx Packaging (UK), Brenton, LLC. (U.S.), Hughes Enterprises (U.S.) and EAM Inc. (Singapore).
The Packaging Automation Market report offers a comprehensive market segmentation analysis along with an estimation for the forecast period 2022–2030.
Segments Covered in the Report
By Product Type

Filling
Labeling
Case Packaging
Bagging
Palletizing
Crapping
Wrapping 
Others

By Industry

Food & Beverages
Pharmaceuticals
E-commerce & Logistics
Personal cares & toiletries
Retail & Manufacturing
Others

By Offerings
By Automation Type

Robotic pick-and-place Automation
Secondary Packaging Automation
Palletizing Automation
Region Covered in the Report
North America
Europe

Germany
U.K.
France
Italy
Spain
Russia
Rest of Europe

Asia-Pacific (APAC)

China
Japan
India
South Korea
Rest of Asia-Pacific

Rest of the World (RoW)

Brazil
Saudi Arabia
South Africa
U.A.E.
Other Countries