Industry Overview
The Pico projector market is poised for impressive growth, with a projected increase from USD 3.7 billion in 2022 to USD 6.3 billion by 2030. This represents a robust CAGR of 11.2% during the forecast period of 2023-2030. Pico projectors, also known as handheld projectors, mini beamers, or pocket projectors, are portable, compact devices that can project content onto a flat surface. Compared to traditional projectors, they are more energy-efficient, have higher resolutions, and are much more portable.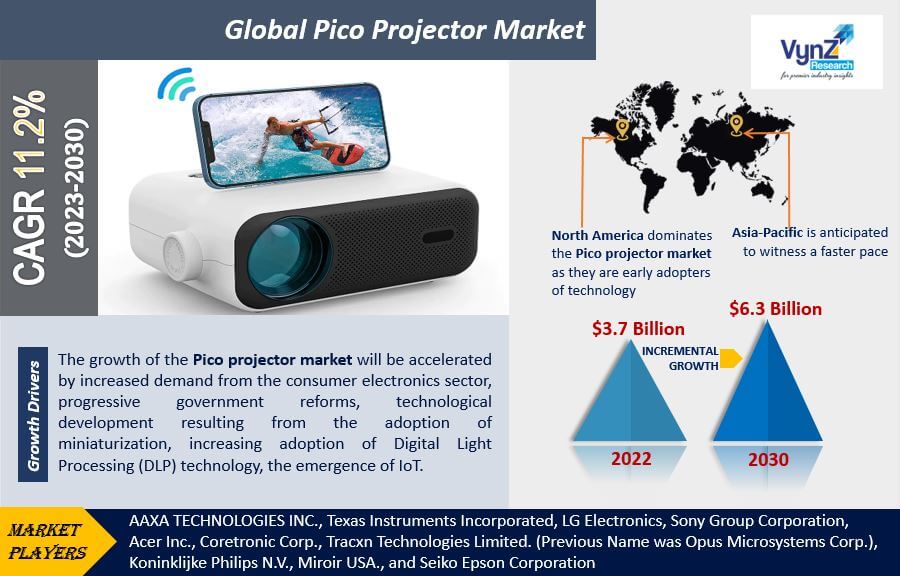 The study analyzes several technologies such as Digital Light Processing, Liquid Crystal on Silicon, and Laser Beam Steering Holographic Laser Projection. Pico projectors come in different shapes and sizes, including the LED pico pocket projector, HD pico projector, LED pico projector, cube pico projector, wireless, and Bluetooth pico projector.
The market's rapid growth can be attributed to several factors, including the technology's optoelectronic system capability and its wide acceptance in numerous industries such as automotive, aerospace & defense, consumer electronics, healthcare, media & entertainment, marketing agencies, and others. As a result, the pico projector market is poised to experience a significant boom.
The COVID-19 pandemic has led to lockdowns in most of the countries of the world, resulting in hampering import and export services. The majority of individuals were compelled to stay inside their homes due to the lockdown, which meant that the physical companies, factories, and shops that supplied home theatres were closed or inoperable. However, because home theatre is a versatile technological gadget that can be purchased online, it positively impacts product manufacturing and sales. Because the majority of universities have closed their schools offices, they are all inoperable at this time. As a result, all of this has an impact on the Pico Projector Market Revenue.
Market Segmentation
Insight by Type
Based on type, the global Pico projector market is segmented into USB Projector, Embedded Projector, Laser Projector, Media player Projectors, and Standalone. Among these segments, embedded projector contributes to the largest share in the market owing to the increased adoption in the consumer electronics sector due to its portability feature. Furthermore, the mounting prominence of smartphones with features such as virtual keyboards and the proliferation of BYOD will accelerate the development of the embedded projector market.
The USB projector is projected to witness a significant growth owing to an increase in the demand for USB projectors in a wide range of industries, including consumer electronics, aerospace and military, healthcare, business and education, and automotive.
Insight by Technology
Based on technology, the global Pico projector market is segregated into Liquid Crystal on Silicon, Laser Beam Steering, Holographic Laser Projection, and Digital Light Processing.  The laser beam steering technology is anticipated to have a high CAGR during the forecast period owing to its advantages like high brightness and improved image quality, resulting in increased customer experience.
Insight by Application
Based on application, the global Pico projector market is divided into aerospace and defense, healthcare, education, automotive, consumer electronics, and others. Consumer electronics contribute the largest share in the market owing to the extensive adoption of smartphones and wearable technology. The healthcare sector is anticipated to grow significantly in the Pico projector market as it can be used for improved patient management like sharing patient data across departments in the hospital with this device.
Pico Projector Market Report Coverage
| | |
| --- | --- |
| Report Metric | Details |
| Historical Period | 2018–2022 |
| Base Year Considered | 2022 |
| Forecast Period | 2023-2030 |
| Market Size in 2022 | $3.7 billion |
| Revenue Forecast in 2030 | $6.3 billion |
| Growth Rate | CAGR 11.2% |
| Segments Covered in the Report | By Type, By Technology, and By Application |
| Report Scope | Market Trends, Drivers, and Restraints; Revenue Estimation and Forecast; Segmentation Analysis; Impact of COVID-19; Companies' Strategic Developments; Market Share Analysis of Key Players; Company Profiling |
| Regions Covered in the Report | North America, Europe, Asia-Pacific, Middle East, and Rest of the World |
Industry Dynamics
 Industry Trends
The increased prominence of smartphones, the evolution of IoT, mounting demand for mobility in industries, rising adoption of BYOD in the business sector, and increased deployment in armed forces for 3D projection are the trends prevalent in the Pico projector industry. Pico projectors are being used in presentations in schools, universities, business meetings, job offices, and practically anywhere else where projectors are required.
Growth Drivers
The growth of the Pico projector market will be accelerated by increased demand from the consumer electronics sector, progressive government reforms, technological development resulting from the adoption of miniaturization, increasing adoption of Digital Light Processing (DLP) technology, the emergence of IoT, and rising disposable income among consumers. Pico projectors offer convenience to users as they are small, lightweight, and flexible, allowing them to connect with various devices such as laptops, PCs, DVD players, gaming stations, cell phones, and more. Moreover, the global projector market is set to undergo a transformation with the advancement of laser technology, enabling smaller and more portable projectors. These projectors can be integrated into handheld devices and peripherals like tablets, cameras, personal digital assistants, computers, and cell phones. Additionally, pico projectors provide a glass-free environment for watching movies and playing games. Furthermore, with rapid advancements in display technology, such as 4K and 8K display panels, the image quality of Pico projectors is expected to improve, further fueling market growth.
Challenges
Factors hampering the growth of the market include low brightness which is in the range of 10-1000 lumens and can be used in the darkroom so that the image comes clearly, thus restraining the growth of the market. Moreover, tough competition from flat panel displays and safety issues with laser beam steering-based Pico projectors will hamper the growth of the market. Also, there are limited features of Pico projectors but the rising demand for flexibility among end-users will stymie the growth of the market.
Opportunities
The advancement of head-up displays, and adoption in wearable electronics, are the opportunities prevalent in the Pico Projector market. The product's interoperability with Wi-Fi, WiMax, and 3G/4G technologies will assist opportunities for growth in the market during the forecast period 2023-2030.
Geographic Overview
North America dominates the Pico projector market as they are early adopters of technology. The expected release of new applications of this technology, especially in the fields of life sciences, intelligent traffic systems, and vision-guided robotics, is predicted to increase the demand for pico projectors in the region. The region's extensive IT infrastructure has strengthened the market and improved key projector properties like mobility and portability will lead to the growth of the Pico Projector Market. The semiconductor businesses in the region are actively looking for ways to increase their DLP portfolio for pico projectors to boost their business.
Asia-Pacific is anticipated to witness a faster pace owing to the rising demand from the portable consumer electronics sector and increased disposable income.
Competitive Insight
The mounting emphasis of prominent companies on novel product launches, technological development & advancement, product innovation, collaboration, M&A, partnerships, etc. will elevate the adoption of the global Pico projectors market during the forecast period. Players are focused on cost-cutting to gain profitability with these price-sensitive devices.
AAXA Technologies Inc is a pioneer and manufacturer of "micro" and "pico" projectors. Micro and pico projectors are achievable because of AAXA's core technology, which is based on compact LCoS (Liquid Crystal on Silicon) and DLP (Digital Light Processing) imagers linked to LED (light-emitting diode) and Laser light sources. AAXA introduced the world's first laser pico projector in 2010 and continues to be a leader in mini-projector technology today. AAXA has multiple patents in optical and LCoS designs, and the majority of its products are manufactured in China, with core technology research taking place in both Silicon Valley, California, and China.
Opus Micro makes two-dimensional MEMS mirrors for dynamic light modulation. The company's product portfolio comprises MEMS position sensors, scan display controllers, and optical design services. It can be used for augmented/mixed reality near-eye displays for HMDs, depth-sensing 3D cameras, wearable projection displays, free laser scan pico-projectors, MEMS LiDAR, automobile head-up displays, etc. MEMS Evaluation Kit is also available from the company, which contains a resonant MEMS scanning mirror on PCB, software CD, control board, and other connections.
In March 2022, AAXA Technologies announced the launch of the AAXA P8 Mini Projector. The AAXA P8 Mini Projector is a pocket-sized, high-powered next-generation solid-state mini projector. The AAXA P8 Mini HD Projector features a 4th generation Texas Instruments DLP imager and an Android 10.0 operating system with wireless screen mirroring, Bluetooth networking, and video streaming capabilities. The P8 delivers a bright 430 Lumens and can display a dazzling 100" image owing to extremely efficient Luminus 30,000-hour LEDs.
In September 2021, Epson announced the new 880X 3LCD 1080p smart portable projector, which is dedicated to offering high-quality projection that is also versatile for a variety of professional applications. The 880X meets a range of on-the-go corporate display demands owing to its small size and easy carrying case. Users may also turn their Android TV1 into a streaming machine for amazing entertainment nearly anywhere due to the built ChromecastTM2.
Some of the prominent players in the Pico projector market include AAXA TECHNOLOGIES INC., Texas Instruments Incorporated, LG Electronics, Sony Group Corporation, Acer Inc., Coretronic Corp., Tracxn Technologies Limited. (Previous Name was Opus Microsystems Corp.), Koninklijke Philips N.V., Miroir USA., and Seiko Epson Corporation.
The Pico projector market research includes a comprehensive market segmentation analysis as well as projections for the analysis period 2023-2030.
Segments Covered in the Report
By Type

USB Projector
Embedded Projector
Laser Projector
Media player Projectors
Standalone

By Technology

Liquid Crystal on Silicon
Laser Beam Steering
Holographic Laser Projection
Digital Light Processing

By Application  

Aerospace and Defense
Healthcare
Education
Automotive
Consumer Electronics
Others
Region Covered in the Report
North America
Europe

Germany
U.K.
France
Italy
Spain
Russia
Rest of Europe

Asia-Pacific (APAC)

China
Japan
India
South Korea
Rest of Asia-Pacific

Rest of the World (RoW)

Brazil
Saudi Arabia
South Africa
U.A.E.
Other Countries