Industry Overview
The power electronics market is expected to witness substantial growth in the coming years. According to market projections, it is predicted to expand from USD 30.6 billion in 2022 to USD 54.9 billion by 2030, reflecting a steady compound annual growth rate (CAGR) of 4.5% during the forecast period spanning from 2023 to 2030.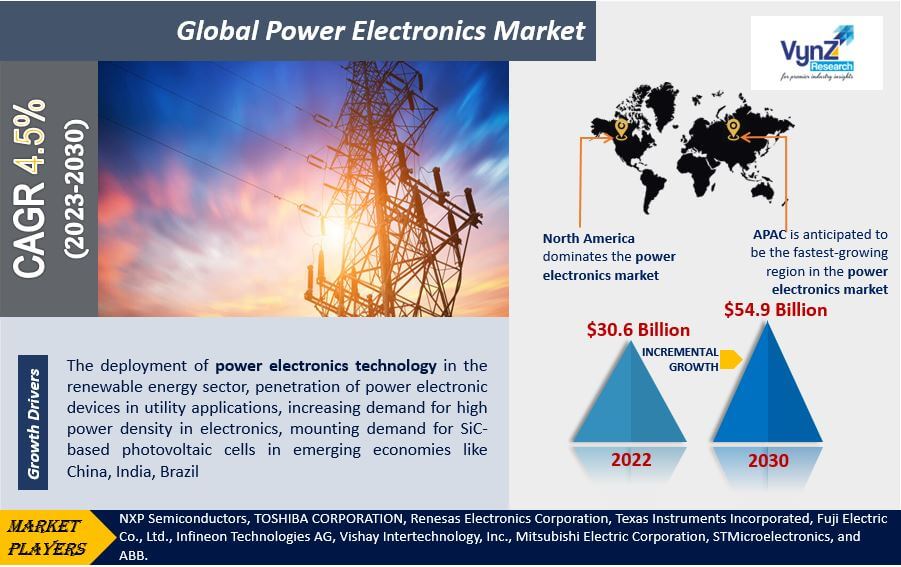 Power electronics is an application of a solid-state circuit device that transforms electrical power from one form to other using diodes, transistors, and thyristors for effective and efficient control. Power electronics regulate the unidirectional and bidirectional flow of energy which is dependent on usage and regenerated energy is sent back for utility. Power electronics manufacturers are concentrating on producing devices that can function at high power densities. The benefits provided by these devices include simplified circuits, less drive power, and optimal reverse and forward blocking capabilities, thereby improving efficiency in application areas. Automotive and transportation, industrial, renewable energy, consumer electronics, defense, and aerospace extensively use power electronics devices.
The COVID-19 outbreak has had an adverse impact on the power electronics market owing to disruption in the supply chain and disruption in international trade. This has resulted in a shortage of semiconductors' raw materials and components in the initial phases of the coronavirus pandemic. However, the outbreak has driven the advancement and innovations in ADAS, self-driving cars, and the electric vehicles market that has boosted the demand for power electronics devices.
Market Segmentation
Insight by Device Type
Based on device type, the global power electronics market is divided into power discrete, power modules, and power IC. The power discrete is sub-divided into diode, transistors, and thyristor. The power modules are sub-divided into the intelligent power modules and power integrated modules. The power IC is sub-divided into power management integrated circuit (PMIC) and application-specific integrated circuit (ASIC). The power discrete segment is anticipated to contribute to the largest share during the forecast period 2023-2030 owing to its rising adoption of diodes, transistors, and thyristors. The power discrete devices like BJTs, IGBTs, and MOSFETs, etc. offer reduced power consumption and less noise in various industrial applications. The rising adoption of electrical power grids, industrial motor drives, power inverters, and DC-DC converters will bolster the growth of the power discrete segment.
Also, the rising application of Power ICs in wireless communication, satellite communication, electronic warfare, and radio frequency (RF) will create significant opportunities for growth in the power IC segment.
Insight by Material
Based on material, the global power electronics market is divided into silicon, silicon carbide, sapphire, gallium nitride, and others. Among all the materials, silicon-type power electronics contribute to the largest share in the market owing to its appropriateness for low-power applications and is suitable for applications that do not require a wide bandgap. Furthermore, because silicon is widely available and is utilized to manufacture a large number of power electronics, the category accounts for a major portion of the market.
Insight by Voltage
Based on voltage, the global power electronics market is segmented into low voltage, medium voltage, and high voltage. The high voltage segment contributes to the largest share in the market as power electronics devices can efficiently execute operations at high voltage or high current because they have a faster switching rate and better efficiency.
Global Printed Electronics Market Report Coverage
| | |
| --- | --- |
| Report Metric | Details |
| Historical Period | 2018–2022 |
| Base Year Considered | 2022 |
| Forecast Period | By 2030 |
| Market Size in 2022 | $30.6 Billion |
| Revenue Forecast in 2030 | $54.9 Billion |
| Growth Rate | CAGR 4.5% |
| Segments Covered in the Report | By Device Type, By Material, and By Voltage, By Industry Vertical |
| Report Scope | Market Trends, Drivers, and Restraints; Revenue Estimation and Forecast; Segmentation Analysis; Impact of COVID-19; Companies' Strategic Developments; Market Share Analysis of Key Players; Company Profiling |
| Regions Covered in the Report | North America, Europe, Asia-Pacific, Middle East, and Rest of the World |
Insight by Industry Vertical
On the basis of industry vertical, the global power electronics market is categorized into consumer electronics, industrial, automotive & transportation, ICT, aerospace & defense, energy & power, and others. The consumer electronics segment is anticipated to have significant growth owing to the rising adoption of consumer electronics devices like smartphones, tablets, and smart wearables, especially in emerging economies and increased usage of power electronics in home appliances will contribute to the growth of the market. GaN-based power electronics are being used by Chinese and South Korean OEMs such as Oppo, Xiaomi, Vivo, Meizu, Samsung, and Huawei for phones having high-power inbox chargers and accessories fast chargers. However, the global integrated automotive industry is witnessing a huge impact during the forecast period owing to temporary factory shut down, disruption in the supply chain, and lack of buyer confidence, However, the automotive segment is projected to have substantial growth owing to the rising demand for energy-efficient hybrid EVs following strict government policies, thus exhibiting fastest growth in the market.
Industry Dynamics
Industry Trends
The power electronics segment has changed dramatically in the last 30 years. The increased adoption of automation, industry 4.0, huge investment in R&D, and supportive government initiatives are the key trends in the market. The emergence of semiconductor devices and microprocessors has improved the application of technology. Furthermore, the increasing development and usage of wide bandgap (WBG) semiconductor devices will result in innovation in the power electronics industry owing to the adoption of superior materials like SiC and GaN, etc., resulting in the growing trends in the power electronics industry.
Growth Drivers
The deployment of power electronics technology in the renewable energy sector is set to drive market growth. Power electronic devices are increasingly being utilized in utility applications, leading to their widespread adoption. The demand for high power density in electronics is also on the rise. Furthermore, emerging economies such as China, India, and Brazil are experiencing a surge in the demand for SiC-based photovoltaic cells. Additionally, the construction of hyper-scale data centers is growing, creating a need for data center power solutions, which will further boost market expansion.
The advantages offered by power electronics devices are noteworthy. They provide high performance and superior electrical stability while optimizing energy consumption. Moreover, power electronics devices play a crucial role in electrified vehicle applications, as they offer compact and highly efficient power conversion solutions. The increasing demand for energy-efficient battery-powered portable devices is also expected to contribute to market growth.
Challenges
The complex integration process of developed electronics devices needs robust methodology, skills, and various toolsets for integration, resulting in additional cost which hinders the growth of the market. Also, the current leakages at high temperature, high infrastructure deployment cost, and manufacturers struggling to keep up with the frequent changes in demand to have compact and efficient devices at cheap prices are the challenges faced by the power electronics industry.
Opportunities
The increasing demand for plug-in electric vehicles (PEVs), rapid industrialization in emerging countries, smart grid utilizing power devices for power conservation, and the emergence of power MOSFET will provide opportunities for growth in the power electronics market.
Geographic Overview
North America dominates the power electronics market owing to the robust development of 5G infrastructure, rising industrial automation, and mounting networks of charging stations in the region will drive the demand for the power electronics market.
APAC is anticipated to be the fastest-growing region in the power electronics market owing to the increasing presence of consumer electronics, ICT, industrial, and automotive sectors in China, Japan, and South Korea. The rising demand for power generation, initiatives by the government to encourage renewable energy infrastructure, and growing population in emerging economies like China and India will lead t the deployment of communication infrastructure, resulting in growth in the region. Moreover, the presence of industry players like Mitsubishi Electric, Fuji Electric, BYD, Huawei, Toshiba, etc. is anticipated to bolster the growth in the region.
Competitive Insight
The industry players are focusing on novel product development and innovations in power electronics to have a competitive edge in the market. They are emphasizing enhancing device packaging, growing current density, enhancing energy efficiency, and accomplishing low noise operations. The industry players are focusing on strategies like acquisitions, market analysis, partnerships, collaborations, new ventures to remain competitive in the market.
Toshiba provides a diverse range of semiconductor products and designs that are innovative, high-quality, and efficient. Toshiba manufactures an extensive range of single-phase and three-phase uninterruptible power supply (UPS) solutions and accessories that provide superior performance. For renewable energy applications, TIC Power Electronics is a home for SCiB Rechargeable Battery and the E1000 Energy Management System.
Infineon Technologies offers an extensive variety of products and includes microcontrollers, LED drivers, sensors, and Automotive & Power Management ICs. With the addition of gallium nitride, Infineon now has the sole full-spectrum portfolio of all power technologies – silicon (Si), silicon carbide (SiC), and gallium nitride (GaN). They provide highly reliable IGBTs, power MOSFETs, GaN e-mode HEMTs, power discrete, protected switches, Si drivers, GaN drivers, IGBT modules, intelligent power modules (IPMs), linear regulators, motor control solutions, LED drivers, and all forms of AC-DC, DC-DC, and digital power conversion from microamps to megawatts.
In February 2021, Toshiba launched "MG800FXF2YMS3," a silicon carbide (SiC) MOSFET module with the integration of newly developed dual-channel SiC MOSFET chips which has ratings of 3300V and 800A, for industrial applications. Thus, providing higher efficiency and miniaturization of industrial equipment.
In September 2021, Infineon Technologies AG has opened a high-tech chip factory for power electronics and has built a 300-millimeter thin wafer fabrication facility at Villach, Austria by investing 1.6 billion euros.
The prominent players in the power electronics market include NXP Semiconductors, TOSHIBA CORPORATION, Renesas Electronics Corporation, Texas Instruments Incorporated, Fuji Electric Co., Ltd., Infineon Technologies AG, Vishay Intertechnology, Inc., Mitsubishi Electric Corporation, STMicroelectronics, and ABB.
The Power Electronics Market report offers a comprehensive market segmentation analysis along with an estimation for the forecast period 2023–2030.
Segments Covered in the Report
By Device Type

Power Discrete

Diode
Transistors
Thyristor

Power Modules

Intelligent Power Modules
Power Integrated Modules

Power IC

Power Management Integrated Circuit (PMIC)
Application-Specific Integrated Circuit (ASIC)

By Material

Silicon
Silicon Carbide
Sapphire
Gallium Nitride
Others

By Voltage

Low Voltage
Medium Voltage
High Voltage

By Industry Vertical

Consumer Electronics
Industrial
Automotive & Transportation
ICT
Aerospace & Defense
Energy & Power
Others
Region Covered in the Report
North America
Europe

Germany
U.K.
France
Italy
Spain
Russia
Rest of Europe

Asia-Pacific (APAC)

China
Japan
India
South Korea
Rest of Asia-Pacific

Rest of the World (RoW)

Brazil
Saudi Arabia
South Africa
U.A.E.
Other Countries

Source: VynZ Research