Industry Overview
The process spectroscopy market is projected to attain a value of USD 30.3 billion by 2030, experiencing a notable growth rate of 8.8% from 2023 to 2030. With a valuation of USD 17.2 billion in 2022, process spectroscopy serves as a dedicated approach to analyzing the interactions between light, electromagnetic radiation, and matter.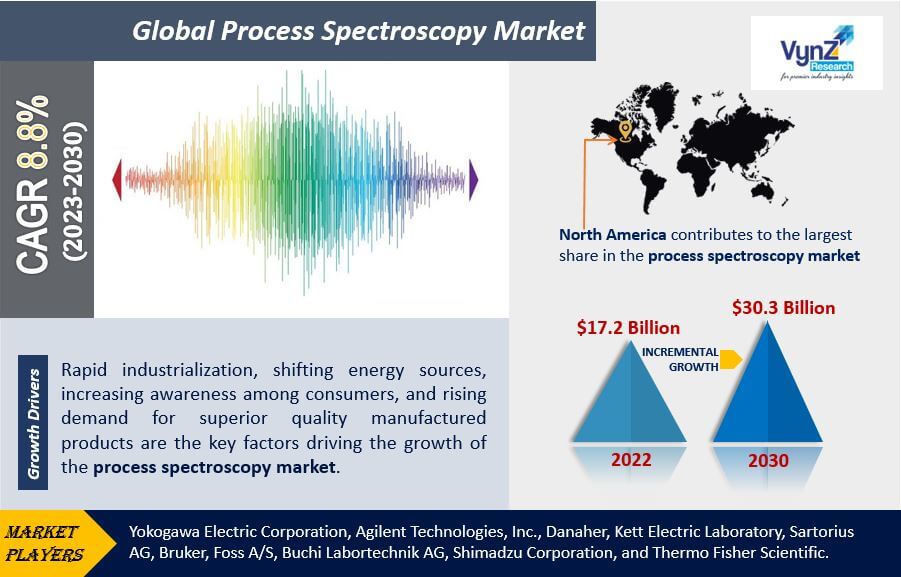 Benchtop, micro, portable, and hyphenated spectroscopes, amplifiers, display units, signal processors, and microscopes are all used in process spectroscopy. Process spectroscopy is adopted in various processes such as Fourier Transform Infrared Spectroscopy (FT-IR), Raman spectroscopy, nuclear magnetic resonance (NMR), and Near-Infrared Spectroscopy (NIR). To examine electrons, protons, and ions, as well as to generate collision energy, process spectroscopy encompasses splitting the radiation into a spectrum of its wavelengths. As a result, it has a wide range of applications in areas such as healthcare, pharmaceuticals, water & wastewater management, biological research, and electronics. The technique is gaining traction as it has the ability to evaluate, monitor, and regulate production processes, as well as identify defects in product materials and improve product quality.
The COVID-19 pandemic has a moderate impact on the process spectroscopy market owing to its wide adoption in the pharmaceutical sector to detect SARS-CoV-2.
Market Segmentation
Insight by Technology
Based on technology, the global process spectroscopy market is segmented into mass spectroscopy, molecular spectroscopy, and atomic spectroscopy. The molecular spectroscopy is further divided into near-infrared (NIR), Fourier-transform infrared (FT-IR), Raman, nuclear magnetic resonance (NMR), and others. Molecular spectroscopy contributes to the largest market share during the forecast period owing to the rising miniaturization of molecular spectroscopy instruments and increased application in environmental screening and drug discovery and development as a result of growth in the NMR technique. Raman spectroscopy is expected to grow at the fastest rate, owing to the increased use of this technology in the agriculture, food, and pharmaceutical industries.
Insight by Component
Based on component, the global spectroscopy market is bifurcated into hardware and software. The hardware category contributes to the largest share in the process spectroscopy market owing to the mounting adoption of spectroscopic techniques by manufacturers and packaging industries due to the strict regulations to maintain the quality of the products.
Insight by Application
Based on application, the global process spectroscopy market is segregated into polymer, oil & gas, pharmaceuticals, food & agriculture, chemicals, water, and wastewater management, pulp & paper, metal & mining, and others. During the forecast period, the pharmaceutical segment will account for the highest share, as drug companies utilise process spectroscopes to test the material porosity of a substance for quality control standards and evaluate the state of the compositions. The food, agriculture, water & wastewater category are anticipated to have a high CAGR during the projected period. The Spectroscopy technique is used to detect impurities in water & wastewater management. In the food & agriculture industry, this technique tracks and identifies materials used adopts fermentation processing and reaction monitoring to check product uniformity and avoids repeatability.
Process Spectroscopy Market Report Coverage
| | |
| --- | --- |
| Report Metric | Details |
| Historical Period | 2018–2022 |
| Base Year Considered | 2022 |
| Forecast Period | 2023-2030 |
| Market Size in 2022 | $17.2 Billion |
| Revenue Forecast in 2030 | $30.3 Billion |
| Growth Rate | CAGR 8.8% |
| Segments Covered in the Report | By Technology, By Component, and By Application |
| Report Scope | Market Trends, Drivers, and Restraints; Revenue Estimation and Forecast; Segmentation Analysis; Impact of COVID-19; Companies' Strategic Developments; Market Share Analysis of Key Players; Company Profiling |
| Regions Covered in the Report | North America, Europe, Asia-Pacific, Middle East, and Rest of the World |
Industry Dynamics
Industry Trends
The rising trend to decrease the variable expenditure by reducing the rework and errors which can be done through process spectroscopy as it monitors and control effectively and efficiently and check the quality of the final product will fuel the growth in the process spectroscopy market. Furthermore, the increasing emphasis to meet the international quality standards like Six Sigma, ISO, etc by various industry verticals including pharmaceutical, food & beverage, chemical, and agriculture will lead to the growing trend towards process spectroscopy market.
Growth Drivers
The process spectroscopy market is experiencing significant growth driven by various factors. Rapid industrialization, shifting energy sources, increasing consumer awareness, and rising demand for superior quality manufactured products are key contributors to this growth. Additionally, government regulations concerning safety standards and mandatory compliance with prescribed standards are further fueling market expansion.
Process spectroscopy offers cost-efficiency and time-saving benefits, leading to its widespread adoption in industries such as pharmaceuticals, food, and agriculture. This adoption is expected to drive market growth. Moreover, spectroscopic methods are increasingly being utilized in the forensic sector to identify organic compounds and substances at crime scenes. Extensive research and development activities are also contributing to market expansion.
Manufacturers benefit from process spectroscopy as it enables them to analyze and predict the quality of finished products, particularly in packaged food, medicine, and chemicals. By halting production at any stage with negative results, the need for rework and the generation of scrap are reduced. Additionally, maintaining large inventories becomes less costly. These advantages further propel the growth of the global process spectroscopy market.
Challenges
The large initial capital investment required to deploy spectroscopic equipment, as well as the problems associated with its utilization and lack of skilled personnel, may provide a hindrance to the market's overall growth.
Opportunities
The continuous innovation in process spectroscopy in order to reduce the total expenditure of product examination and promotional tools adopted by vendors will create opportunities for growth in the process spectroscopy market. The rising number of research on the microscopic study of chemicals in the pharmaceuticals industry and increased adoption of technologically developed cloud-based equipment by the pharmaceutical firms will create opportunities for growth in the process spectroscopy market. Moreover, the companies globally are focusing on developing portable spectrometer instruments with wireless connectivity for instant results, thereby accelerating growth opportunities in the process spectroscopy market.
Geographic Overview
North America contributes to the largest share in the process spectroscopy market during the forecast period owing to well-established infrastructure in the region and increased adoption in diverse industry verticals like food, pharmaceutical, and oil industry. Furthermore, the presence of key industry players and stringent government regulations of manufactured products will accelerate the growth of the process spectroscopy market in the region.
Competitive Insight
In order to obtain a competitive advantage, corporations have been cutting prices and boosting quality. Companies with inefficient process control face various problems, including long lead times for manufacturing and inventory, as well as visual faults that can harm a brand's image. Consumer satisfaction, reduced manufacturing and inspection costs, efficient resource usage, and improved sales are all advantages of effective implementation. Furthermore, the industry players are emphasizing R&D activities to improve their product portfolio and are entering into M&A, joint ventures, partnerships, and agreements to expand their geographical presence and to sustain themselves in a competitive market.
Yokogawa is one of the major providers, offering research and development of a molecular spectroscopic sensor that would visualize data that would otherwise be unseen. Yokogawa has developed spectroscopic analysis technology, spectrum analysis technology, and nanophotonics technology over many years. Yokogawa produced a sensing device and a prototype of a handheld molecular spectroscopic sensor containing this device by combining these technologies. Quality control and logistics management are likely to benefit from this technology. Yokogawa will continue to research and develop a molecular spectroscopic sensor, with the goal of expanding its use in a variety of industries.
Agilent's best-in-class portfolio of spectroscopy systems are more qualified and offers the right solution for a specific challenge. The innovations such as the Cary 3500 UV-Vis and laser direct infrared (LDIR) chemical imaging, 4300 handheld FTIR, and proprietary spatially offset and transmission Raman technologies will provide growth in the molecular spectroscopy instruments.  Agilent provides a wide range of FTIR instruments, from portable FTIR analyzers and flexible handheld FTIR spectrometers for field applications to dependable benchtop instruments for routine FTIR testing and cutting-edge research. Agilent FTIR instrumentation provides accurate results for specific FTIR analysis.
The ZenoTOF 7600 system, a new accurate mass LC-MS/MS instrument, was launched by SCIEX, a global leader in life science analytical technologies, in July 2021. By generating previously unobtainable data, the new method allows scientists to better identify, classify, and measure molecules than ever before. This breakthrough will help promote the development of new precision diagnostics and biotherapeutics by resolving real-world analytical problems.
Agilent Technologies Inc. announced the release of MassHunter Workstation Plus 11.0, MassHunter Networked Workstation 11.0, and MassHunter BioConfirm in January 2021, enhancing Mass Spectrometry and Automation Software Solutions. For MassHunter Acquisition, Quantitative Analysis, and MassHunter BioConfirm, the most recent version of these tools provides data integrity in accordance with US FDA and EU EMEA standards, as well as user management, checksums, tamper detection, and audit trails.
Some of the key players operating in the process spectroscopy market include Yokogawa Electric Corporation, Agilent Technologies, Inc., Danaher, Kett Electric Laboratory, Sartorius AG, Bruker, Foss A/S, Buchi Labortechnik AG, Shimadzu Corporation, and Thermo Fisher Scientific.
The Process Spectroscopy Market report offers a comprehensive market segmentation analysis along with an estimation for the forecast period 2023–2030.
Segments Covered in the Report
By Technology

Mass Spectroscopy
Molecular Spectroscopy

Near-Infrared (NIR)
Fourier-Transform Infrared (FT-IR)
Raman
Nuclear Magnetic Resonance (NMR)
Others

Atomic Spectroscopy

By Component
By Application

Polymer
Oil & Gas
Pharmaceuticals
Food & Agriculture
Chemicals
Water and Wastewater Management
Pulp & Paper
Metal & Mining
Others
Region Covered in the Report
North America
Europe

Germany
U.K.
France
Italy
Spain
Russia
Rest of Europe

Asia-Pacific (APAC)

China
Japan
India
South Korea
Rest of Asia-Pacific

Rest of the World (RoW)

Brazil
Saudi Arabia
South Africa
U.A.E.
Other Countries