Industry Overview
The global nuclear medicine (Radio Isotopes) market is anticipated to expand from USD 4.75 billion in 2021 to USD 7.8 billion by 2027, registering a CAGR of 9.1% during 2021-2027. Nuclear medicine is a subset of molecular imaging, which involves diagnosing and treating diseases like cardiac diseases, neurological disorders, and cancer with a little amount of radioactive material (radiopharmaceuticals).
The radioisotopes are detected by specific types of cameras attached to the computer in nuclear medicine imaging, which then offer very accurate images of the area of the body being studied. The most crucial imaging modalities in the nuclear medicine sector include positron emission tomography (PET) and single-photon emission computed tomography (SPECT). The market is evolving owing to the rising incidences of cancer ailments and increased awareness regarding nuclear medicine.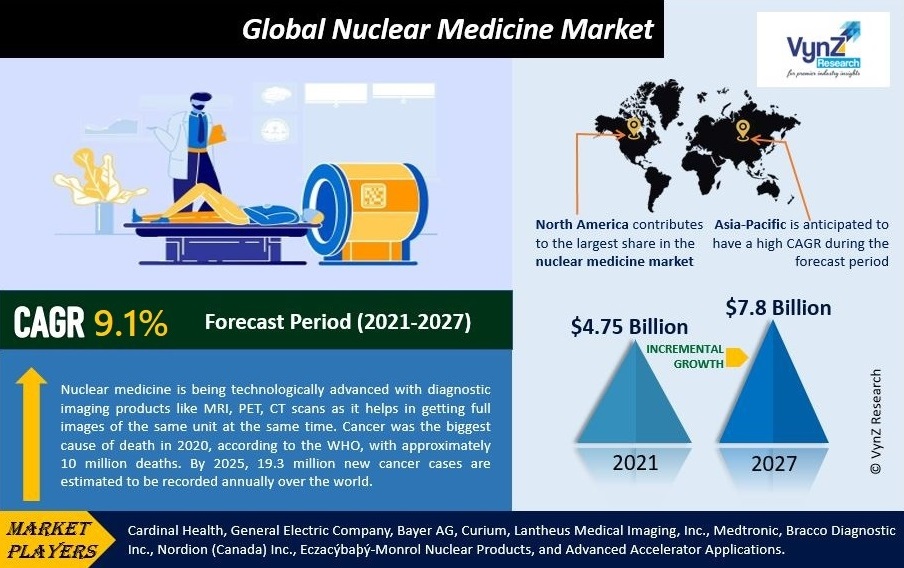 The COVID-19 pandemic has had a positive impact on the nuclear medicine (Radio Isotopes) market as many people were suffering from cardiovascular diseases, resulting in increased nuclear medicine demands because it is an efficient way to diagnose specific diseases. During COVID-19 Pandemic, academic medical centers and universities were urged to shut down scientific research activities in order to increase social distance and prevent the spread of infection to research employees and others with whom they might come into contact as part of clinical preparedness activities.
Market Segmentation
Insight by Type
Based on type, the global nuclear medicine (Radio Isotopes) market is separated into diagnostic nuclear medicine, therapeutic nuclear medicine, and brachytherapy isotopes. The diagnostic nuclear medicine is further divided into SPECT radiopharmaceuticals (Technetium-99m, Thallium-201, Gallium-67, Iodine-123, and other SPECT Isotopes) and PET radiopharmaceuticals (F-18, Ru-82, and other PET Isotopes). The therapeutic nuclear medicine is further divided into alpha emitters (Ra-223) and beta emitters (Iodine-131, Yttrium-90, Samarium-153, Lutetium-177, Rhenium-186, and other beta emitters). The brachytherapy isotopes are further divided into Iodine-125, Palladium-103, Cesium-131, Iridium-192, and other Brachytherapy Isotopes. The diagnostic segment contributes to the largest share in the nuclear medicine market owing to the increased usage of PET as a diagnostic tool as it provides high precision than any other diagnostic equipment. To enhance accuracy, it is usually used with X-ray and computed tomography (CT). Furthermore, the rising non-invasiveness, cost-effectiveness, ease to handle, and high sensitivity towards abnormalities in an organ function or structure will accelerate the growth of the diagnostic nuclear medicine market. The radiopharmaceuticals market is being driven by the rising need for early and precise diagnosis, as well as high-quality medical solutions.
Beta emitters contribute to the largest market share in the nuclear medicine market owing to the reduced damage to surrounding cells, less energy levels, and travel a long distance.
Insight by Application
The global nuclear medicine (Radio Isotopes) market is divided into three segments based on application: SPECT applications, PET applications, and therapeutic applications. The SPECT applications are further divided into cardiology, bone scans, thyroid applications, pulmonary scans, and others. The PET applications are further divided into oncology, cardiology, neurology, and others. The therapeutic applications are further divided into thyroid indications, bone metastasis, lymphoma, endocrine tumors, and other indications. The thyroid application is anticipated to have the highest growth during 2021-2027 owing to the rising incidence and prevalence of thyroid disorders. Cardiovascular is anticipated to be the fastest-growing segment during the projected period owing to the reduced cost of techniques and increased adoption rate.
Insight by End User
The global nuclear medicine (Radio Isotopes) market is divided into two segments based on end-user: hospitals and diagnostic centers, and research institutes. The hospital's segment is anticipated to have a high CAGR during the forecast period owing to the surging number of outpatients and inpatients in hospitals and the rising patient population.
Nuclear Medicine Market Report Coverage
| | |
| --- | --- |
| Report Metric | Details |
| Historical Period | 2015–2020 |
| Base Year Considered | 2022 |
| Forecast Period | By 2027 |
| Market Size in 2021 | $4.75 Billion |
| Revenue Forecast in 2027 | $7.8 Billion |
| Growth Rate | CAGR 9.1% |
| Segments Covered in the Report | By Type, By Application, and By End-User |
| Report Scope | Market Trends, Drivers, and Restraints; Revenue Estimation and Forecast; Segmentation Analysis; Impact of COVID-19; Companies' Strategic Developments; Market Share Analysis of Key Players; Company Profiling |
| Regions Covered in the Report | North America, Europe, Asia-Pacific, Middle East, and Rest of the World |
Industry Dynamics
Industry Trends
Nuclear medicine is used to improve radiotherapy for several diseases like thyroid-related diseases, respiratory diseases, bone diseases, and neurological disorders. Nuclear medicine adopts radioactive materials for research, diagnosis, and therapy and increased adoption of SPECT and PET along with healthcare education and awareness are the trends in the nuclear medicine (Radio Isotopes) market.
Growth Drivers
Nuclear medicine is being technologically advanced with diagnostic imaging products like MRI, PET, CT scans as it helps in getting full images of the same unit at the same time. Cancer was the biggest cause of death in 2020, according to the WHO, with approximately 10 million deaths. By 2025, 19.3 million new cancer cases are estimated to be recorded annually over the world. According to the WHO, 17.9 million people died from cardiovascular disease (CVD) in 2019, accounting for 32 percent of all fatalities globally. By 2030, this figure is predicted to rise to 23.3 million. Thus, nuclear medicine plays an essential role in disease diagnosis and treatment. Factors attributing to the growth of the nuclear medicine market are the rising prevalence of cancer and cardiac diseases and the initiatives to reduce the demand-supply gap of Mo-99. Furthermore, the rising geriatric population, increased disposable income in urban areas, increase R&D activities to improve radiotherapy of several diseases like thyroid-related diseases, bone diseases, neurological diseases, respiratory diseases, and initiatives by the government to develop novel techniques will drive the growth of the nuclear medicine (Radio Isotopes) market.
Challenges
Radiopharmaceuticals' short half-life limits their potential usage, hospital budget cuts during the COVID-19 pandemic, and costly equipment are projected to impede market growth to some extent. The stringent rules and regulations by the government to approve novel products, lack of standardization, and lack of skilled personnel to use nuclear medicine products will restrain the growth of the market
Opportunities
The rising application sector of radiopharmaceuticals and its rising demand in neurological applications will create opportunities for industry players to expand their product portfolio and cater to the demand for radiopharmaceuticals in neurological applications. Furthermore, advancements in radiotracers, the advent of alpha radioimmunotherapy (Rit)-based targeted cancer treatments, and investments via public and private partnerships will create opportunities for growth in the nuclear medicine (Radio Isotopes) market.
Geographic Overview
North America contributes the largest share in the nuclear medicine market owing to advancements in novel technologies for radioisotope production, funding by the government, and rising R&D expenditure in the region.
Asia-Pacific is anticipated to have a high CAGR during the forecast period owing to the rising demand for nuclear medicines in developing countries like India, China, etc, rising disposable income, enhancing healthcare infrastructure, favorable reforms in foreign policies, and rising geriatric population will fuel the growth of the nuclear medicine market.
Competitive Insight
The novel product launch in the radiopharmaceuticals and development of rapid diagnostic radiopharmaceutical pipelines by industry players will promote the growth of the nuclear medicine market. Furthermore, the industry players are entering into agreements and partnerships to develop and launch diagnostic radiopharmaceuticals and enhance their product portfolio. Nevertheless, the key industry players in the pharmaceutical and biotechnology industries are leveraging their massive capital reserves to further strengthen their position in the nuclear medicine (Radio Isotopes) market, thus increasing the competition.
Advanced Accelerator Applications (AAA) are transforming nuclear medicine and cancer care. Their mission is to improve the lives of cancer patients by developing and delivering targeted radioligand therapies and precision imaging radioligands for oncology. The organization works in all three areas of nuclear medicine (PET, SPECT, and therapy) to diagnose and treat serious medical problems in oncology, neurology, cardiology, infectious, and inflammatory diseases.
Curium Pharma is a nuclear medicine (Radio Isotopes) firm focused to offer patients the best possible outcomes by enabling the best possible care. Their diversified team of industry professionals is focused on one thing: developing, manufacturing, and supplying SPECT, PET, and therapeutic radiopharmaceuticals to customers all over the world. They have one of the industry's most extensive vertically integrated radiopharmaceutical manufacturing networks and include one molybdenum facility, three big SPECT facilities, and about 40 PET and SPECT radiopharmacy in the United States and Europe.
In May 2021, Curium has acquired IASON, an Austrian radiopharmaceutical company, expanding its European footprint for its extensive line of life-saving diagnostic products. Curium has now acquired a second positron-emission-tomography (PET) radiopharmaceutical company this year, following the acquisition of M2i, a leading Irish PET company, earlier this year.
StarGuide is a next-generation SPECT/CT system from GE Healthcare that was unveiled in March 2021 that uses the latest digital technologies to help doctors improve patient outcomes in bone operations, cardiology, neurology, oncology, and other medical disciplines. The system's cutting-edge 12 CZT Digital Focus Detectors not only scan patients in 3D to give clinicians more information but they're also suited for Theranostic treatments, which integrate therapy delivery with disease monitoring diagnosis.
Some of the industry players in the nuclear medicine market (Radio Isotopes) include Cardinal Health, General Electric Company, Bayer AG, Curium, Lantheus Medical Imaging, Inc., Medtronic, Bracco Diagnostic Inc., Nordion (Canada) Inc., Eczacýbaþý-Monrol Nuclear Products, and Advanced Accelerator Applications.
The Nuclear Medicine (Radio Isotopes) Market report offers a comprehensive market segmentation analysis along with an estimation for the forecast period 2021–2027.
Segments Covered in the Report
By Type

Diagnostic Nuclear Medicine

SPECT Radiopharmaceuticals
PET Radiopharmaceuticals

Therapeutic Nuclear Medicine

Alpha Emitters
Beta Emitters

Brachytherapy Isotopes

Iodine-125
Palladium-103
Cesium-131
Iridium-192
Other Brachytherapy Isotopes

By Application

SPECT Applications

Cardiology
Bone Scans
Thyroid Applications
Pulmonary Scans
Others)

PET Applications

Oncology
Cardiology
Neurology
Others

Therapeutic Applications

Thyroid Indications
Bone Metastasis
Lymphoma
Endocrine Tumors
Other Indications

By End-User

Hospitals and Diagnostic Centers
Research Institutes
Region Covered in the Report
North America
Europe

Germany
U.K.
France
Italy
Spain
Russia
Rest of Europe

Asia-Pacific (APAC)

China
Japan
India
South Korea
Rest of Asia-Pacific

Rest of the World (RoW)

Brazil
Saudi Arabia
South Africa
U.A.E.
Other Countries

To explore more about this report - Request a free sample copy