Industry Overview
The testing, inspection and certification market in the chemical industry was USD 13 billion in 2020, registering a CAGR of 3.5% during the forecast period 2021-2027. Testing in TIC means an industry activity that assures manufactured products, individual components, and multi-component systems are suitable for the predetermined purpose.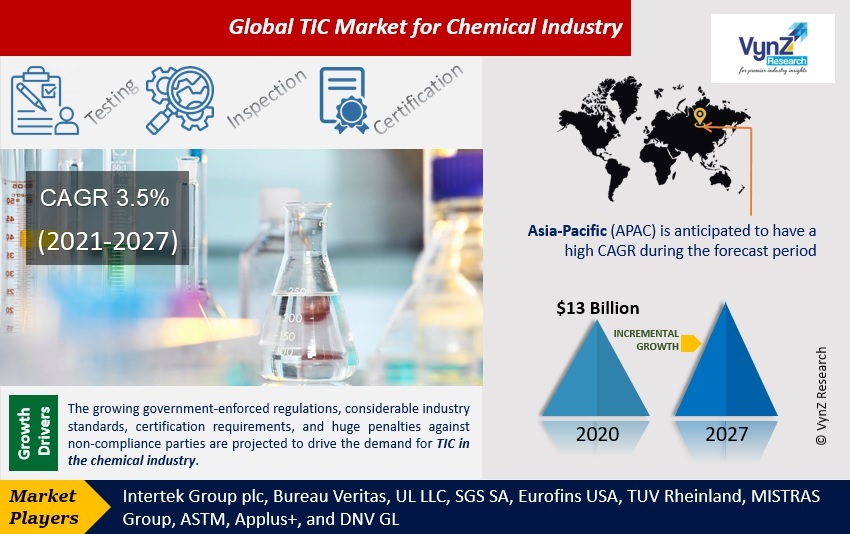 Inspection and testing are the operating parts of quality control, which is the most critical factor for the survival of any manufacturing company. Quality control directly supports other factors such as cost, productivity, on-time delivery, and market share. The testing, inspection, and certification market report is composed of conformity assessment agencies, which provide services from audit and inspection to testing, verification, quality assurance, and certification.
Globalization has led to product standardization norms and has penetrated developed technologies across various industries such as the chemical industry, electronics, and automotive industries, etc., resulting in the growth of the TIC market during the forecast period 2021-2027.  Moreover, the growing middle-class population, rapid urbanization, mandatory safety regulations, upsurge in the illicit trade of counterfeit and pirated products, advancement in networking and communication technology, the inclination of outsourcing testing, inspection, and certification services has propelled the growth of the TIC market in the chemical industry. Nevertheless, TIC provides various advantages related to its credibility and image, compliance with legal and regulatory requirements, less turnover of employees, high level of cost control improvement, and fast improvement of different processes. It is important to ensure that the quality of products regarding chemical feedstocks like acids, alkalis, and monomers should be reliable, safe, sustainable, and secure in the production and supply chains.
The COVID-19 pandemic resulted in a short-term decline in demand and revenue in the first quarter of 2020. Moreover, TIC is playing a crucial role by offering assurance that the products and services offered to the customers will provide safety and health standards. Business organizations in the TIC market are intensifying IT infrastructures and developing business continuity plans, implying that the testing, inspection, and certification market are holding the substantial potential to bounce back from the COVID-19 outbreak. This is due to the fact that TIC services will enhance and protect brand reputation, verify products' safety, and enables trade.
Market Segmentation
Insight by Sourcing Type
Based on sourcing type, the TIC market for the chemical industry is bifurcated into in-house and outsourced. Among the two segments, the in-house segment dominates the market and is anticipated to hold the largest share during the forecast period 2021-2027. Deploying in-house testing and inspection will offer companies to have complete control over the entire process in terms of technology, assist quality control, trace analysis, contamination issues, skilled personnel, and testing and measurement equipment. Thus, enabling organizations to handle TIC activities like on-site availability, ability to employ talent, and establish custom practices as per the needs and desires of the organizations.
Insight by Service Type
Based on service type, the TIC market for the chemical is segmented into testing, inspection, and certification. Among these segments, the testing segment holds the largest share in the testing, inspection, and certification market in 2020 owing to the diverse product standards, regulatory compliance in terms of ISO 17025, GLP, ASTM, etc., increasing need for improved safety, growing industrialization, and a need to protect the brand. Also, there is a need to understand the quality and composition of chemical substances used in the products, industrial processes, and manufacturing. Moreover, the certification market is anticipated to have a high CAGR during the forecast period owing to the consumer awareness about the certified products, companies growing need to improve the product value, the surge in demand for quality and safe products, and mandatory regulatory requirements.
Insight by Industry Vertical
Based on industry vertical, the TIC market for the chemical industry is divided into agrochemicals & pesticides, base & industrial chemicals, dyes & detergents, lubricants & greases, nanomaterials, petrochemicals, polymers & plastics, specialty chemicals, and others.  There is a significant demand for petrochemicals in emerging countries leading to investment by national oil companies globally. There is a need to test and analyze base and industrial chemicals as they are used in various industries such as specialty chemicals, polymers, agrochemicals, pharmaceuticals, detergents, solvents, textiles, and many others. Dyes & detergents are important in the manufacturing of consumer and industrial products such as apparel & textiles, toys, medical devices, etc. as they can provide specific finishes, prevents mold growth, decrease product degradation.
Industry Dynamics
Industry Trends
The TIC for the chemical industry is characterized by various industry trends such as growing investment in AR and VR, mounting adoption of connected devices and cloud-based technology, increasing mergers and acquisitions by the industry players, and sustained consolidation of suppliers leading to globalization.  
Growth Drivers
The growing government-enforced regulations, considerable industry standards, certification requirements, and huge penalties against non-compliance parties are projected to drive the demand for TIC in the chemical industry. Product safety is important and the presence of hazardous chemicals must be assessed across the supply chain. Moreover, health and environmental risks must be minimized and comply with chemical restrictions globally. Thus, products should be free from harmful or restricted substances, resulting in the growth of the TIC market for the chemical industry.
Challenges
The testing, inspection, and certification market face certain challenges like trade wars and growth fluctuations, huge investment for automation and installation of industrial safety systems, high cost of TIC owing to diverse standards and regulations globally. Moreover, high R&D costs, complex processes, use of hazardous reagents, purification issues, the huge volume of waste, and pollution are the challenges faced by the chemical industry. Thus, a lack of testing facilities and skilled personnel may hamper the growth of the TIC market.
Opportunities
Testing, inspection, and certification is a massive market that provides lucrative opportunities in technologies such as AI, robotics, drones, big data analytics, next-generation automation, and cloud and cybersecurity. Moreover, new research & development in TIC will provide promising opportunities in the TIC market for the chemical industry.
Geographic Overview
Geographically, APAC is anticipated to have a high CAGR during the forecast period owing to the rising investment in R&D, rapid urbanization, huge manufacturing capabilities and exports, improved lifestyles, and increasing consumer awareness about the importance of certification. Moreover, the developed countries have their manufacturing units in the region, especially in China and India. Nevertheless, the growing middle-class population has led to the growth in private consumption and mounting demand for safety and product quality, resulting in providing opportunities in the chemical industry.
Competitive Insight
Key players are adopting technological changes to improve their product portfolio and generate new revenues, optimize the operational cost, and enhance service efficiencies via process upgrades. The industry players are taking the COVID-19 crisis as an opportunity to restructure and revisit their existing strategies, focus on new services and delivery models to access the demand for rising automation, remotely-performed services, and enhanced digitization.
The industry players are focused on core competencies to have a competitive edge and started building strategies like mergers and acquisitions, product innovation, and geographical expansion to hold a major share in the TIC market for the chemical industry.
UL, a global leader had acquired ChemADVISOR, a recognized world leader in chemical regulatory compliance and data solutions. UL will broaden its compliance solution services by integrating ChemADVISOR's environmental, health, safety, and transportation information, and solutions, thus, help businesses navigate the ever-changing, chemical regulatory landscape.
Some of the key players operating in the TIC market in chemical industry: Intertek Group plc, Bureau Veritas, UL LLC, SGS SA, Eurofins USA, TUV Rheinland, MISTRAS Group, ASTM, Applus+, and DNV GL.
Source: VynZ Research