Industry Overview
The global airport operations market is estimated to be USD 8.3 billion in 2020 and is predicted to reach USD 14.3 billion by 2027, growing at a CAGR of 11.0% during the forecast period. The major factors responsible for airport operations market growth were surge in passenger traffic volumes through increase in flight capacity and frequency, particularly from developing economies. Moreover, with rapid globalization and favorable economic conditions has also increased the profit margins, which thereby fueled manufacturing activities, causing more frequent cargo flights from developing economies to developed ones and vice versa. China has become the export based economy, so air cargo traffic in the country has surged a lot in the past decade, followed by other Asian giants like South Korea, India, Malaysia, and Taiwan. Additionally, small chunk of airport revenues also comes from passenger shopping at the retail stores, eating at restaurants, and purchasing antiques from duty free shops, while waiting for the flights.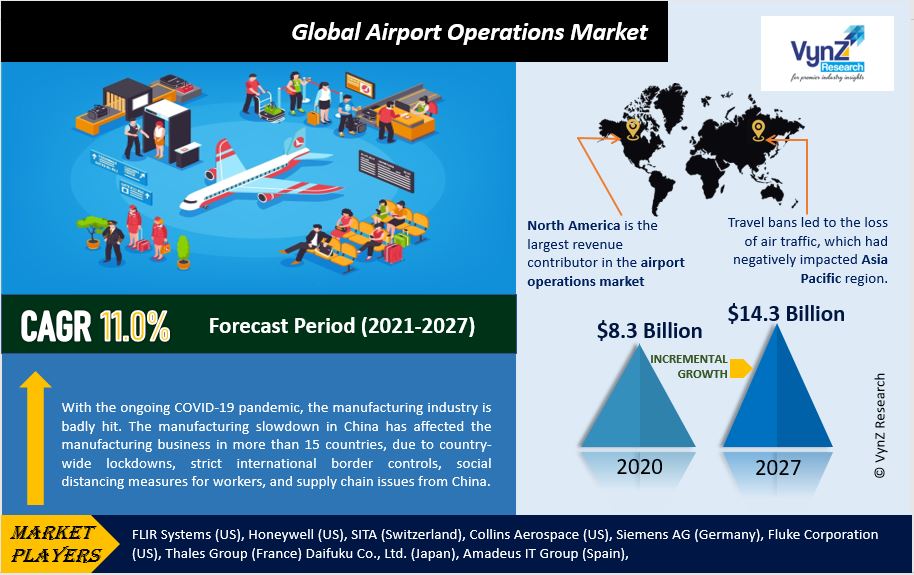 Majority of the airport operations include businesses which operate on national, international, and civil airports. It includes air traffic control services, baggage & cargo handling services, aircraft refueling, aircrafts parking and rental services, aircraft maintenance, and hungar space rental space services. According to in-house estimates, the current projection for 2025 is projected to be lower than pre-COVID-19 estimates. Realistically, the airport operations market is expected to recover from mid-2021 and will be struggling with growth rate from 2020 to 2021. In optimistic scenario, the market is expected to recover from Q3 of 2020, owing to government stimulus for airport operations and subsequent rise in the cargo activities, from essential manufacturing base.
Market Segmentation
Insight by Technology
Based upon technology, the airport operations market is categorized into passenger screening, baggage scanners, smart tag & RFID, E-gate & E-kiosk, 5G infrastructure, cybersecurity solutions, and ground support equipment. The passenger screening market is further being bifurcated as hand held scanners, walk through scanners, and full body scanners. E-Gate & E-Kiosk segment is further segmented into smart boarding systems and smart biometric systems. The current pandemic of COVID-19 has created ripples across several industry verticals. The ongoing pandemic has led to the suspension of passenger flights, which is causing setback in ground support equipment segment. Ground support equipment on the airport operations is responsible for its smooth functioning such as timely loading and unloading of baggage and cargo from the aircraft, including boarding of passengers and crew members. According to the estimates of the International Air Transport Association (IATA), more than 150 countries has imposed air travel restrictions due to ongoing COVID-19 crisis. This has resulted in loss of revenue for ground handlers in the first quarter of 2020. Moreover, the orders for the ground support equipment that were scheduled to be delivered have also been disrupted due to supply chain constraints.
Industry Dynamics
Growth Drivers
With the ongoing COVID-19 pandemic, the manufacturing industry is badly hit. The manufacturing slowdown in China has affected the manufacturing business in more than 15 countries, due to country-wide lockdowns, strict international border controls, social distancing measures for workers, and supply chain issues from China. Moreover, according to the ISM global supply chain survey results, more than 75.0% of the manufacturing firms reported disruptions in the supply chain, owing to transportation restrictions due to countrywide lockdowns to avoid the spread of COVID-19 virus.
Airline cargo transport more than 52 million metric tons of goods annually, accounting more than 35% of the global trade value, constituting less than 1% of the world trade by all modes of transport. This is equals to around US$ 6.8 trillion worth of goods and merchandise annually, representing US$ 18.6 billion worth of goods each day.
Most of the airports across the globe have evolved from being international travel enabler to integral part of the socio-economic engine driving regional economic growth of the country. The shift was characterized by four forces, playing crucial role in the functioning of airports. It includes externalization of airports, internal focus on the airport operations, thereby improving passenger experience rather than simple origin to destination operability and serving the social and the economic needs of the large set of workers associated with airport functioning on the daily basis. Moreover, changes in the strategic and financial drivers, particularly driven by increasing pressure of airline operators on the aeronautical fees, with more focus on inter-city domestic airline carriers.
Challenges
However, the airport operations are highly cost-intensive with various complexities, with majority of the revenue sources are mitigated with ongoing COVID-19 outbreak. This is a key factor that acts as a hurdle for the growth of the airport operations market. 
Geographic Overview
Geographically, North America is the largest revenue contributor in the airport operations market due to growth of pandemic massively in the region. The demand for opening up of different revenue strategies has been in thinking by the companies based in the region in order to fight coronavirus. The number of COVID-19 cases in North America is also enhancing rapidly with registered cases of almost 5,04,780 and 18,763 deaths as registered in the first week of May.
Travel bans led to the loss of air traffic, which had negatively impacted Asia Pacific region. The Airports Council International (ACI) has warned countries in the region for the prolonged duration of COVID-19, which will prevent it from previously forecasted growth prospects. The airport association urged airline regulators and government to implement relief measures tailored to the local level contexts. According to ACI World estimates, Asia Pacific is impacted the worst, with passenger traffic volumes down by 24% in the first quarter of 2020 as compared to forecasted traffic levels without COVID-19. Mainland China, Hong Kong SAR, and the Republic of Korea remain widely affected by sizeable losses in traffic volumes. Meanwhile, there is a sudden spike in the COVID-19 cases in several countries of West Asia, which is expected to negatively impact traffic volume by more than -4.2% as travelers and airlines adjust their aircraft and seat offerings.
The manufacturing sector is likely to receive severe hit. Direct supply disruptions will hinder production, since the outbreak is more focused on globe's manufacturing heartlands, East Asian countries (China, Japan, and South Korea) and it is spreading exponentially to industrial giants like the U.S., UK, Germany, and France. This supply chain contagion will amplify supply shocks to less affected countries, as the procurement of raw materials in between the nations will become expensive. Moreover, there would also be disruptions in the demand due to recession, purchase and investment delays by consumers and respective firms.
As of 5 May 2020, the top ten countries hardest hit by the COVID 19 are the ten largest economies in the world, excluding India and Iran. The U.S., China, France, the U.K, Japan, Germany, and Italy are all in the top ten most affected countries by the pandemic. While China, being the hardest hit, in last few days the outbreak has saw exponential rise in the cases in all G7 economies. Among G7 economies, the U.S., China, Japan, Germany, the UK, France, and Italy accounted for more than 60% of the world's supply and demand (GDP), 65% of the world manufacturing, and 41% of the world's manufacturing exports. 
Competitive Insight
FLIR Systems (US), Honeywell (US), SITA (Switzerland), Collins Aerospace (US), Siemens AG (Germany), Fluke Corporation (US), Thales Group (France) Daifuku Co., Ltd. (Japan), Amadeus IT Group (Spain), among others are some of the leading players operating in the airport operations market. These players have adopted growth strategies such as new product developments, contracts, partnerships, agreements, collaborations, and acquisitions to expand their presence in the market further. There are opportunities for innovative companies to manufacture smart biometric solutions, thermal imaging, and fever detection scanners.
Few recent strategic initiatives happened in the past include the following such as, in 2019, Collins Aerospace entered into a multi-year agreement with Salvador Deputado Luis Eduardo Magalhaes International Airport (SSA). With this agreement, the former will provide SSA with several industry leading solutions, which will help in easing congestion, improving airport efficiency, and passenger processing times. Similarly, in the same year, FLIR systems launched 3 new pan-tilt-zoom (PTZ) security cameras, namely, FLIR Elara DX-Series, FLIR Saros DM-Series, and e FLIR Quasar 4K IR PTZ.
Primary Research
VynZ Research conducts extensive primary research to understand the market dynamics, validate market data and have key opinions from the industry experts. The key profiles approached within the industry includes, CEO, CFO, CTO, President, Vice President, Product Managers, Regional Heads and Others. Also, end user surveys comprising of consumers are also conducted to understand consumer behavior.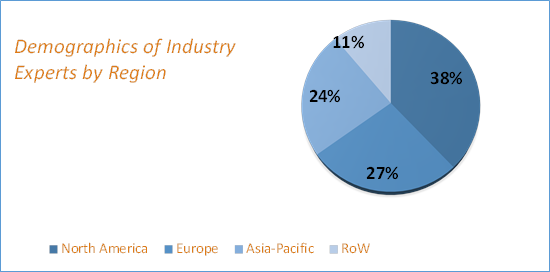 Source: VynZ Research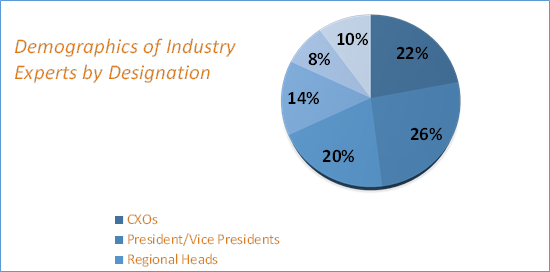 Source: VynZ Research