Industry Overview
The global cloud seeding market size is expected to reach USD 0.25 billion by 2030 from USD 0.13 billion in 2021, registering a CAGR of 5.5% during the forecast period. Cloud seeding is a technique to alter weather conditions that includes modifying a cloud structure with chemical agents and stimulating the process of rain or snow. This method is being deployed to control weather events like suppressing storms or causing rain in draught affected areas.  The global cloud seeding market is in the initial stages of development and provides high prospects of growth. The most common chemicals used for cloud seeding include potassium iodide, silver iodide, and dry ice. In the current market, sales of these systems are fueled by the fact that they are widely used to evaporate fog and clouds.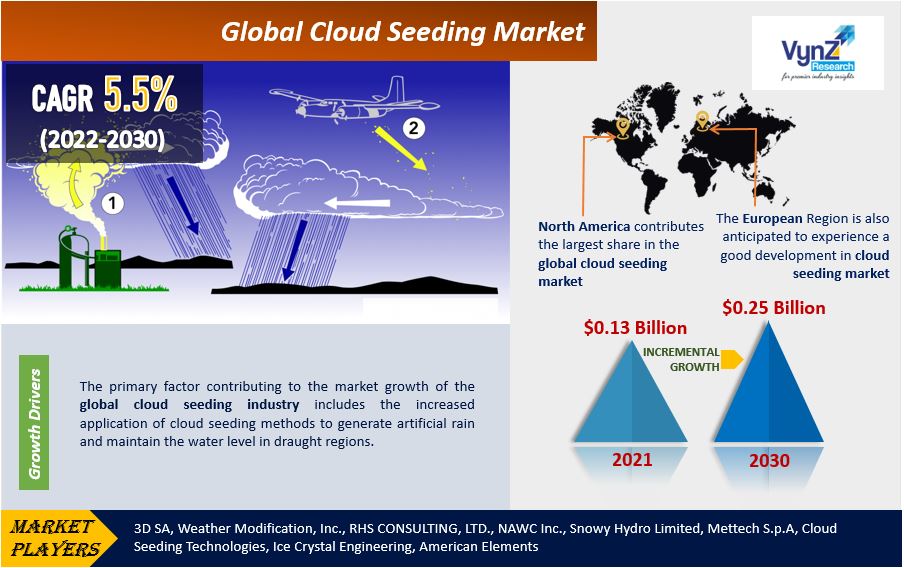 Market Segmentation
Insight by Seeding Type
Based on Seeding Type, the Global Cloud Seeding Market is bifurcated into Ground-Based Seeding and Aerial-Based Seeding. Ground-based seeding is further divided into the remote ground-based generator, manual ground-based generator, and flare trees. Aerial-based seeding is further divided into burn-in-place flare rack and ejectable flare rack. Aerial-Cloud Seeding is anticipated to contribute the largest share of the market owing to its ease to cover large areas in a short span of time and is cost-effective. Aerial cloud seeding is implemented in weather modification projects to target clouds and pull in extra precipitation to increase rainfall. Top seeding allows the seeding chemical to be injected directly into the top of the supercooled cloud. Base seeding is the introduction of a seeding substance into the updraft of a cloud base. Such factors are propelling the growth of the aerial-based cloud seeding segment, which will propel the growth of the global cloud seeding market in the coming years.
Insight by Seeding Technique
Based on Seeding Technique, the Global Cloud Seeding Market is bifurcated into Hygroscopic and Glaciogeneic. The hygroscopic segment dominates the market owing to the increased demand to generate rainfall or hasten the cloud condensation process so as to handle freshwater shortage demands, thereby propelling market advancement of the global cloud seeding industry.
Insight by Application
Based on Application, the Global Cloud Seeding Market is segregated into Fog Dissipation, Hail Suppression, Snowfall and Rainfall Augmentation, and Others. Snowfall and Rainfall Augmentation dominates the market. There is an increase in population in urban areas, which leads to an increase in construction activities. This has increased demand for cloud seeding equipment for precipitation modification, as it assists farmers in increasing yield by improving soil water-holding properties. Moreover, because hailstorms occur infrequently, the need for cloud seeding equipment to prevent such events is also minimal. Several countries have used this technique in areas where severe droughts have occurred.
Global Cloud Seeding Market Report Coverage
| | |
| --- | --- |
| Report Metric | Details |
| Historical Period | 2018–2021 |
| Base Year Considered | 2022 |
| Forecast Period | 2022 - 2030 |
| Market Size in 2021 | $0.13 Billion |
| Revenue Forecast in 2030 | $0.25 Billion |
| Growth Rate | CAGR 5.5% |
| Segments Covered in the Report | By Seeding Type, By Seeding Technique, and By Application |
| Report Scope | Market Trends, Drivers, and Restraints; Revenue Estimation and Forecast; Segmentation Analysis; Impact of COVID-19; Companies' Strategic Developments; Market Share Analysis of Key Players; Company Profiling |
| Regions Covered in the Report | North America, Europe, Asia-Pacific, Middle East, and Rest of the World |
Industry Dynamics
Growth Drivers
The primary factor contributing to the market growth of the global cloud seeding industry includes the increased application of cloud seeding methods to generate artificial rain and maintain the water level in draught regions. Other factors contributing to the market growth of the global cloud seeding industry include surging investment in cloud modification programs, the introduction of novel technologies, mounting demand to minimize environmental threats, and increased concern about water shortage and global warming.  Moreover, expanding the agricultural sector and government initiatives, such as increasing the implementation of artificial rainfall technologies to increase water levels in countries such as India, are expected to drive the market.
Cloud seeding technology can substantially minimize the impact of natural disasters and climate change as it uses chemicals such as silver iodide and sodium chloride which can fasten the precipitation of rain clouds and reduce the projected overall damage. A cloud containing extremely heavy snow or rain particles, for example, that is heading toward populated areas may be seeded in a jungle environment.
Thus, the market is fueled by an increase in investments and funding for cloud seeding, a burgeoning requirement to cater to the increased demand for food goods, and a growing emphasis on controlling weather patterns.
Challenges
The major impediment to the global cloud seeding market's growth is the difficulty in commercializing cloud seedling technology. If cloud seeding is used too frequently, the complex process of changing the weather has the potential to have long-term effects on the earth's atmosphere. Also, the market is hampered by high implementation costs, insecurity in deploying cloud seeding systems, and a lack of effectiveness in this process.
Another significant barrier to commercial acceptance is the inability to perform cloud seeding on every cloud. A perfect set of weather conditions, such as a minimum density of seedable clouds, is required for the best results. To overcome these disadvantages, sophisticated weather forecasting and monitoring technology are required, which limits the commercial potential of cloud seeding. During the projected timeframe, such factors are anticipated to impede the growth of the cloud seeding market.
Opportunities
The industry players are having ample opportunities for growth in the global cloud-seeding market owing to:
Increased adoption of cloud seeding technology to produce artificial rains
Rising Government investment to improve water resources
Maintaining water levels at a certain point in arid locations
Furthermore, governments in China, India, and the United Arab Emirates are heavily investing in weather modification projects, creating enormous opportunities for market participants to conduct research and develop new products.
Geographic Overview
North America
Europe
Asia Pacific (APAC)
Rest of the World (RoW)
North America contributes the largest share in the global cloud seeding market owing to introduction of new technologies, increased investment in R&D activities, mounting deployment in communication and surveillance purposes, and presence of key industry players will accelerate the market share in the region.
The European Region is also anticipated to experience a good development in cloud seeding market owing to increased initiatives by countries to minimize the dependence on erratic rains, rising artificial rains in drought areas and develop their own 'rain cycle'. The region's exponential population growth is increasing water demand, and the weather modification technique will cater the rising market demand for fresh water by boosting cloud precipitation activities.
Competitive Insight
The Global Cloud Seeding Market is relatively fragmented, with no market player controlling a significant market share. However, the number of market participants is limited. The market participants have to collaborate with government officials. Moreover, new entrants with a good understanding of bureaucratic processes will also be able to run profitable businesses. Optimizing the process to reduce costs will eventually result in increased demand for cloud seeding or by introducing novel policies which boost product acceptance sill accelerate the market development of global cloud seeding industry.
RHS Consulting is a privately held cloud seeding and weather modification company based in Nevada, USA. Their mission is to create effective cloud seeding programmes that provide additional, responsible water sources for the environment, families, and future generations. RHS Consulting uses cutting-edge scientific techniques to solve cloud seeding problems. They create, operate, and evaluate weather modification services, including turn-key operational projects and research programmes that use both airborne and ground-based seeding. All of their operational and research programmes are founded on the most recent scientific findings, practical experience, and time-tested technology.
Mettech S.p.A. is a company that specialises in the development of "Sowing of Cloud" programmes, specifically with the operation of Terrestrial Generators of Silver Iodide. Because of the world's water deficit and increased water consumption, this technology is becoming increasingly necessary and used, as it is practically the only way to increase the availability of fresh water. The goals can include both mitigating the effects of a specific drought and changing the climatology of areas with natural water scarcity, such as semi-arid zones. The state, agriculture, mining, hydroelectric generation, and drinking water services are the primary users.
Recent Development by Key Players
Cloud seeding may gain traction in Colorado in October 2022 as the western United States' water crisis worsens. Along the upper Gunnison River, North American Weather Consultants already operates a cloud seeding operation. The new operation in Boulder County could be one of the first on the Front Range. A new operation is being established along the St. Vrain headwaters west of Longmont, with operations set to begin this winter.
In August 2022, China's authorities are attempted to induce rainfall in the midst of a catastrophic drought caused by a record-breaking heatwave. According to reports, the country plans to use cloud-seeding technology to generate rain in an attempt to alleviate drought conditions in several regions, including the Yangtze River basin.
Key Players Covered in the Report
Some of the major players operating in the cloud seeding market include 3D SA, Weather Modification, Inc., RHS CONSULTING, LTD., NAWC Inc., Snowy Hydro Limited, Mettech S.p.A, Cloud Seeding Technologies, Ice Crystal Engineering, American Elements, and Seeding Operations and Atmospheric Research.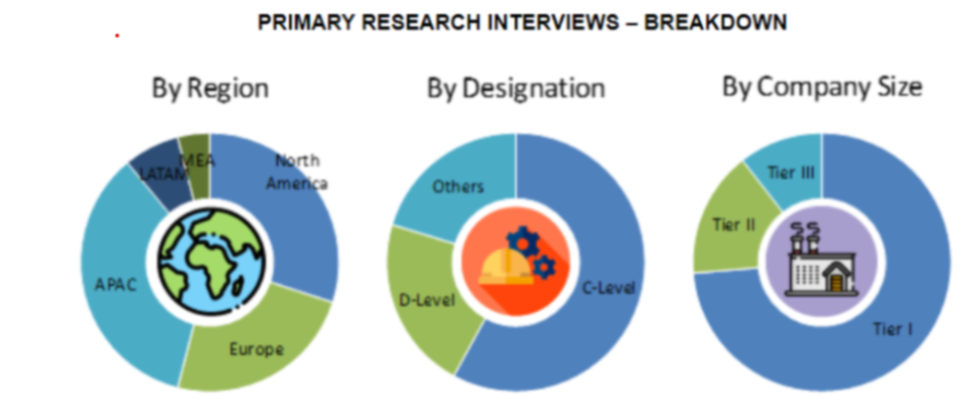 To explore more about this report - Request a free sample