Industry Overview
The global aerial imagery market size is expected to grow from USD 2.86 billion in 2022 and will reach USD 8.5 billion by 2030, witnessing a market growth rate (CAGR) of 14.8% during the forecast period.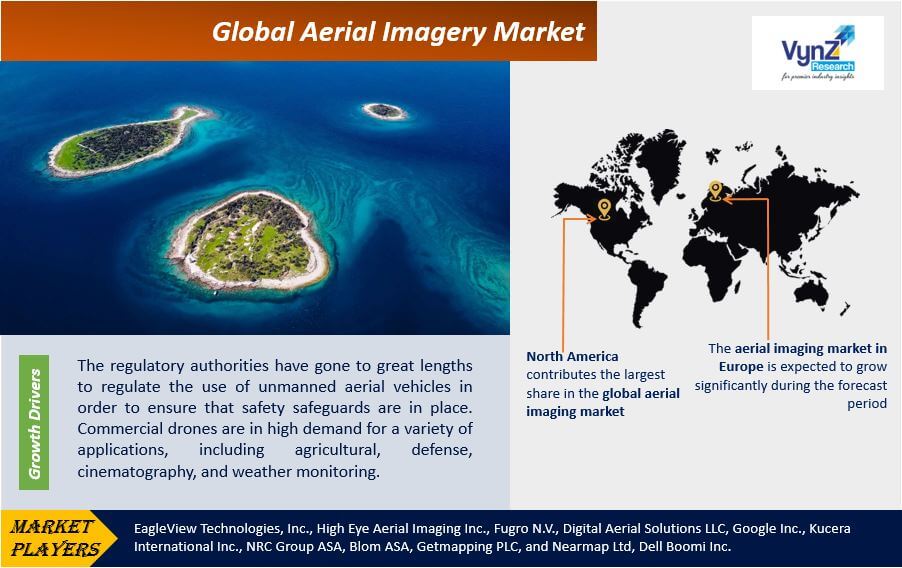 Aerial imaging is the technique of taking pictures of the ground using cameras attached to vehicles like helicopters, parachutes, planes, kites, unmanned aerial vehicles (UAVs), balloons, vehicle-mounted poles, and airships. Owing to its high precision and cost-effectiveness for volume-based calculation, there is increased adoption in several applications like risk mitigation, resource planning, mapping, research & excavation, security and surveillance, urban planning, engineering, farming management, tourism, etc., which will propel the market growth of the aerial imagery.
The development of ready-to-fly (RTF) devices, soft-copy photogrammetry software, low-cost digital cameras, image processing, GPS, thermal, multispectral, hyperspectral, and LiDAR sensors has boosted the market demand for aerial imagery.
Industry Trends
The COVID-19 outbreak has affected the growth of the aerial imagery market owing to the slowdown in new product deliveries, reduced allocation towards R&D activities, reduced demand for new UAVs ad drones, and the temporary shutdown of manufacturing facilities.
 However, UAVs have been essential in surveying and mapping regions where hospitals and COVID-19 test centers could be built, as well as monitoring such locations. Maps made with aerial imagery are often used by police forces. It is used by the department to relocate vital materials, place physical distance markers, allocate workforce, decide where to build up isolation centers, label neighboring hospitals and police stations as hotspots, and determine the shortest paths for simple transit in the event of an emergency.
Aerial imaging technologies are being used by public and government entities for archaeological purposes and to produce 360-degree panoramic interfaces. The market is growing due to an increase in the use of UAVs for data analytics, data collecting, and real-time inspection in various industrial applications. Researchers can access image data from far away because of the integration of cloud computing and satellite imagery. These are trends that will fuel market expansion in the global aerial imagery market.
Market Segmentation
Insight by Imaging Type
Among these two imaging types, the oblique aerial imagery category is expected to witness the highest growth during the forecast period as it offers viewers with easy comprehensible image of grounded area and is useful to look for foreground building frontages.  
Other advantages of oblique imaging include superior interpretation of elevation features and improved preciseness, which are projected to boost market demand for oblique aerial imagery systems. Moreover, oblique aerial images are useful for applications that require viewing side-views of man-made structures.
Insight by Platform
Fixed Wing
Rotary Wing
UAV/Drones
Parachutes
Airships
Balloons
Vehicle Mounted Poles
Rockets
Others
Among these platforms, UAV segment contributes the largest share in the aerial imagery market owing to the increased adoption of UAVs for aerial mapping in the agriculture, government & defense, and forestry sector. The US military and civil government are increasing the operations of UAS also called drones. Thus, The growing use of drones in defence and homeland security to identify terrorism issues and precisely find sensitive locations is likely to boost demand for aerial imaging solutions in the sector.The aerial imagery market has witnessed significant growth in recent years due to advancements in sensor technologies, improved image resolution, and the availability of cost-effective aerial platforms. The increasing demand for geospatial data and the integration of aerial imagery with advanced technologies like artificial intelligence (AI) and machine learning (ML) are driving further innovation in this industry.
Insight by Application
Surveillance and Monitoring
Geospatial Mapping
Conservation and Research
Urban planning
Disaster Management
Energy and Resource Management
Others
Geospatial mapping is anticipated to have a high CAGR during the forecast period. Geospatial analysis is the process of applying statistical analysis and other analytical tools to data with a geospatial or geographic element. The use of aerial imagery in geospatial mapping has been widely used in the planning, development, and management of national land.
The disaster management category is projected to grow at a faster pace owing to the increased use of aerial imaging solutions to evaluate the amount of damage caused by natural disasters. Drones are highly used in the aftermath of disasters such as storms and forest fires to immediately respond to repair and rescue needs.
Insight by End User
Government
Oil & Gas
Military & Defense
Education & Academic Research
Energy & Power
Civil Engineering & Archaeology
Media and Entertainment
Agriculture and Forestry
Others
The defense sector contributes the largest share in the aerial imagery market outlook as they are used to safeguard border areas and prepare map structures. The information gathered through aerial imagery is used to create flight simulation scenarios. The creation of these environments allows aircraft pilots to adjust to the field's actual topographical conditions. As a result, the need for aerial imagery in the defense sector is growing.
Government segment will grow substantially during the analysis period as public and government organizations are using aerial imaging solutions for archeological and developing 360-degree panoramic interfaces.
Aerial Imagery Market Report Coverage
| | |
| --- | --- |
| Report Metric | Details |
| Historical Period | 2018–2022 |
| Base Year Considered | 2022 |
| Forecast Period | 2023-2030 |
| Market Size in 2022 | $2.86 Billion |
| Revenue Forecast in 2030 | $8.5 Billion |
| Growth Rate | CAGR 14.8% |
| Segments Covered in the Report | By Imaging Type, By Platform, By Application, and By End-User |
| Report Scope | Market Trends, Drivers, and Restraints; Revenue Estimation and Forecast; Segmentation Analysis; Impact of COVID-19; Companies' Strategic Developments; Market Share Analysis of Key Players; Company Profiling |
| Regions Covered in the Report | North America, Europe, Asia-Pacific, Middle East, and Rest of the World |
Industry Dynamics
Growth Drivers
Increased Prominence of UAV and Drone Technology will Drive the growth of the market.
The regulatory authorities have gone to great lengths to regulate the use of unmanned aerial vehicles in order to ensure that safety safeguards are in place. Commercial drones are in high demand for a variety of applications, including agricultural, defense, cinematography, and weather monitoring. Furthermore, the firms are concentrating on developing applications and software to make drone use safer. Also, drone sensors are launched from the Internet of Things, thus fueling the demand for drone aerial spraying
Additionally, the wide range of applications provided by drones has prompted businesses to develop innovative new long-range UAV technology, which is likely to drive the global aerial imagery market growth over the forecast period.
Technological development like the proliferation of wireless technologies and integration of IoT-based systems will help in enhancing the image quality of ground and spaces that are somewhat inaccessible, resulting in the market growth of aerial imagery outlook. Also, increased adoption in defense, agriculture, government, civil engineering, research applications and a surge in the occurrence of natural calamities like fire, earthquakes, floods, cyclones, etc. will propel the market development further. Furthermore, adoption of aerial imaging technology to install 5G infrastructure will supplement the aerial imaging market growth.
Aerial imaging relies on GPS to determine precise locations. Farmers, for example, use GPS targeting to monitor crop health, detect potential issues, and spray fertilizer. The precision of aerial imagery aids energy and power site management since it can be repaired from weather damage and targeted more precisely.
Challenges
Public and national security over drone data collection are Posing challenges in the Growth.
The increased concern regarding security related to no-fly zones (NFZ), increasing strict government regulations, rising geometric distortion in images, and inaccurate data collection about unfavorable weather conditions will pose a market challenge for the growth of the aerial imaging industry.
Although drones and unmanned aerial vehicles (UAVs) are intended for commercial usage, the images captured can be misused. Using digital aerial and satellite photos, potential thieves might undertake virtual surveillance of banks, government buildings, parks, and schools. Therefore, national security may be jeopardized.
Opportunities
Increasing real estate demand is likely to create significant commercial prospects.
For a better picture of a property and its surroundings, aerial imagery is increasingly being used in the real estate and construction industries. Drones and unmanned aerial vehicles (UAVs) have made standalone photographs of a property obsolete in recent years. Aerial imagery can help property owners raise their home's profile and increase market demand. It is also a cost-effective and innovative solution for prospective buyers.
Also, increased R&D activities post-COVID-19 crisis and a surge in demand from developing economies will further create market opportunities for the key players to develop aerial imaging solutions. 
Geographic Overview
North America
Europe
Asia Pacific (APAC)
Rest of the World (RoW)
Global Aerial Imagery Market, By Region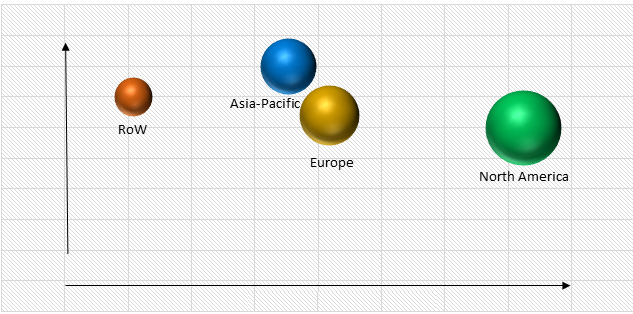 North America contributes the largest share in the global aerial imaging market owing to the increase in the development of UAVs and PAMS, mounting adoption in defense, energy, agriculture sector, increased government spending in the construction industry, rising investment in smart city projects and rapid urbanisation will further bolster the growth of aerial imagery in the region.
Moreover, The aerial imaging market in Europe is expected to grow significantly during the forecast period owing to increased development in imagery intelligence solutions and rising use to monitor aquatic vegetation. Commercial drones are becoming accepted in the defense, agriculture, disaster management, and energy sectors in Europe, which is expected to increase the accuracy of aerial surveys and successfully stimulate regional demand.
Competitive Insight
Globally, aerial imagery industry players are maximizing market growth through partnerships, product launches, R&D activities, and acquisitions. Moreover, increased investment in new aerial imagery businesses, mainly drones, has emerged as a market potential for aerial imagery industry. Thus, the global market for aerial imagery is highly fragmented and players are focusing on integrating advanced competences in their imaging solutions via modern analytics and image processing platforms.
EagleView is one of the prominent market leader in aerial imagery, machine learning-derived data analytics, and software, assisting customers across a variety of industries in utilising property insights for better planning, constructing, and living. It possesses the world's largest multi-modal image database, covering 98 percent of the United States' population. With highly detailed orthomosaic and oblique imagery and 360-degree views, EagleView Reveal offers a comprehensive virtual solution to make accurate planning decisions without the time, expense, and safety risk of on-site visits.
Getmapping plc is a prominent global leader in geospatial survey solutions and a pioneer in gathering aerial photographs and data in the United Kingdom. Getmapping is the premier provider of aerial survey services in the UK, including vertical, oblique, and LiDAR data, as well as ground-based survey services using cutting-edge Mobile Mapping devices. It can lead the development of the next generation 3D geospatial data, KEPLER 5, which provides True Digital Twins of the built environment.
Getmapping serves a wide range of businesses, including the public sector, emergency services, utilities, transportation and infrastructure, property, technology developers, financial services, telecommunications, tourism, and gaming.
Recent Development by Key Players
In October 2021, EagleView, a major provider of aerial imaging and data analytics, and Cityworks, a Trimble Company, have announced the availability of an asset management workflow integration in the United States. For the first time, users in the United States and Canada may access EagleView's Integrated Pictometry Application (IPA) directly from the Cityworks Esri map viewer, allowing them to view EagleView's high-resolution aerial imagery in an integrated view.
This interface streamlines the project workflow for public works and asset management workers, saving time and money by minimising field trips. Personnel can evaluate assets in the field, such as signs and traffic lights, using EagleView's proprietary oblique imaging, which provides a 45-degree angle view of a property.
In October 2021, Nearmap, one of the pioneers in aerial imagery company revealed its next steps in a growing partnership with the state of New Jersey to help streamline decision-making in isolated locations by taking aerial photographs of the whole Garden State. Nearmap previously only flew a portion of the state, excluding woods and wetlands, but will now fly the areas of the state required by government agencies to make informed decisions regarding environmental conservation and other government planning.
Key Players Covered in the Report
Key players in the aerial imagery market include satellite imaging companies, drone service providers, geospatial data providers, and software developers specializing in image processing and analysis. They offer a variety of services and products related to aerial imagery, including data acquisition, processing, analysis, and distribution.
Some of the foremost players in the aerial imagery industry are EagleView Technologies, Inc., High Eye Aerial Imaging Inc., Fugro N.V., Digital Aerial Solutions LLC, Google Inc., Kucera International Inc., NRC Group ASA, Blom ASA, Getmapping PLC, and Nearmap Ltd, Dell Boomi Inc.
The Aerial imagery Market research includes a comprehensive market segmentation analysis as well as projections for the analysis period 2023-2030.
Segments Covered in the Report
By Imaging Type
By Platform

Fixed Wing
Rotary Wing
UAV/Drones
Parachutes
Airships
Balloons
Vehicle Mounted Poles
Rockets
Others

By Application

Surveillance and Monitoring
Geospatial Mapping
Conservation and Research
Urban planning
Disaster Management
Energy and Resource Management
Others

By End-User

Government
Oil & Gas
Military & Defense
Education & Academic Research
Energy & Power
Civil Engineering & Archaeology
Media and Entertainment
Agriculture and Forestry
Others
Region Covered in the Report
North America
Europe

Germany
U.K.
France
Italy
Spain
Russia
Rest of Europe

Asia-Pacific (APAC)

China
Japan
India
South Korea
Rest of Asia-Pacific

Rest of the World (RoW)

Brazil
Saudi Arabia
South Africa
U.A.E.
Other Countries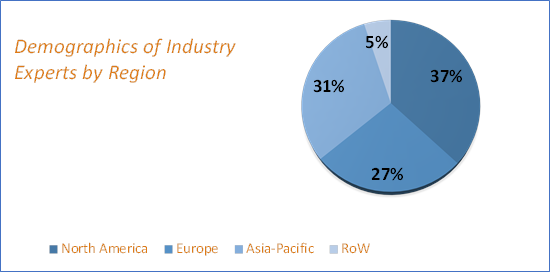 Source: VynZ Research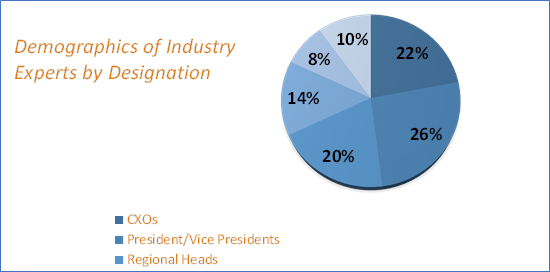 Source: VynZ Research