Industry Overview
The global missile defense system market size is expected to reach USD 37.5 billion by 2030 from USD 21.5 billion in 2021, witnessing a CAGR of 5.5% during the forecast period 2022-2030. A missile defense system is used to defend against attacks from stand-off weapons, bombers, helicopters, unmanned aerial vehicles (UAVs), and combat aircraft. Missile defense systems are designed to counter aerial threats over a range of distances ranging from short to extended, medium to long. Moreover, due to rising geopolitical tensions and concerns about terrorism, governments are increasing their military budget, which leads to rising investment in the purchase of missile defense systems across their land and maritime borders. During the projected period, this is anticipated to primarily fuel the market's growth.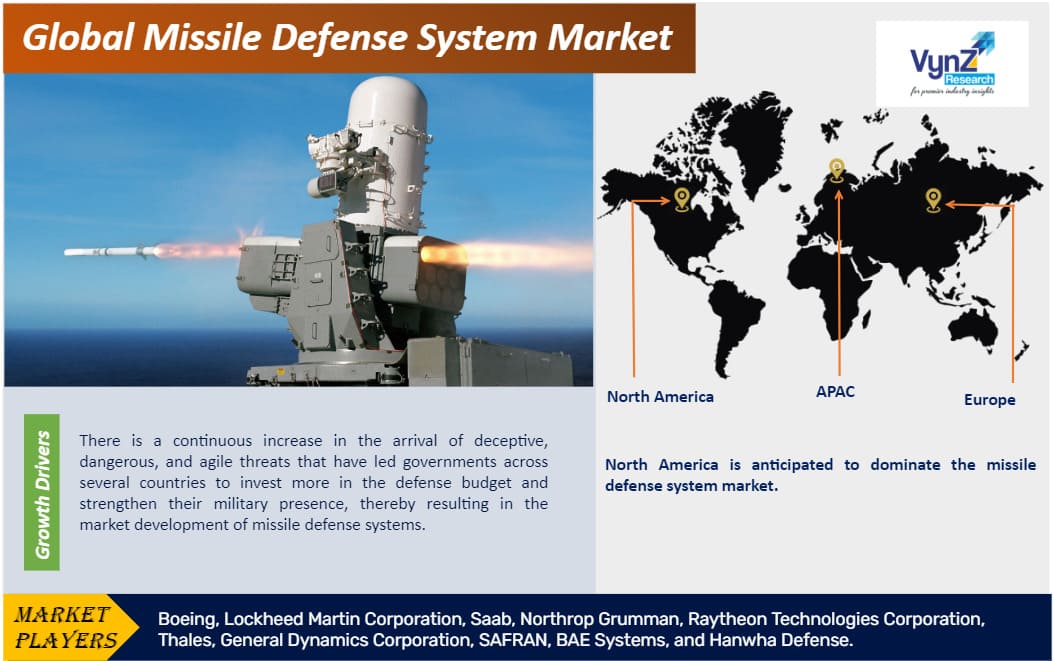 Market Segmentation
Insight by Technology
Based on technology, the market for missile defense system is segregated into a fire control system, weapon system, countermeasure system, and command and control system. The weapon system includes Turret System, interceptors, and Missile launchers. The fire control system includes Air Defense Radar & Fire Control Radar, and Surveillance Radar. Weapon system accounts for the largest share in the missile defense system market owing to the rising tensions at the country's border, increased focus on missile improvement, robust technological development in the defense sector, and surge in adoption of autonomous weapon systems such as drones and missiles, thereby accelerating the market development of weapon systems in the missile defense system industry. In August 2022, The United States intends to significantly enhance the missile defense system on the island of Guam, the part of American territory that is closest to China. This is a necessary action owing to expanding missile and hypersonic weapon threats from Beijing.
Insight by Domain
Based on a domain the missile defense system market is categorized into ground, air, marine, and space. The ground platform segment is anticipated to contribute the largest share in the industry owing to the surging need to protect ground stations and personnel from aerial threats. This has resulted in the increased need to develop multi-domain integration capable missile defense systems globally, thereby market expansion of ground domain in the missile defense system market.
Insight by Range
Based on range, the missile defense system market is classified into short, medium, and long. The short-range missile segment is anticipated to contribute the highest revenue during the forecast period. Short-range missiles are increasingly in demand as a result of ongoing military engagements involving numerous nations and the need to protect against close short-range threats from hostile attacks. In August 2022, the vertical launch short-range surface-to-air missile (VL-SRSAM) of the Indian Navy successfully completed flight testing at Chandipur's Integrated Test Range.
Insight by Threat Type
Based on threat type, the missile defense system market is segmented into Subsonic Missiles, Supersonic Missiles, and Hypersonic Missiles. Hypersonic missiles are anticipated to grow at a faster pace during the forecast period owing to ongoing research and development activities, technological development, and the surging need to develop advanced missile defense systems globally.
Missile Defense System Market Report Coverage
| | |
| --- | --- |
| Report Metric | Details |
| Historical Period | 2018–2021 |
| Base Year Considered | 2021 |
| Forecast Period | 2022 - 2030 |
| Market Size in 2021 | $21.5 Billion |
| Revenue Forecast in 2030 | $37.5 Billion |
| Growth Rate | CAGR 5.5% |
| Segments Covered in the Report | By Technology, By Domain, By Range, and By Threat Type |
| Report Scope | Market Trends, Drivers, and Restraints; Revenue Estimation and Forecast; Segmentation Analysis; Impact of COVID-19; Companies' Strategic Developments; Market Share Analysis of Key Players; Company Profiling |
| Regions Covered in the Report | North America, Europe, Asia-Pacific, Middle East, and the Rest of the World |
Industry Dynamics
Growth Drivers
There is a continuous increase in the arrival of deceptive, dangerous, and agile threats that have led governments across several countries to invest more in the defense budget and strengthen their military presence, thereby resulting in the market development of missile defense systems. Missile defense systems are used to counter incoming missiles such as ballistic missiles, cruise missiles, and others. Missile defense systems form a shield defense in a specific range of area and are also used for several operations such as air space surveillance using radars and electro-optic sensors. The integration of artificial intelligence (AI) in missile systems will accelerate the market growth of the missile defense system industry. Additionally, businesses are developing advanced surveillance systems that can detect and stop approaching stealth threats, which is projected to accelerate market growth.
Challenges
The escalating expenditures to develop missile defense systems and international plans to transport these systems & weapons across different nations are the most important factors that could restrain the growth of the missile defense system market.
The COVID-19 pandemic has impacted the missile defense industry owing to the drying up of private funding, the reduction in global defense spending in 2020, a slowdown in production, disruption in the supply chain, and the delay of scheduled contracts. This has resulted in a postponement of R&D activities regarding missile defense technology, thus posing a challenge to the growth of the missile defense industry.
Opportunities
The market for missile defense industry is offering several market opportunities to the industry players owing to the below-mentioned reasons:
Developing Economies have Increased their defense budget and implemented missile defense systems. Hence creating market opportunities for defense market players to supply air defense technologies to these nations.
Surging Market Growth in Supersonic and Hypersonic Missiles
Geographic Overview
North America is anticipated to dominate the missile defense system market owing to increased expenditure on the defense budget, develop modern strategies for aggressive space-based missile defense systems, and mounting demand for technologically developed missile defense systems. Moreover, North America is the major consumer of defense equipment and is procuring developed weaponry so as to attain military dominance and ensure security and peace. 
Competitive Insight
The industry players that are operating in the anti-drone technology are emphasizing enhancing Industry players and government organizations are collaborating to create technologically sophisticated missiles and missile defense systems, such as hypersonic missiles.
Lockheed Martin has been successful in giving its clients access to economical, well-proven, and in-production missiles and missile systems. Precision strike weapons from Lockheed Martin systems provide extended standoff ranges to keep pilots and aircraft safe. They also feature smart submunitions for maximum flexibility for the warfighter, fire support mobile artillery, and guided munitions to control the battlefield.  Other Lockheed Martin systems include air-to-air missiles to give pilots aerial superiority, anti-armor missiles launched from helicopters to destroy enemy tanks and other armored vehicles, man-portable short-range anti-armor and assault weapons, kinetic energy hyper-velocity missiles to defeat all present and future armored threats, hit-to-kill air defense systems to shield the troops from ballistic missiles, cruise missiles, and enemy aircraft.
Air and missile defense systems created and backed by Boeing have defended the country, warfighters, allies, and international partners from dangers like intercontinental ballistic missiles and hostile aircraft.  They have delivered rapid, reliable e supply quick, dependable capabilities in support of readiness across the globe, thereby Boeing's proven portfolio of precision air and missile defense technologies continues to set the industry standard for performance and price. Their product & systems include Avenger, Directed Energy, Aegis Ballistic Missile Defense, PAC-3 Missile Seeker, and Ground-based Midcourse Defense.
Some of the major players operating in the missile defense market include Boeing, Lockheed Martin Corporation, Saab, Northrop Grumman, Raytheon Technologies Corporation, Thales, General Dynamics Corporation, SAFRAN, BAE Systems, and Hanwha Defense.
Recent Development by Key Players
In August 2022, in order to integrate, test, and maintain the readiness of the homeland missile defense system, which is intended to defend against intercontinental ballistic missiles, Boeing has been awarded a contract by the U.S. Missile Defense Agency.
In August 2022, the Missile Defense Agency (MDA) has given Northrop Grumman Corporation an indefinite delivery, indefinite quantity contract with a maximum value of $3,286,745,005 for the Ground-based Midcourse Defense (GMD) Weapon System (GWS) project.
In March 2022, The PAC-3 Missile Segment Enhancement (MSE) interceptor was successfully integrated into the Terminal High Altitude Area Defense (THAAD) Weapon System by Lockheed Martin, the Missile Defense Agency (MDA), and the U.S. Army, resulting in a more tightly integrated, layered missile defense system.
The Missile Defense System Market report offers a comprehensive market segmentation analysis along with an estimation for the forecast period 2022–2030.
Segments Covered in the Report
By Technology

Fire Control System
Weapon System
Countermeasure System
Command and Control System

By Domain
By Range
By Threat Type

Subsonic Missiles
Supersonic Missiles
Hypersonic Missiles
Region Covered in the Report
North America
Europe

Germany
U.K.
France
Italy
Spain
Russia
Rest of Europe

Asia-Pacific (APAC)

China
Japan
India
South Korea
Rest of Asia-Pacific

Rest of the World (RoW)

Brazil
Saudi Arabia
South Africa
U.A.E.
Other Countries