Industry Overview
The Global Rocket and Missile Market growth are expected to register a 6% CAGR during the forecast period. It is anticipated to reach a market size of USD 80.5 billion by 2030 from USD 60 billion in 2021. The increased adoption of rockets and missiles globally due to uncertain geopolitical conditions and the modern nature of warfare will accelerate the market development of the rocket and missile industry. Rockets and missiles are used to destroy enemy helicopters, planes, tanks, incoming missiles or rockets, ships, armored vehicles, submarines, and artillery.  The market is additionally influenced by the continuous developments in the Surface-to-Surface (SSM), Surface-to-Air (SAM), Air-to-Surface (ASM), Air-to-Air (AAM), and Subsea-to-Surface (SSM) missiles as a result of breakthroughs in warfare technologies for reducing battlefield time.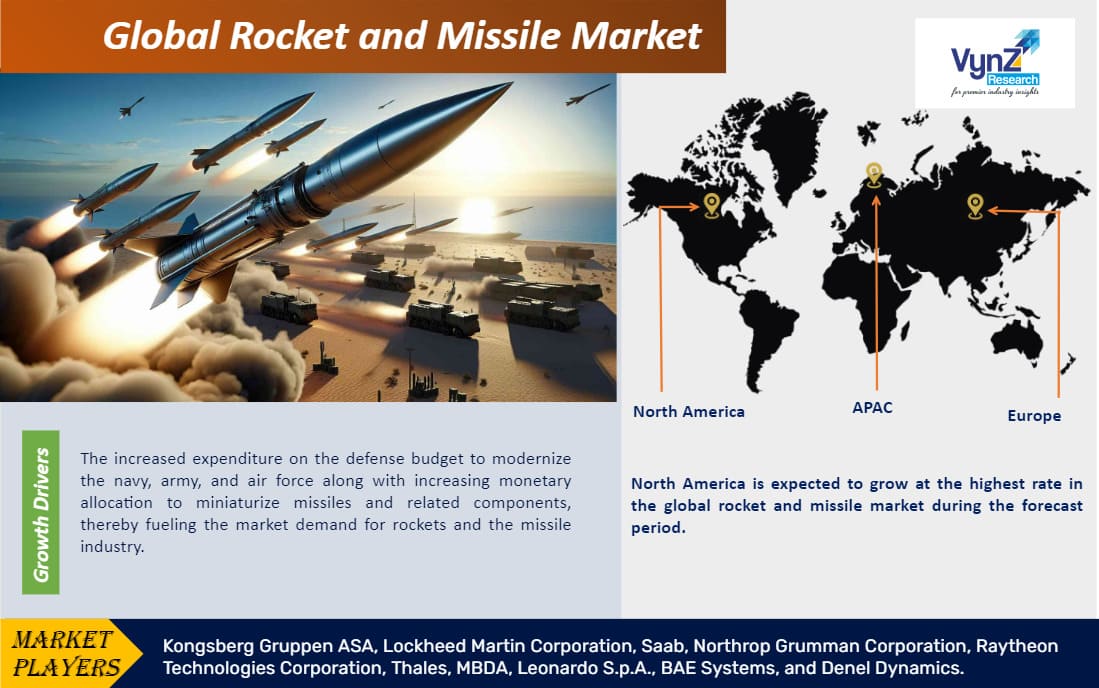 Market Segmentation
Insight by Speed
Based on speed, the global rocket and missile market is segmented into Subsonic, Supersonic, and Hypersonic. The hypersonic segment is anticipated to have a high CAGR during the forecast period. A propulsion system is included in hypersonic rockets and missiles so they can travel at speeds of Mach 5 or greater, which is five times the speed of sound and is aerodynamic. Thus, hypersonic precision-guided weapons are challenging to block owing to their high speed. Many countries are developing and adopting hypersonic missile systems, thus creating market opportunities for industry players to develop hypersonic missile systems.
Insight by Propulsion Type
Based on Propulsion Type, the global rocket and missile market is segregated into Solid, Liquid, Hybrid, Scramjet, Turbojet, and Ramjet. Solid propulsion will be noticed to hold the largest market share in the global market during the forecast period owing to rising demand for cruise missiles, mounting use of solid fuel in ballistic systems, the surge in space programs, and increased defense budgets, which will drive the market growth. The aluminum powder used in making solid fuel is deployed in solid propulsion. This solid fuel can generate a substantial amount of thrust, thereby driving market growth.
Insight by Launch Mode
Based on Launch mode, the global rocket and missile market is classified into Surface to Surface, Surface to Air, Air to Air, Air to Surface, and Subsea to Surface. Surface to Surface is expected to hold the highest share in the global rocket and defense industry. The integration of modern digital technology in defense and military, rising demand for unmanned vehicles, and active technological phylogenies are some of the factors that drive market growth.
Insight by Product
Based on Product, the global rocket and missile market is categorized into Cruise Missiles, Ballistic Missiles, Rockets, and Torpedoes. Short-range ballistic missiles (SRBMs), medium-range ballistic missiles (MRBMs), intermediate-range ballistic missiles (IRBMs), and intercontinental ballistic missiles (ICBMs) are the four main categories of ballistic missiles. Ballistic missiles are expected to have significant growth during the forecast period. Only during their initial (boost) flight phase, do ballistic missiles use rocket power; thereafter, they follow an arcing trajectory to their target. Ballistic warheads travel at speeds several times faster than sound as they are pulled by gravity.
Rocket and Missile Market Report Coverage
| | |
| --- | --- |
| Report Metric | Details |
| Historical Period | 2018–2021 |
| Base Year Considered | 2021 |
| Forecast Period | 2022 - 2030 |
| Market Size in 2021 | $60 Billion |
| Revenue Forecast in 2030 | $80.5 Billion |
| Growth Rate | CAGR 6% |
| Segments Covered in the Report | By Speed, By Propulsion Type, By Launch Mode, By Product. |
| Report Scope | Market Trends, Drivers, and Restraints; Revenue Estimation and Forecast; Segmentation Analysis; Impact of COVID-19; Companies' Strategic Developments; Market Share Analysis of Key Players; Company Profiling |
| Regions Covered in the Report | North America, Europe, Asia-Pacific, Middle East, and the Rest of the World |
Industry Dynamics
Growth Drivers
The increased expenditure on the defense budget to modernize the navy, army, and air force along with increasing monetary allocation to miniaturize missiles and related components, thereby fueling the market demand for rockets and the missile industry. To strengthen their air force, armed forces, and naval force, defense forces all over the world are constantly equipped with their individual troops along with the most advanced and cutting-edge rockets and missiles. Moreover, the concern related to security owing to the rising incidences of terrorist activities and surging cross-border disputes will have an influential impact on the global rocket and missile market.
The innovation built into regular missiles and rockets may now be tracked easily owing to cutting-edge locating techniques.  State-run administrations of various developing nations, including India, are increasing their tactical spending to buy technologically advanced rockets and missiles. These elements raise interest in the creation of rockets and missiles on a global scale.
Challenges
The high development costs for missile systems, high complexity, and the need for regular maintenance of rockets and missiles are anticipated to restrain market expansion. In the forecast period of 2022–2030, strict laws governing the use of missiles and problems with missile integration are expected to present challenges to the rocket and missile market.
Opportunities
Due to the reasons listed below, the global rockets and missiles market offers market participants a wide range of opportunities:
•    The development of hybrid fuel-powered missiles will provide potential prospects to the players operating in the global rocket and missile market.
•    Rising demand for rockets and missiles in emerging countries like India, South Korea, etc.
•    Rising Research and Development Activities in aerospace and defense post-COVID-19 crisis.
•    Increased adoption of AI in military activities
Geographic Overview
North America is expected to grow at the highest rate in the global rocket and missile market during the forecast period owing to the rising implementation of rockets and missiles to perform military missions and the rising adoption of advanced weapon systems by defense organizations.
Competitive Insight
The industry players are adopting strategies like novel product development and agreements, M&A, joint ventures, partnerships, and collaborations to enhance their worldwide presence in the rocket and missile market.
Northrop Grumman develops and manufactures missile products and includes advanced high-speed propulsion systems, fuzes, warheads, and controls for air, sea, and land-based systems. They are constantly reimagining products to meet or exceed today's program requirements and battlefield challenges while remaining cost-effective. They offer a one-of-a-kind offering to their customers because they are one of the few companies with market leadership in fuzing, warheads, proximity sensors, and tactical rocket motors.
Denel Dynamics is a part of Denel SOC Ltd, a pioneer in cutting-edge systems technology. Tactical missiles, precisely guided weapons, systems for unmanned aerial vehicles, and space solutions make up the bulk of their business. South Africa is where Denel Dynamics create, design, and produce products. Denel Dynamics is a South African National Defence Force strategic partner. In addition, the company encourages collaboration and partnerships with other developing countries such as Brazil and the United Arab Emirates. Umkhonto (Spear) Missile is Surface to Air Missile system that is designed, developed, and manufactured in South Africa. The system features include multiple target engagement, countermeasure resistance, 360-degree coverage, high kill probability, ease of integration, absence of line-of-sight limitations, and ease of maintenance.
Some of the prominent industry players in the global rocket and missile market include Kongsberg Gruppen ASA, Lockheed Martin Corporation, Saab, Northrop Grumman Corporation, Raytheon Technologies Corporation, Thales, MBDA, Leonardo S.p.A., BAE Systems, and Denel Dynamics.
Recent Development by Key Players
On August 30, 2022, Saab announced that it had recently conducted the first test firing of the advanced Meteor Beyond Visual Range Air-to-Air Missile (BVRAAM) on its all-new Gripen E, with "a successful end-to-end target result."
In April 2022, Raytheon Missiles & Defense, a subsidiary of Raytheon Technologies, completed a Series A investment in Firehawk Aerospace, a company specializing in high-performance propulsion technology. The two companies will now work together on research and development projects to investigate the integration of Firehawk technology into future missile systems, as well as hybrid rocket propulsion technologies.
The Rocket and Missile Market report offers a comprehensive market segmentation analysis along with an estimation for the forecast period 2022–2030.
Segments Covered in the Report
By Speed

Subsonic
Supersonic
Hypersonic

By Propulsion Type

Solid
Liquid
Hybrid
Scramjet
Turbojet
Ramjet

By Launch Mode

Surface to Surface
Surface to Air
Air to Air
Air to Surface
Subsea to Surface

By Product

Cruise Missiles
Ballistic Missiles
Rockets
Torpedoes
Region Covered in the Report
North America
Europe
Germany
U.K.
France
Italy
Spain
Russia
Rest of Europe
Asia-Pacific (APAC)
China
Japan
India
South Korea
Rest of Asia-Pacific
Rest of the World (RoW)
Brazil
Saudi Arabia
South Africa
U.A.E.
Other Countries