Industry Overview
The global ADAS market is projected to grow at a CAGR of 11.6% from 2023 to 2030, to reach $78.6 billion by 2030 from $25.8 billion in 2022. An effective and cutting-edge technology system known as an advanced driver assistance system gives the car autonomy and assists the driver in operating the vehicle safely. In order to offer ease, a variety of comforts, and safety to car drivers, ADAS primarily comprises subsystems and functions that operate independently or in cooperation with one another.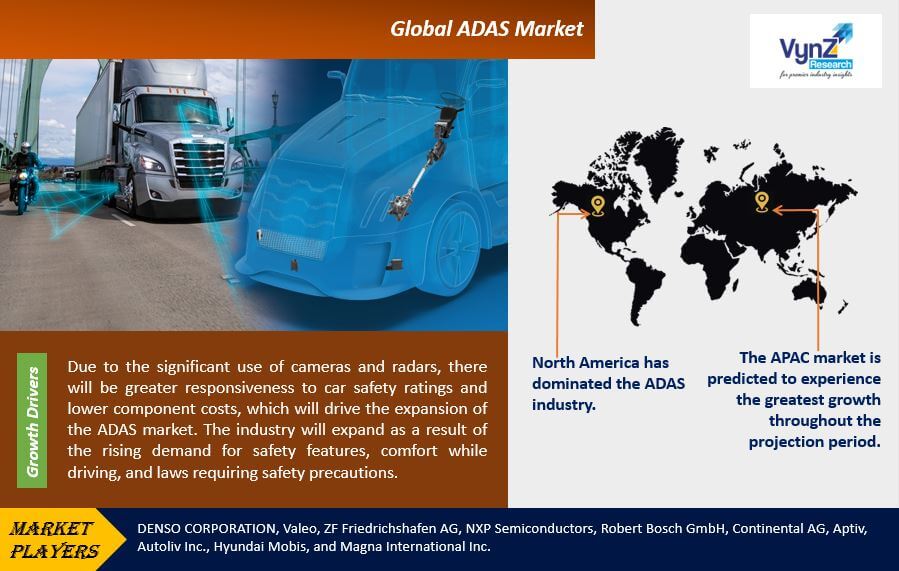 Furthermore, advances in the automobile sector have been made because of artificial intelligence (AI). Additionally, ADAS helps to reduce the issue of traffic congestion and traffic accidents while also enhancing the security and safety of cars, their occupants, and pedestrians. Additionally, the governments of numerous nations have made it mandatory for automakers to incorporate various ADAS in all types of vehicles and are investing a significant amount of money in the use of advanced technologies, providing safety features, and promoting the use of automated vehicles around the world. As a result, the worldwide ADAS market will benefit from the growing industrialization and urbanization, the increasing disposable income, and the rising standards of living.
Due to lower car production in the US and Europe in 2020, as a result of the COVID-19 epidemic, there has been a detrimental influence on the ADAS industry. As a result, OEMs and tier 1 players were either accumulating money or using financial reserves to stay in the market throughout the epidemic. However, industry participants are noticing a rebound in car sales in 2021, and the market is expected to expand significantly starting in the second quarter of 2022.
Market Segmentation
Insight by System Type
Based on system type, the global ADAS market is divided into Intelligent Lane Departure Warning (LDW), Park Assist (IPA), Road Sign Recognition (RSR), Night Vision System (NVS), Automatic Emergency Braking (AEB), Tire Pressure Monitoring System (TPMS), Adaptive Cruise Control (ACC), Blind Spot Detection (BSD), Adaptive Front Light (AFL), Cross-Traffic Alert (CTA), Forward Collision Warning (FCW), Driver Monitoring System (DMS), Traffic Jam Assist, Pedestrian Detection System, and others. 
Since it employs sensors to monitor tire pressure levels and warns drivers when the pressure is low, the TPMS category dominates the market. The expansion of TPMS is attributed to its low cost, adoption in small and medium-sized cars, and ability to provide real-time monitoring of tire pressure and temperature, which reduces accidents. Additionally, the development of TPMS is reliant on the creation and use of new automobiles.
Insight by Propulsion
The worldwide ADAS market is divided into electric, gasoline, and diesel, based on propulsion. Battery electric vehicles, hybrid electric vehicles, fuel cell electric vehicles, and plug-in hybrid electric vehicles are subcategories of electric vehicles. Due to technology advancements that have resulted in a rise in the need for connection and shared mobility solutions, electric vehicles currently dominate the market. As a result, there will be an increase in demand for security features and expectations for ADAS capabilities. Therefore, improvements in electrification will create opportunities for the development of ADAS technology, which will lead to efficiency and sustainability.
Insight by Component
The global ADAS market is separated, based on components, into hardware and software. Due to technological advancements in the market, the hardware category is predicted to grow more quickly over the forecast period (2021–2027).
Insight by Level of Autonomy
The global ADAS market is categorized into L1, L2, L3, L4, and L5, based on the level of autonomy. L2 ADAS, which includes cruise control, brake assist, lane-keeping assist, and park assist, is being widely adopted by the automotive industry.
Insight by Sensor Type
The ADAS market is divided into image sensors, capacitive sensors, lidar sensors, ultrasonic sensors, radar sensors, laser sensors, infrared (IR) sensors, and others, based on the type of sensor used. Because it offers low-cost frequency with a continuous or modulated wave and is used for collision warning, object recognition, and blind-spot monitoring, the radar sensor leads the global ADAS industry. This helps drivers avoid accidents by assisting them in using the brakes and counter steering. Therefore, as governments limit the bandwidth and frequency range, chances for radar technology advancement will arise. In order to better classify and recognize radar capabilities, NXP Semiconductors has introduced radar sensor systems that encircle vehicles with a 360-degree protective range.
Insight by Vehicle Type
The global ADAS market is divided into three categories based on the type of vehicle: light commercial cars, passenger cars, and heavy commercial cars. Mid-sized automobiles, minivans, sedans, convertibles, hatchbacks, crossovers, and other types of vehicles are included in the passenger vehicle category. 
Due to the expanding need for safety systems in emerging economies, which can lead to bettering road safety regulations, supporting legislation, and raising consumer awareness, the passenger car leads the market. Additionally, a number of nations in North America, Europe, and APAC are establishing legislation for the strict integration of ADAS. For instance, the European Union created Vision Zero, a program to make all traffic fatalities history by the year 2050. By 2030, the agency wants to cut casualties by 50%. By 2022, it also mandates the regulation of safety systems including lane departure warning, autonomous emergency braking, and sleepiness and arousal detection in new vehicles.
ADAS Market Report Coverage
| | |
| --- | --- |
| Report Metric | Details |
| Historical Period | 2018–2021 |
| Base Year Considered | 2022 |
| Forecast Period | 2023 - 2030 |
| Market Size in 2022 | $25.8 Billion |
| Revenue Forecast in 2030 | $78.6 Billion |
| Growth Rate | CAGR 11.6% |
| Segments Covered in the Report | By System Type, By Propulsion,  By Component, By Level of Autonomy, By Sensor Type, By Vehicle Type |
| Report Scope | Market Trends, Drivers, and Restraints; Revenue Estimation and Forecast; Segmentation Analysis; Impact of COVID-19; Companies' Strategic Developments; Market Share Analysis of Key Players; Company Profiling |
| Regions Covered in the Report | North America, Europe, Asia-Pacific, Middle East, and the Rest of the World |
Industry Dynamics
Industry Trends
The installation of parking system assistance in cars is now required in China, India, and the USA, among other countries, and these regulations will increase demand for ADAS technology. The adoption of automated and autonomous vehicles is another trend that will generate significant growth in the global ADAS industry.
Growth Drivers
Due to the significant use of cameras and radars, there will be greater responsiveness to car safety ratings and lower component costs, which will drive the expansion of the ADAS market. The industry will expand as a result of the rising demand for safety features, comfort while driving, and laws requiring safety precautions. The ADAS has advantages including a decrease in property or life loss, a decrease in accident frequency, and others. 
The safety features of ADAS warn the driver of potential risks, aid in preventing accidents and lessen their severity. As algorithms are utilized to power life-saving technologies, such as vision and image processing algorithms, the need for ADAS and its associated algorithms is expanding quickly. However, the increasing demand for electric vehicles, rising interest in ADAS integration, and ongoing sensor technology advancements in luxury vehicles will drive the market's expansion from 2022 to 2030.
Opportunities
Leading brands like Tesla, Toyota, Honda, and others are implementing ADAS in semi-autonomous and completely autonomous vehicles as a result of the rising demand for autonomous vehicles. Additionally, the manufacture of multifunctional systems and technological advancements in ADAS will open up a wide range of chances for the expansion of the global ADAS market.
Geographic Overview
Due to the growing demand for safe and effective vehicles, ongoing advancements in autonomous driving, expanding government activities regarding passenger safety, and increasing demand for light truck vehicles, North America has dominated the ADAS industry.
Due to the rising popularity of electric vehicles in the region, the APAC market is predicted to experience the greatest growth throughout the projection period. Additionally, as a result of rising vehicle production and the rapid uptake of cutting-edge electronics in China, South Korea, and Japan, there are various opportunities in the automotive sector, in the region.
China is expected to hold a 57% market share for the production of electric vehicles by 2030, according to the IEA. The increased government initiatives, such as "Made in China 2025," will accelerate the growth in the production of battery- and electric-powered vehicles, creating chances for ADAS manufacturers to create cutting-edge safety systems and boost their market share over the forecast period.
Recent Development by Key Players 
•    Hycan Automobile Technology and Robert Bosch (China) Investment Ltd. (Bosch China) created an automated valet parking system in 2021. Hyman Z03 will be equipped with this technology. The vehicle will autonomously drive to the parking lot as directed and park at the designated position by precisely determining the direction and avoiding obstructions when the driver engages the automated valet parking function on the smartphone. Level-4 autonomous driving is the category in which the automated valet parking technology falls.
•    In order to support advanced ADAS capabilities and improve the existing ZF co, ASSIST semi-automated system on the Dongfeng Aeolus Yixuan MAX in China, ZF unveiled its next-generation mid-range radar in 2021. The high-performance 77GHz front radar used by ZF's mid-range radar is intended to achieve 5-Star Euro NCAP Safety Ratings by 2022+ and enable
•    Toyota Motor Corp. chose ZF and Mobileye in 2021 to create Advanced Driver Assistance Systems (ADAS) for several vehicle platforms over the following few years. In accordance with the deal, ZF, one of the top manufacturers of automotive cameras powered by Mobileye technology, will also provide its Gen21 mid-range radar and be in charge of integrating the two systems in Toyota cars.
•    Veoneer was chosen in February 2020 to provide active safety solutions based on cutting-edge radar and vision technologies. Veoneer's scalable system was designed to provide many driver assistance functions, such as highway aid, lane centering control, stop-and-go adaptive cruise control, automated emergency braking, and traffic sign recognition, in addition to meeting Euro NCAP's 5-star safety rating.
•    Continental announced a new ADAS production facility in Texas, US, with an expenditure of USD 109 million over the following three years in February 2020. Radars will be produced in the new factory starting in 2021.
Competitive Insight
In order to obtain an advantage in a cutthroat market and generate large sums of money, industry firms are incorporating various safety technological systems into automobiles. Additionally, the industry participants are increasing their global reach through alliances, joint ventures, and new establishments in developing regions. Additionally, the market leaders' broad product range and solid regional presence have given them a solid footing in the market.
With a goal of achieving zero accidents and zero fatalities on the highways, Continental AG is committed to offering aided and automated driving. The product line-up consists of sensors, chassis control systems, airbag electronics, advanced driver assistance systems, hydraulic and electronic brakes, and sensors. The main goal is to give knowledge and connectivity of different components to improve driving safety and convenience and open the door to autonomous mobility.
To support advanced ADAS safety features and improve the existing ZF co ASSIST semi-automated system on the Dongfeng Aeolus Yixuan MAX in China, ZF has introduced a high-performance mid-range radar. ZF's mid-range radar is a high-performance 77GHz front radar built to support semi-automated driving features and the Euro NCAP 5-Star Safety Ratings for 2022 and beyond.
Some of the key players operating in the ADAS market are DENSO CORPORATION, Valeo, ZF Friedrichshafen AG, NXP Semiconductors, Robert Bosch GmbH, Continental AG, Aptiv, Autoliv Inc., Hyundai Mobis, and Magna International Inc.
The ADAS Market report offers a comprehensive market segmentation analysis and an estimation for the forecast period 2023–2030.
Segments Covered in the Report
By System Type 

Intelligent Park Assist (IPA)
Lane Departure Warning (LDW)
Road Sign Recognition (RSR)
Tire Pressure Monitoring System (TPMS)
Night Vision System (NVS)
Automatic Emergency Braking (AEB)
Adaptive Cruise Control (ACC
 Adaptive Front Light (AFL)
Blind Spot Detection (BSD)
Cross-Traffic Alert (CTA)
Driver Monitoring System (DMS)
Forward Collision Warning (FCW)
Pedestrian Detection System
Traffic Jam Assist
Others

By Propulsion 

Electric

Battery Electric Vehicle
Fuel Cell Electric Vehicle
Hybrid Electric Vehicle
Plug-In Hybrid Electric Vehicle

Petrol
Diesel

By Component 
By Level of Autonomy 
By Sensor Type 

Image Sensors
Ultrasonic Sensors
Lidar Sensors
Radar Sensors
Infrared (IR) Sensors
Laser Sensors
Capacitive Sensor
Others

By Vehicle Type 

Passenger Vehicles

Mid-Sized Cars
Sedans
Minivan
Convertible
Crossover
Hatchbacks
Others

Light Commercial Vehicles

Compact
Utility Vehicle
Supermini
Light Truck
Others

Heavy Commercial Vehicles

Mobile Truck
Limo
Recreational Vehicle
Towing Truck
Fire Trucks
Others
Region Covered in the Report
North America
Europe

Germany
U.K.
France
Italy
Spain
Russia
Rest of Europe

Asia-Pacific (APAC)

China
Japan
India
South Korea
Rest of Asia-Pacific

Rest of the World (RoW)

Brazil
Saudi Arabia
South Africa
U.A.E.
Other Countries