Industry Overview
The global ADAS market is anticipated to grow from USD 26.8 billion in 2021 to USD 72.6 billion by 2027, registering a CAGR of 11.6% during the forecast period 2021-2027.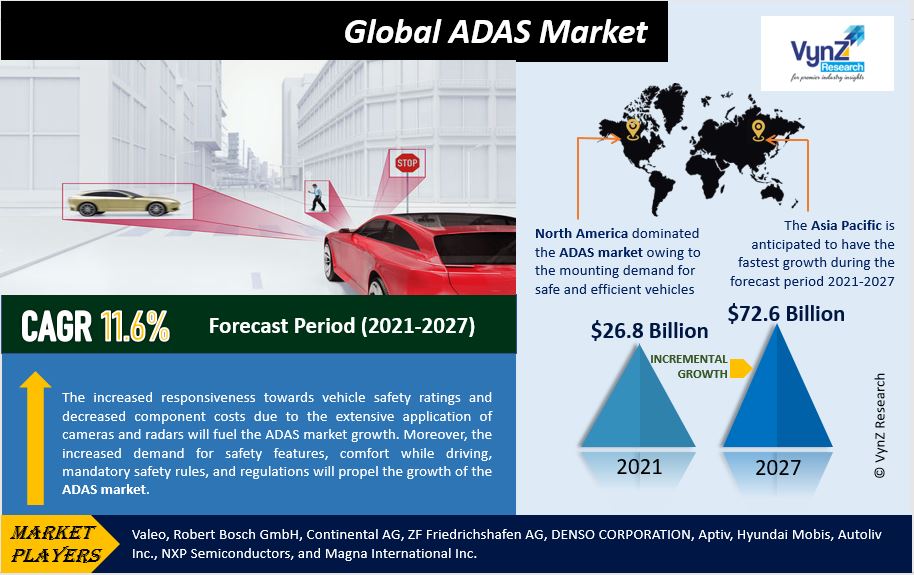 Advanced driver assistance system is an effective and innovative technology system that gives the vehicle autonomy and helps the driver drive the vehicle safely. ADAS basically consists of subsystems and functions that work independently or in combination with each other to provide convenience and a wide range of comfort to modern car drivers, as well as safety.  Furthermore, Artificial Intelligence (AI) has led to innovations in the automotive industry. Also, ADAS aids in solving the problem of traffic congestion, road accidents, and improves the safety and security of vehicles, occupants, and pedestrians. In addition, the government of various countries has made it compulsory for automotive manufacturers to integrate different ADAS in all types of vehicles and are spending an enormous amount on the usage of developed technologies, providing safety features, and supporting the use of automated vehicles globally. Thus, the rising urbanization and industrialization, increase in the standard of living, and surge in disposable income will have a positive impact on the global ADAS market.
The COVID-19 pandemic has had a negative impact on the ADAS market as vehicle production was less in 2020 in US and European countries, resulting in less investment in advanced technology. Thus, OEM and tier 1 Players were either using cash reserves or acquiring funds to stay in the market during the pandemic. However, the industry players are witnessing recovery in vehicle sales in 2021 and the market is anticipated to grow substantially from the second quarter of 2022.
Market Segmentation
Insight by System Type
Based on system type, the global ADAS market is divided into Intelligent Park Assist (IPA), Lane Departure Warning (LDW), Road Sign Recognition (RSR), Tire Pressure Monitoring System (TPMS), Night Vision System (NVS), Automatic Emergency Braking (AEB), Adaptive Cruise Control (ACC), Adaptive Front Light (AFL), Blind Spot Detection (BSD), Cross-Traffic Alert (CTA), Driver Monitoring System (DMS), Forward Collision Warning (FCW), Pedestrian Detection System, Traffic Jam Assist, and others. The TPMS segment dominates the market as it uses sensors to check tire pressure levels and alert the driver when the tire pressure is low. The TPMS growth is due to its low-cost, adoption in small and medium vehicles, and offer real-time monitoring of temperatures and pressure of vehicle tires, resulting in fewer accidents. The presence of TPMS is standard in automobile markets in the US, Europe, and some Asia Pacific countries.  Moreover, TPMS growth also depends on vehicle production and implementation in vehicles.
Insight by Propulsion
Based on propulsion, the global ADAS market is segmented into electric, petrol, and diesel. The electric vehicle is sub-divided into battery electric vehicle, fuel cell electric vehicle, hybrid electric vehicle, and plug-in hybrid electric vehicle. The electric vehicle dominates the market owing to the technological innovation that leads to the rising demand for connectivity and shared mobility solutions. This will result in increasing the demand for security features and increased expectations for ADAS functions. Thus, advancement in electrification will provide synergies to develop ADAS technology, and results in providing efficiency and sustainability.
Insight by Component
Based on components, the global ADAS market is divided into hardware and software. The hardware segment is anticipated to grow at a faster pace during the forecast period 2021-2027 owing to technological development in the global ADAS market.
Insight by Level of Autonomy
Based on the level of autonomy, the global ADAS market is divided into L1, L2, L3, L4, and L5. The automotive industry is witnessing an extensive adoption of L2 ADAS and includes brake assist, cruise control, park assist, and lane-keeping assist.
Insight by Sensor Type
Based on sensor type, the global ADAS market is segregated into image sensors, ultrasonic sensors, lidar sensors, radar sensors, infrared (IR) sensors, laser sensors, capacitive sensor, and others. The Radar sensor dominates the global ADAS market as it delivers low-cost frequency with a continuous or modulated wave and is adopted for object detection, collision warning, and blind-spot monitoring, thus aiding in taking preventive measures for brakes and counter steering so as to avoid accidents. Thus, the increasing government regulations on bandwidth and frequency range will create opportunities for growth in Radar technology. NXP Semiconductors has launched radar sensor solutions that surround vehicles with a 360-degree protection range and improve classification and identify radar capabilities.
Insight by Vehicle Type
Based on vehicle type, the global ADAS market is segregated into passenger vehicles, light commercial vehicles, and heavy commercial vehicles. The passenger vehicle is sub-divided into mid-sized cars, sedans, minivan, convertible, crossover, hatchbacks, and others. The light commercial vehicle is further sub-divided into a compact, utility vehicle, supermini, light truck, and others. The heavy commercial vehicle is sub-divided into the mobile truck, limo, recreational vehicle, towing truck, fire trucks, and others. The passenger vehicle dominates the market owing to the rising demand for safety systems in emerging economies which can result in enhancing road safety standards, increasing consumer awareness, and supporting legislation. In addition, various countries in North America, Europe, Asia Pacific are providing regulations for stringent incorporation of different types of ADAS in the segment. For example, The European Union has designed Vision Zero, an initiative to reduce road fatalities to zero by 2050. The agency has set a goal of reducing casualties by 50% by 2030. It also includes regulating safety features like lane departure warning, automatic emergency braking, and detecting drowsiness and arousal in new vehicles by 2022.
Industry Dynamics
Industry Trends
The mandatory regulations on ADAS requirements such as compulsory installation of parking system assistance in cars in India, China, USA, will lead to increasing the demand for ADAS technology.  Also, the increasing trend to adopt driverless vehicles or automated vehicles will provide significant growth in the global ADAS market.
Growth Drivers
The increased responsiveness towards vehicle safety ratings and decreased component costs due to the extensive application of cameras and radars will fuel the ADAS market growth. Moreover, the increased demand for safety features, comfort while driving, mandatory safety rules, and regulations will propel the growth of the ADAS market. The advanced driver assistance system (ADAS) offers benefits like a decrease in loss of property or life, reduction in the number of accidents, etc. ADAS consist of safety functions that alert the driver regarding potential danger and help in preventing accidents and reducing the severity. ADAS market and ADAS algorithm are growing rapidly as algorithms are used for power life-saving systems such as vision and image processing algorithms are real game-changers to create ADAS applications. Nevertheless, the mounting demand for electric vehicles, continuous development in sensor technology, and rising demand in integrating ADAS in premium cars will fuel the growth of the ADAS market during 2021-2027.
Challenges
The lack of proper infrastructure in emerging economies cost considerations, and poor driving training will hamper the growth of the ADAS market. Moreover, the financial crisis owing to the COVID-19 outbreak will postpone the development of modern infrastructure for intelligent transportation. Also, environmental constraints i.e., less efficiency in bad weather conditions and security threats can pose challenges for system manufacturers and OEMs, resulting in hindering the growth of the ADAS market.
Opportunities
The increased demand for autonomous vehicles has created novel opportunities and leading brands like Tesla, Honda, Toyota, etc. are adopting ADAS in semi-autonomous and fully autonomous vehicles. Furthermore, technological development in ADAS and the production of multifunctional systems will create a plethora of opportunities for the growth of the global ADAS market.
Geographic Overview
North America dominated the ADAS market owing to the mounting demand for safe and efficient vehicles, growing government initiatives about the safety of passengers, continuous development in autonomous driving, and rising demand for the light truck vehicles will fuel the growth of the ADAS market in the region.
The Asia Pacific is anticipated to have the fastest growth during the forecast period 2021-2027 owing to the increasing number of electric vehicles in the region. Moreover, the increased vehicle production, surge in adoption of advanced electronics in Japan, South Korea, and China results in creating opportunities in the automotive industry and taking steps to encourage OEMs to enter the domestic markets.
According to IEA, China is anticipated to be the world leader in manufacturing electric vehicles and will hold a 57% share by 2030. The increased initiatives by the government like "Made in China 2025" will propel the growth in manufacturing battery and electric vehicles, resulting in providing opportunities for ADAS manufacturers to develop advanced safety systems and expand their market presence during the forecast period.
Competitive Insight
The industry players are integrating different safety electronic systems in vehicles to have an edge in a competitive market and gain high revenue.  Moreover, the industry players are expanding their geographical presence via partnerships, joint ventures, and new establishments in the growing regions. Also, the comprehensive product portfolio along with a strong geographical presence has helped the market players to have a strong foothold in the global ADAS market.
Continental AG is focused on providing assisted and automated driving and are developing technologies with a view to zero crashes and zero fatalities on roads. The product portfolio includes electronic and hydraulic brake, chassis control systems, sensors, advanced driver assistance systems, airbag electronics, and sensorics The focus is to provide expertise and interconnectivity of individual components that make driving safer and easier and pave the way for autonomous mobility.
ZF Friedrichshafen AG has a comprehensive portfolio of intelligent Advanced Driver Assistance Systems (ADAS) and offers solutions scalable to cost and functions as desired.  ZF coASSIST is the cost-effective Level 2+ solution that meets Euro NCAP performance requirements and delivers Level 2+ ADAS functions like traffic jam and highway driving support with Mobileye EyeQ front camera technology.
ZF has launched a high-performance mid-range Radar to support advanced ADAS safety features and enhance the available ZF coASSIST semi-automated system on the Dongfeng Aeolus Yixuan MAX in China. ZF's mid-range radar is a high-performance 77GHz front radar designed to meet 2022+ Euro NCAP 5-Star Safety Ratings and enable semi-automated driving functions.
Some of the key players operating in the ADAS market: Valeo, Robert Bosch GmbH, Continental AG, ZF Friedrichshafen AG, DENSO CORPORATION, Aptiv, Hyundai Mobis, Autoliv Inc., NXP Semiconductors, and Magna International Inc.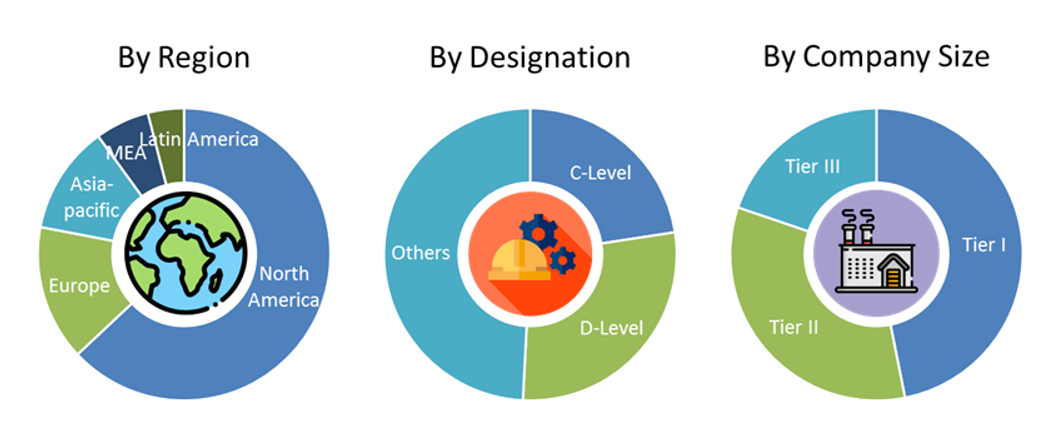 Source: VynZ Research