Industry Overview
The Asia-Pacific electric bus market is anticipated to grow at USD 48.6 billion by 2027, registering a CAGR of 9.8% during the forecast period 2021-2027.   Factors attributing to the growth of the Asia-Pacific electric bus market include initiatives by the government to provide subsidies, and rising concern regarding air pollution levels.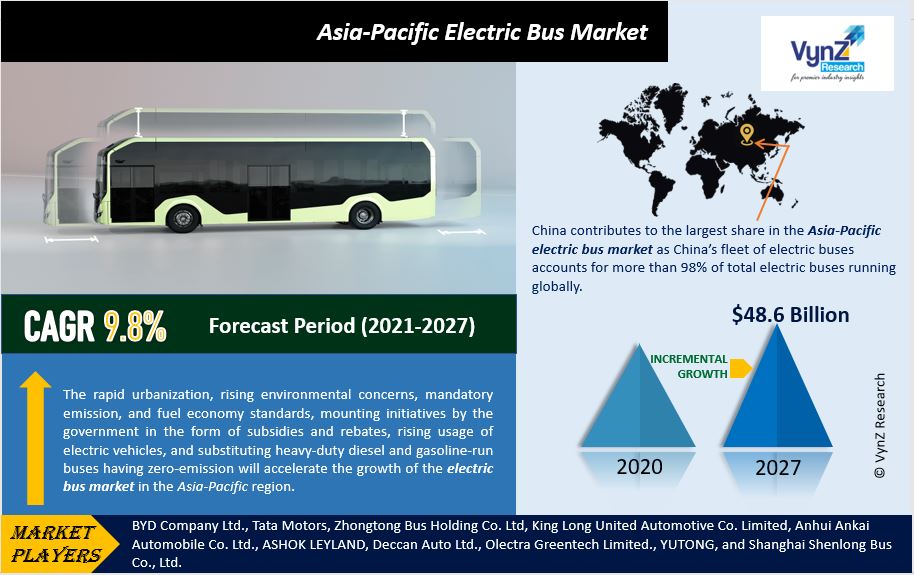 Furthermore, there is substantial growth in the number of people who own cars and two-wheelers, resulting in increasing demand to have cleaner mobility solutions and substitute modes of transportation. In April 2020, the Government of China has announced subsidies for new energy automobiles purchased between 2020-2022, as a result, electric vehicles, hydrogen, and hybrid electric vehicles can get discounts on road tax and registration taxes.
The COVID-19 outbreak has had an adverse impact on electric buses in the Asia-Pacific region owing to a severe shortage of raw materials and other electric components. However, the market is for electric buses in the Asia-Pacific region is anticipated to bounce back during the projected period as temporary restrictions on travel and cargo have been lifted by regional governments, thus the transportation of the desired components for the manufacture of electric buses can take place.
Market Segmentation
Insight by Vehicle Type
Based on vehicle type, the Asia-Pacific electric bus market is divided into battery-electric buses, PHEV buses, and FCEV buses. FCEV buses are anticipated to have significant growth owing to their low operation cost and easy technical maintenance. The operational cost is less owing to the development of hydrogen cells that have improved fuel cell capacity and enhanced battery performance.
Battery electric buses are also anticipated to witness growth during the forecast period as transportation companies in various countries of the APAC region are substantially encouraging the introduction of electric buses for public transportation. In 2019-2020, in India, about 600 electric buses were sold which is almost 50% growth as compared to 2018-2019. Olectra BYD has received orders for 765 electric buses from all Indian states in 2020. In August 2019, the Government of India approved 5095 electric buses for 64 states for city shuttles, 400 electric buses for intercity operations, and 100 electric buses for last-mile connections to Delhi Metrorail Corporation. OlectraBYD plans to build a second electric bus manufacturing plant in northern India. The purpose is to offer an electric bus at the lowest possible price.
Insight by Length Type
Based on length type, the Asia-Pacific electric bus market is divided into less than 9m, between 9m-14m, and above 14m.  Among the length type, the 9-14 m contributes to the largest share in the Asia-Pacific electric bus market due to the rising number of electric buses for passengers and is used in the public transport fleet. Countries like China that hold 99% of the market have electric buses that are 9-14m in length. Moreover, leading OEMs like BYD and Yutong also provide electric buses in the 9-14 m length having a range of 155 miles and 190 miles.
Insight by Seating Capacity
Based on seating capacity, the Asia-Pacific electric bus market is divided into below 40 seats, 40-70 seats, and above 70 seats. The electric buses with below 40 seats dominate the market as there is increasing demand for intracity purposes.
Insight by Application
Based on application, the Asia-Pacific electric bus is divided into intracity and intercity. Owing to the short ranges of electric-powered buses, intracity travel is preferred for electric buses. Nevertheless, there are novel model launches that have led to increased performance in the vehicles and have large range capacities, intercity travel is also gaining prominence.
Insight by Battery Capacity
Based on battery capacity, the Asia-Pacific electric bus is segregated into below 100 kWh, 100-300 kWh, and above 300 kWh. The 100-300 kWh battery capacity is anticipated to have a notable growth and is adopted in electric buses for intercity travel as they are capable to cover distances of nearly 60 to 80 miles.
Insight by Battery
Based on battery, the Asia-pacific electric bus market is subdivided into lithium iron phosphate battery, lithium nickel manganese cobalt oxide, and others. Among all batteries, the lithium iron phosphate battery dominates the market as it is economical to manufacture. For instance, in China, major cities like Shenzhen, Shanghai, and Beijing operate buses for shorter duty cycles as a result battery density is less of an issue. Moreover, in China, there is a lot of congestion and electric buses perform best during stop-start duty cycles.
Insight by End-User
Based on end-user, the Asia-Pacific electric bus is divided into government and fleet owners. The government is expected to have a considerable share as there is active involvement in the purchase of electric buses and reduce the level of greenhouse gases.
Industry Dynamics
Industry Trends
Electric buses will transform public transportation in the forthcoming period as it helps in enhancing air quality, reducing noise, and increasing fuel efficiency, which are the key trends prevalent in the electric bus market.
Growth Drivers
The rapid urbanization, rising environmental concerns, mandatory emission, and fuel economy standards, mounting initiatives by the government in the form of subsidies and rebates, rising usage of electric vehicles, and substituting heavy-duty diesel and gasoline-run buses having zero-emission will accelerate the growth of the electric bus market in the Asia-Pacific region. For example, the Guangzhou government has invested approximately $ 1.2 billion in installing about 4000 charging stations. Moreover, the increased prominence of electric buses due to their technical features will propel the growth in the region.
Challenges
The fluctuations in government policies and subsidies will have an impact on the electric bus market. For instance, the government of China has withdrawn support on electric buses by 2020, which might impact the cost of electric buses in China.  Moreover, the increased costs connected with electric buses, high infrastructural development cost, and setting up of charging stations is delaying the growth of electric buses in emerging economies like India.
Opportunities
The rising demand for electrification of mass transport, technological development along with innovative strategies in the transportation industry,  and government banking will create opportunities for growth in the Asia-Pacific electric bus market.
Geographic Overview
China contributes to the largest share in the Asia-Pacific electric bus market as China's fleet of electric buses accounts for more than 98% of total electric buses running globally. This is due to the fact that there is increased adoption of a strong municipal framework in Chinese provinces. Furthermore, More than 30 Chinese cities including Guangzhou, Zhuhai, Dongguan, Foshan, Zhongshan, Nanjing, Hangzhou, Shaanxi, Shandong, are planning to attain 100% electrified public transportation by 2020.  Furthermore, the presence of major key players like BYD Co., Ltd. will fuel the growth in the region.
Also, India and Japan will also provide promising opportunities for the growth of the Asia-Pacific electric bus market due to the supportive government policies and initiatives.   
Competitive Insight
The industry players in the Asia-Pacific region are developing advanced technologies to certify that electric buses are highly efficient and high-performing. Moreover, the major players are adopting growth strategies such as geographical expansion, collaboration, partnership, new product launches to sustain themselves in the market. They are enhancing their R&D activities to enhance operational efficiency and register positive growth in the Asia-Pacific electric bus market.
Zhongtong is the manufacturer of electric buses and focuses on safety, energy-saving, and new energy technologies having 100 patents and 30 state standards. It provides electric city buses, hydrogen fuel cell electric buses, and electric coaches.
BYD is one of the top players and is increasing the number of orders for electric buses in domestic and international markets. BYD has developed an extensive range of economical EV solutions so as to save energy, reduce emissions, and enhance the quality of life in cities. It has launched commercial vehicles and covers 10 segments: buses, coaches, and taxis; logistics, construction, and sanitation vehicles; and vehicles for warehousing, port, airport, and mining operations.
In December 2021, Tata Motors has delivered 60 electric buses to Ahmedabad Janmarg Limited (AJL). The 24-seat Zero Emission Tata Ultra Urban 9/9 AC Bus is offered under FAME II Initiative by means of a Gross Cost Contract (GCC) with AJL and is operated by Ahmedabad's Bus Rapid Transit System. Tata Motors will also set up the charging infrastructure and support system needed to ensure the smooth operation of the bus.
Some of the key players operating in the Asia-Pacific electric bus market: BYD Company Ltd., Tata Motors, Zhongtong Bus Holding Co. Ltd, King Long United Automotive Co. Limited, Anhui Ankai Automobile Co. Ltd., ASHOK LEYLAND, Deccan Auto Ltd., Olectra Greentech Limited., YUTONG, and Shanghai Shenlong Bus Co., Ltd.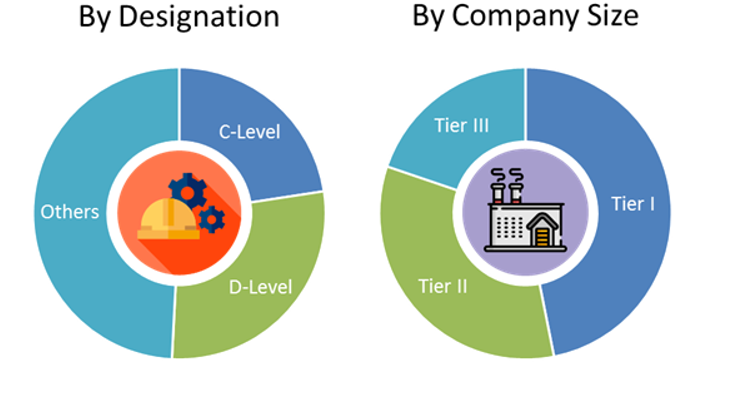 Source: VynZ Research